Parachutist Tea Cosy
The Parachutist Tea Cosy is perfect for when people drop in for tea!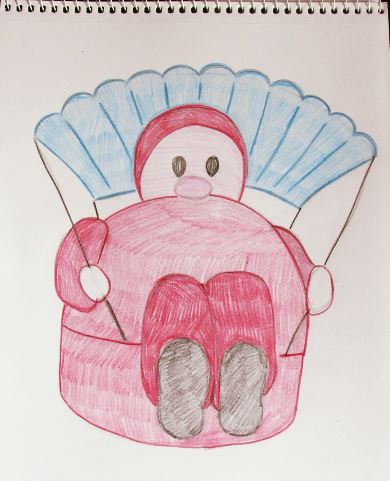 I have set myself a bit of a challenge with the Parachutist Tea Cosy. He is just coming in to land, so he's raised his legs in readiness. I love the way he is peeping over his tummy, I can wait to see how that translates into the knitted tea cosy.
The tricky part is the parachute itself. I decided on a rectangle parachute because I thought that it would be an easier shape parachute to get structure into. At present I have no idea How I am going to make it look as if it is held up - I'm hoping that this bit will come to me as I knit.
I thought a parachutist tea cosy would appeal to people. So many more people these days are doing jumps for charity and and for fun. I'd love to have a go at a parachute jump, but I don't know if I'd be brave enough to jump out of a plane. I suppose the cosy will also have appeal for people who enjoy paragliding or parasailing.
Tags: