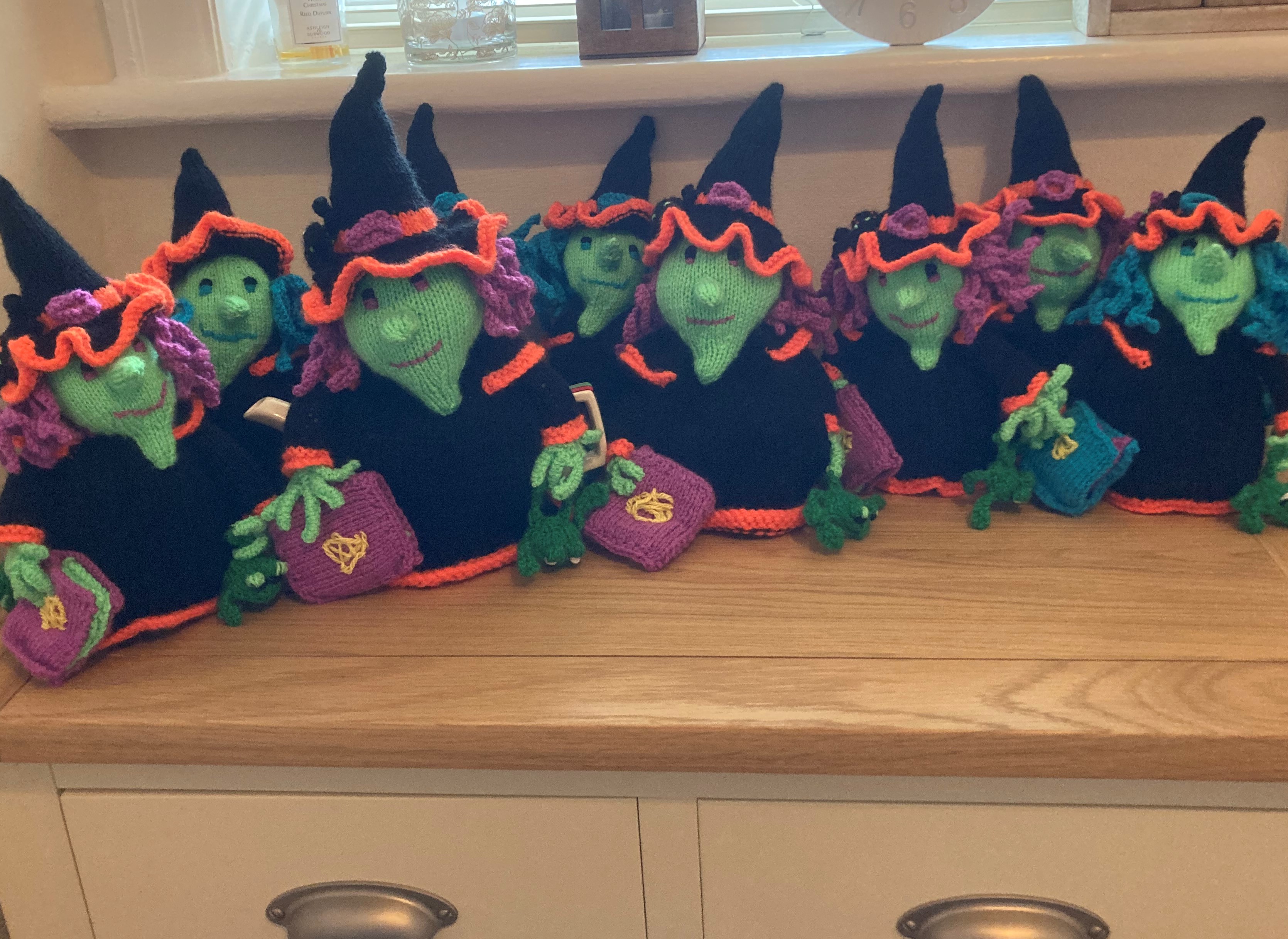 Isobel
17/09/21
I made 10 witches last year as toys for the family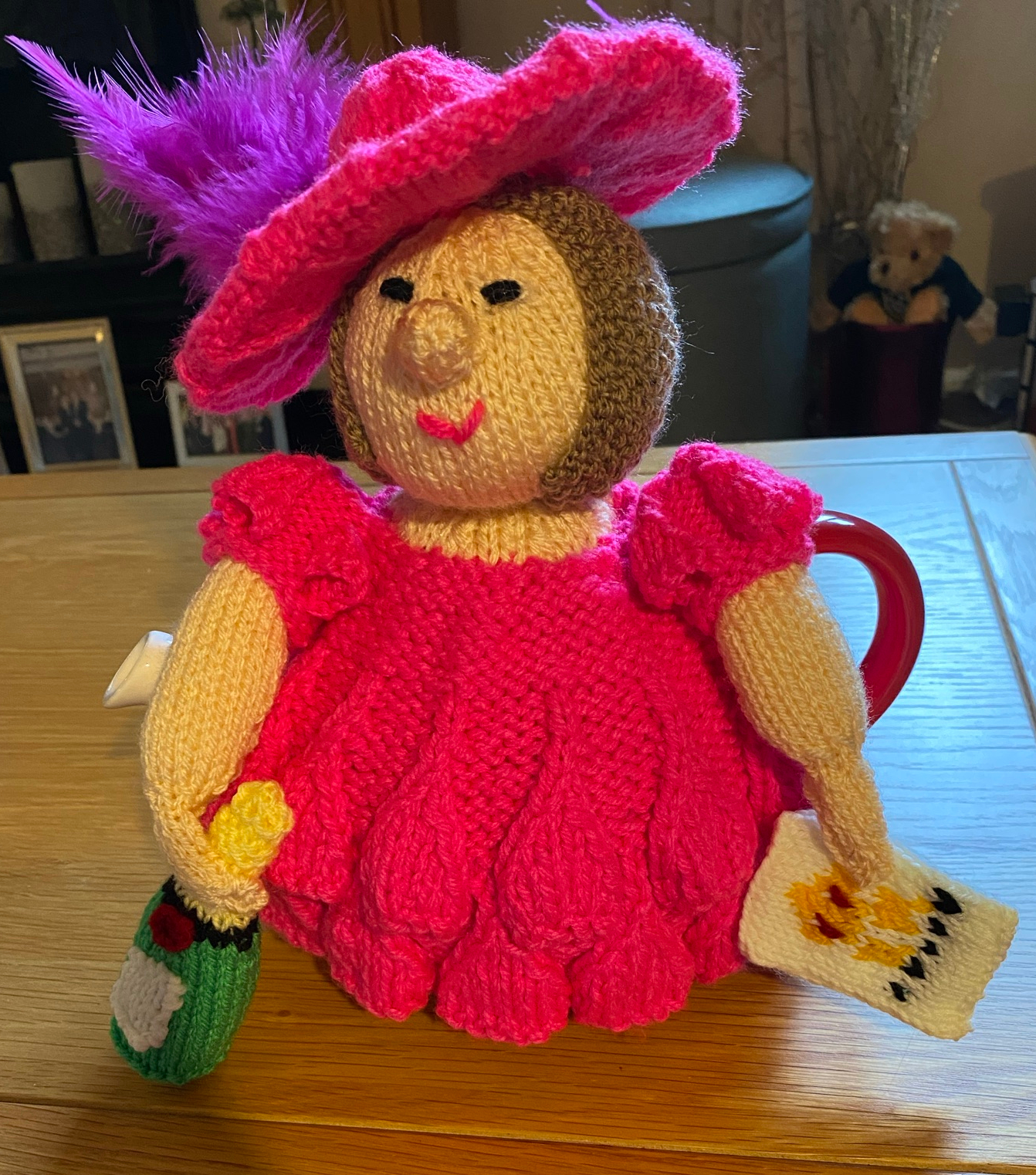 Pauline Rye
30/08/21
Loved the pattern
Petra
28/08/21
Great pattern, kissed frog but still waiting for my prince ;-)))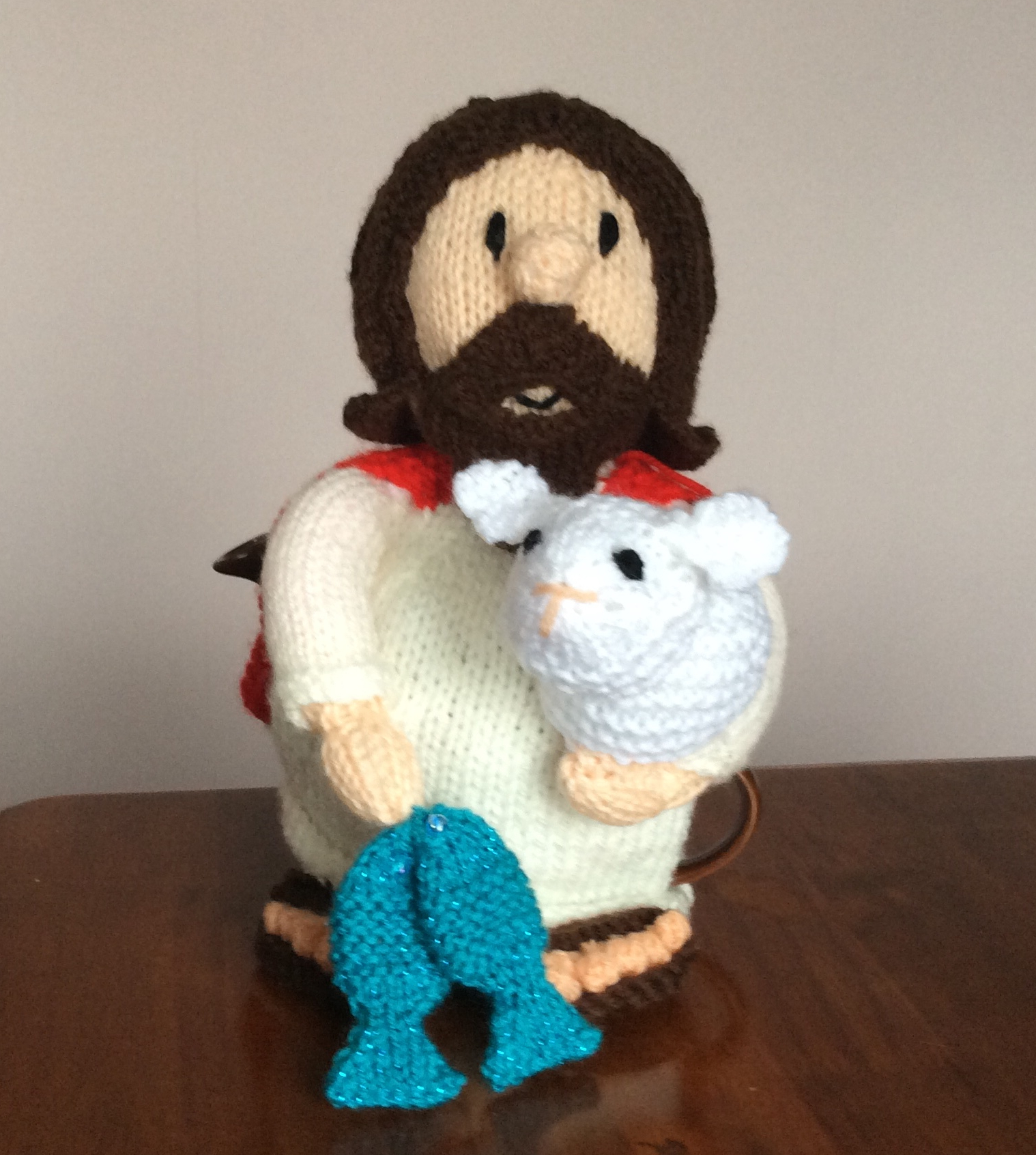 Pauline McD
26/08/21
Great for Easter.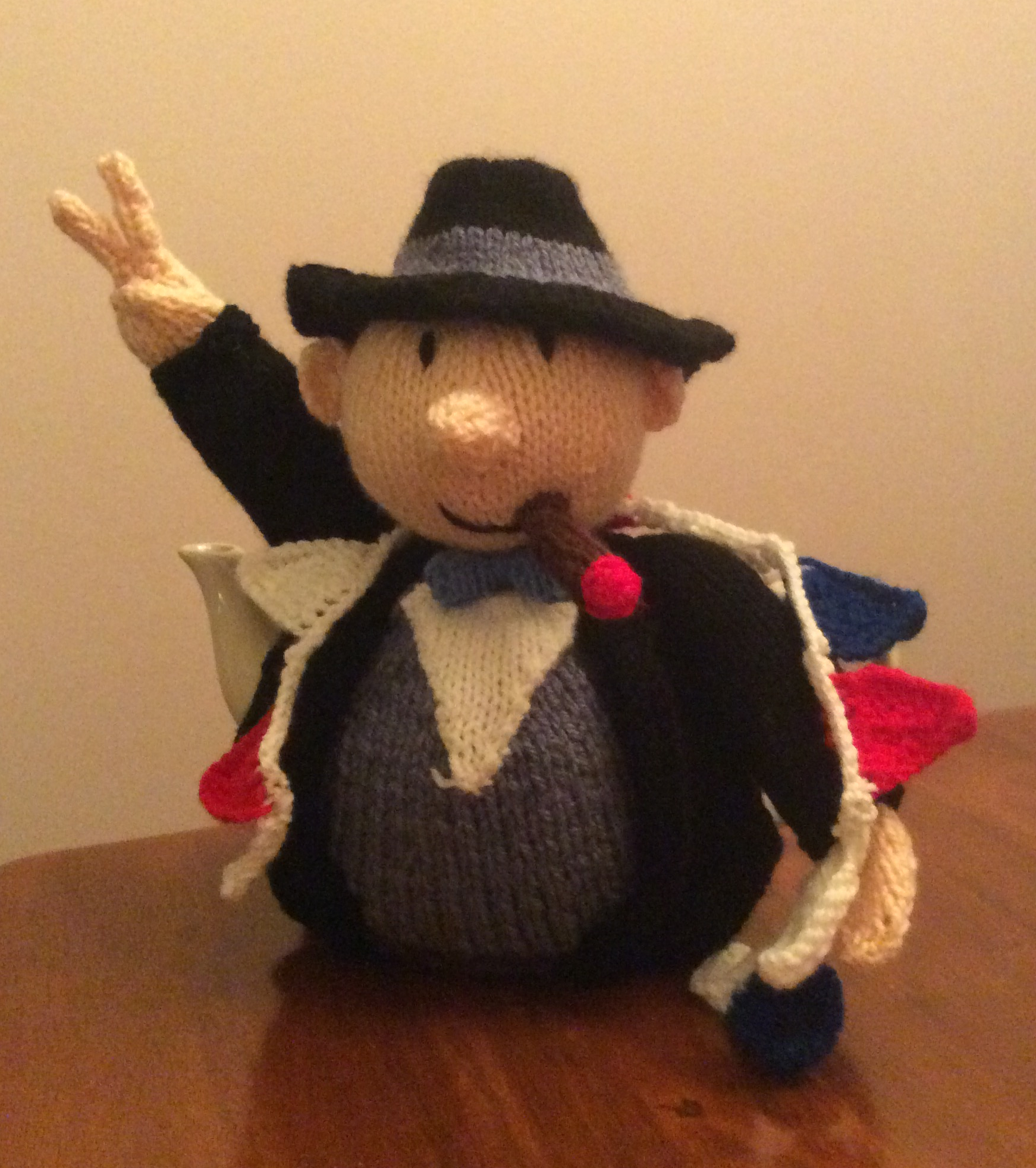 Pauline McD
26/08/21
Easy and such a great character.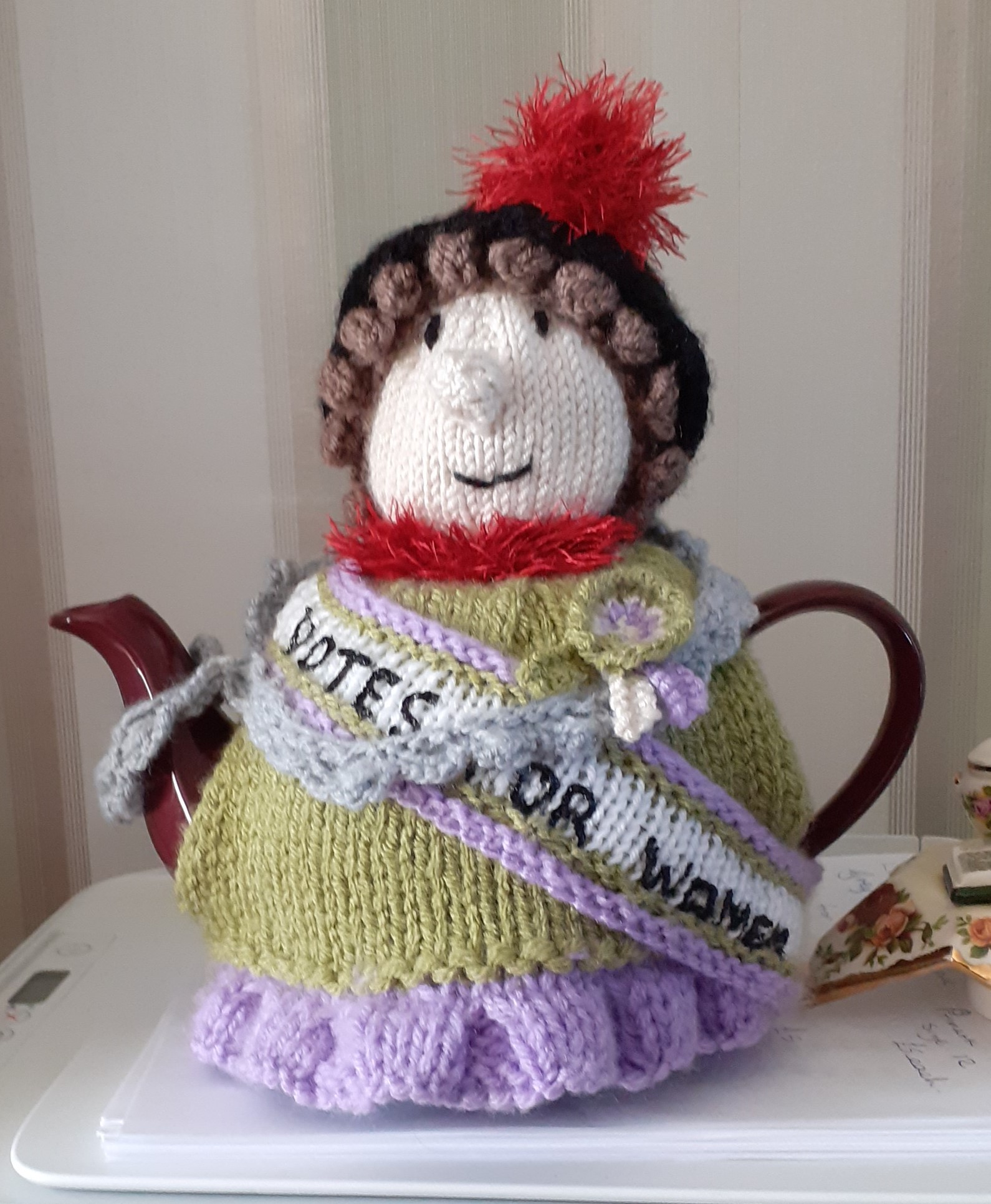 Norma Young
27/06/21
Just love all the cosies they are very quircky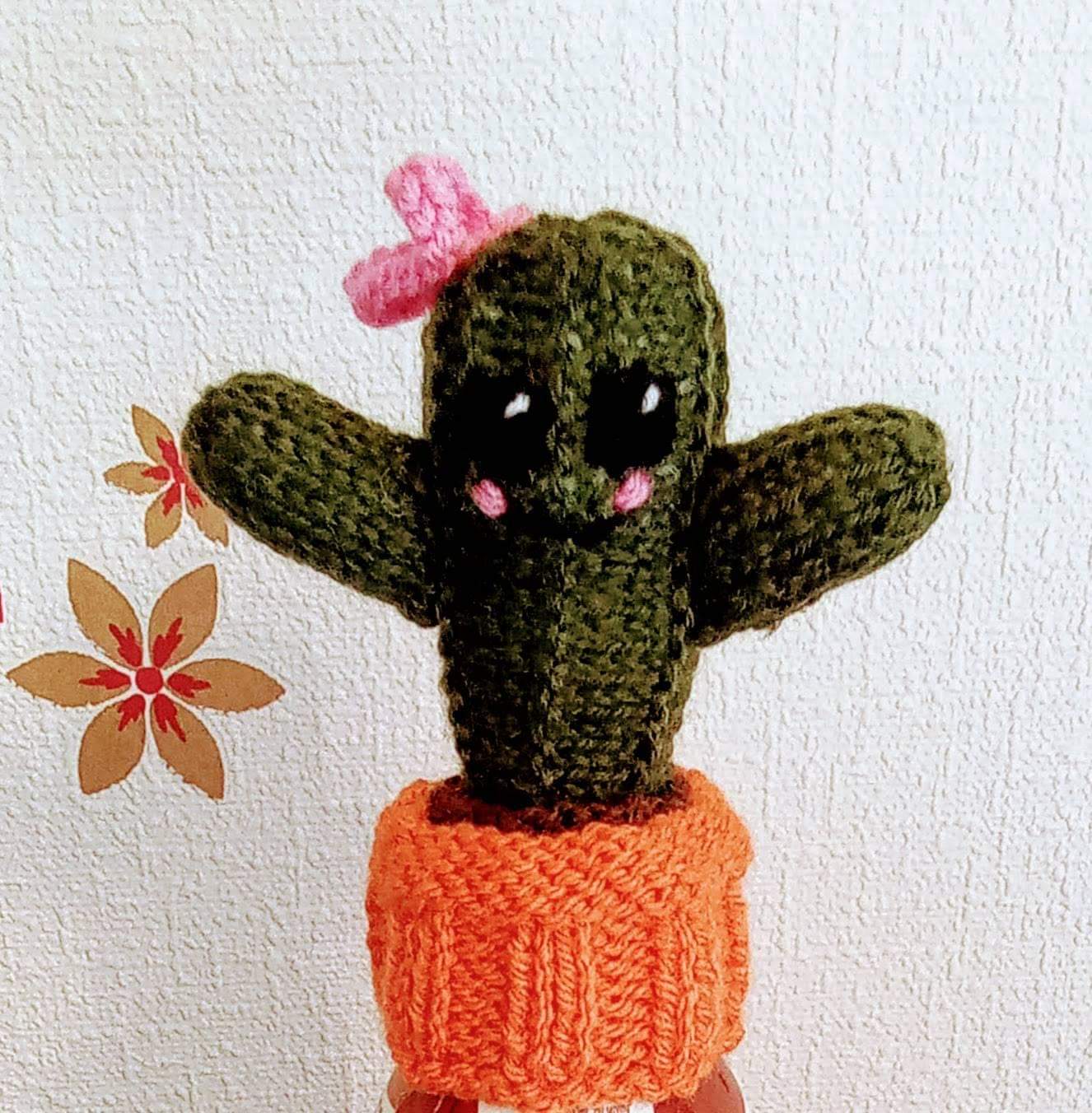 Aprille Collar
30/04/21
The Innocent Smoothie Cactus was so cute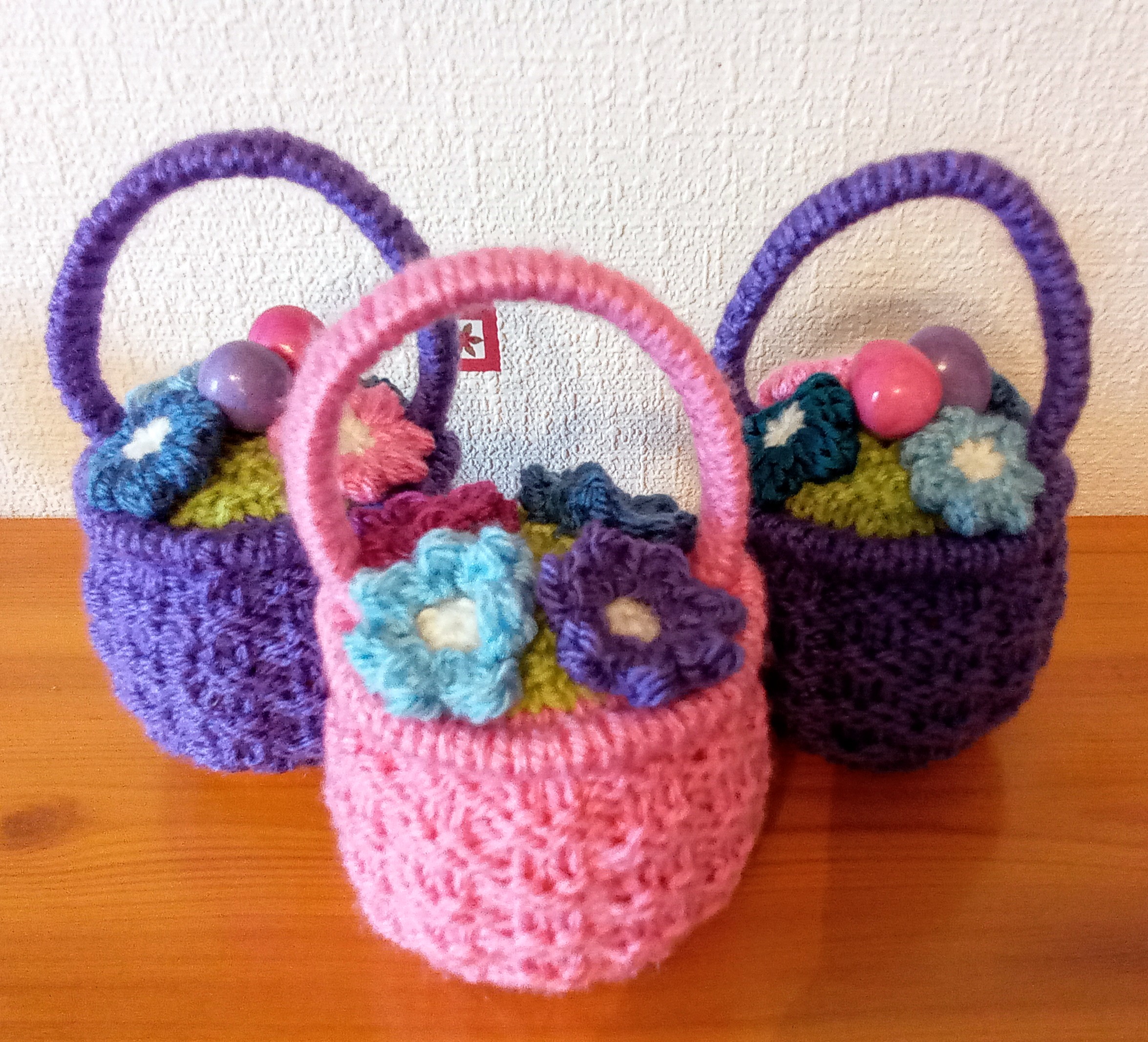 Aprille Collar
30/04/21
The baskets were a lovely gift idea and I made 3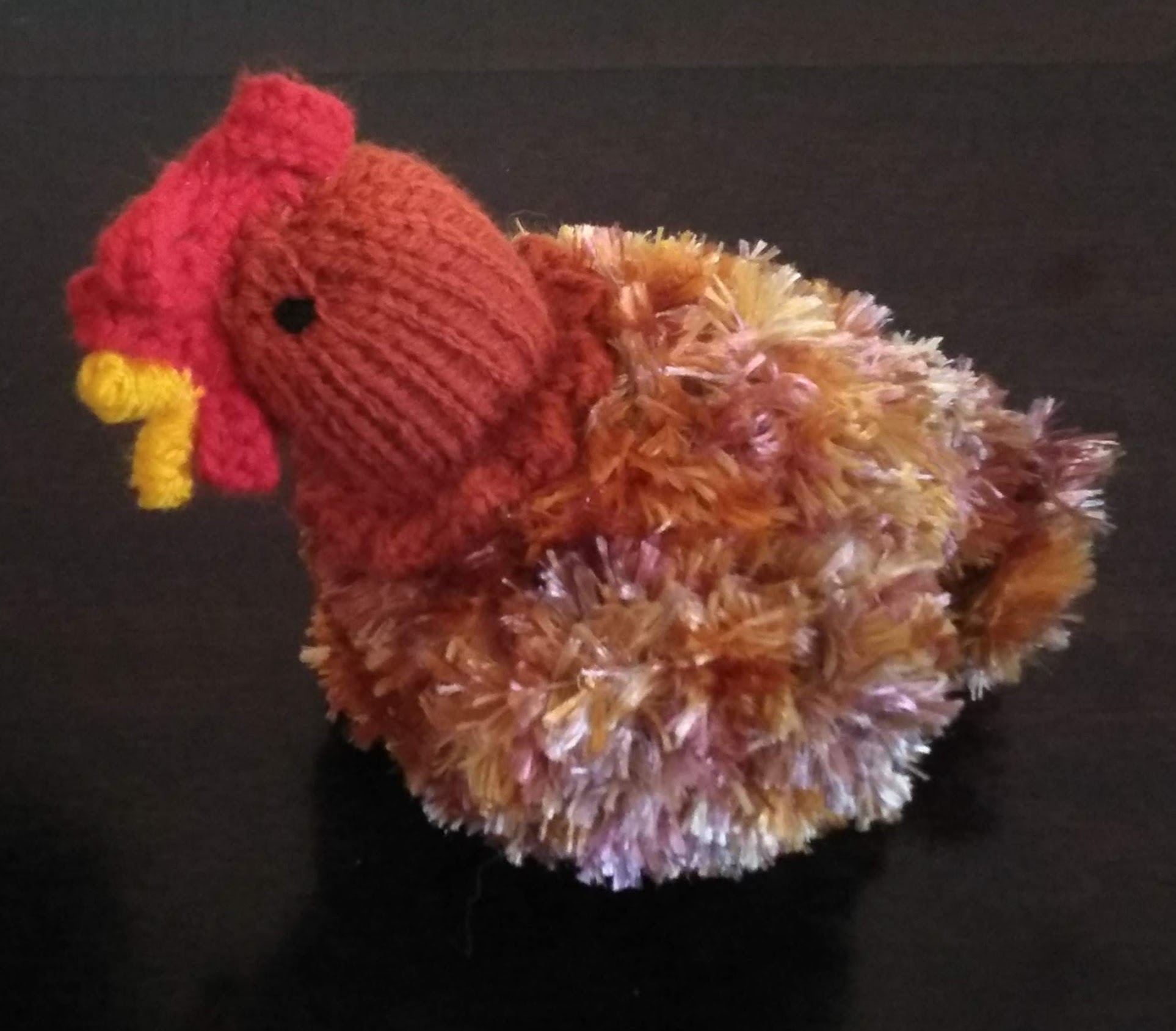 Aprille Collar
30/04/21
Lovely Cosy to hide the Terry's Chocolate Orange. I used Eyelash yarn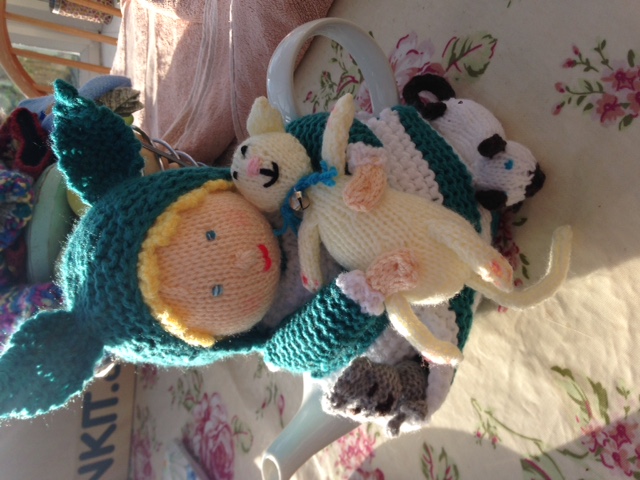 Annette
09/04/21
Made for my friend who's a crazy cat lady like myself - she loved her and her cats!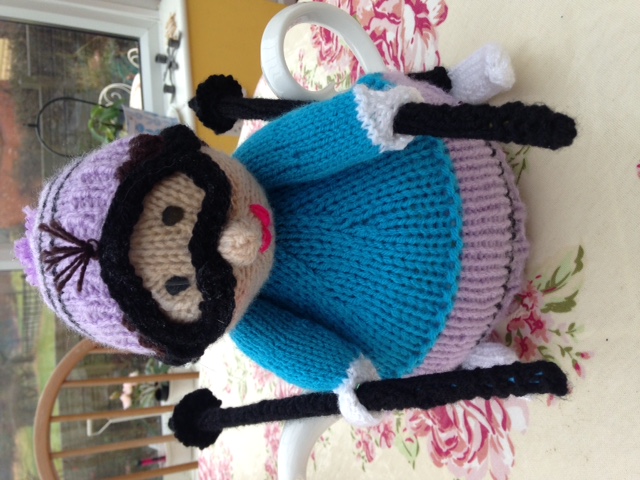 Annette
22/03/21
Very easy pattern to use. My daughter's friend is a fan of skiing and she wanted one for her. I added windblown hair and a pony tail too.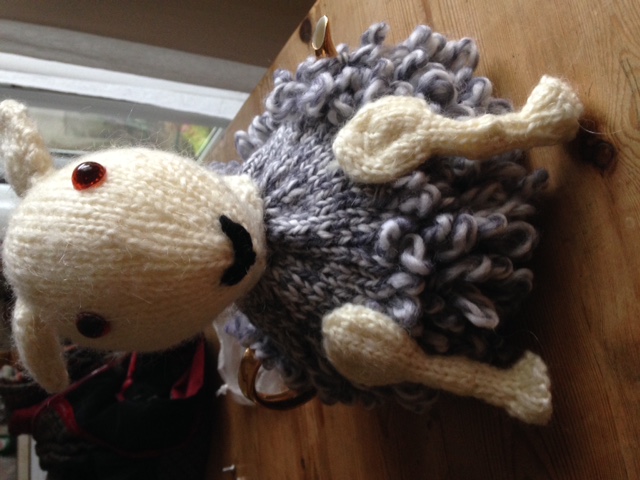 Annette
21/03/21
Lovely easy to follow patterns. Great value for money. Really enjoyable to knit. My daughter wanter a Herdwick Sheep patttern so used the Swaledale with adjustments!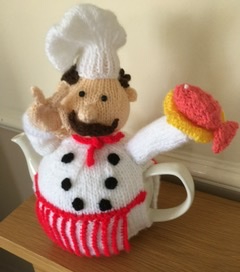 Olwyn
14/03/21
loved making this makes me smile loved making the hat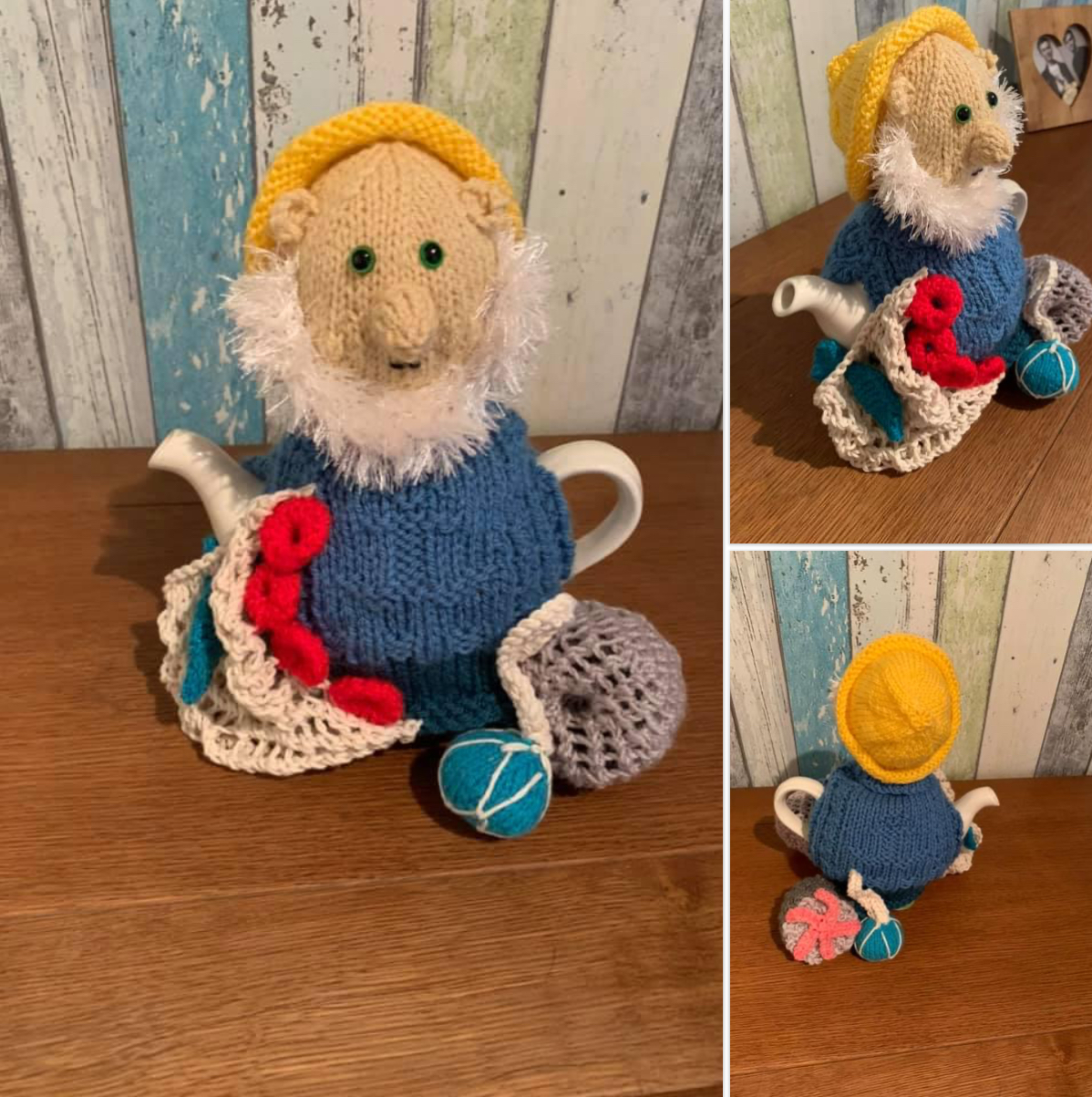 Joyce Herdson
08/03/21
The Cornish Fisherman We love Cornwall, so what could be better than this old sea dog warming my teapot as we enjoy a delicious Cornish cream scone (jam on first of course!) A great little project to make, it made me smile all the while!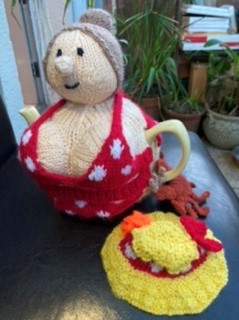 Sue Watson
22/02/21
I loved knitting my Beach Babe! It's for my sister who lives in Spain to cheer her up as we haven't seen each other in ages due to lockdown. The pattern was clear and concise and I found it easy to follow. It's given me masses of pleasure, thank you!!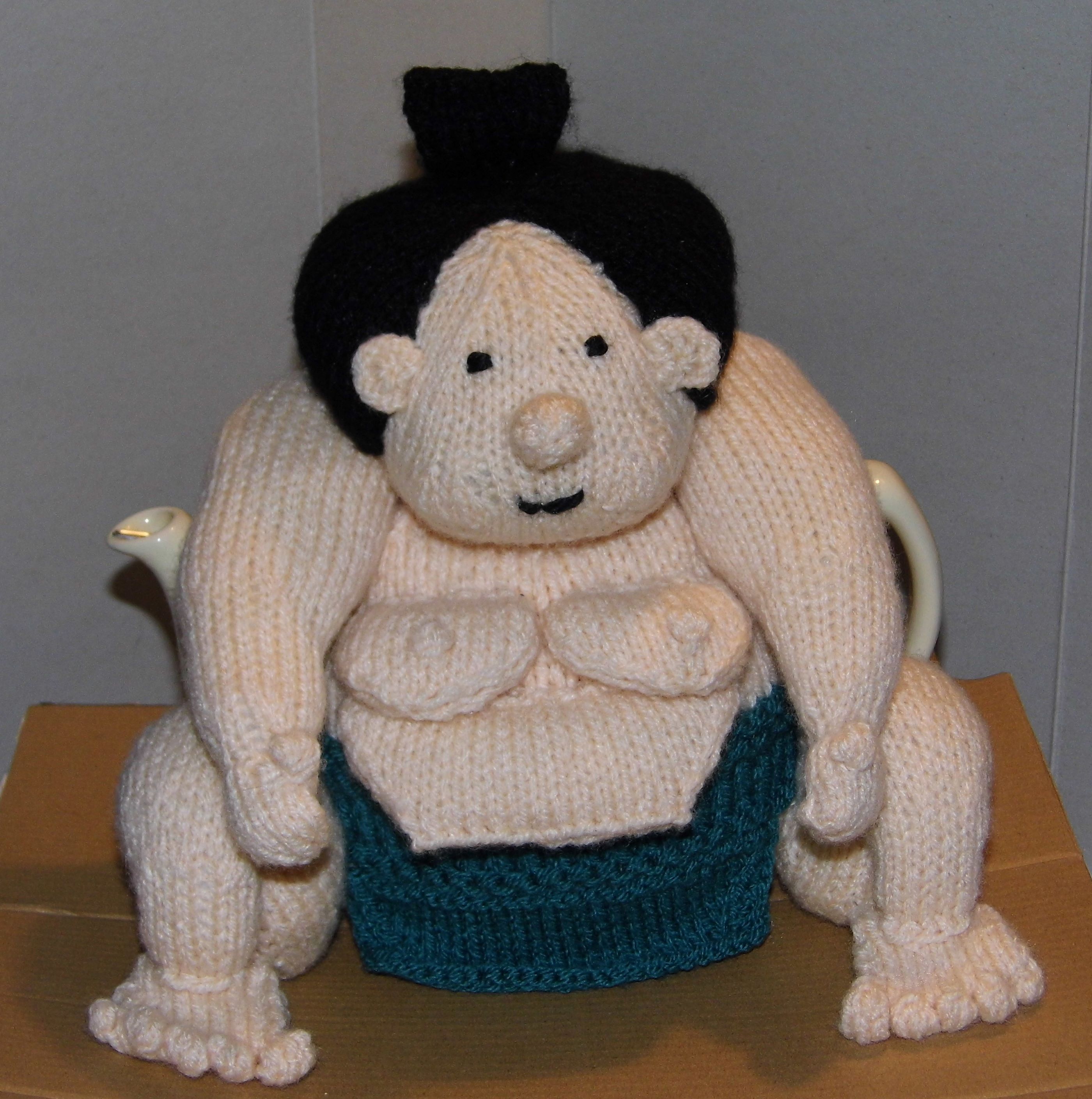 Petra
04/02/21
His "massiveness" and not being ashamed of it ;-)))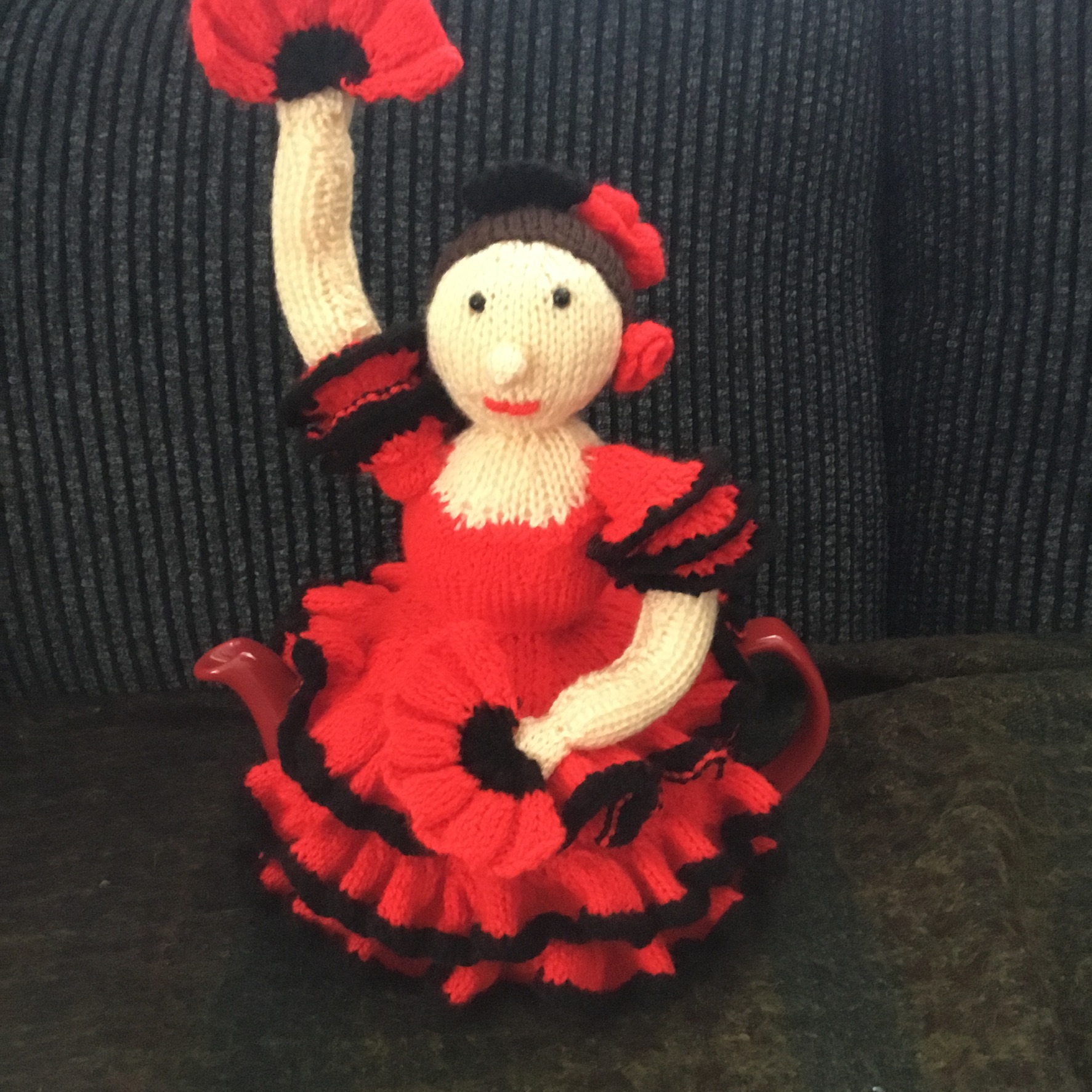 Dee
21/01/21
It was lovely and different. Really enjoyed knitting it
Petra
03/01/21
It was fun to make, and my Welsh neighbour loved her Xmas present ;-))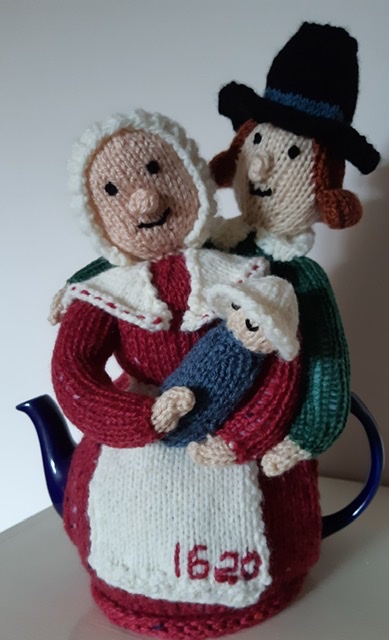 Helen
29/11/20
This pattern jumped out at me as perfect for friends in Plymouth where they would have been celebrating Mayflower 400 this year had it not been for the pandemic.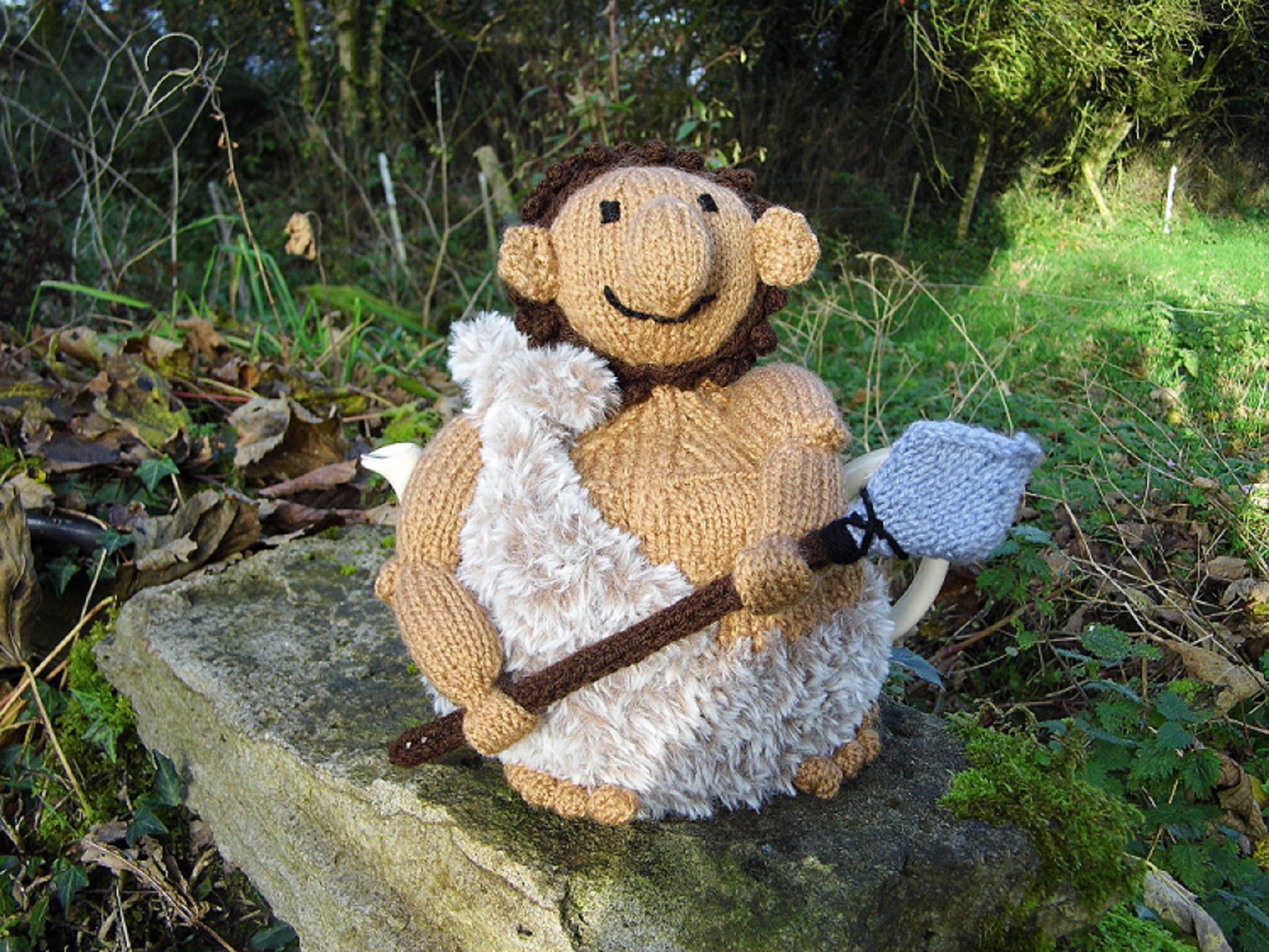 Petra
09/11/20
I loved the originality of the piece. The hair was a bit of a challenge to knit ;-))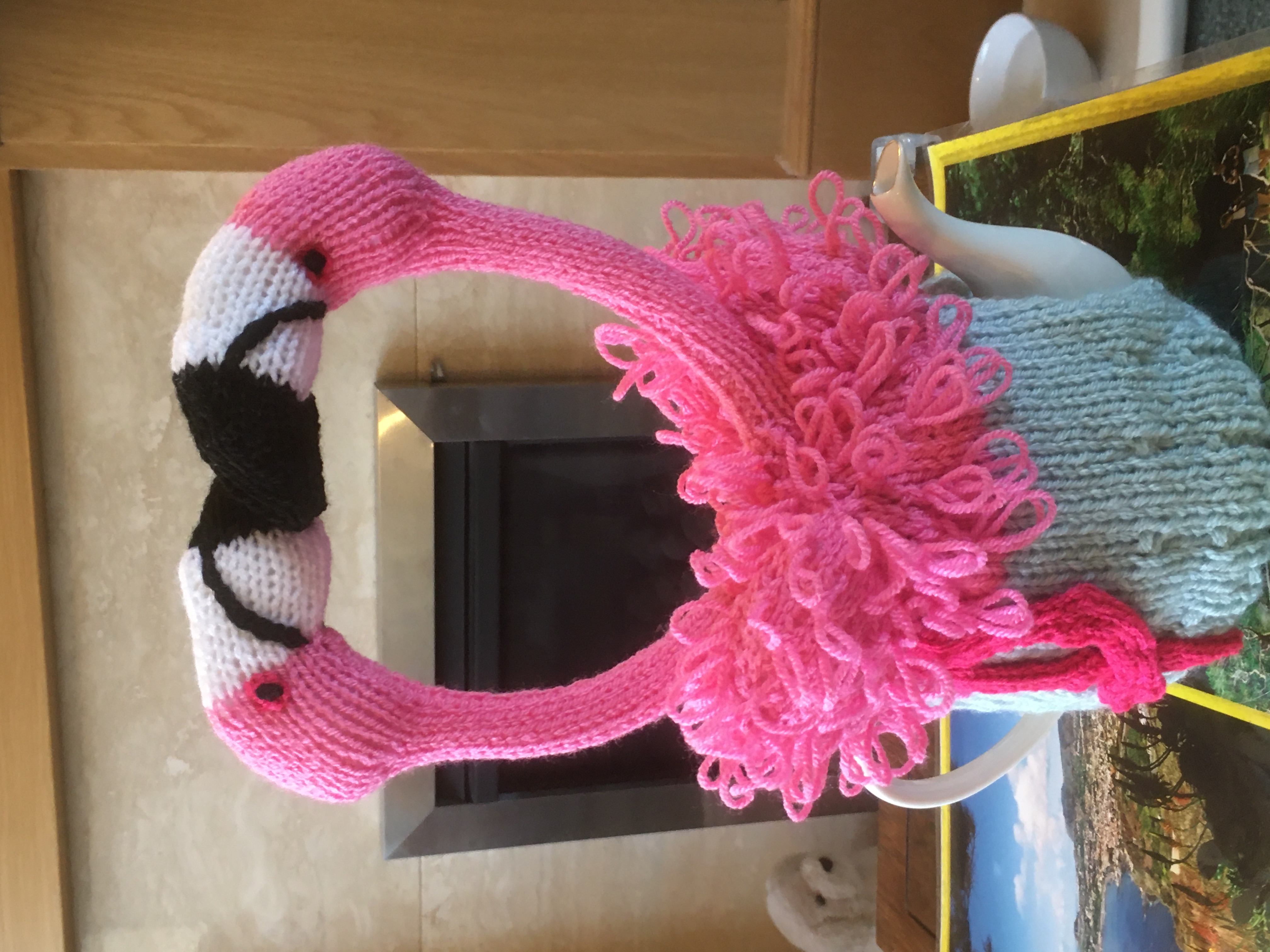 Lynne Fallowell
20/10/20
it was such fun and so quick to make.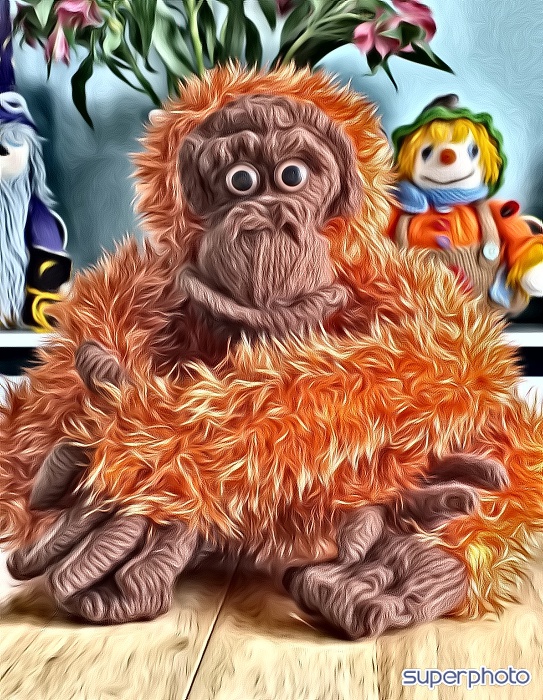 Sue Cleeton
03/09/20
I loved everything about this pattern. Brilliantly written and it made many people smile in which to me is so very important ..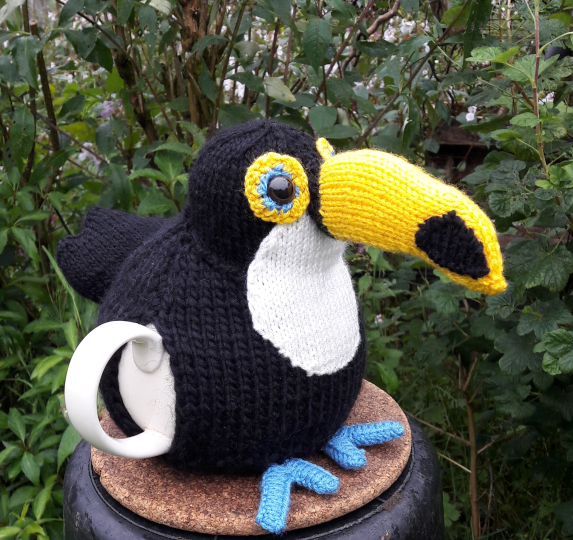 Petra
03/09/20
I've finished the lovely Toucan today, a rainy autumnal day here in Eire. He cheered me up with his bright yellow beak.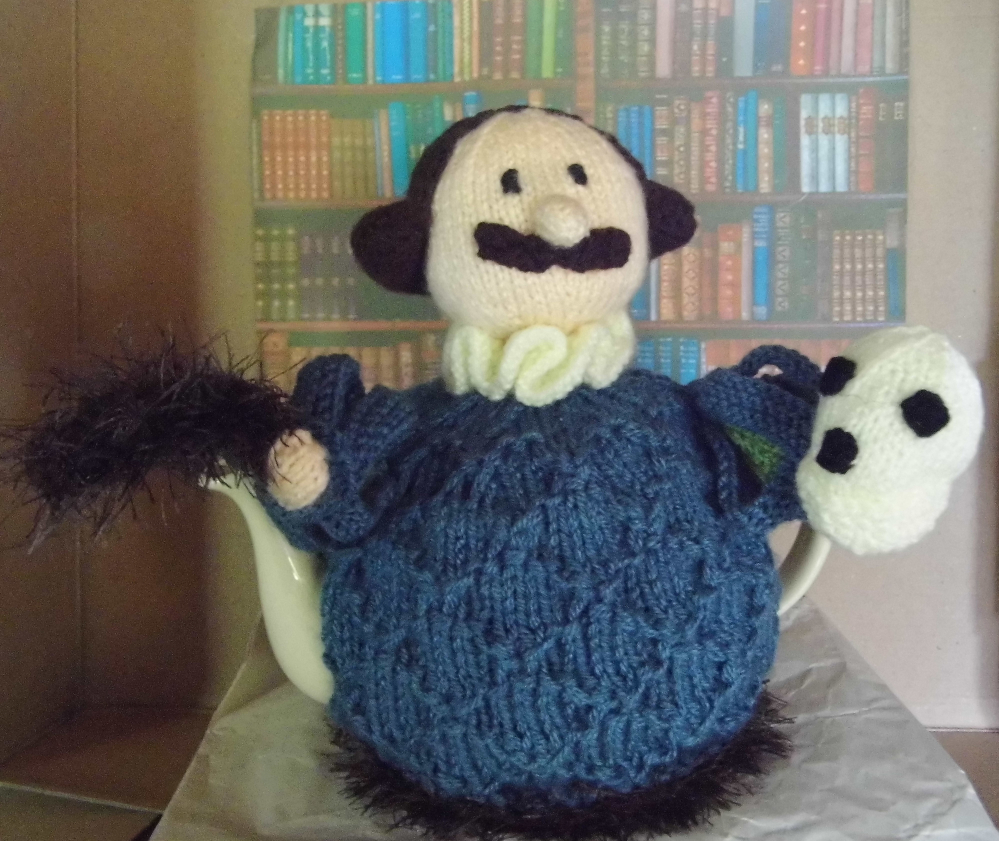 Perta
03/09/20
The W. Shakespeare cosy, loved the details of the little bit and pieces, especially the shrew ;-)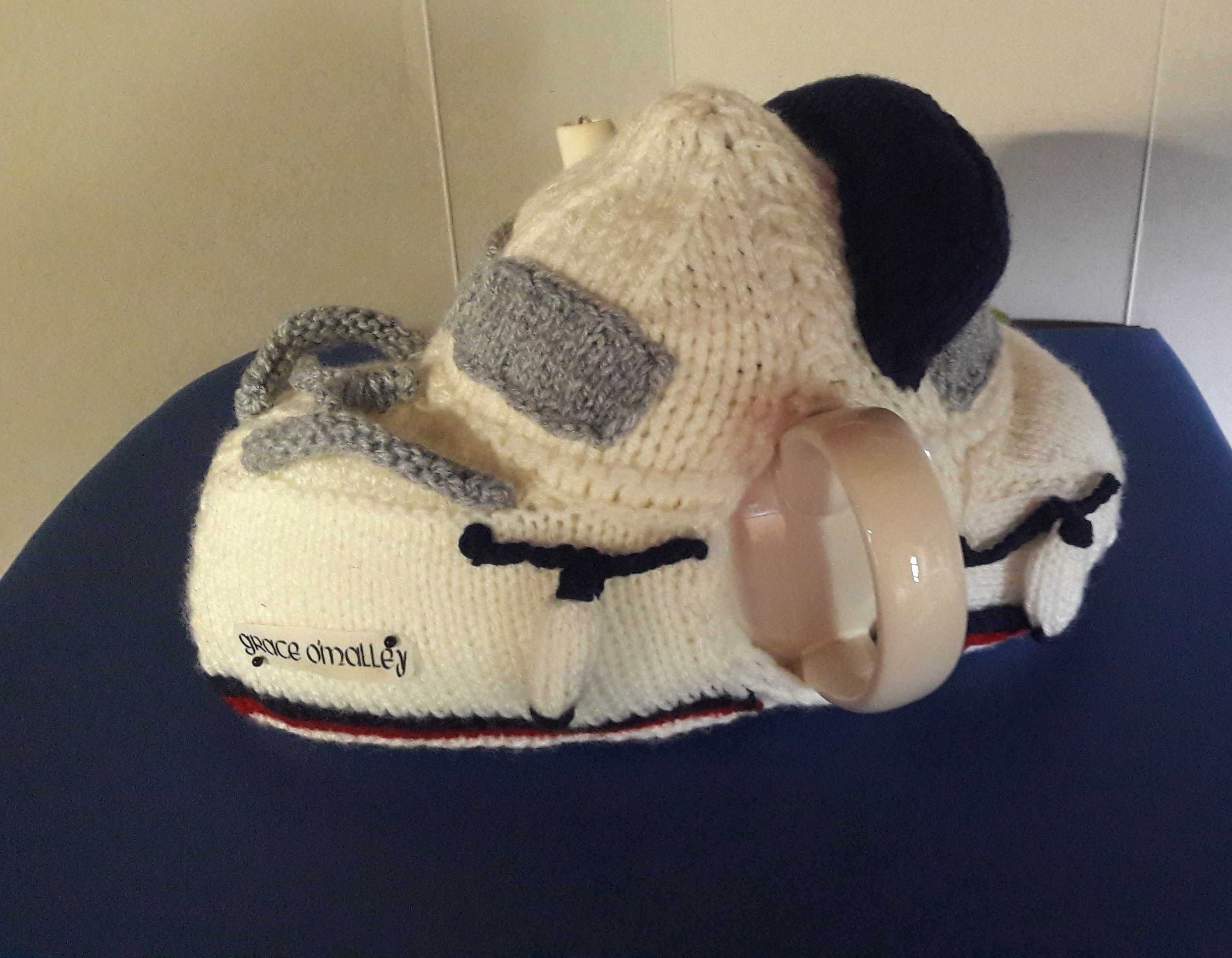 Petra
05/08/20
I changed the colours to match my friends boat and hope they'll like to sail on it even in the winter ;-)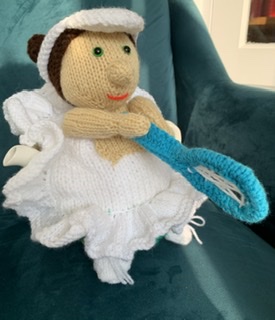 Joyce Herdson
16/06/20
Goodness knows why I knitted this as I hate tennis! 😂 But something about it really appealed to me. Yet again, though, I feel my sewing let's me down 🤦‍♀️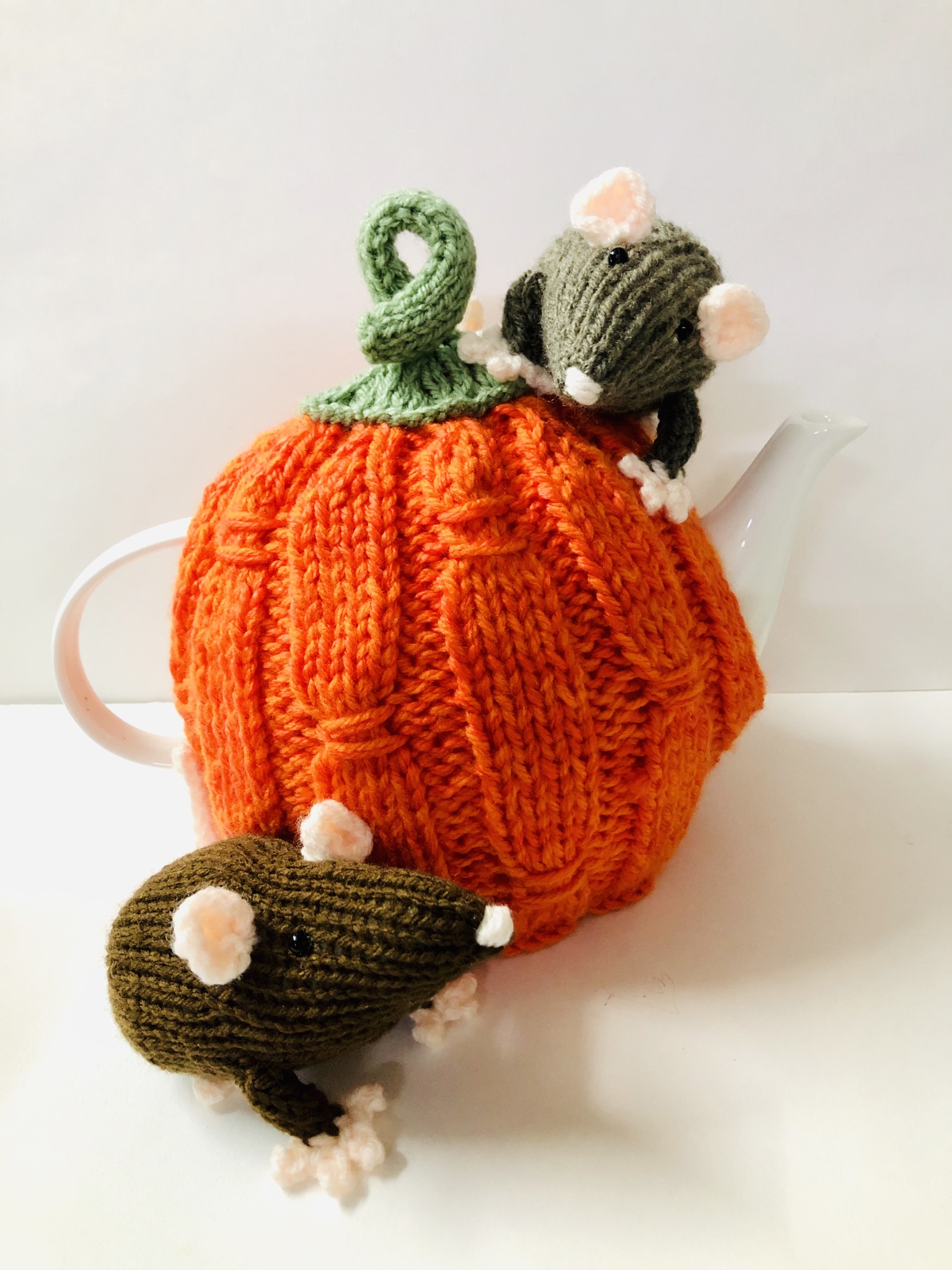 YipCY
15/06/20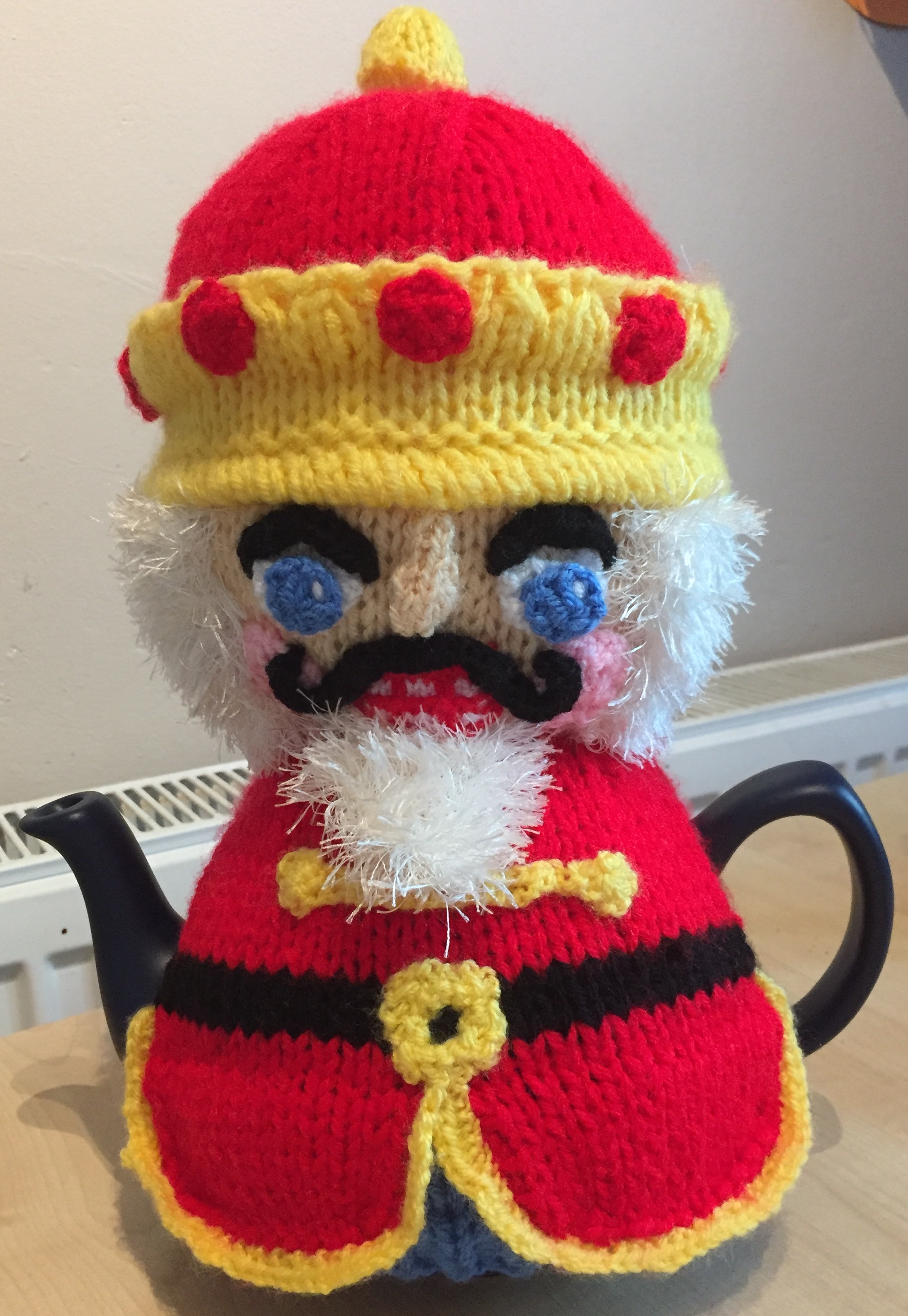 Sarah Henley
30/05/20
I thoroughly enjoyed knitting this pattern. I've learnt a new (to me) technique of knitting in loop of stitch a few rows down to create a fold and used eyelash wool for the first time. There is a lot to this pattern but the instructions are clear and easy to follow.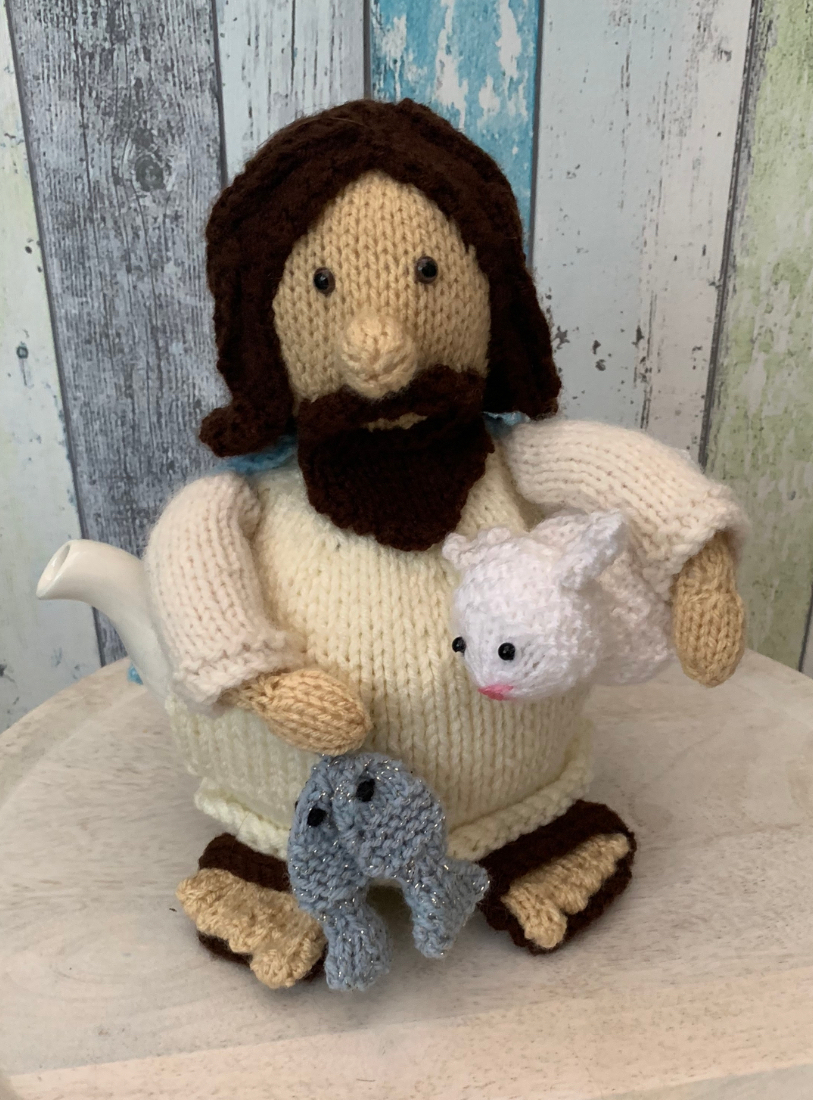 Joyce Herdson
29/05/20
The little details like sandals and fish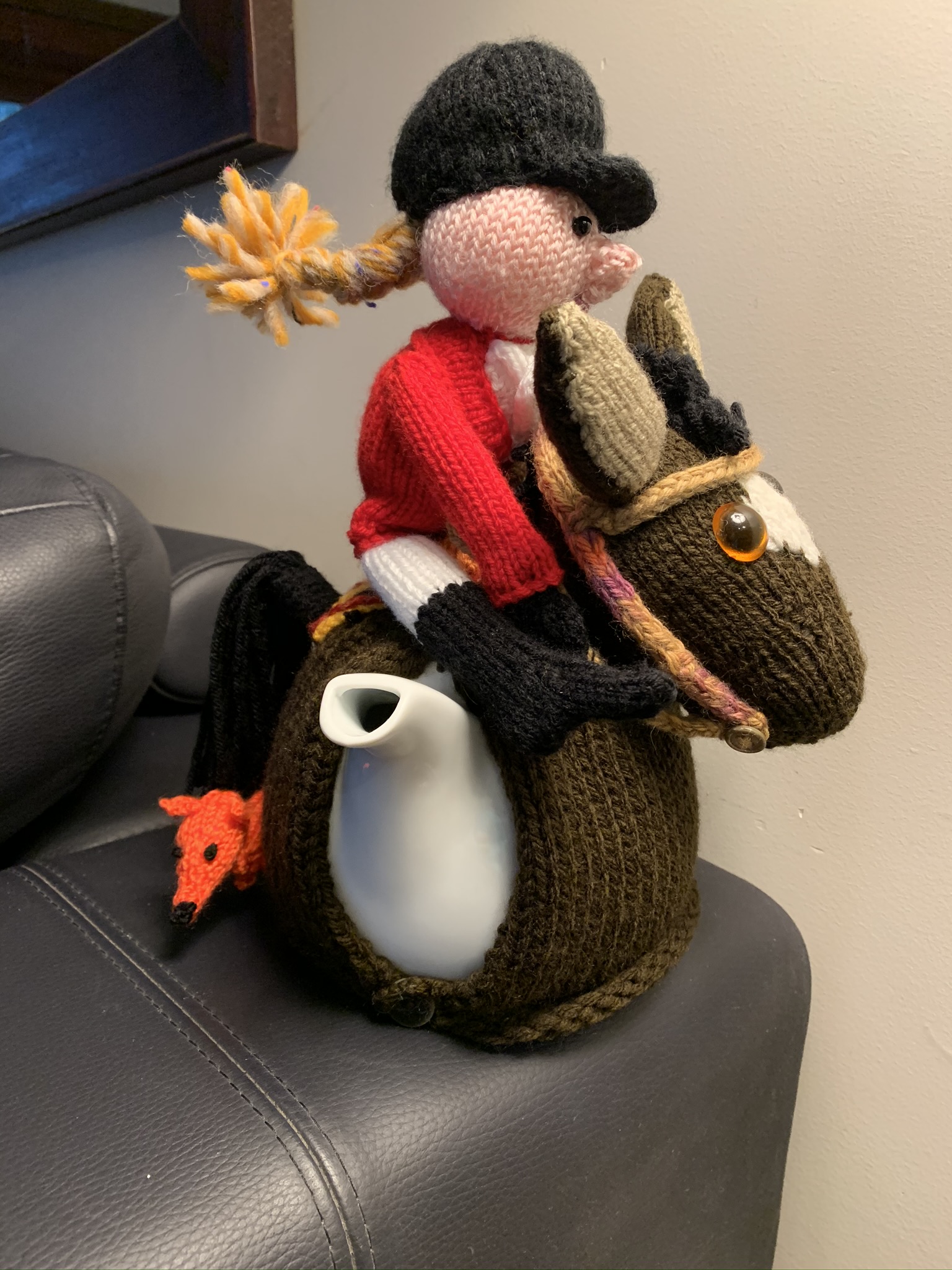 Caroline
27/05/20
I have so many of your great patterns. I combined the zebra, Mr Punch and the visor from the tennis lady and a little dog from the girl with a floral skirt.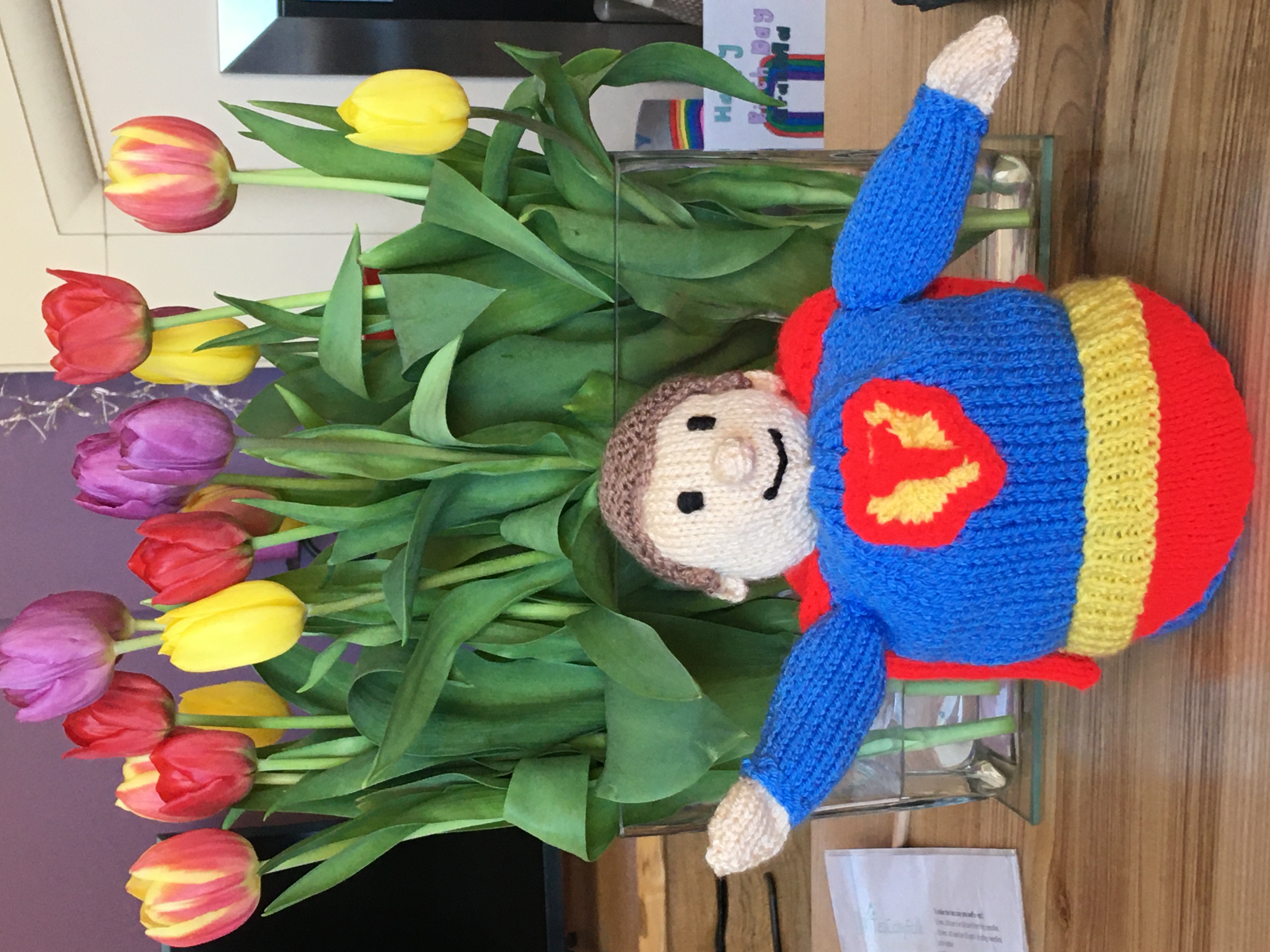 Janis Jones
20/05/20
Loved knotting this tea cosy along with others. It was a fun thing to do in lockdown, thanks Suzy for the great pattern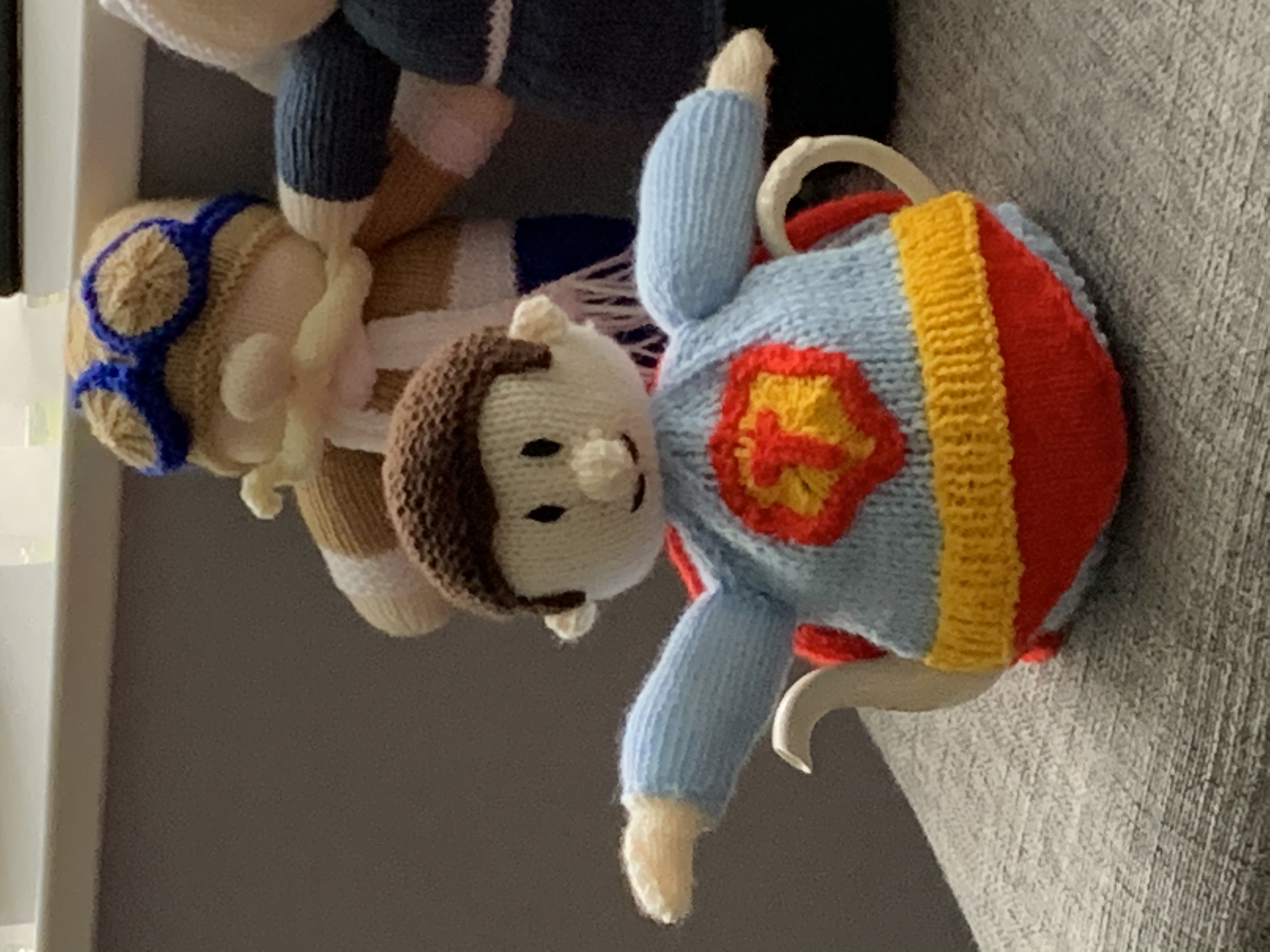 Pauline
19/05/20
Easy to do and loved doing it every week and seeing it come together x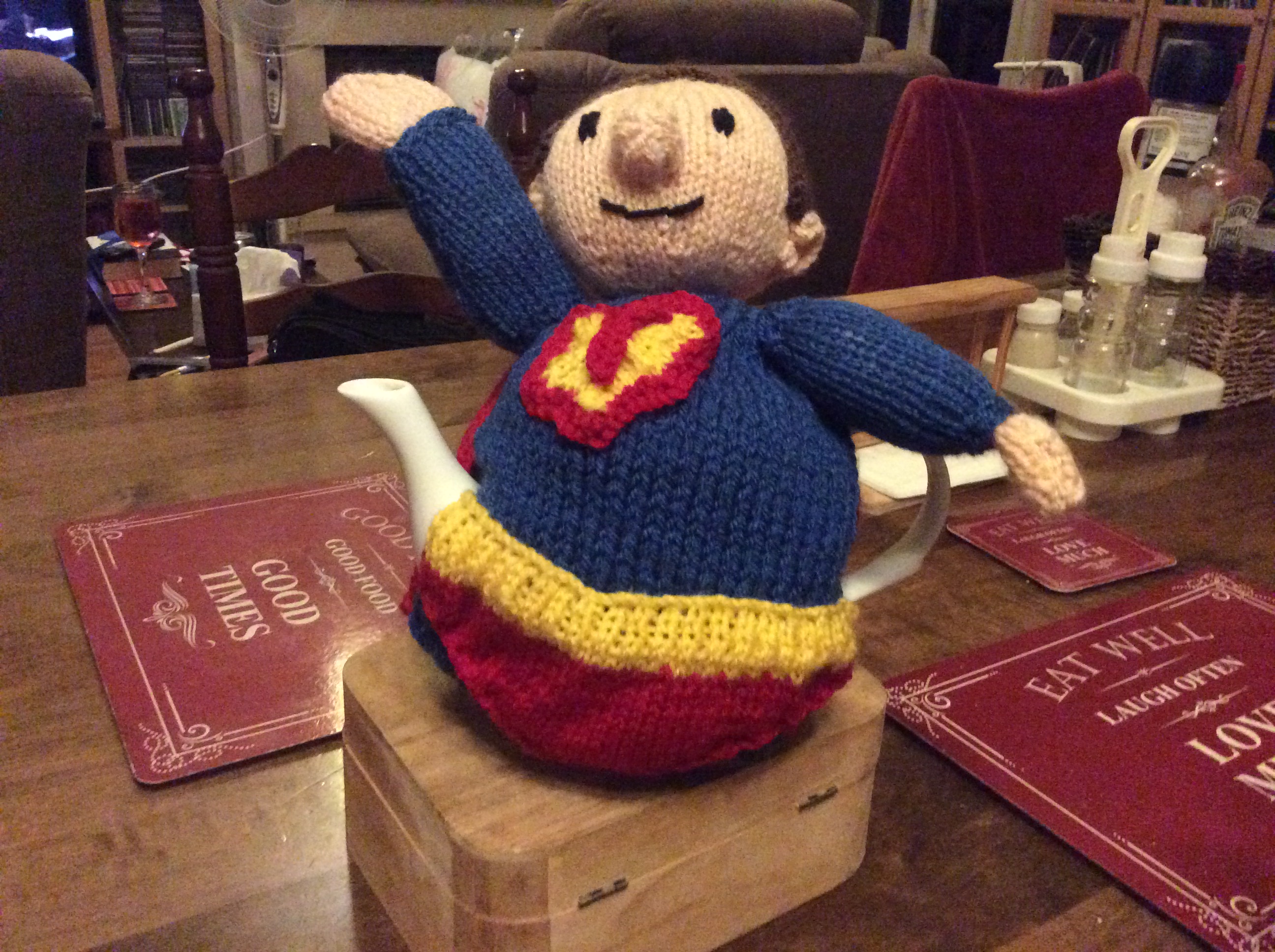 Jennifer
18/05/20
Easy to follow.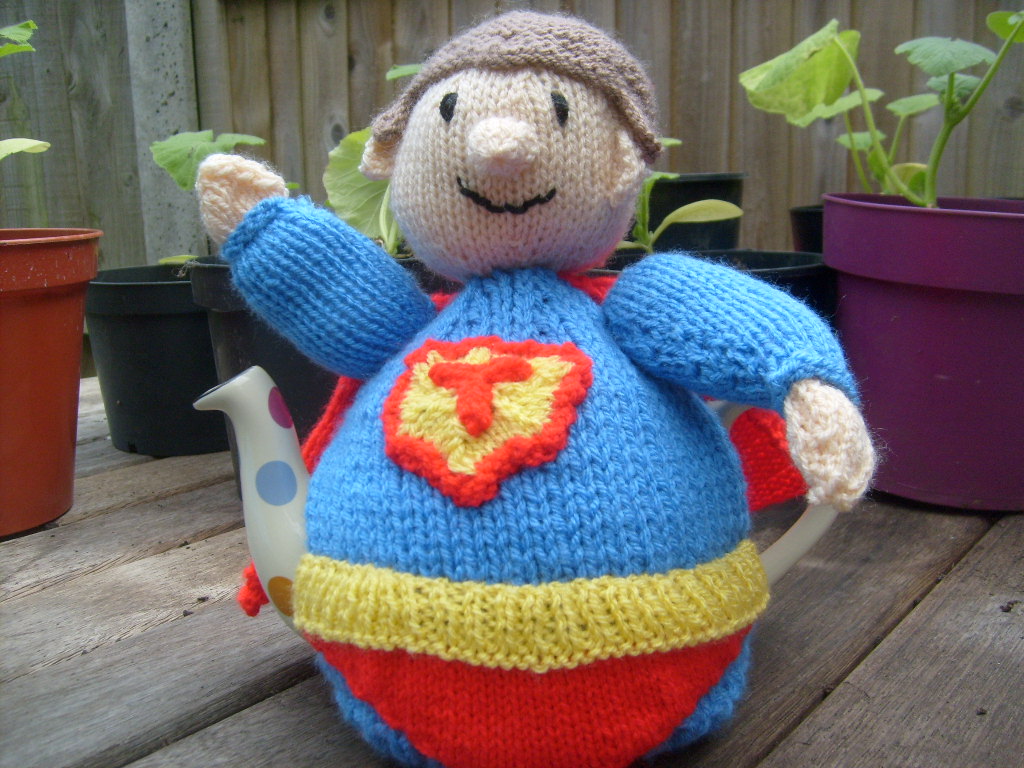 Hilary Walker
16/05/20
I found it easy to follow and make - I am not an expert!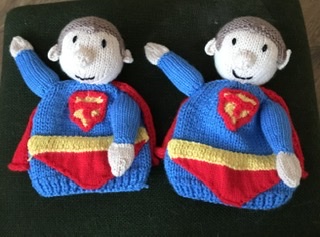 Sheila
14/05/20
It was fun to knit and Suzy Cowper was there every step of the way, giving us great encouragement all the way. It was also great knitting along with other knitters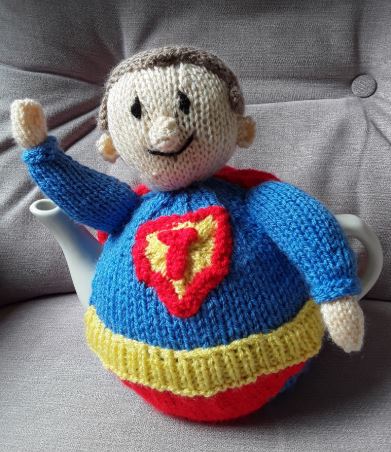 Jenni
14/05/20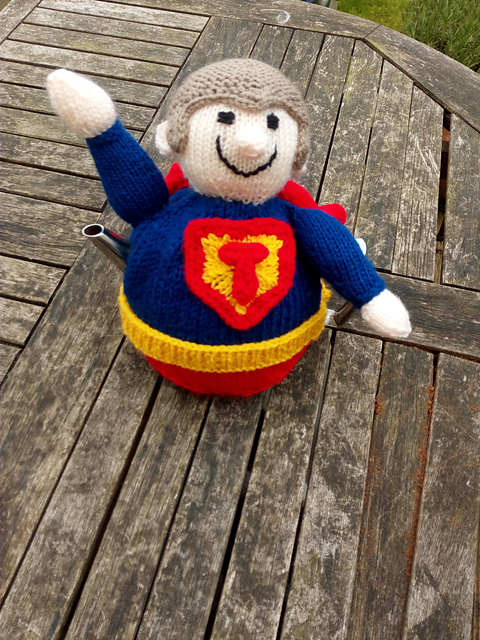 FiaKnit
13/05/20
I love the finished tea cosy but especially enjoyed knitting along with all the other knitters and seeing everyone else's cosies.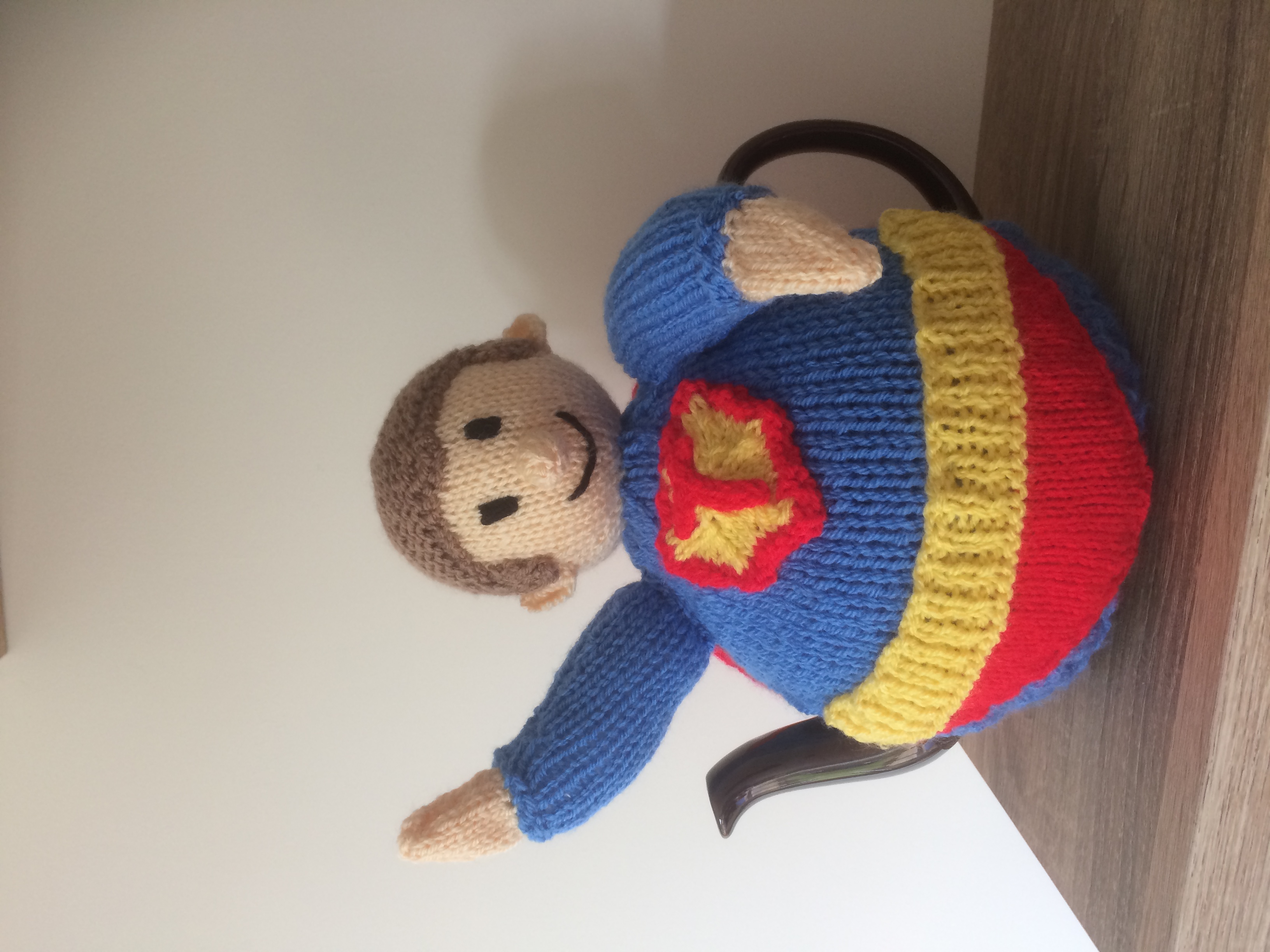 Sarah Allaway
13/05/20
Not knowing what the end result would be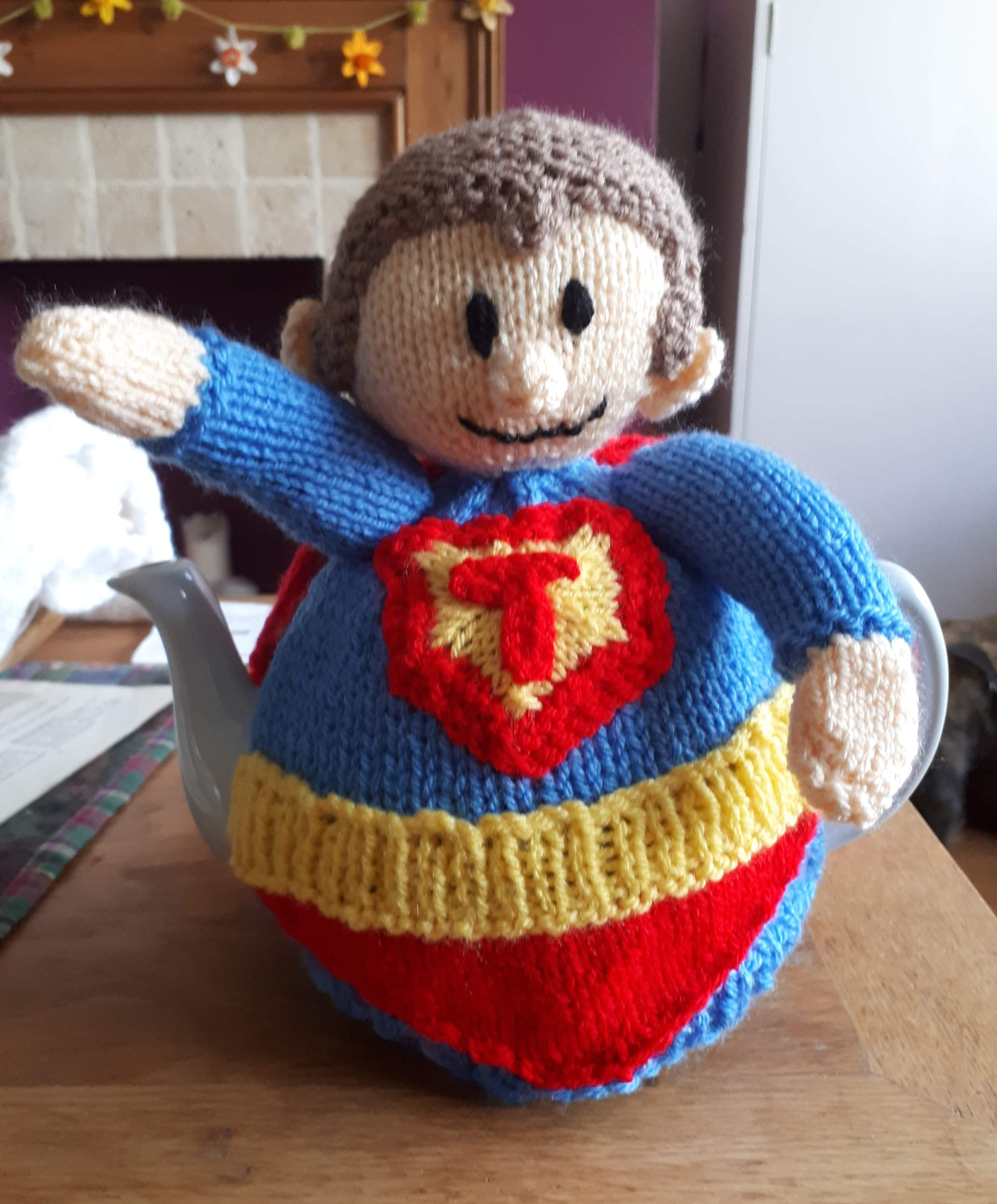 Natasha Wells
13/05/20
This was a mystery KAL so I loved guessing what it was going to be. Super clear and simple instructions to follow too, a great fun knit Thank you.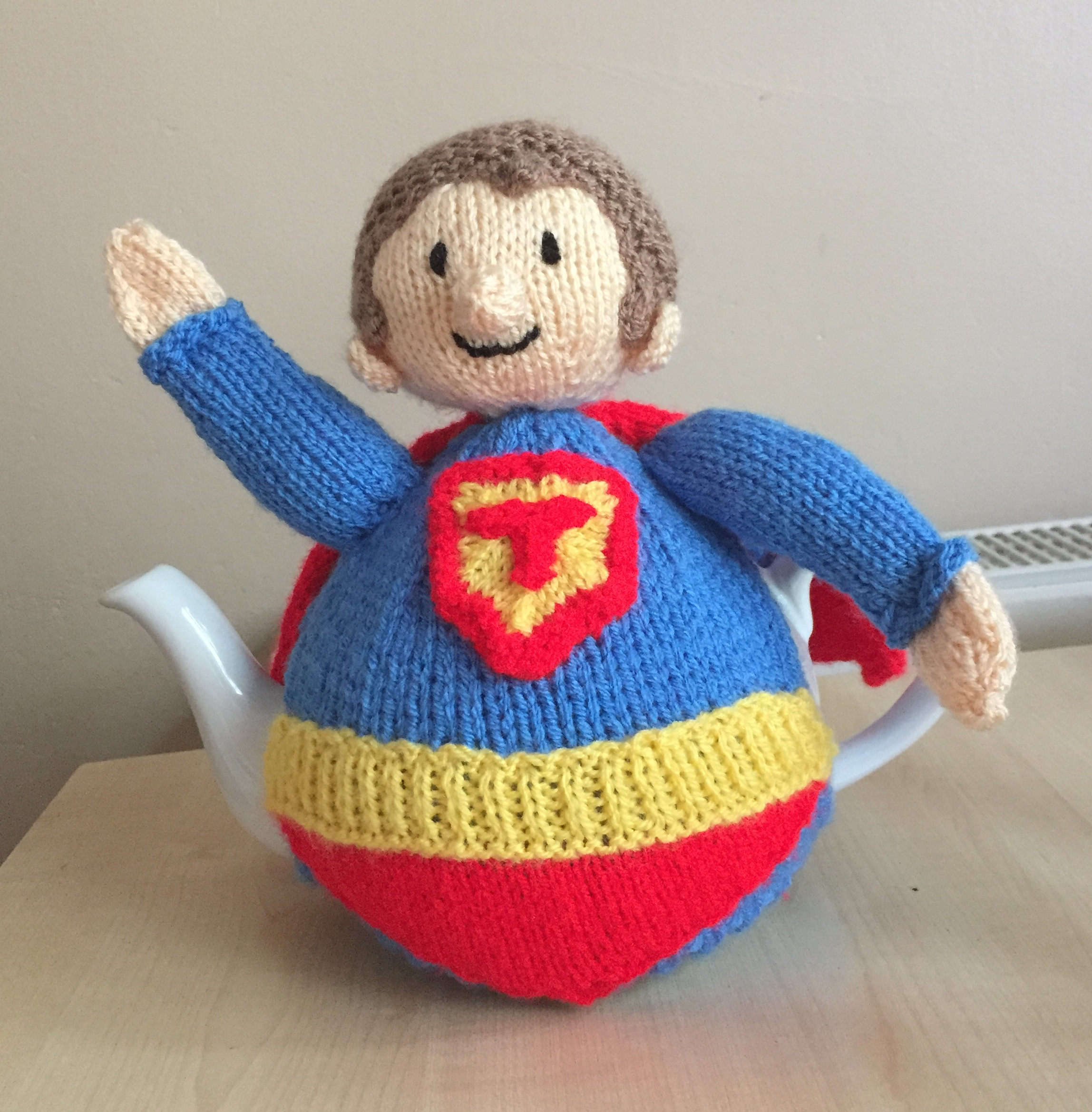 Sarah Henley
12/05/20
I loved everything about this pattern and very much enjoyed knitting it, but I did like knitting the emblem. I wasn't sure when reading the pattern how I was going to make it look like the photo, but I followed the pattern and was so impressed with how it turned out.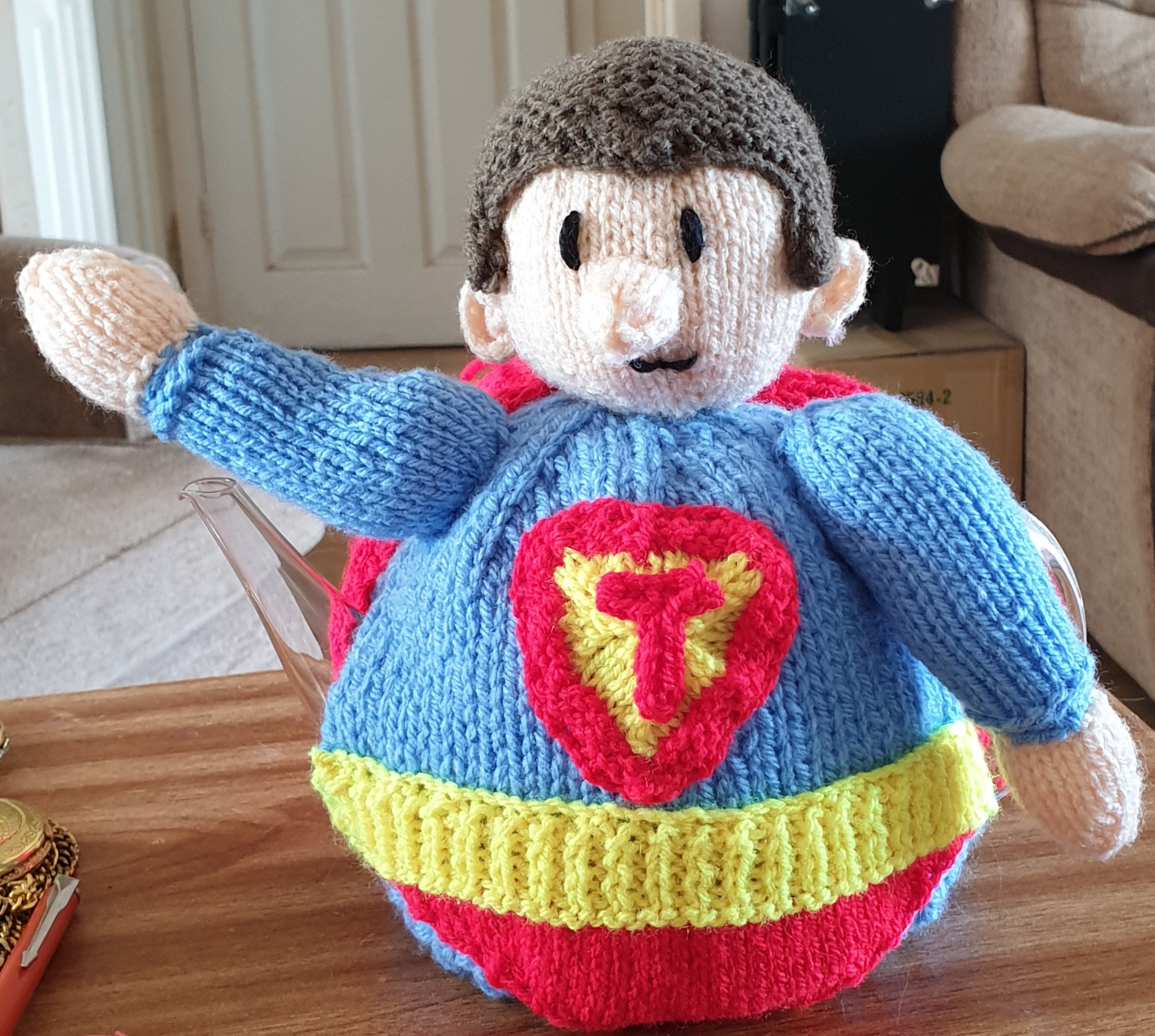 Linda Dickinson
12/05/20
First teacosy that I have knitted. loved knitting this the pattern was easy to follow. Have already ordered more patterns and have started one. thank you for this knit along.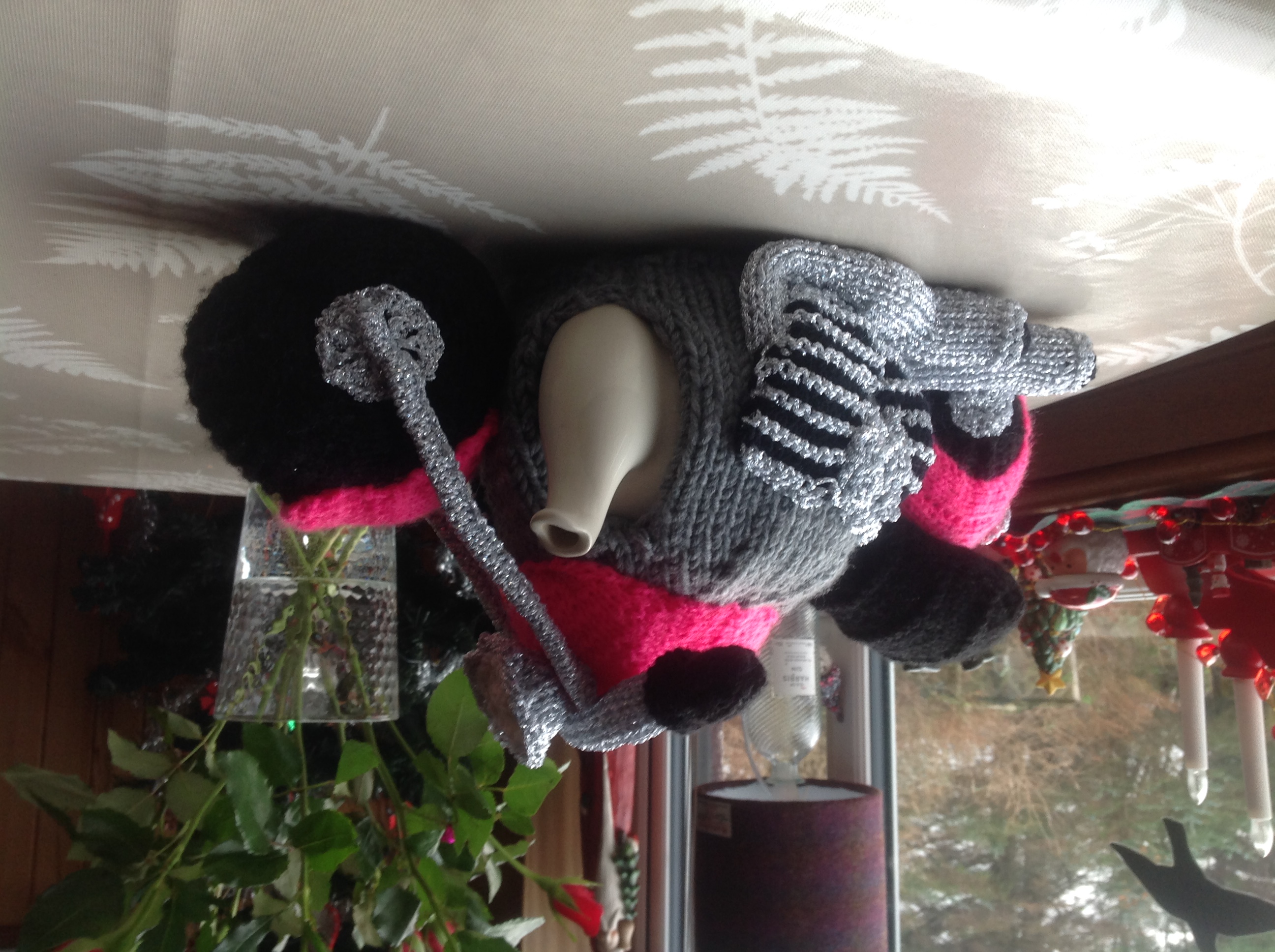 Sue Barrett
09/05/20
The detail.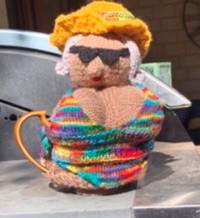 Caroline
09/05/20
Personalised to my bestie Peta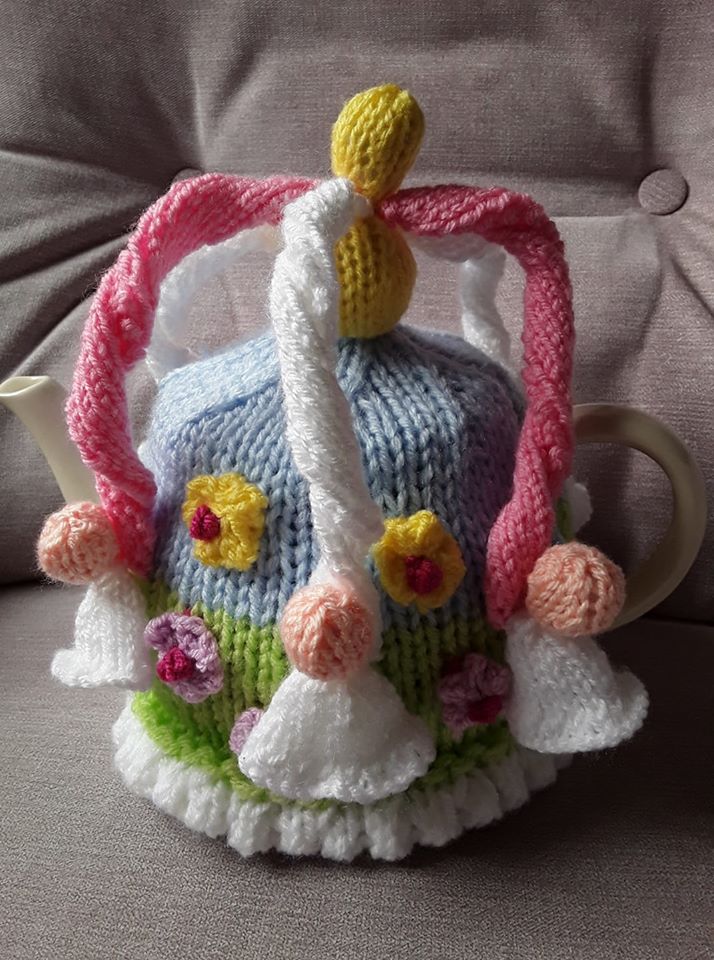 Jenni
01/05/20
Happy May Day eveyone. May Day tea cosy from Simply Knitting . (pattern by tea cosy folk of course)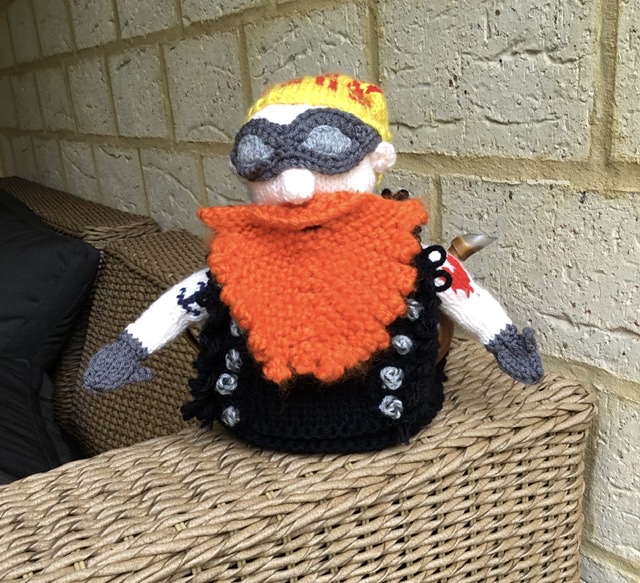 Caroline
28/04/20
He was fun to knit. Liked the studded jacket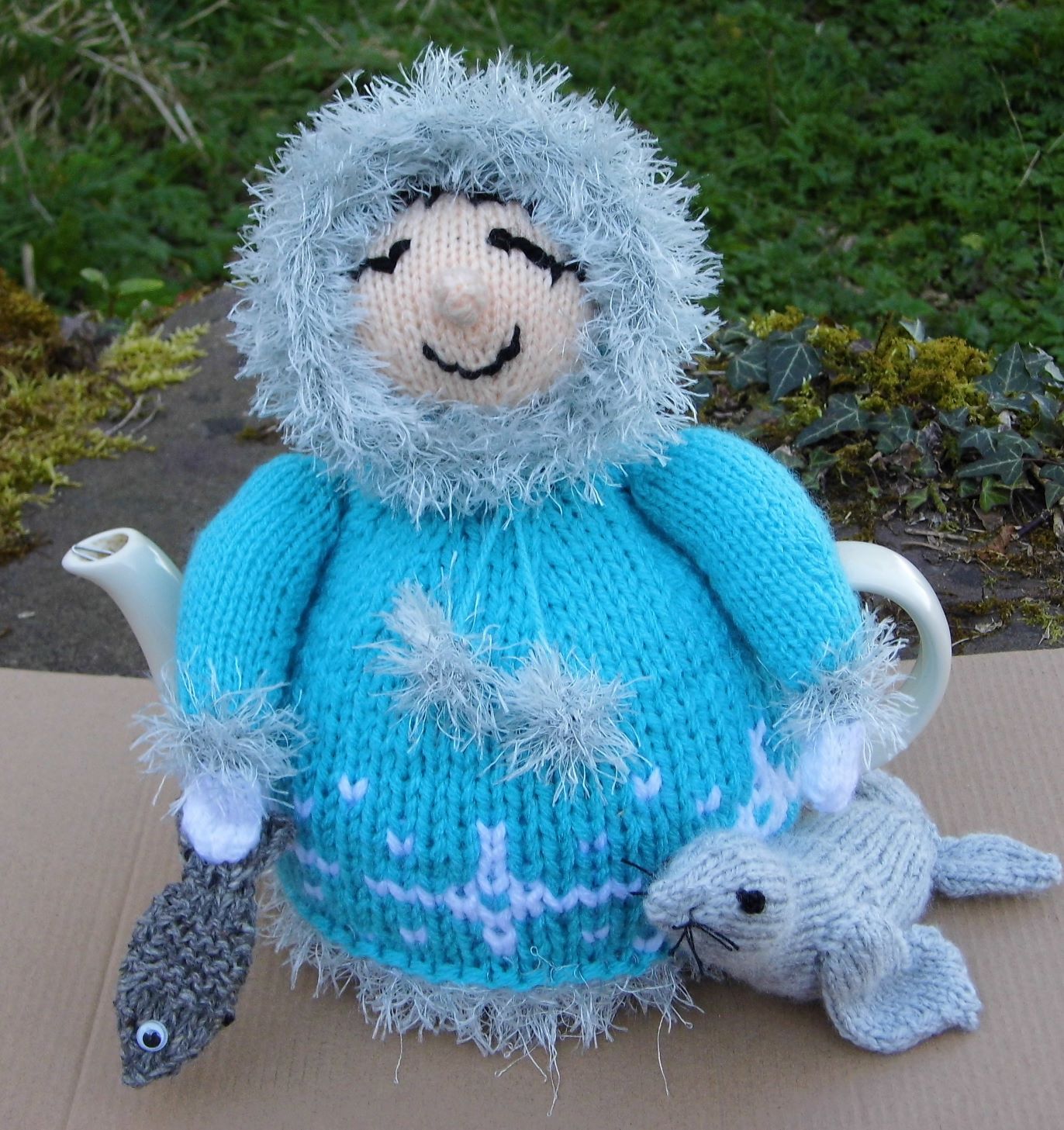 Petra
29/03/20
Loved the colours and the animals :-)...Thanks Sue.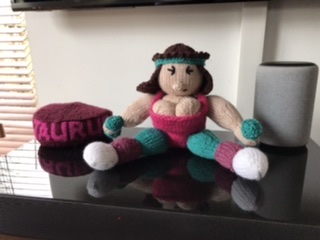 Yvonne Sutcliffe
17/03/20
With out a teapot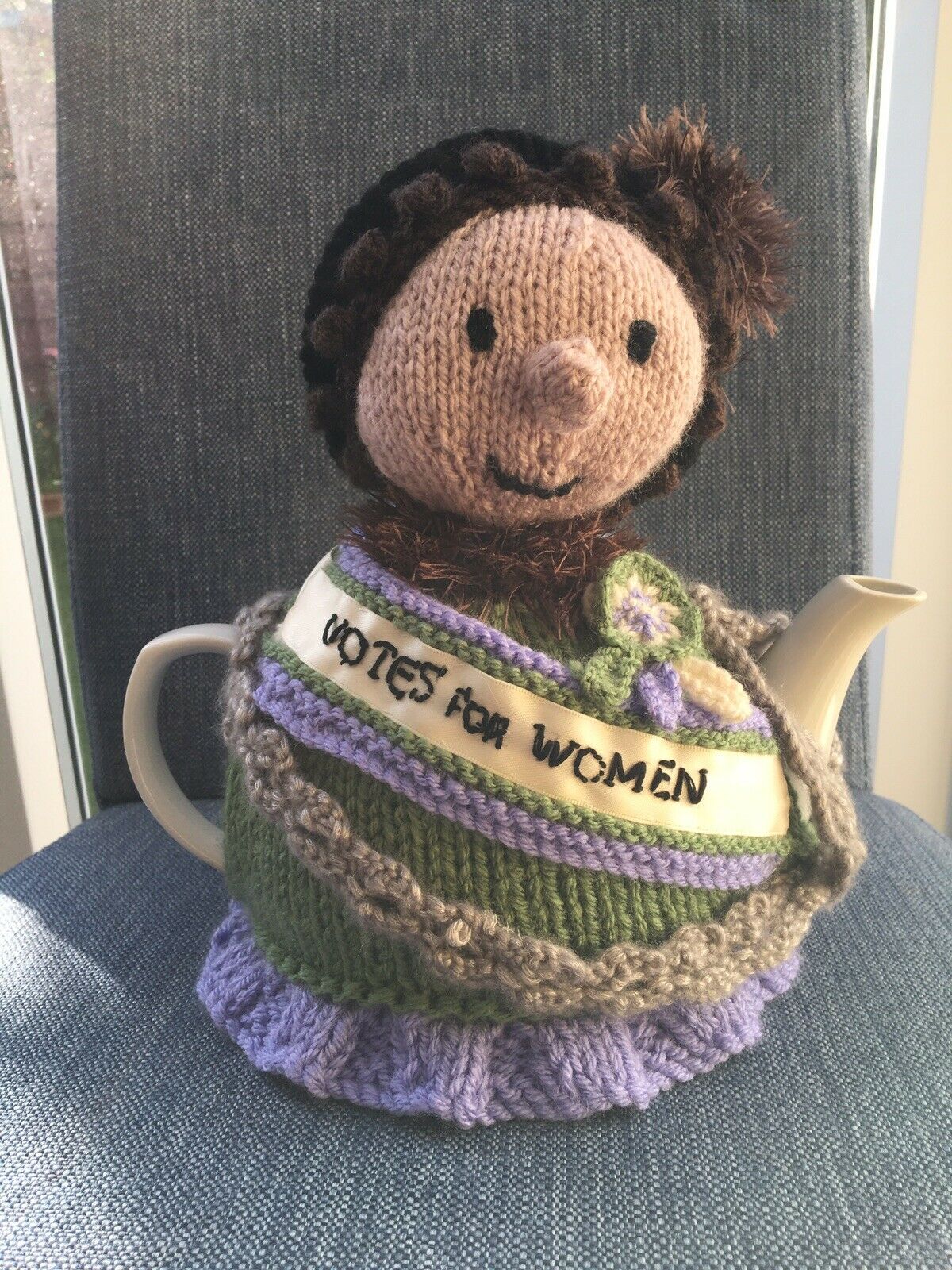 Meredith
09/03/20
Here's the suffragette lady. Am working on Shakespeare currently!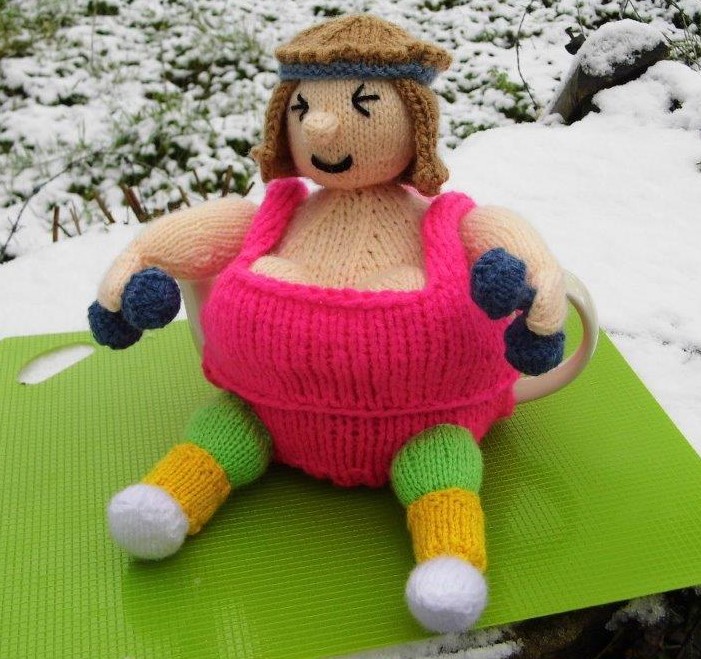 Petra
13/02/20
Loved the colours ...also exercise in the fresh air is good for You! :-))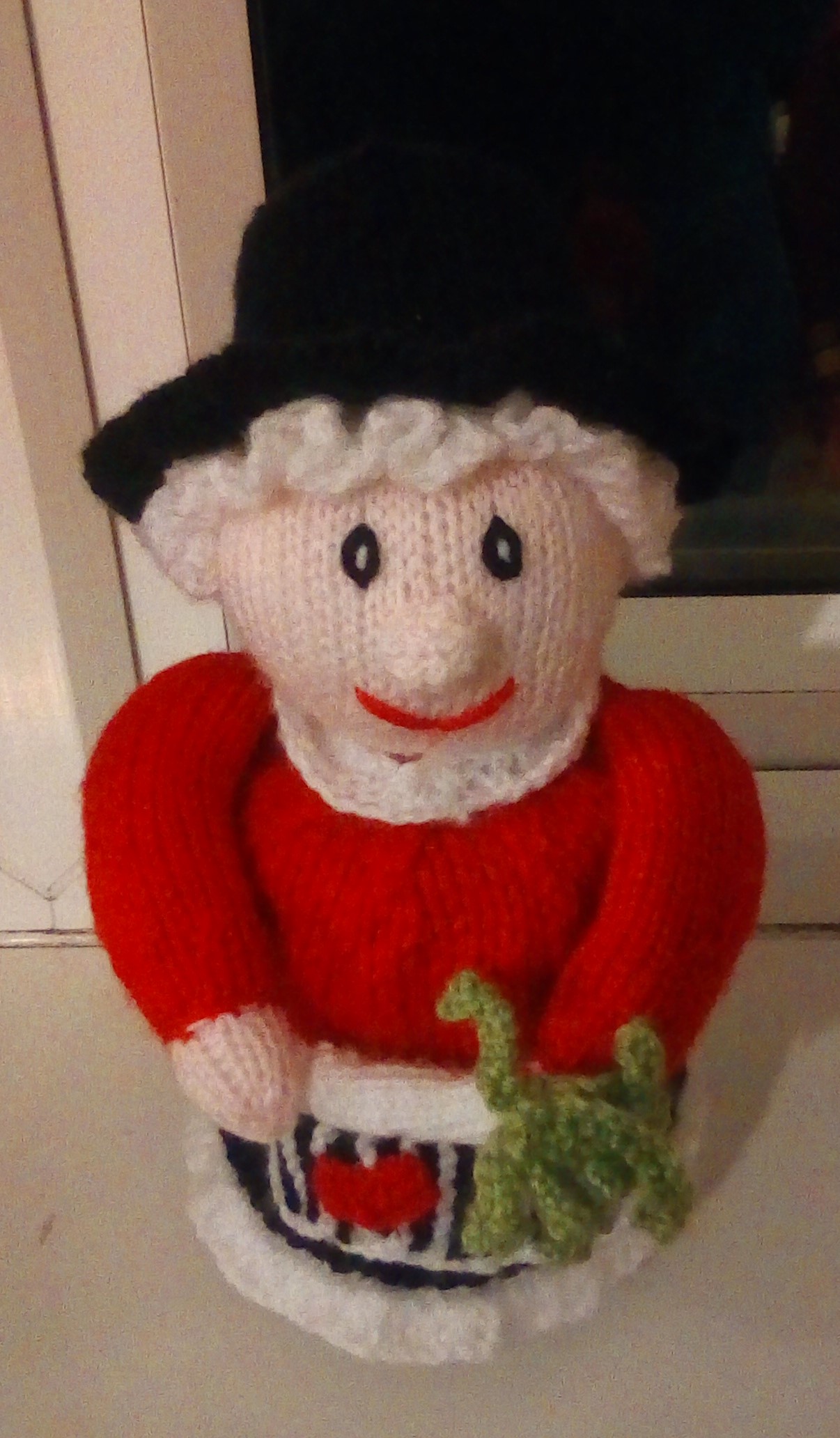 Mayfield Knits
12/02/20
easy and fun to follow.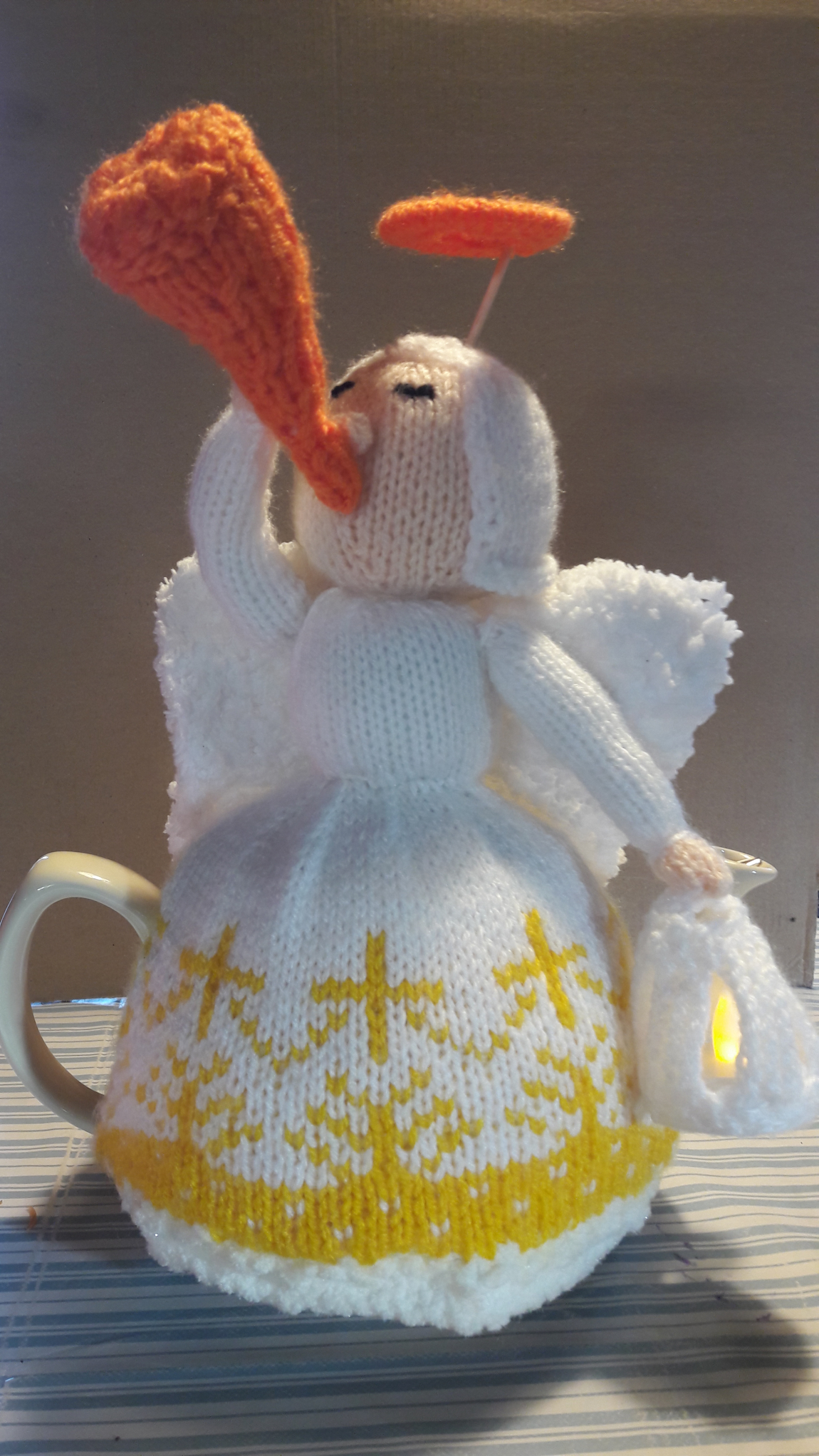 Petra
29/01/20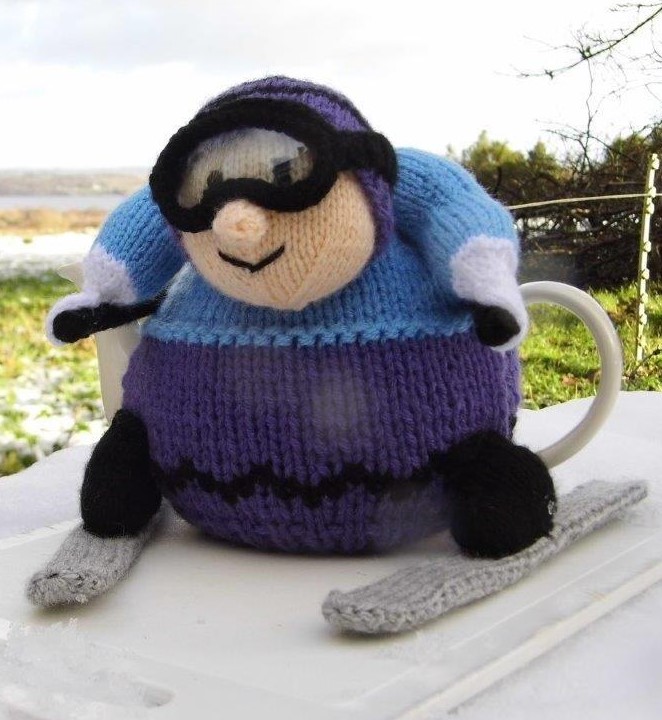 Petra
29/01/20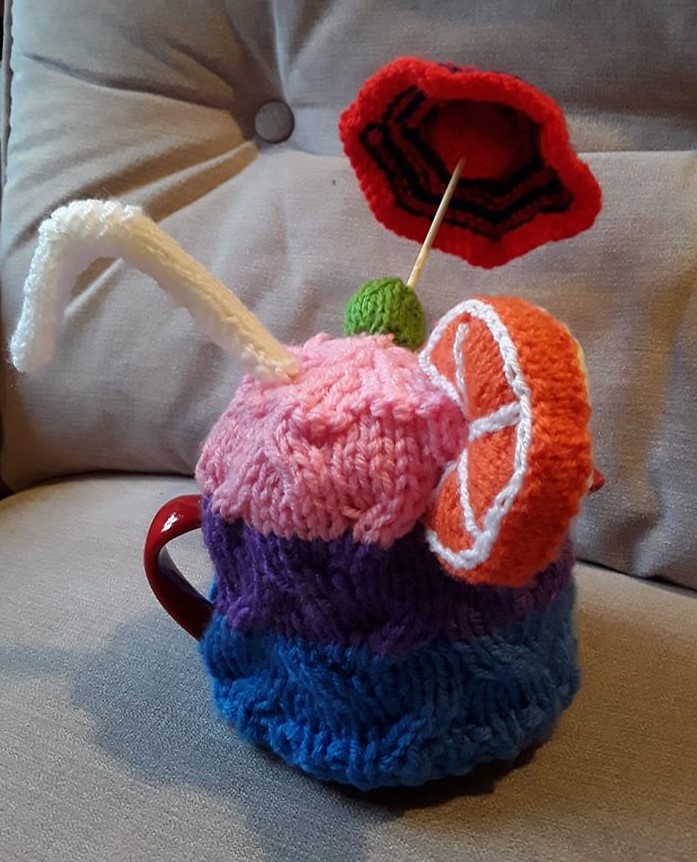 Jenni
03/01/20
Wanted to knit this tea cosy for a while but not had a small enough teapot.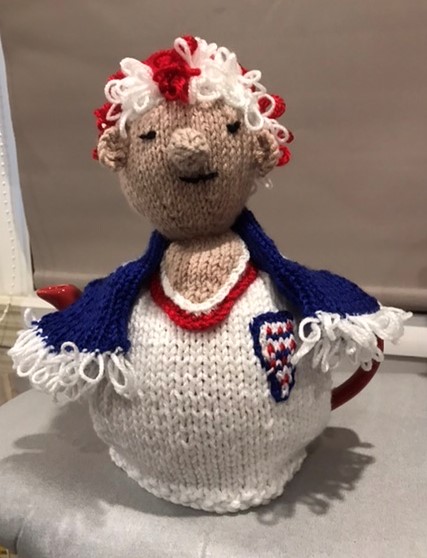 Wendy J Edwards
23/12/19
it was very easy to follow and to construct! If you love the pattern it's always easier to knit it !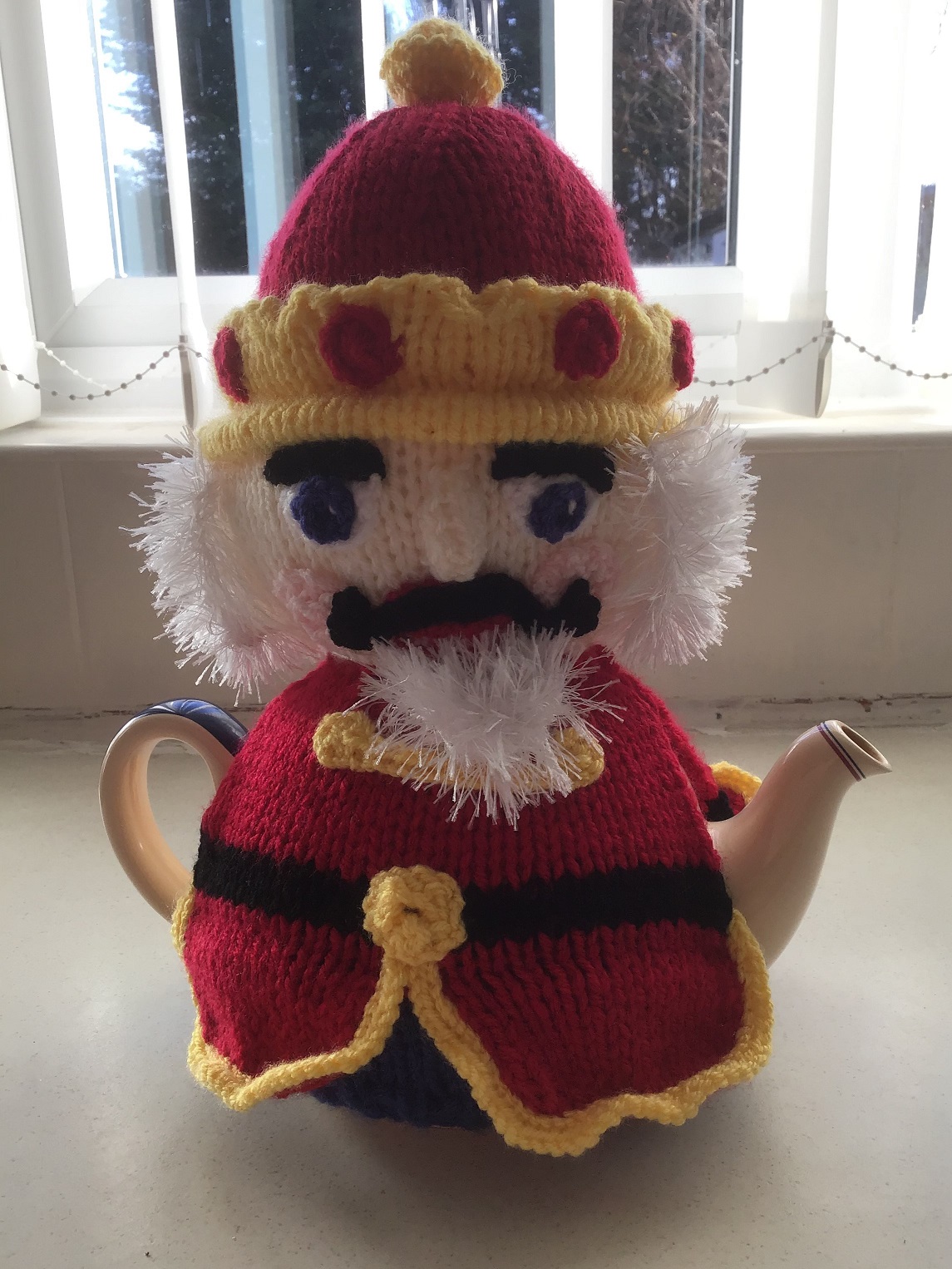 Jackie Barber
21/12/19
loved the Nutcracker. Really Christmassy.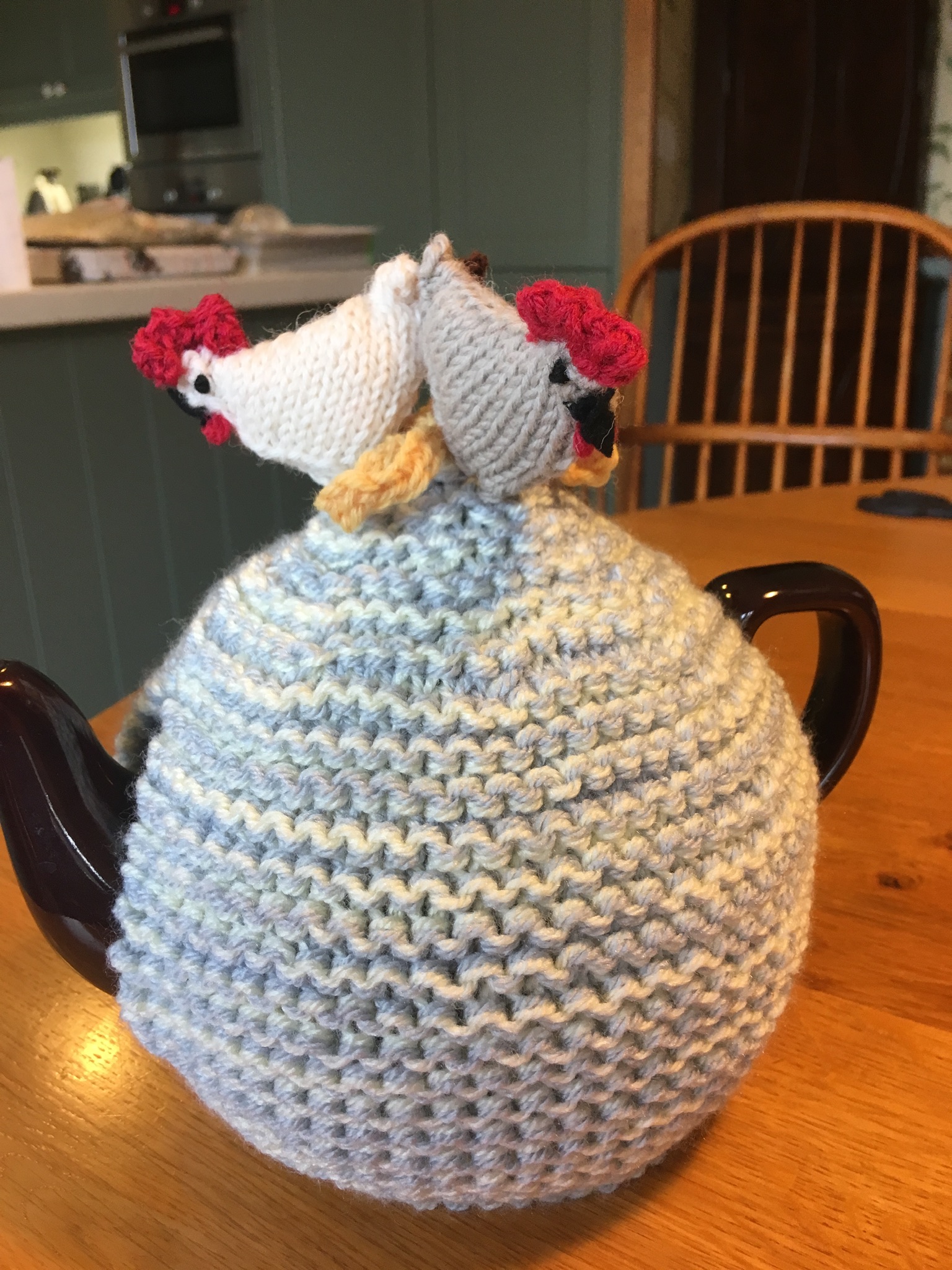 Anna
21/12/19
The chickens worked out perfectly and looked just like the Pekins I love. Really easy to follow , a perfect present for Xmas - and now I am inspired to try some more !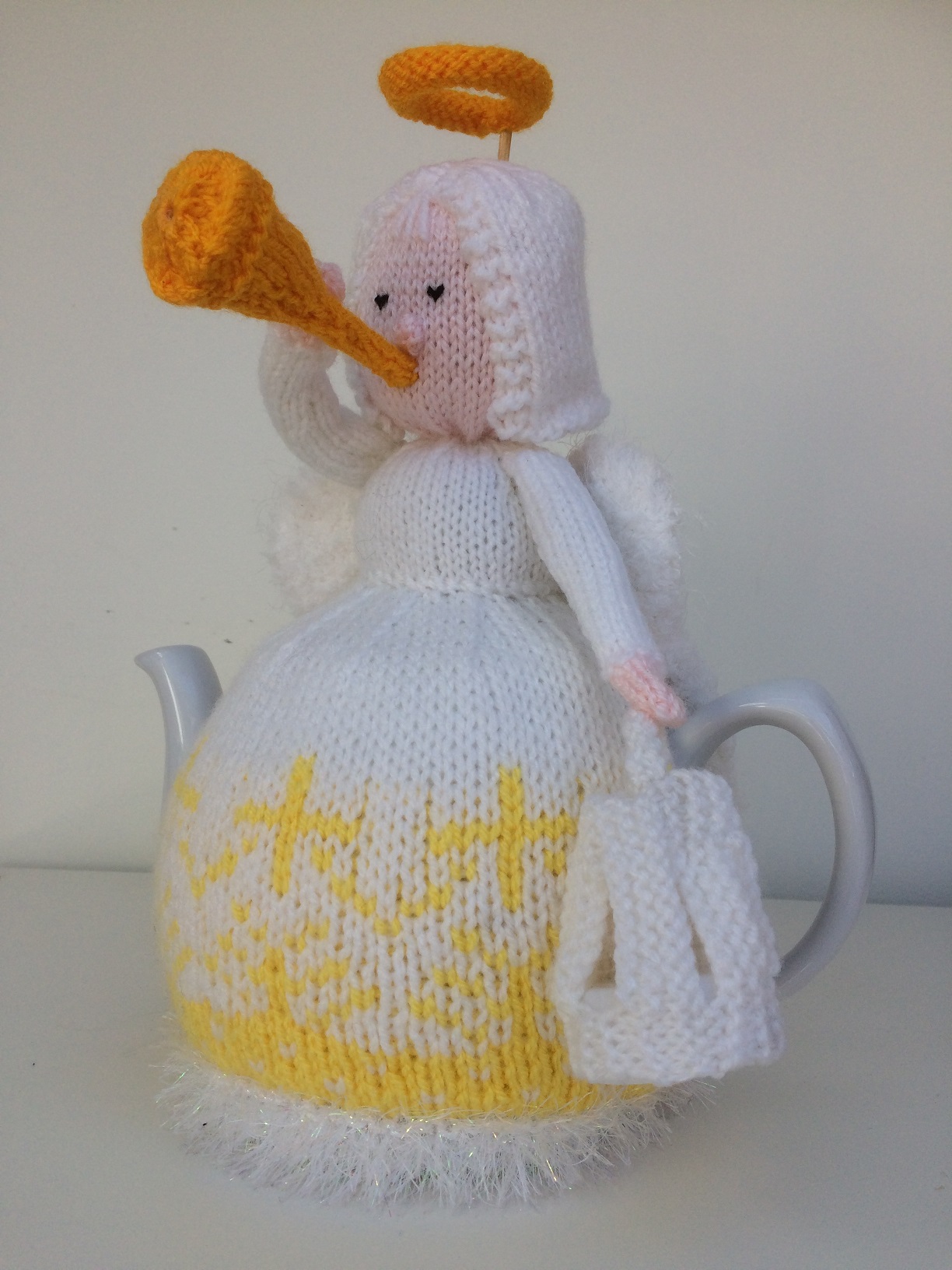 Kathy Jolley
19/12/19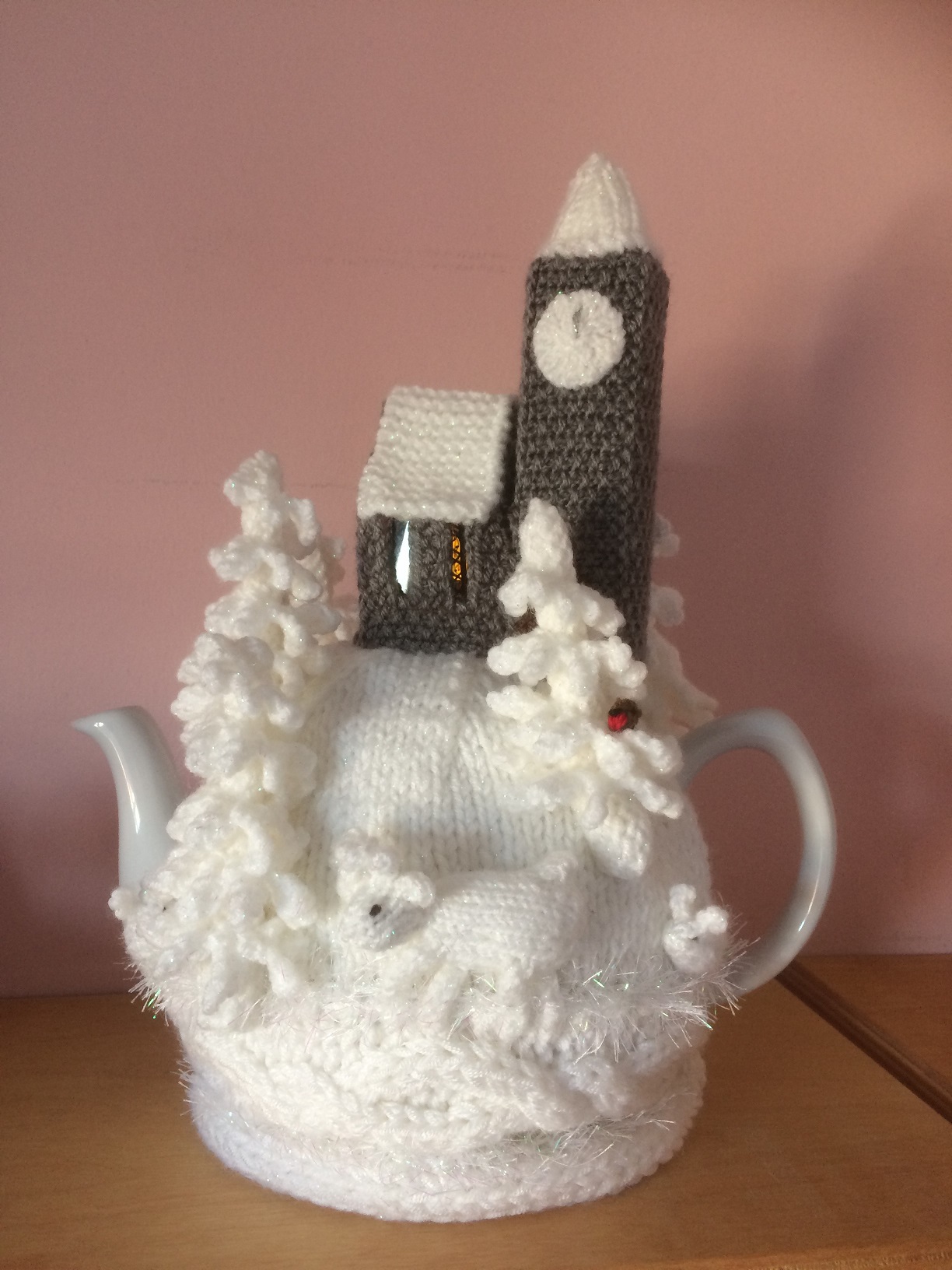 Kathy Jolley
19/12/19
The design. Very appropriate for this time of year. I enjoyed making it. Thank you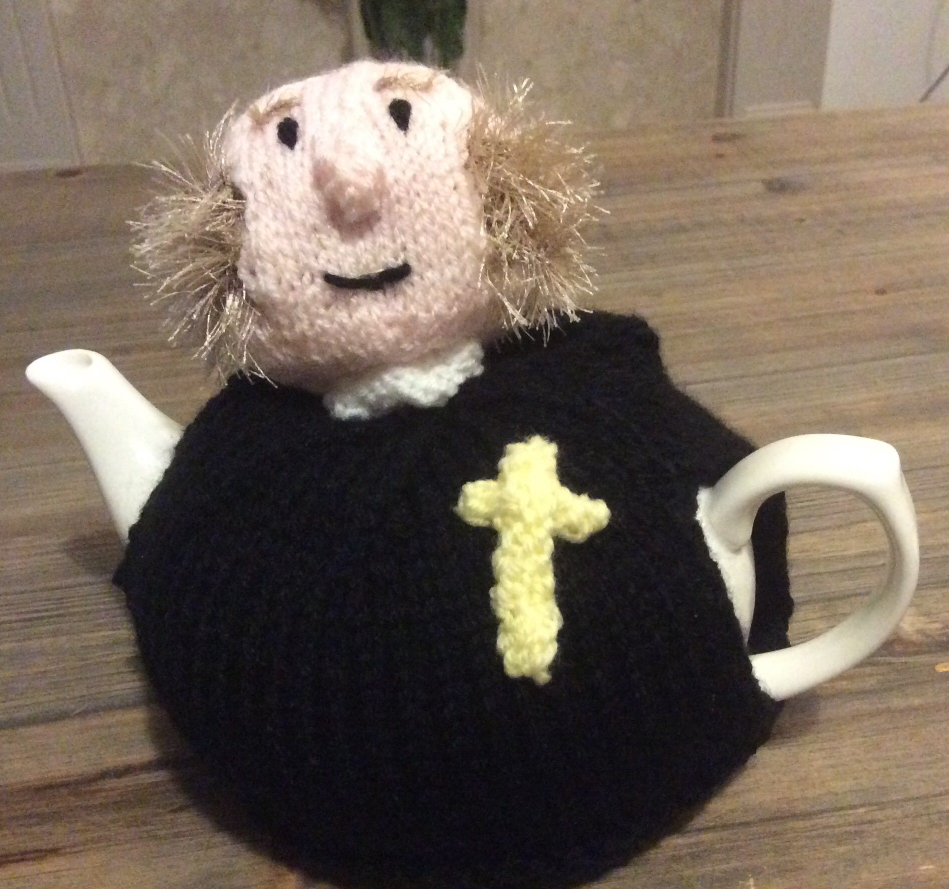 Kathryn
04/11/19
I'm putting arms on the vicar so will download the nun pattern today to copy the arms there.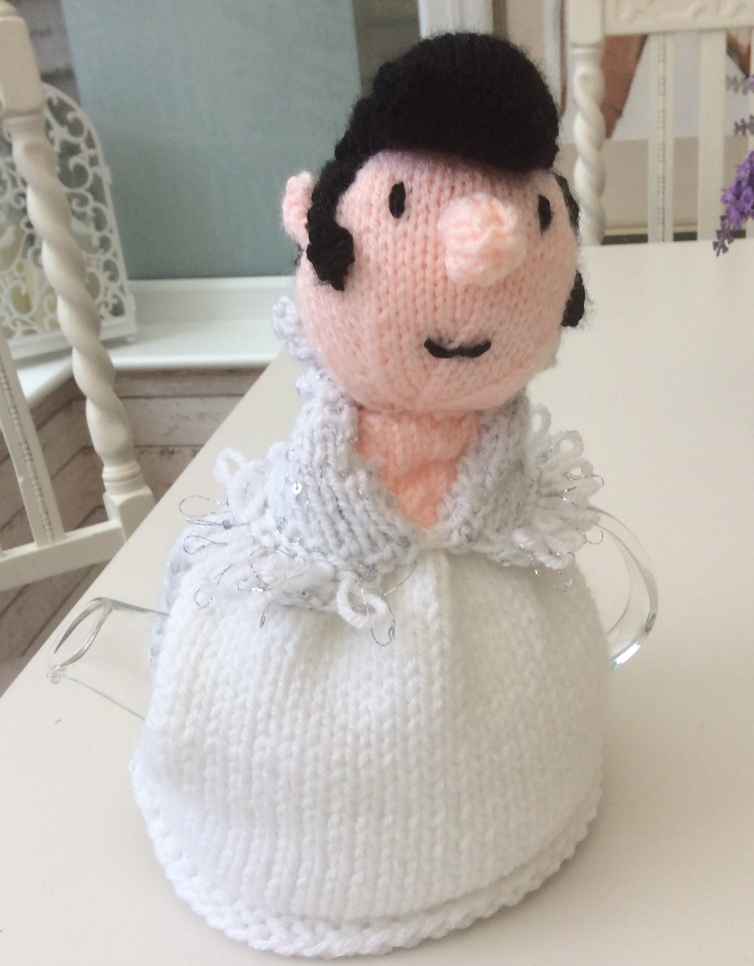 Kathryn
04/11/19
Here are a couple of cosies I've made.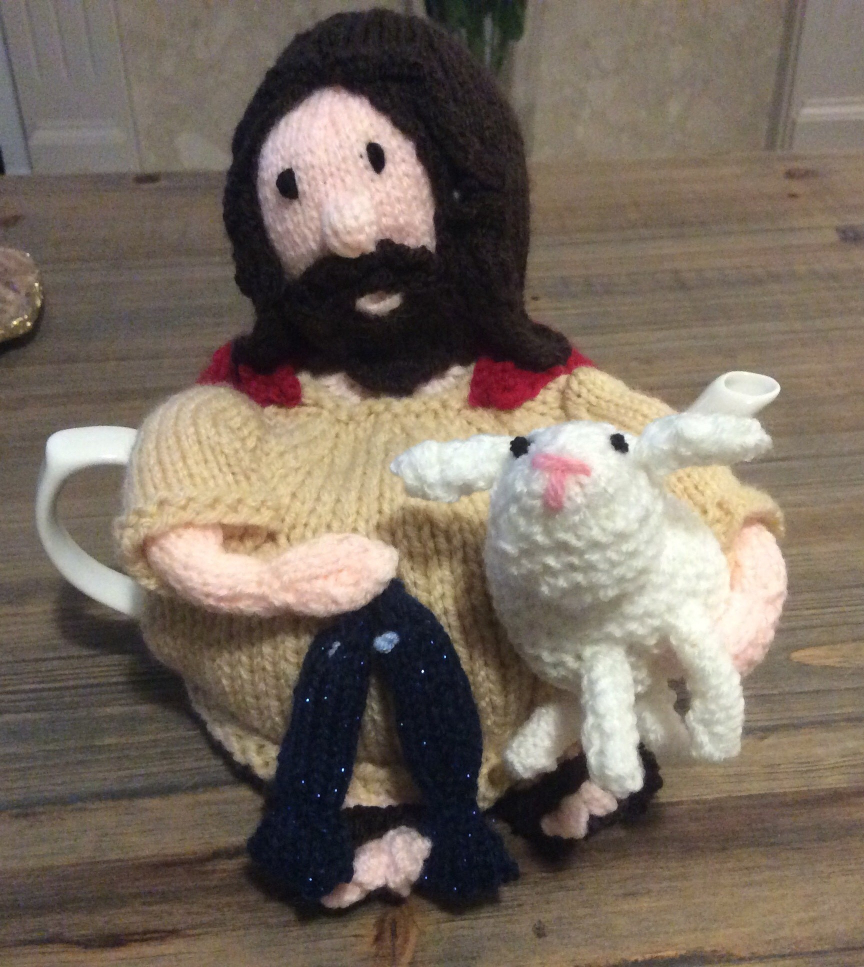 Kathryn
04/11/19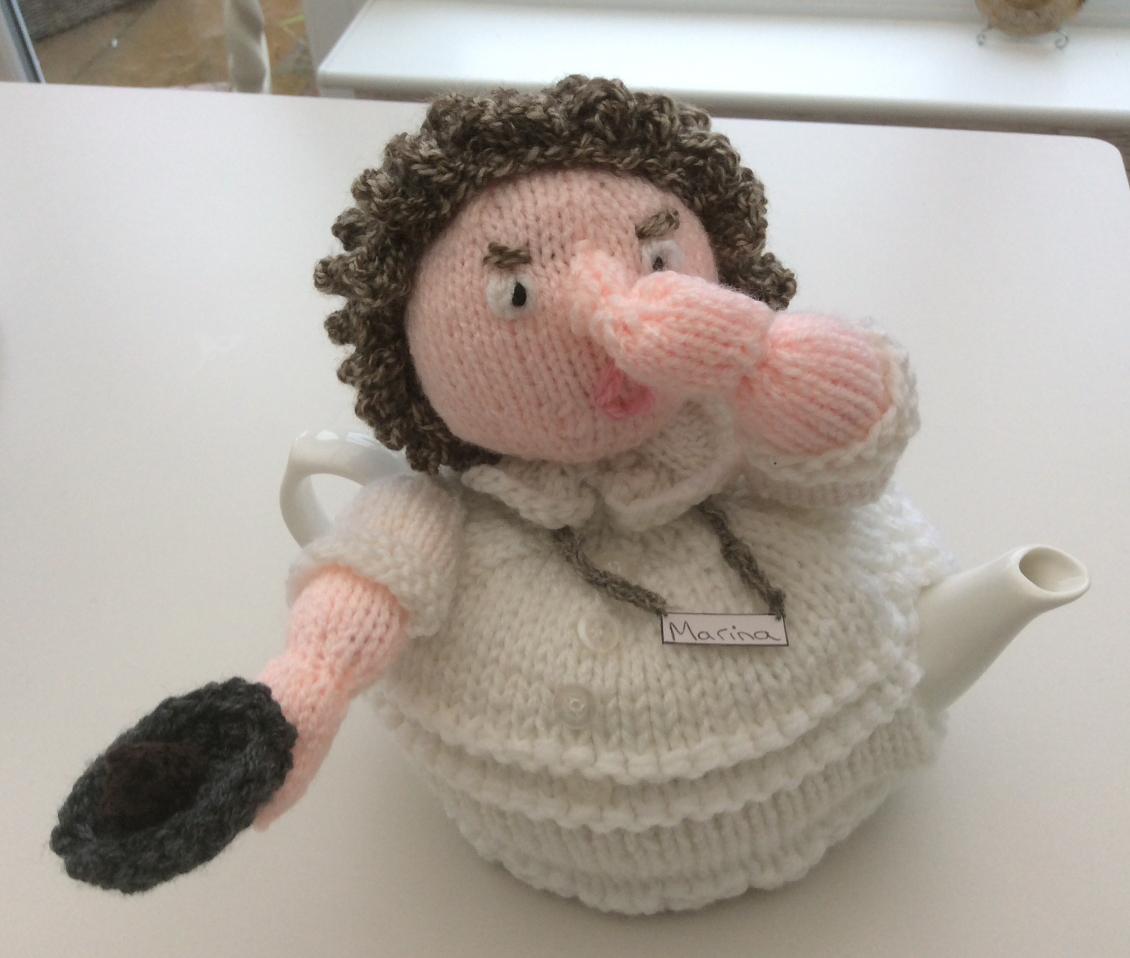 Kathryn
04/11/19
I've made a nurse for a Belgian friend, which is why I made the uniform white, to reflect what she wears. And a lanyard with her name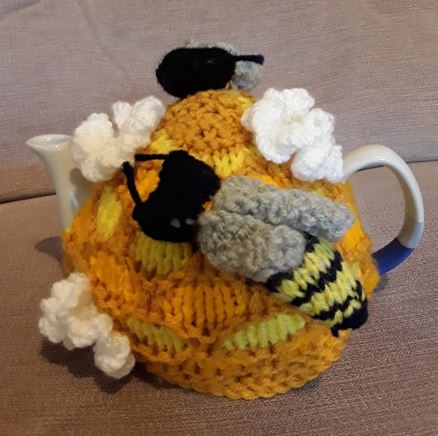 Jenni
24/10/19
Beehive tea cosy from Simply Knitting issue 189.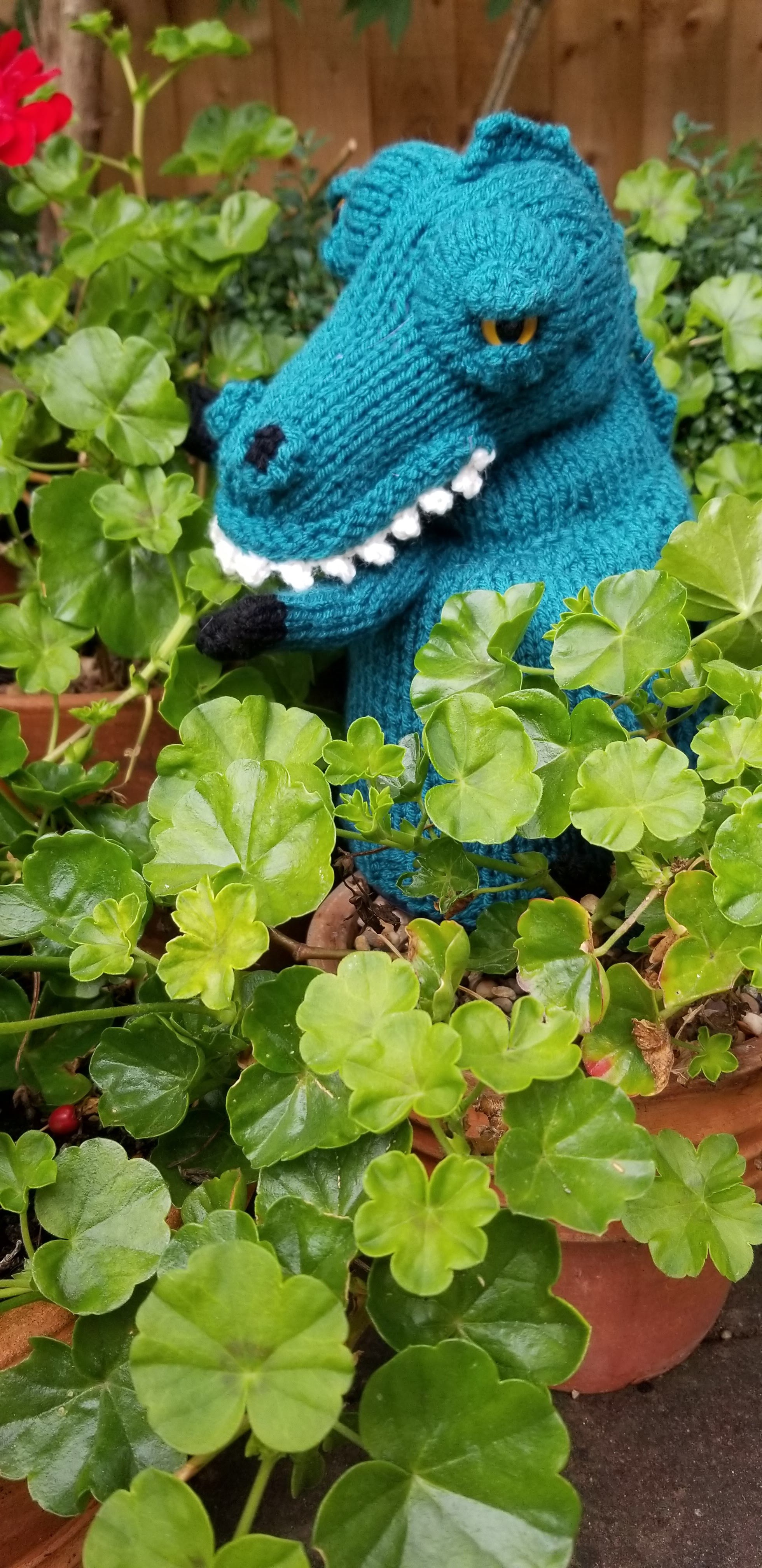 Jill Galloway
14/09/19
Really enjoyed making this Tea Rex cosy - I've rather bonded with him - it's going to be hard to give him away as a Xmas present.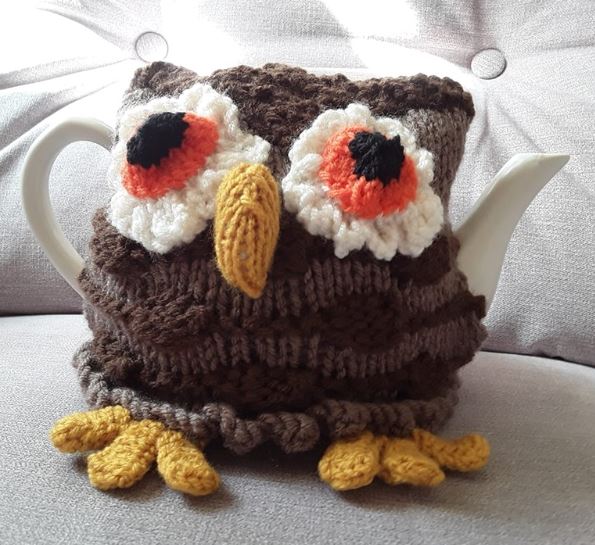 Jenni
26/08/19
I really enjoyed knitting it and it was a nice easy pattern.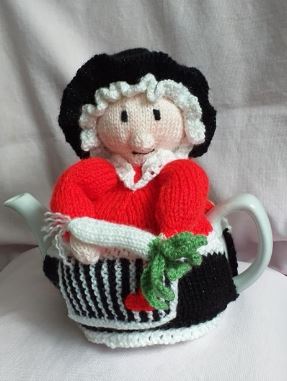 Julie
26/08/19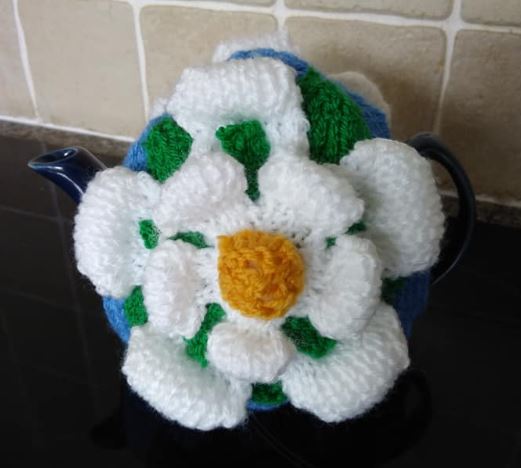 Tina
26/08/19
Going to friends for a Yorkshire Day party, thought I would make them a Yorkshire Rose tea cosy!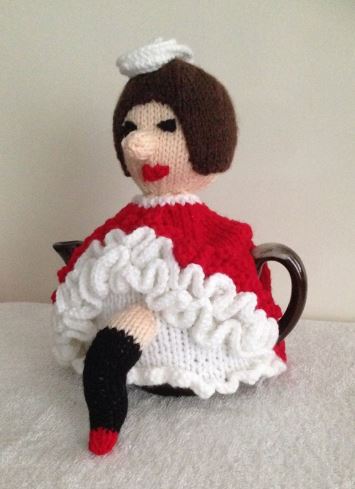 Rita
26/08/19
Well it just had to be knitted, I really do love knitting these.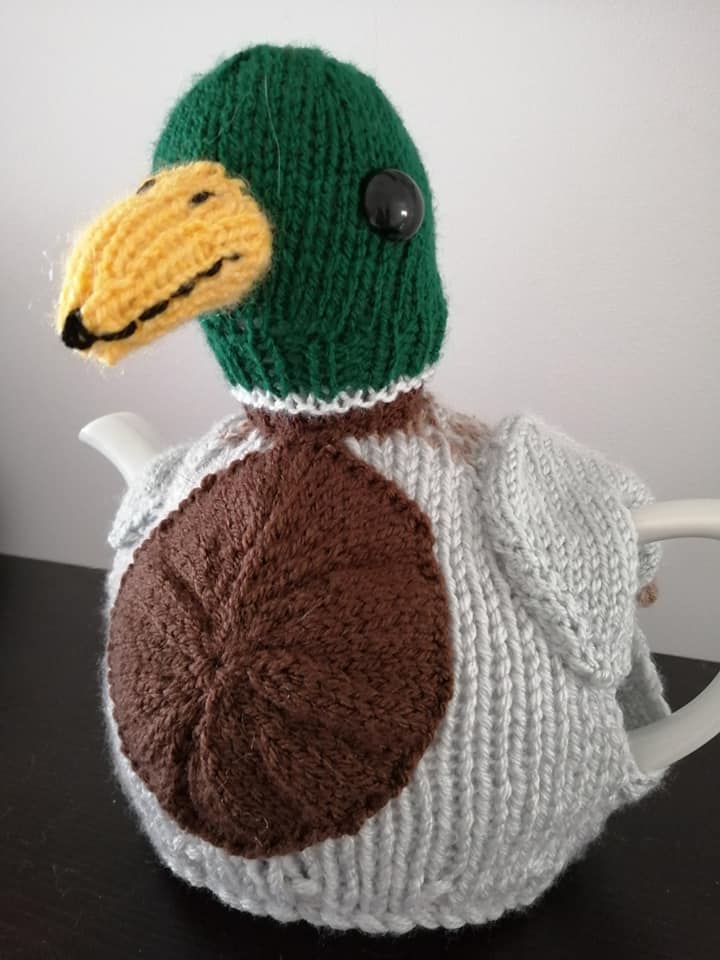 Sandra
26/08/19
Here's my Mallard Duck. Lovely pattern 😀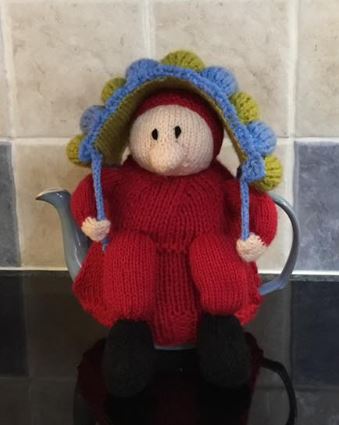 Joyce
26/08/19
I would like to give the cosy to a local charity for a raffle prize. The charity is Chalk Farm Hotel in Eastbourne.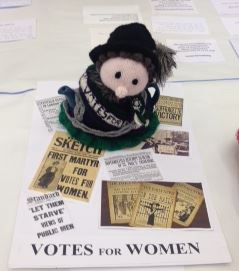 Kay
26/08/19
The Suffragette won 3rd place at a local show.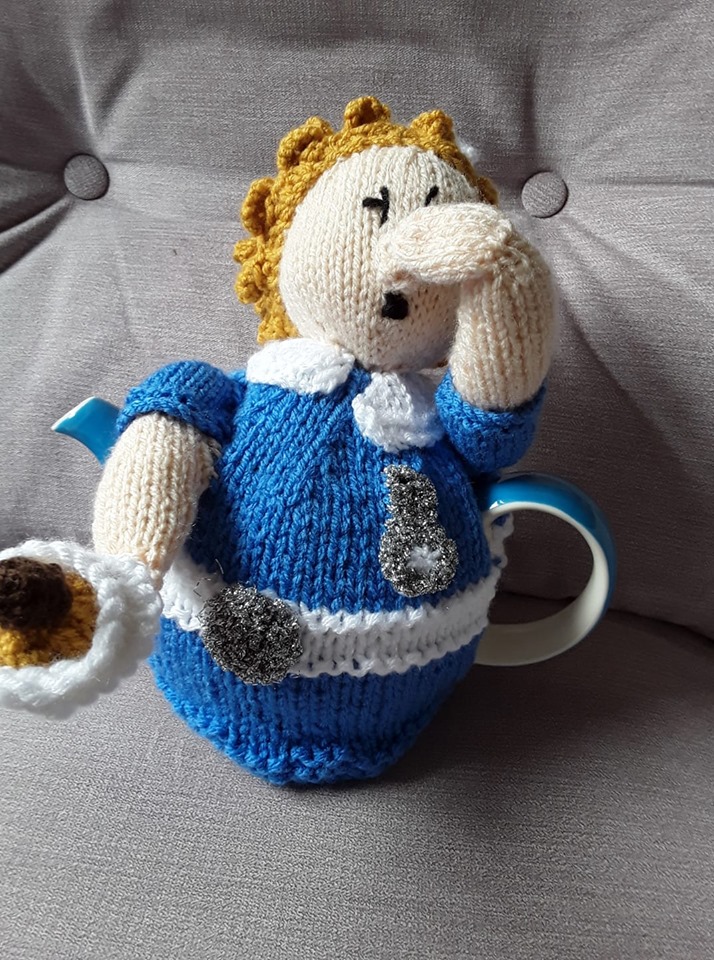 Jenni
27/06/19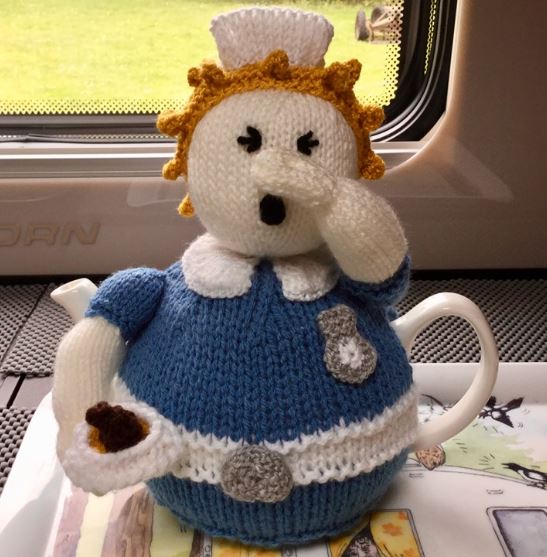 Deborah
27/06/19
It's finished so easy to make, LOVE it 😂🤣😂🤣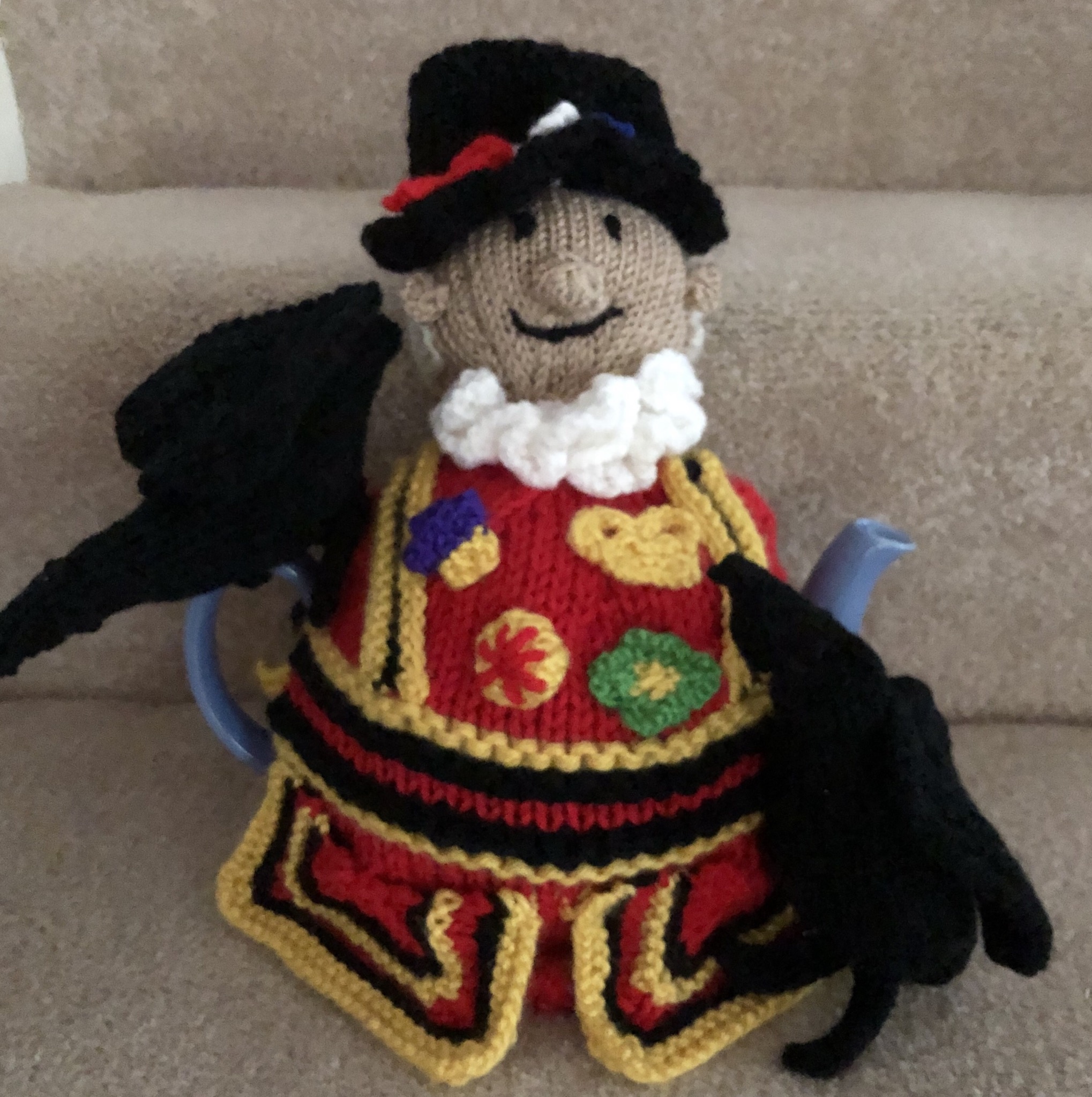 Barb
20/06/19
It was soooo much fun to make, moving on to the Queen next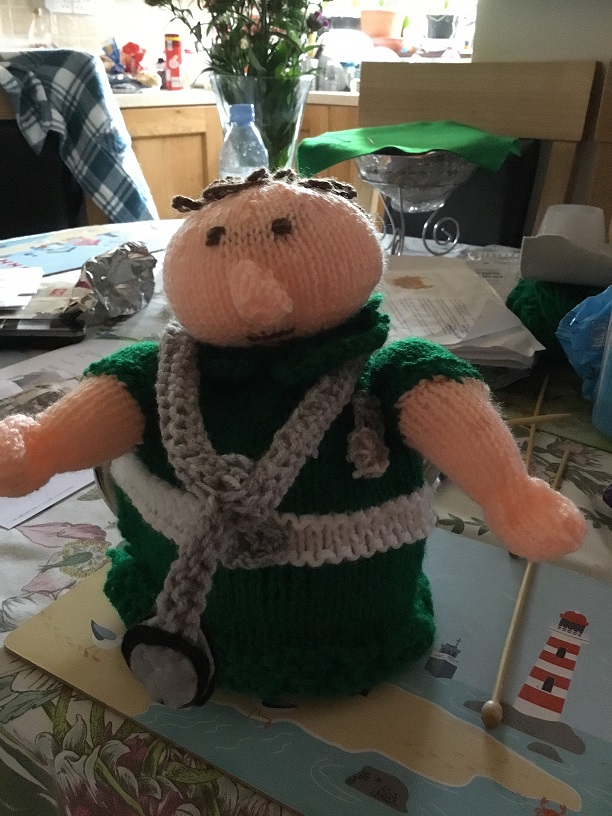 Claire White
04/06/19
I turned the nurse pattern into a Paramedic.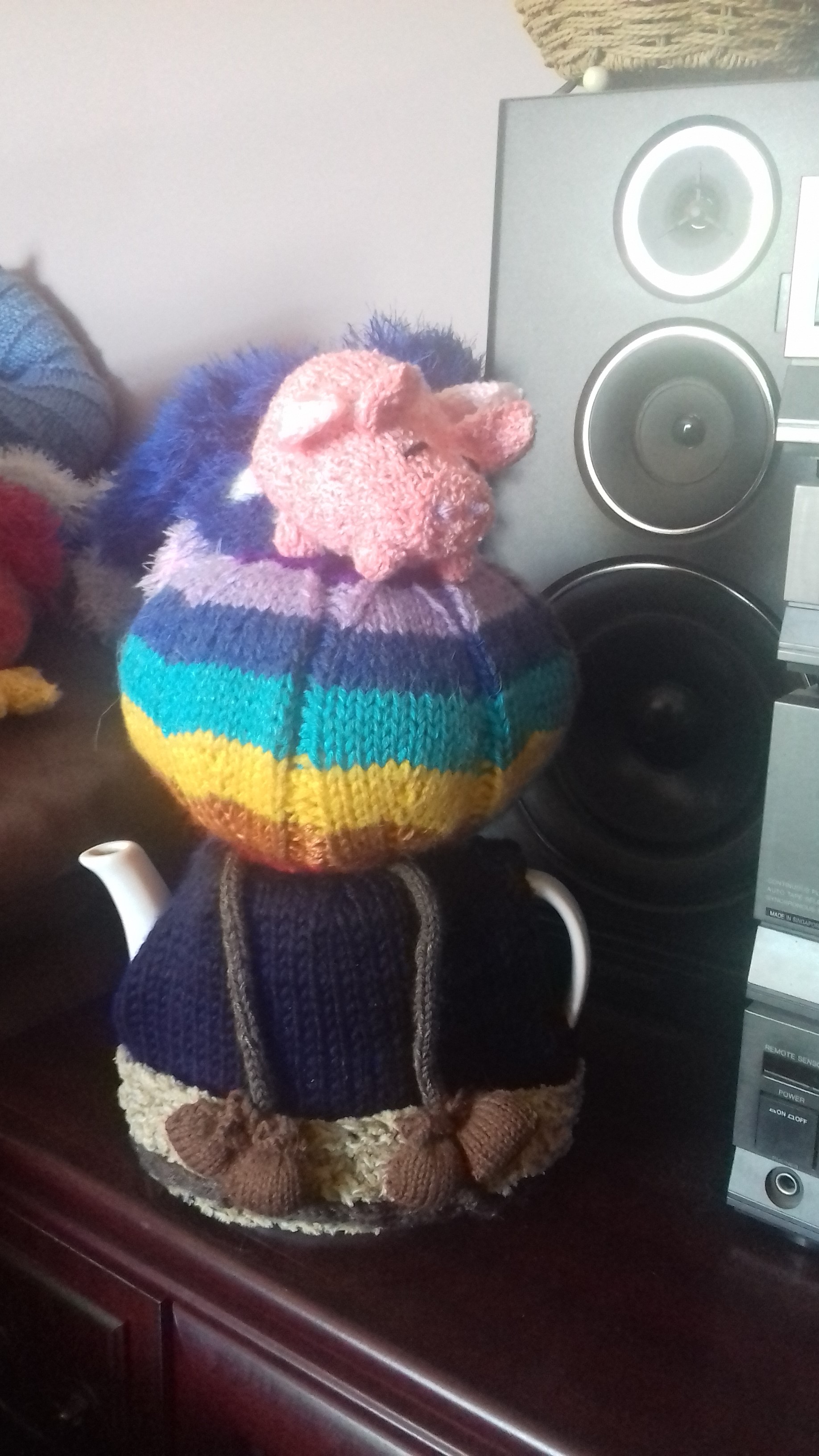 lin
24/05/19
it used to have a cow that landed after flying over the moon...now has a sleepy pig that flew...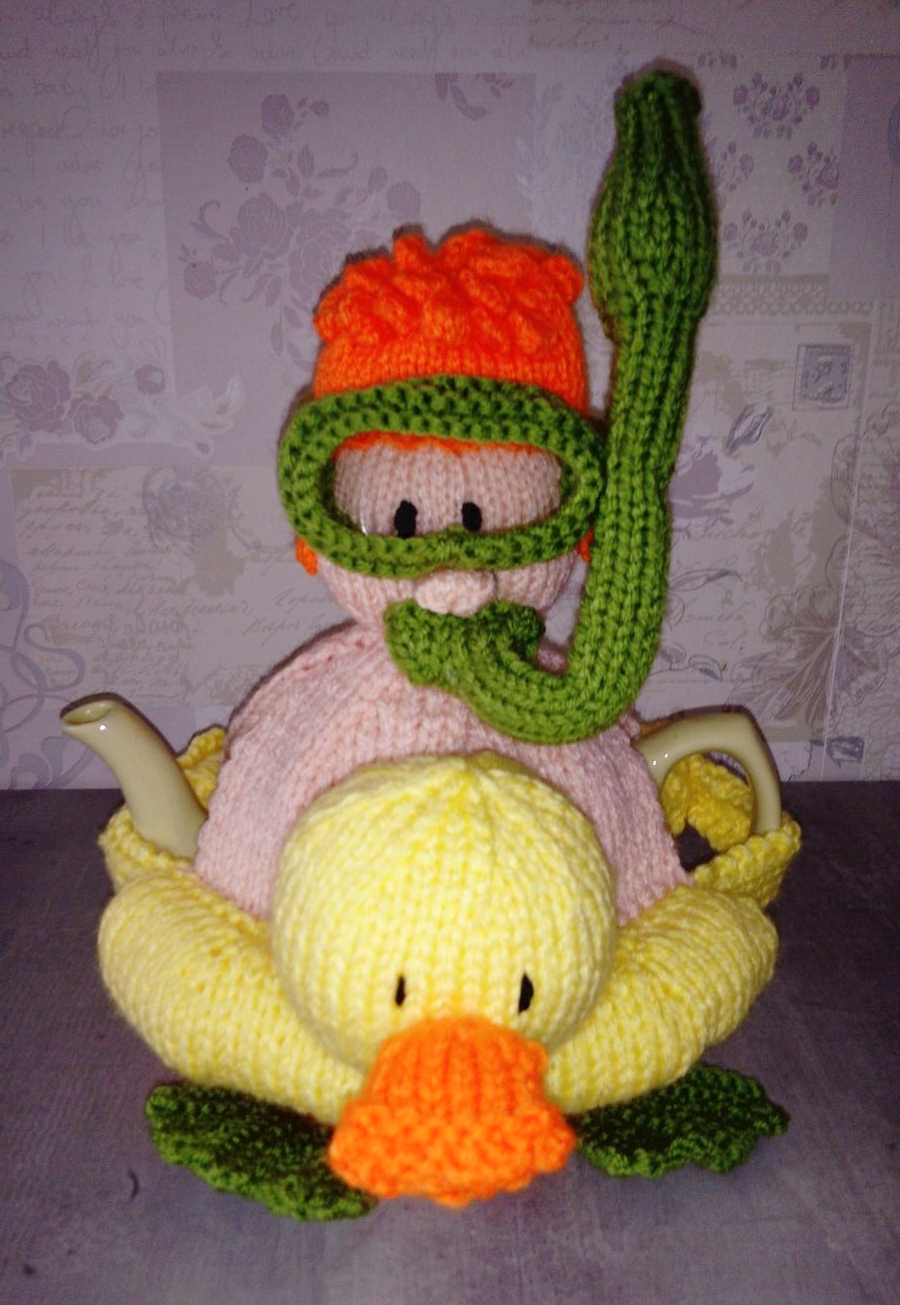 Sandra
23/05/19
A lovely pattern with clear instructions. I am starting my Pirate cosy today.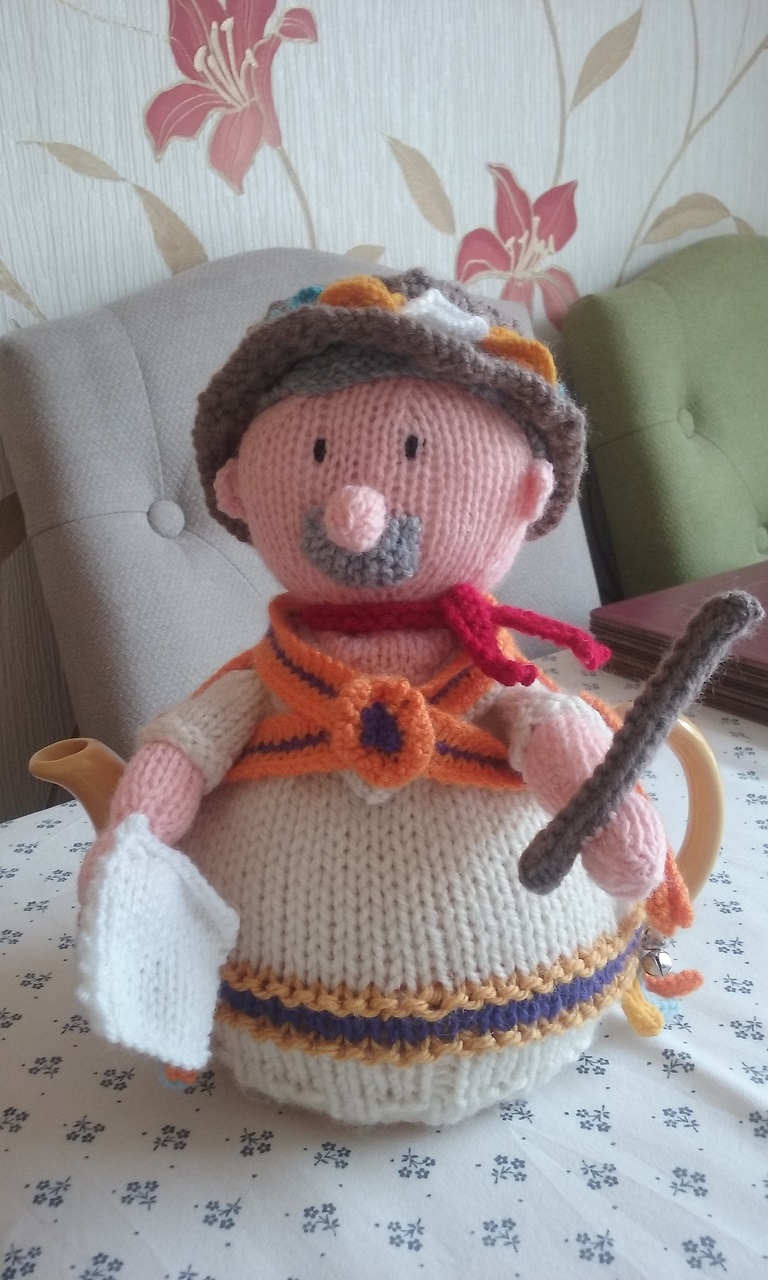 Susan Lee
22/04/19
It work out brilliantly, followed your easy to understand instructions and Hey presto I made a Morris Man Tea Cost. I adapted the colours to match my brother in law's Morris group. Hope you approve.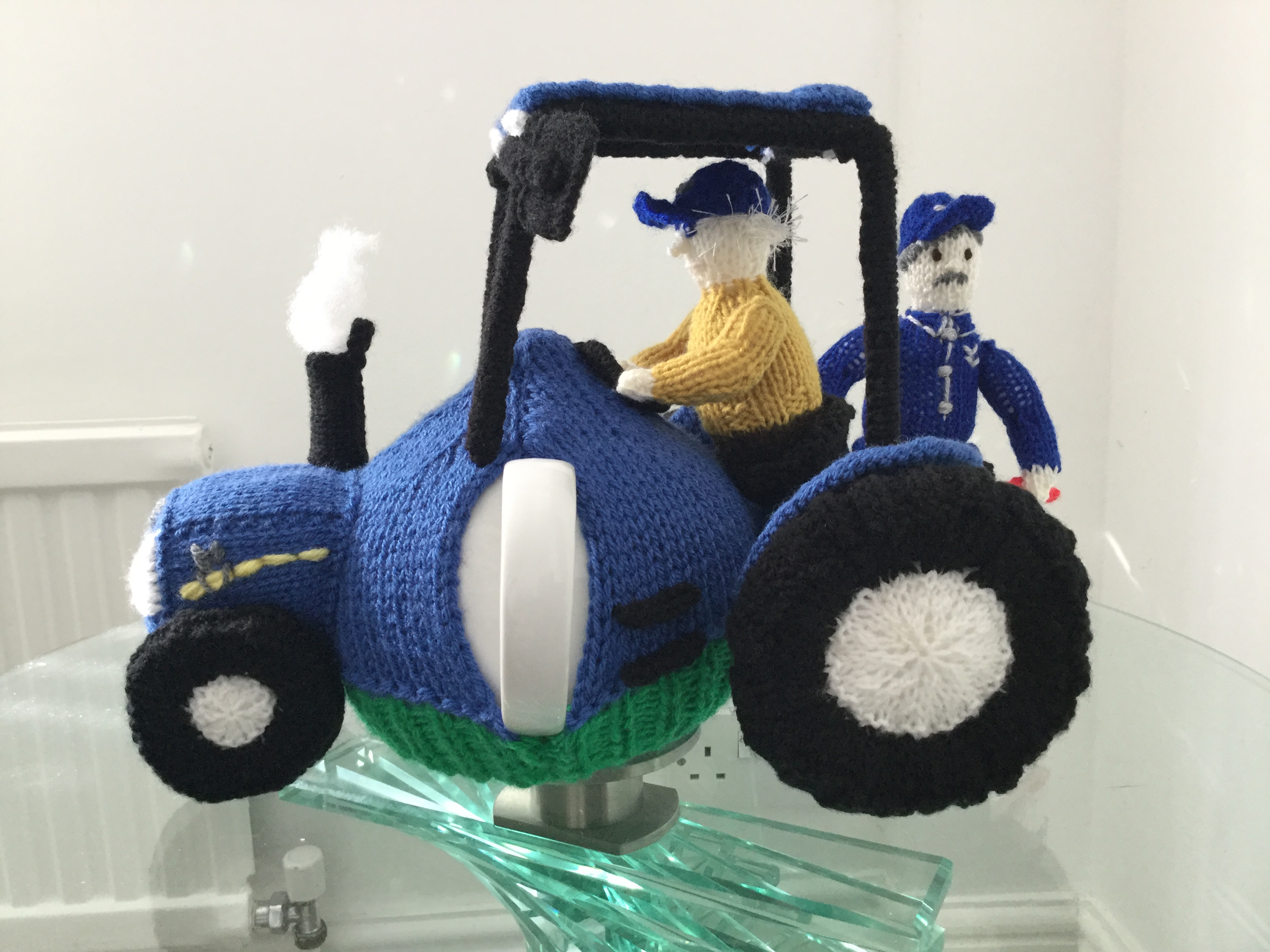 Deborah Akery
08/04/19
26/03/2019 Fabulous Ford NewHolland Tractor love making this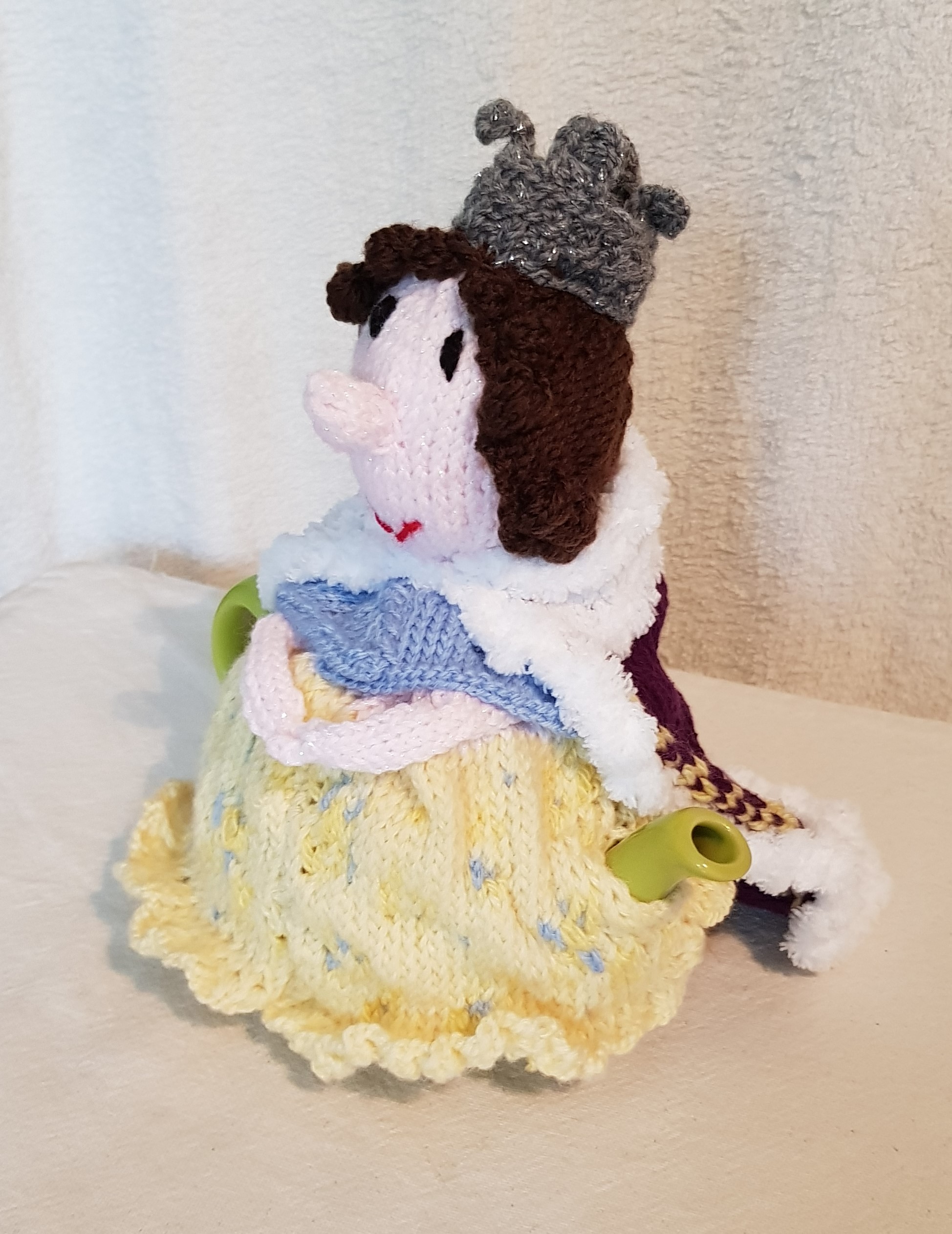 Betty
07/04/19
I made it as a gift for a Queen lover ! Can't wait to give it to her and see what she thinks.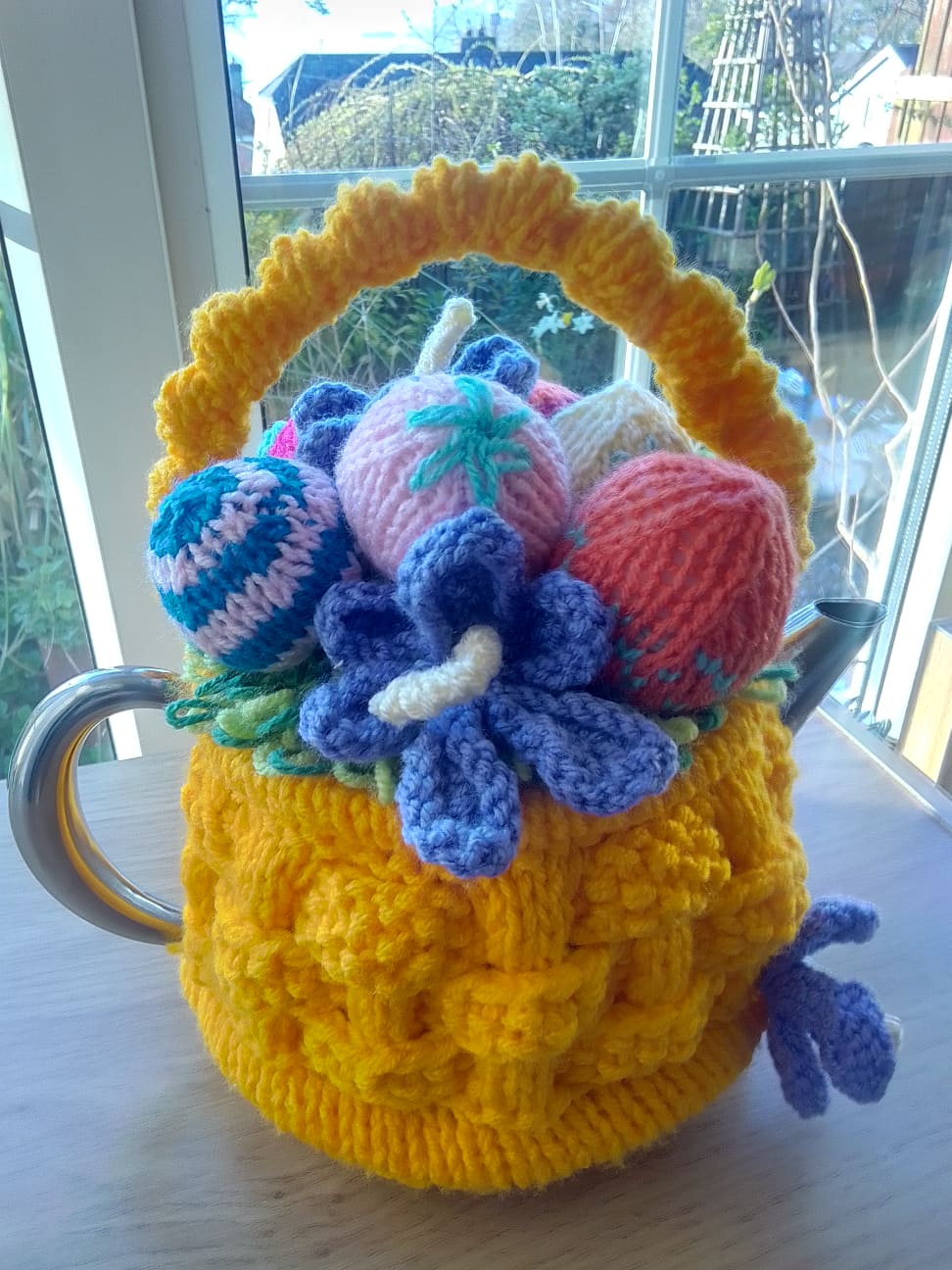 Maree
27/03/19
Beautiful Easter tea cosy.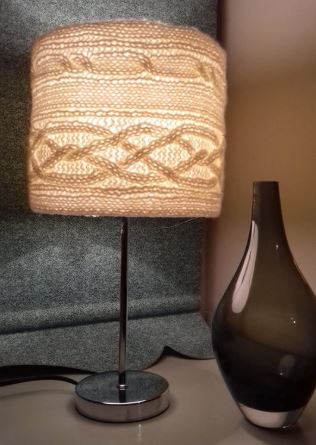 Julie
07/03/19
It's a good pattern to knit 😊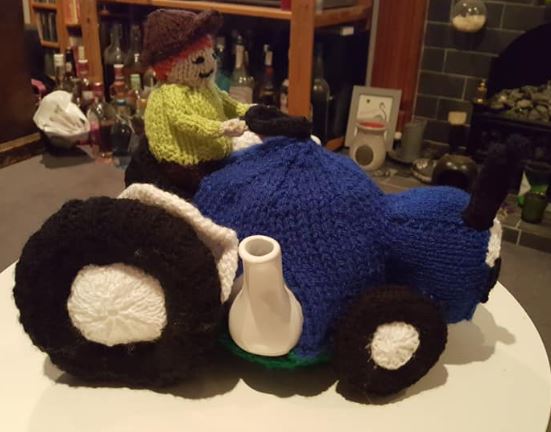 Jill
07/03/19
Finally finished test knitting the tractor. Loved it 😁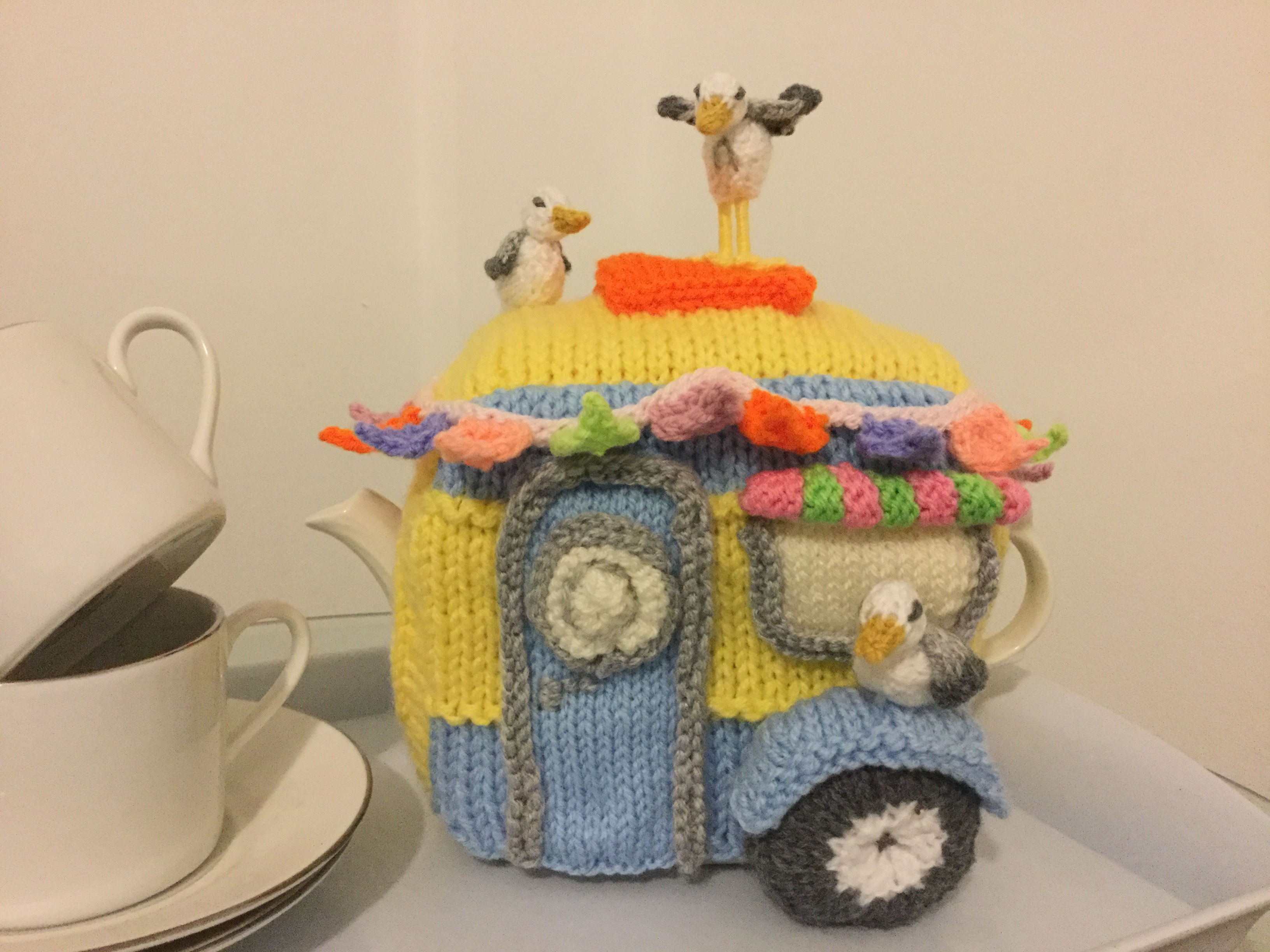 Deborah Akery
07/03/19
06/03/2019 I love the seagulls, loved making this tea cosie as Iam a caravaner 💖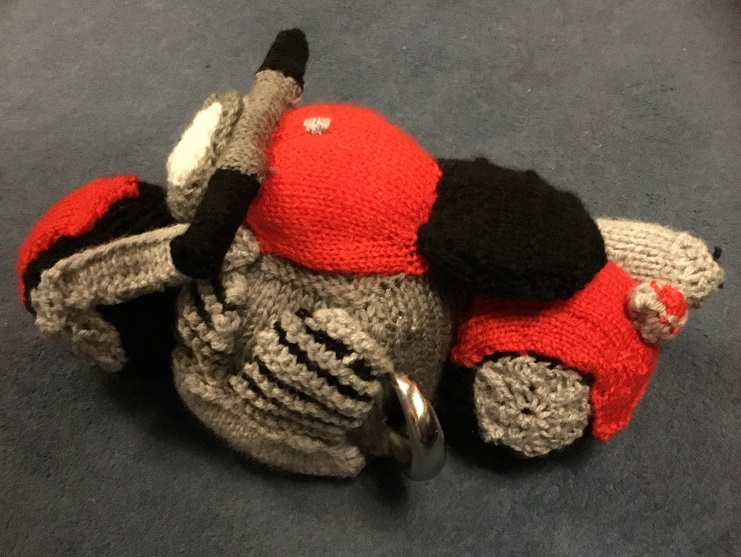 Claire White
18/02/19
Very challenging, as only a while ago I could not read a knitting pattern.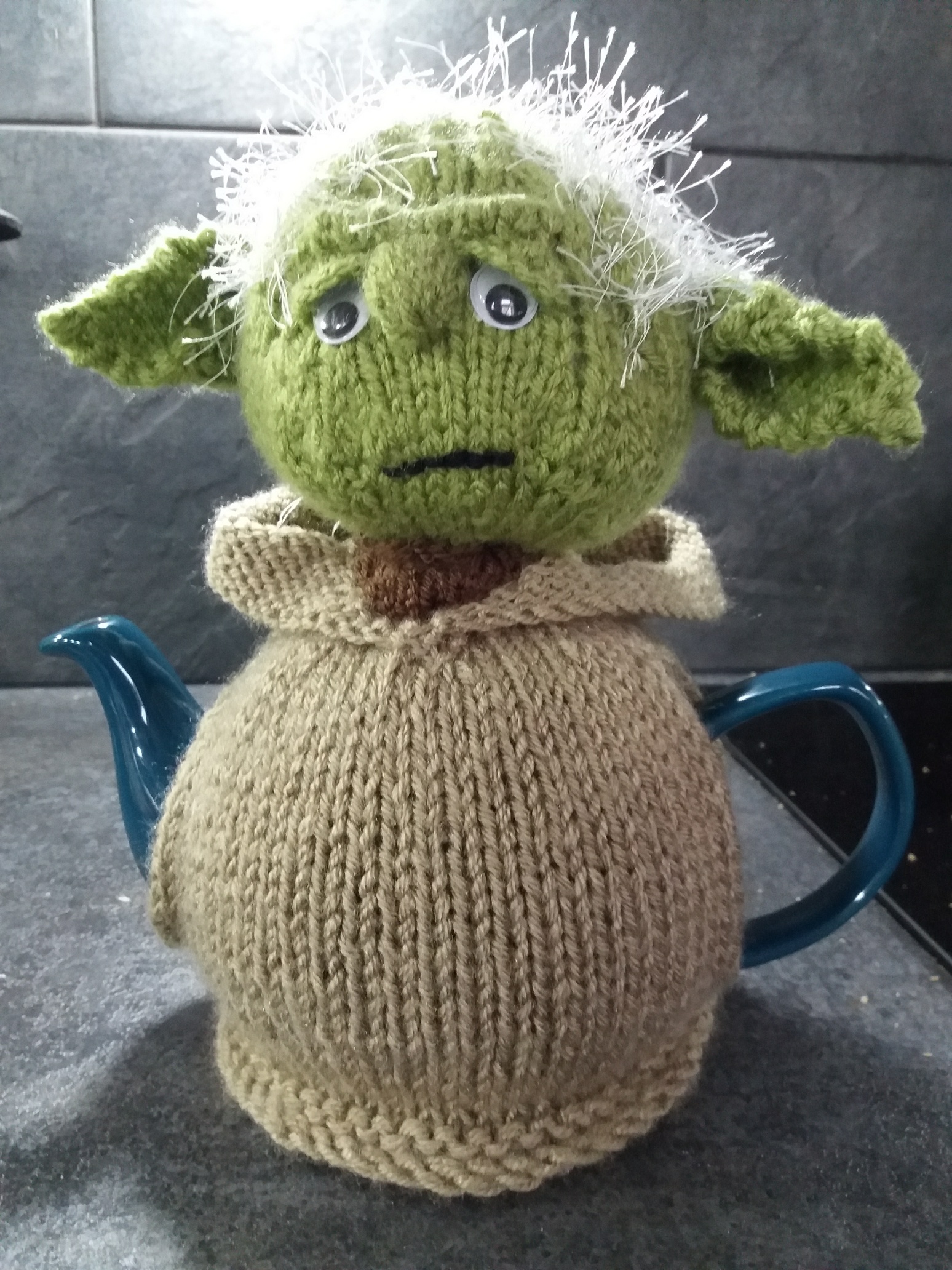 Liane
14/02/19
His expression is spot on and he was quite a quick knit
Karen
11/02/19
I'm pleased with the result
Jackie Barber
10/02/19
It is Scottish and I love the "muckle coo".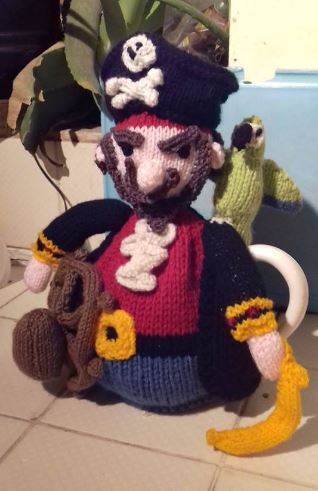 Gill
08/02/19
Just finished the pirate tea cozy me hearties.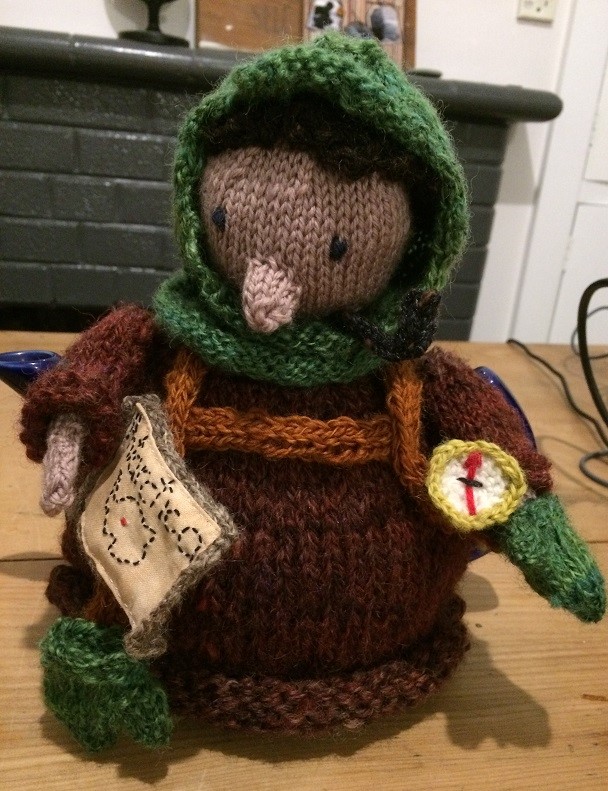 Clare N
06/02/19
Clever and simple pattern - my mum loved Jesus so much I adapted it to make an Earnest Shackleton complete with balaclava, mittens, compass and map of Antarctica!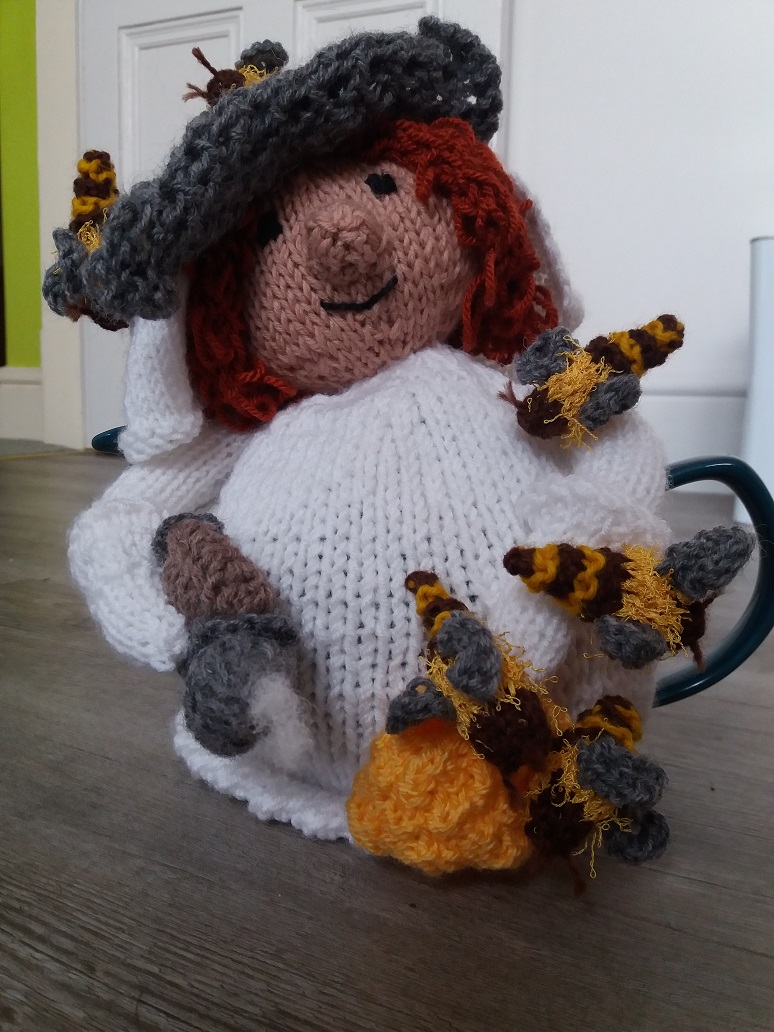 Liane
04/02/19
Here is the beekeeper cosy.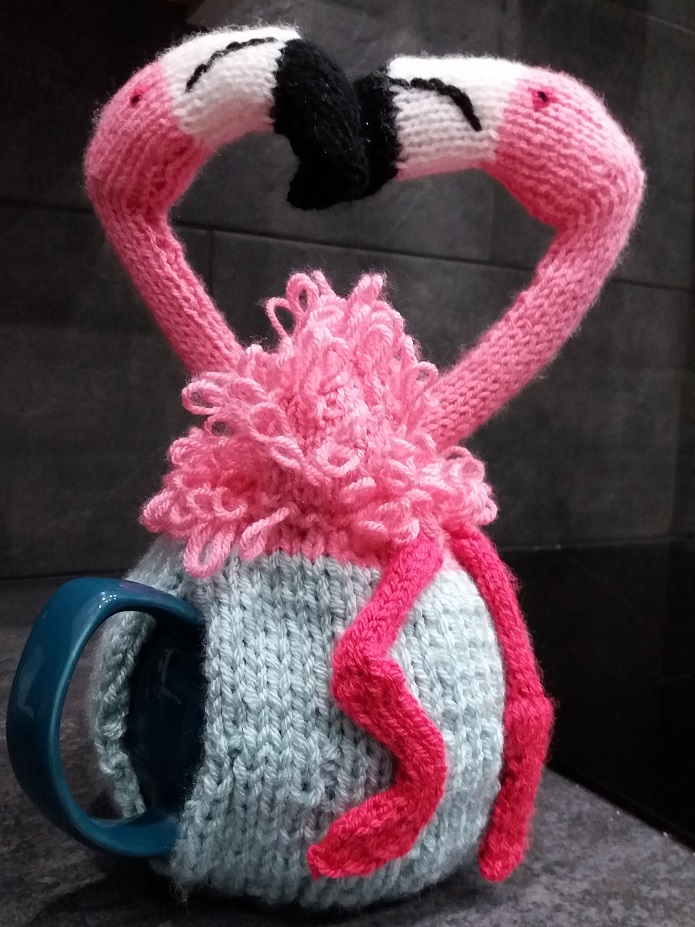 Liane
04/02/19
Tah dah Finally completed the flamingos! Love, love, love them.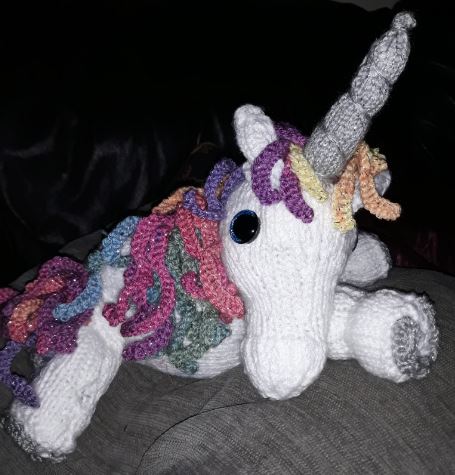 Chrissy
16/01/19
I have just finished Wonky the Unicorn. My first effort at a toy.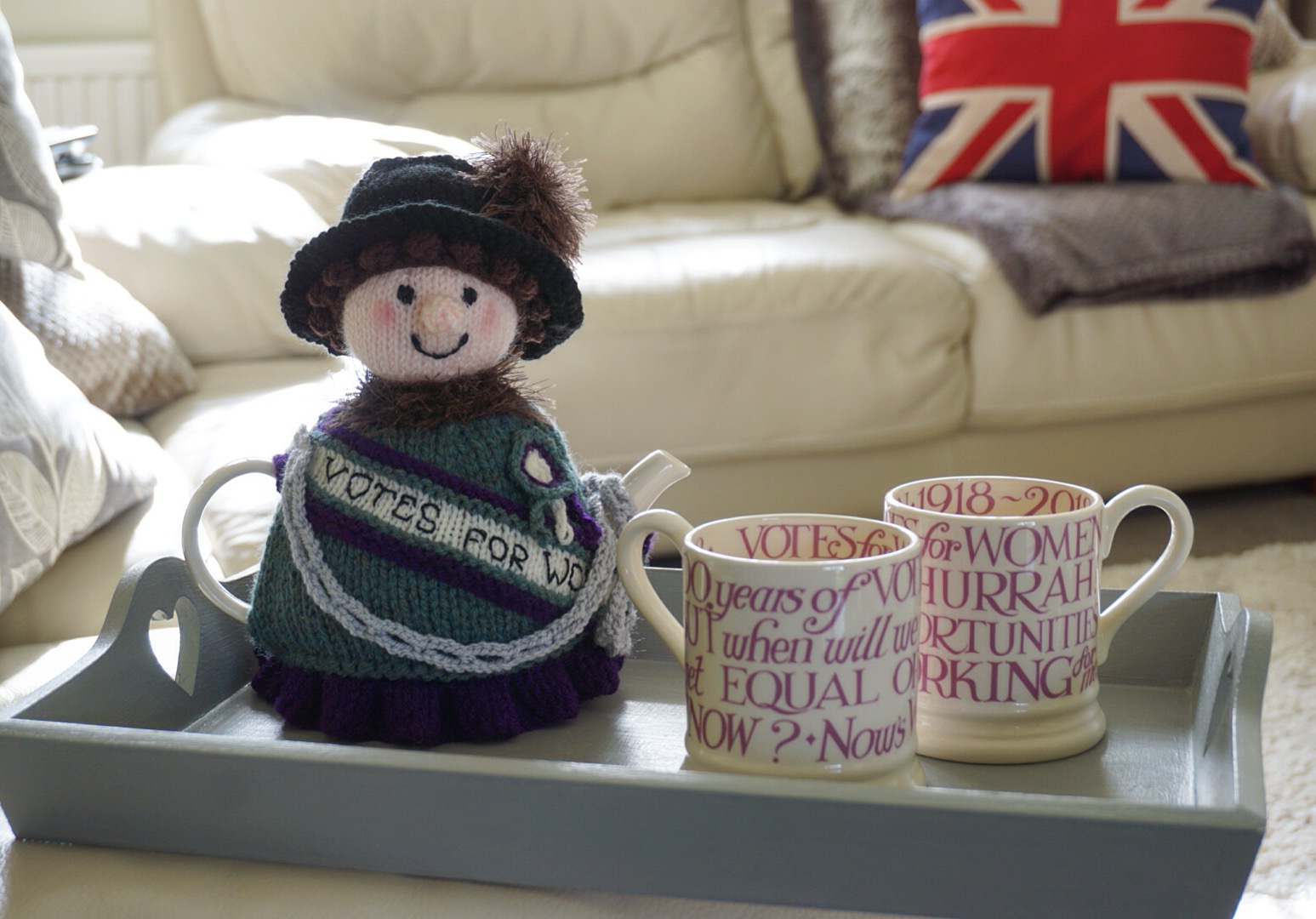 Lynetta
02/01/19
The sheer fun of having a tea cosy that's admired by everyone. I'm a novice knitter so having small projects to do increases my knowledge of different stitches.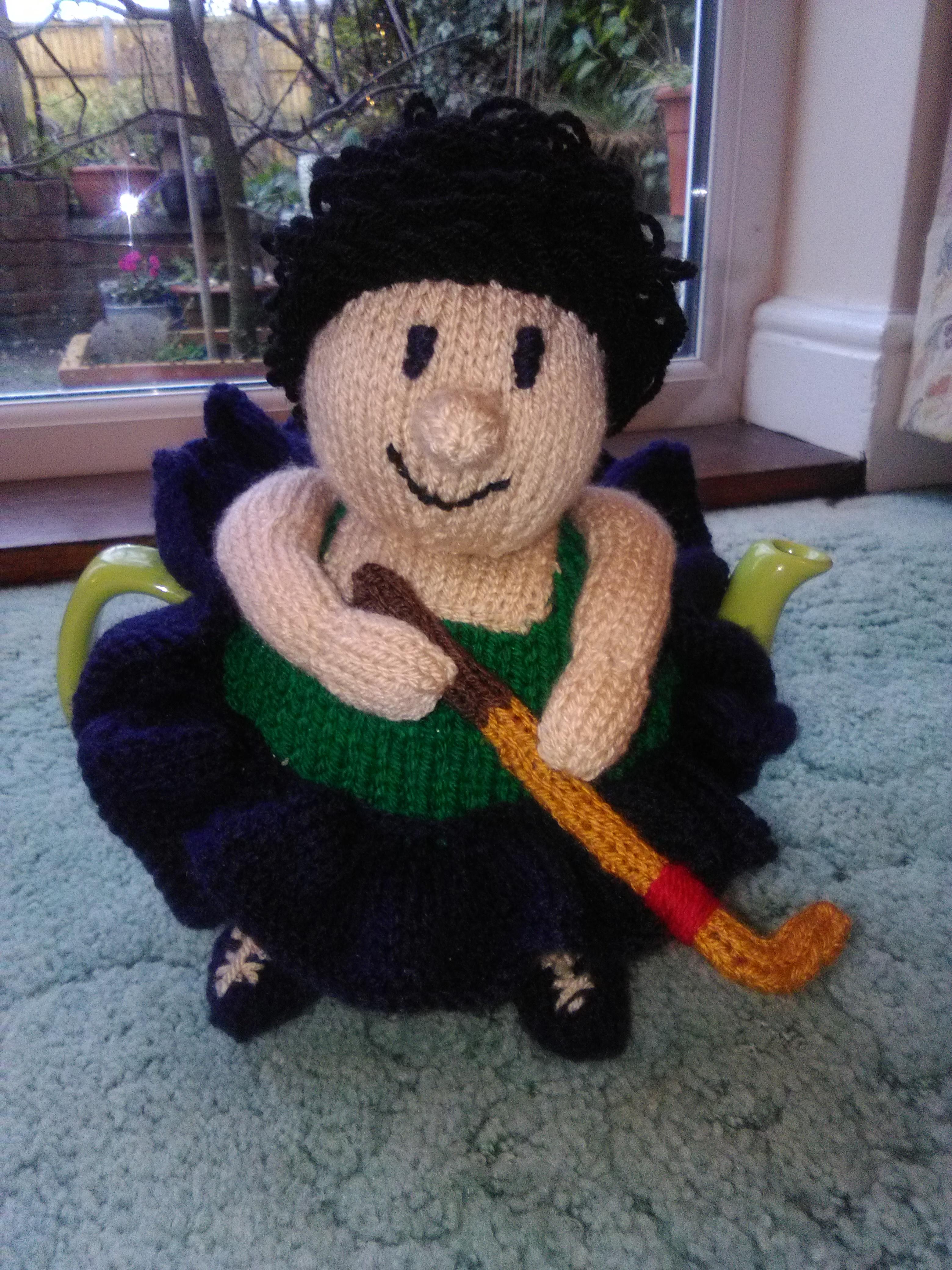 Catherine A
21/12/18
I adapted your tennis player for my hockey playing friend. I love and I hope she will!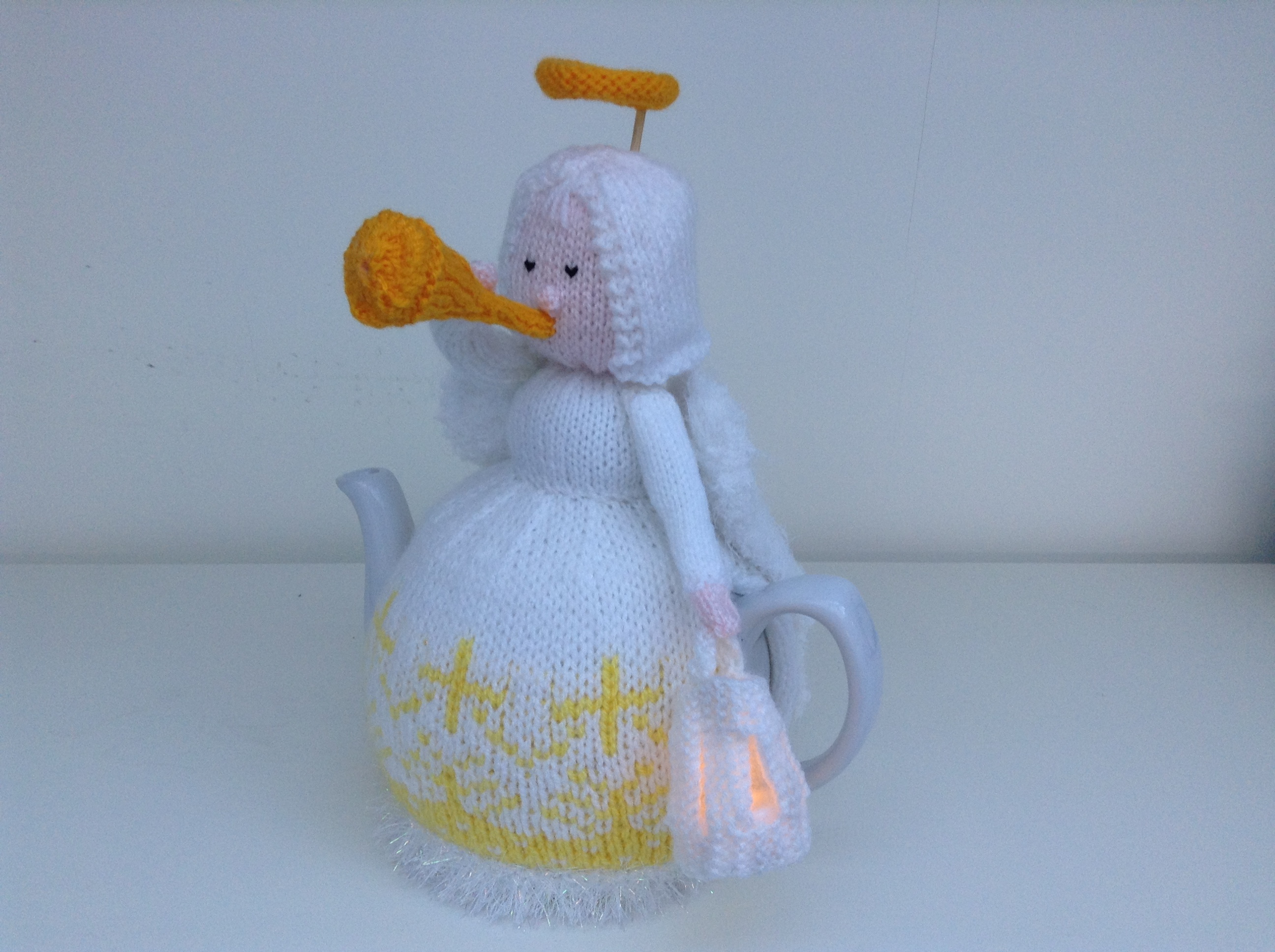 Kathy Jolley
18/12/18
an original idea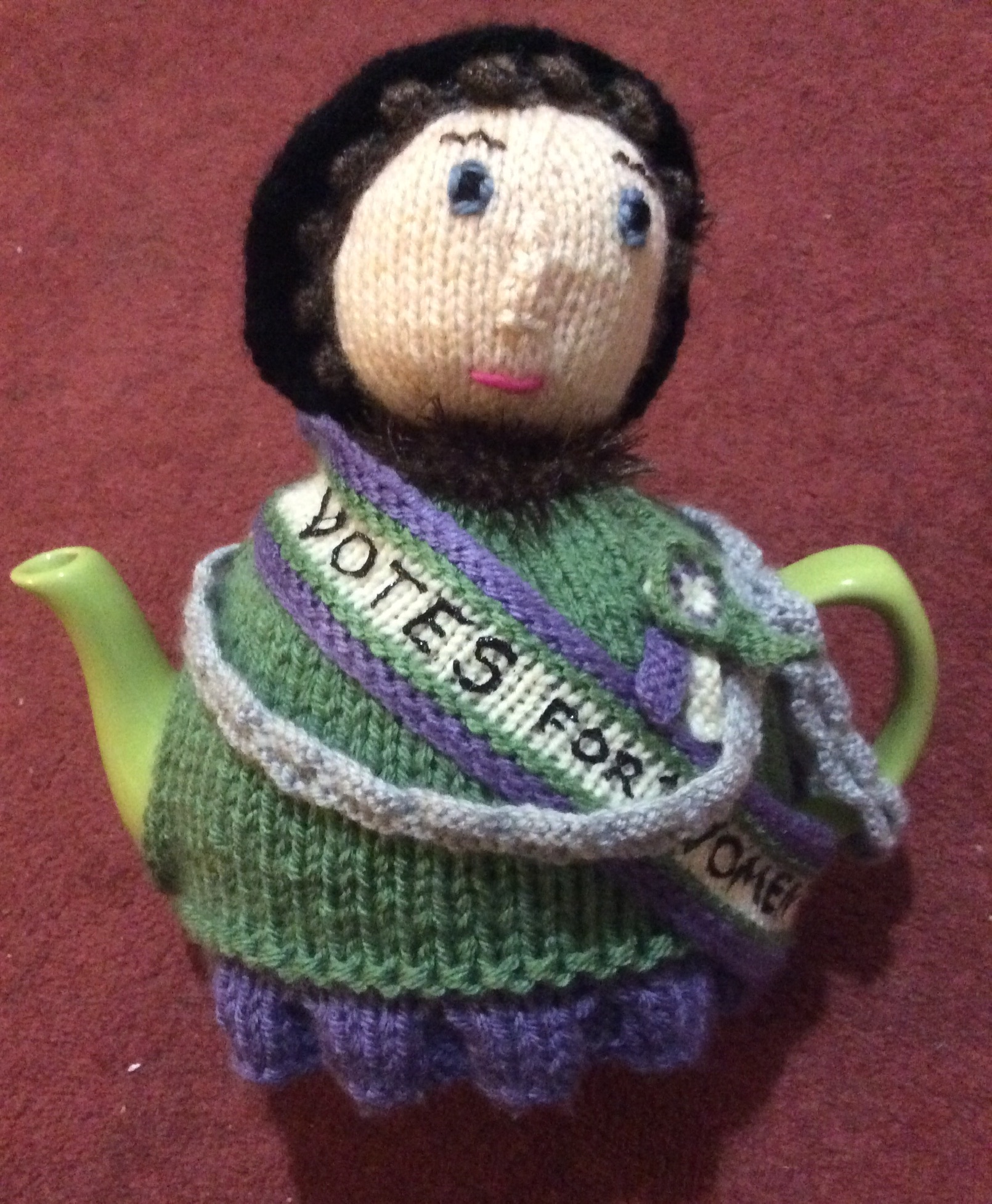 Anne Turner
18/12/18
The detail was fabulous. The suffragette colours are also the colours of a college my daughter and her friends went to so I made it for one of their birthdays.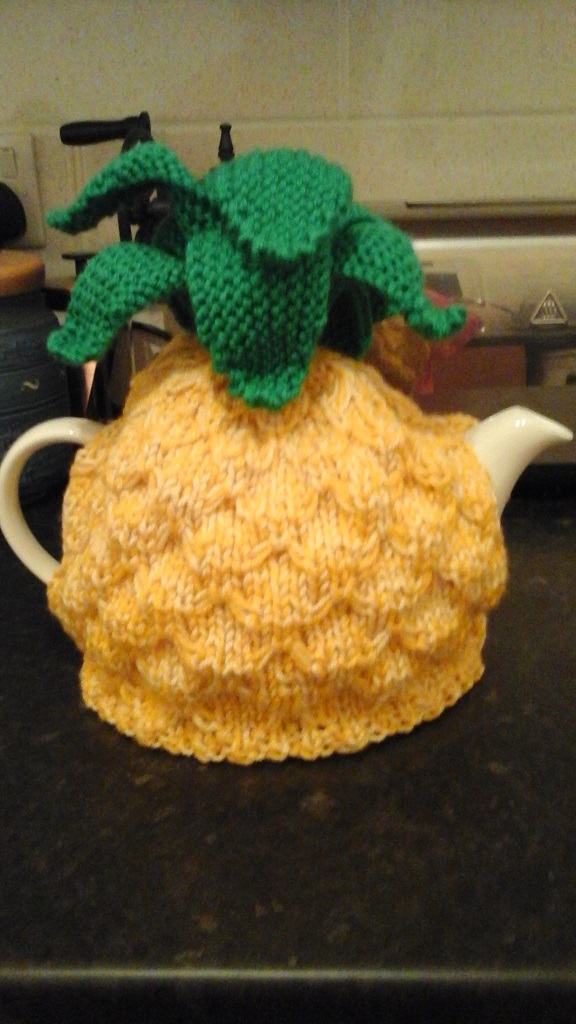 Alison Shuttleworth
04/12/18
A new addition to the christmas decorations.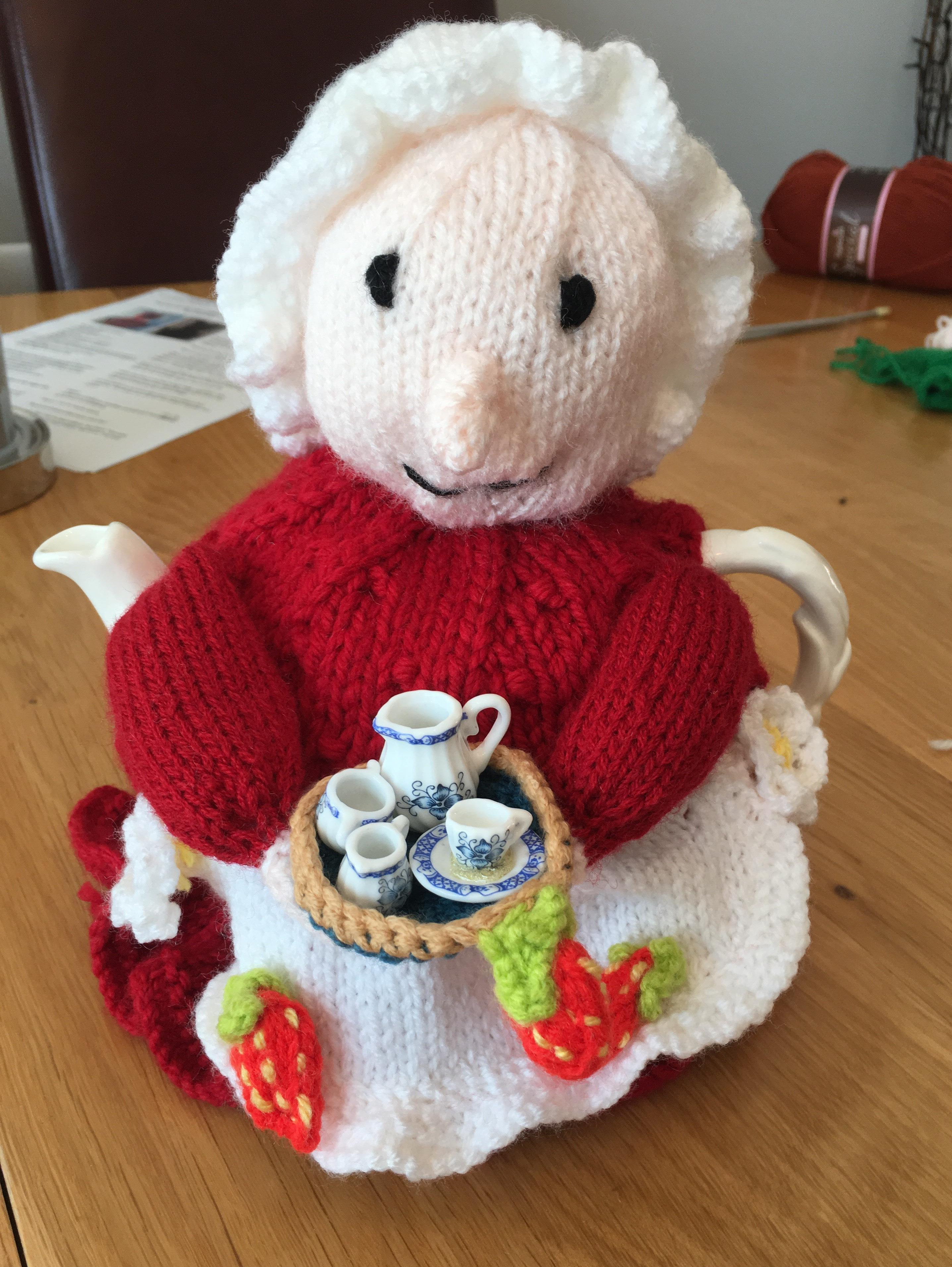 Jane
28/09/18
The cosy is finished!!! A bit different from the pattern.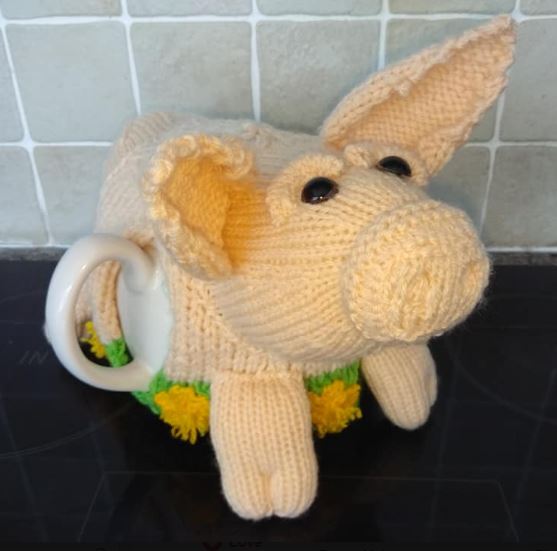 Tina
14/09/18
Pig has pride of place in my house!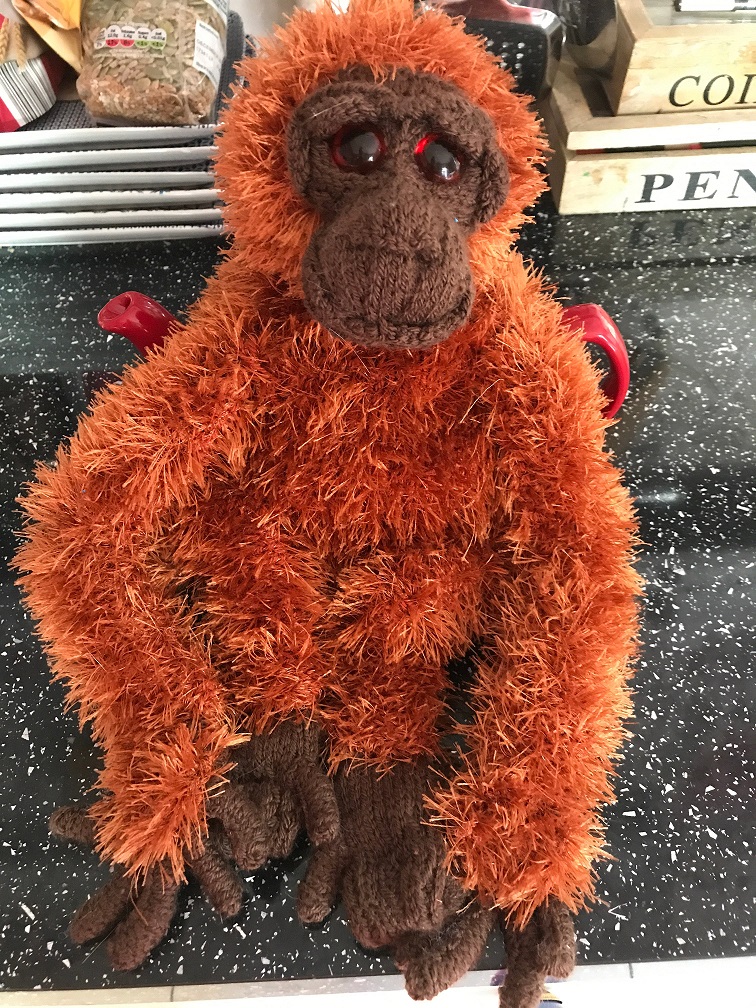 Joyce
13/09/18
Orangutan turned out really well my daughter loves it .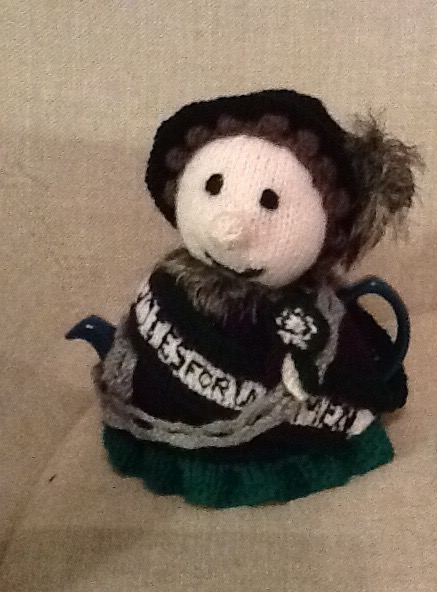 Kay
13/09/18
The clever design and the fiddly bits and pieces, although my Suffragette was in a slightly different colour scheme to the original pattern. It has received many complimentary comments. Thank you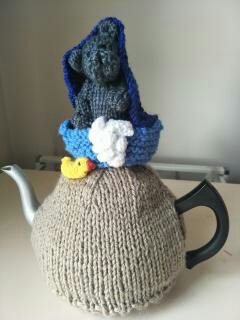 Sheila Caris
10/09/18
Super cute!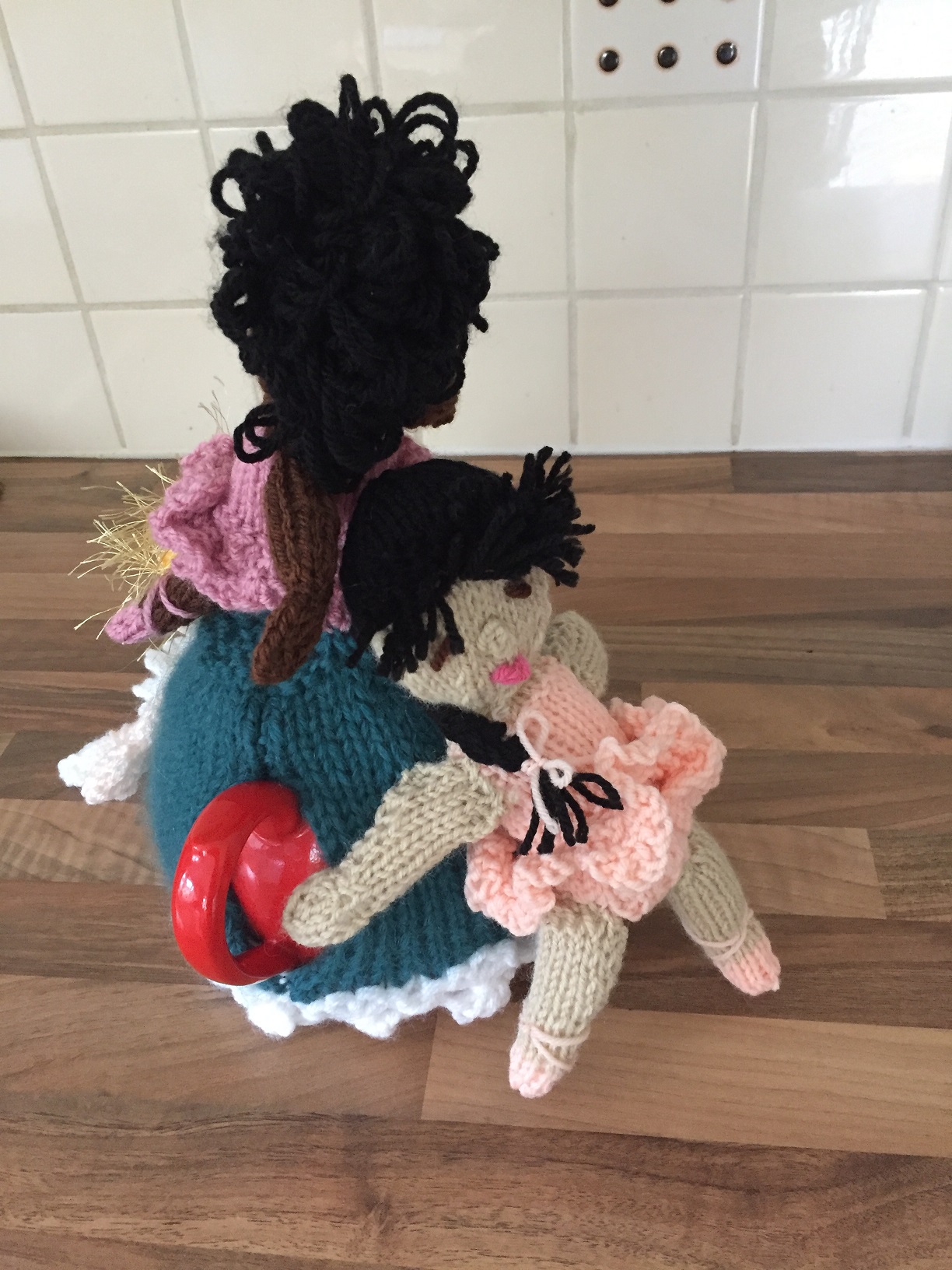 Susan Ridings
14/08/18
Fun pattern, easy to follow, decided to make my dancers multi cultural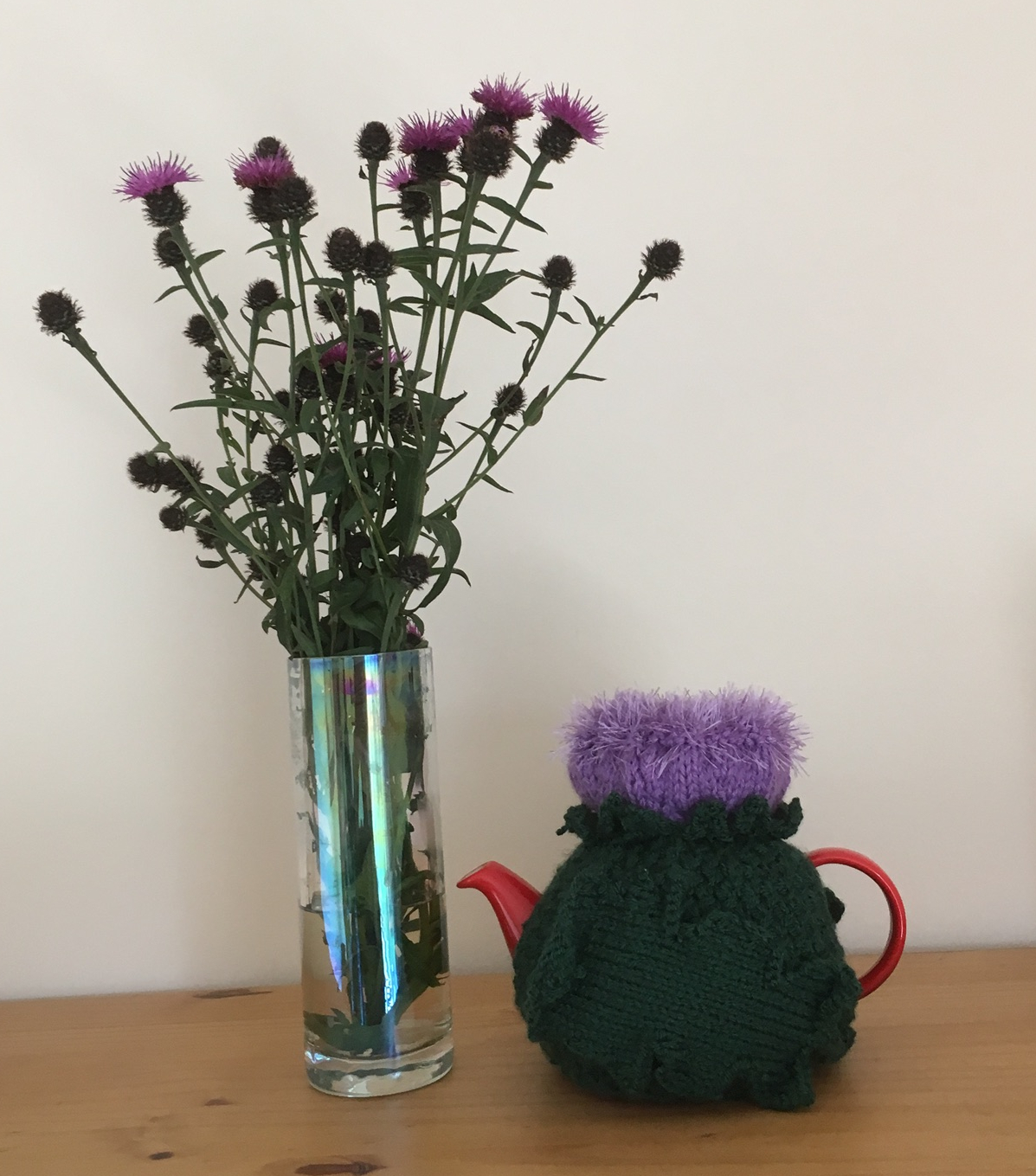 Lynn Ellis
31/07/18
I loved learning a new stitch for the body of the thistle. Christmas presents sorted!
Rebecca
26/07/18
Looks so much like the Queen!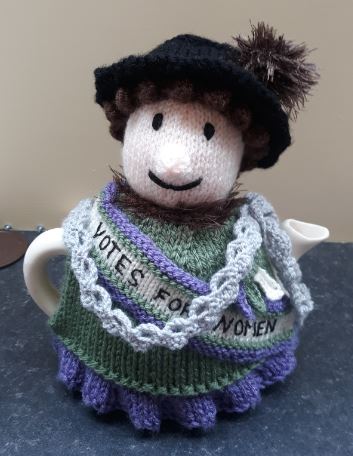 Ann
24/07/18
Just to let you see the finished result.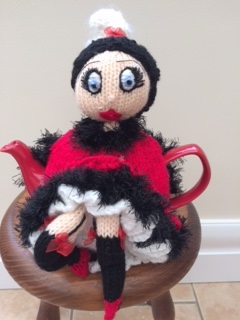 Val
13/07/18
Poor lass I've given her legs like Nora Batey and her petticoat frills give me a headache but I enjoyed the challenge as I'm no great knitter 🙂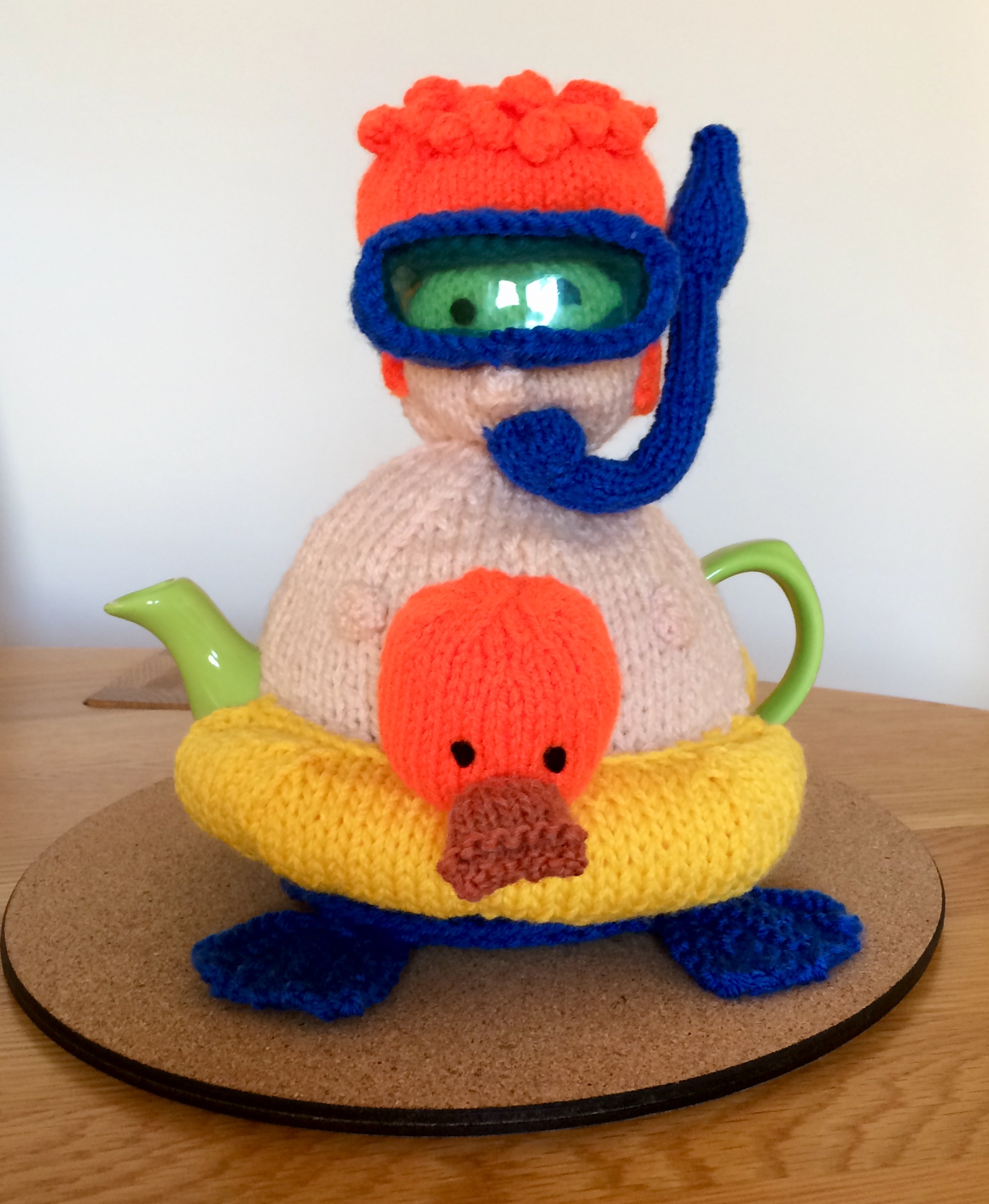 Val
13/07/18
This was fun to make and the recipient loved it too! I'm not a great knitter but he turned out pretty well I think despite mixing his left and right fins up!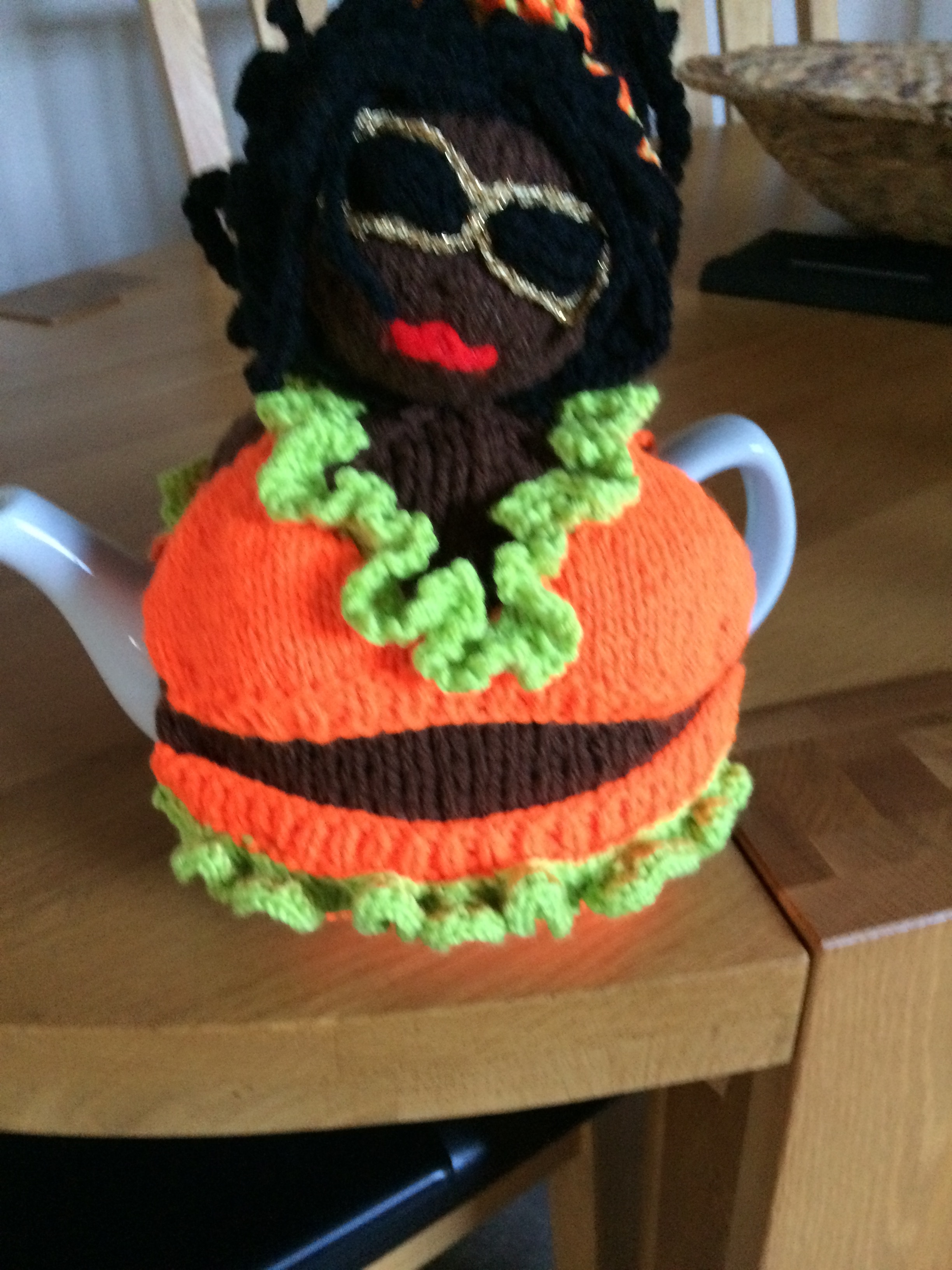 Val
13/07/18
The 'beach babe' is one of my favourite patterns to knit and also a favourite with friends. I've added a few little extras (frill from the Can can lady) for a bit of fun🙂.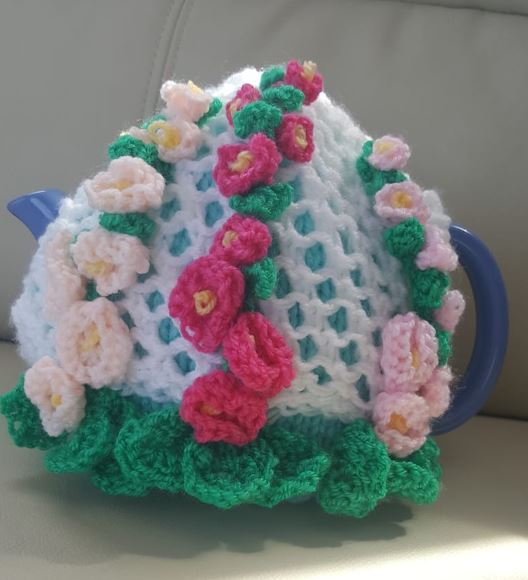 Lesley
09/07/18
Just finished test knitting the new Hollyhock tea Cosy. Didn't have any yellow beads so embroiled a French knot into the middle of each flower.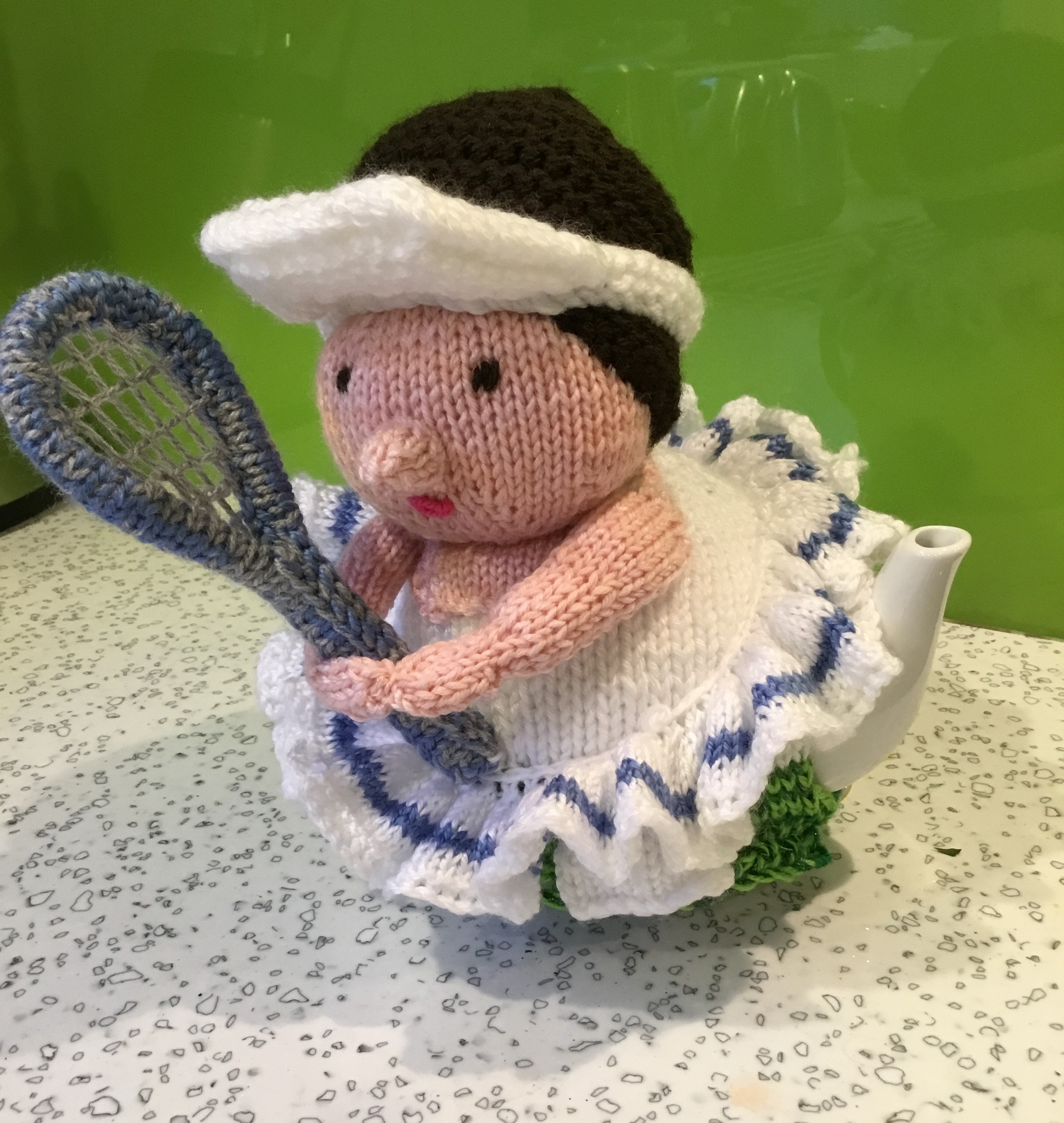 Caroline
09/07/18
This was quick to knit and much appreciated as a Thankyou to one of the volunteers at out local children's hospital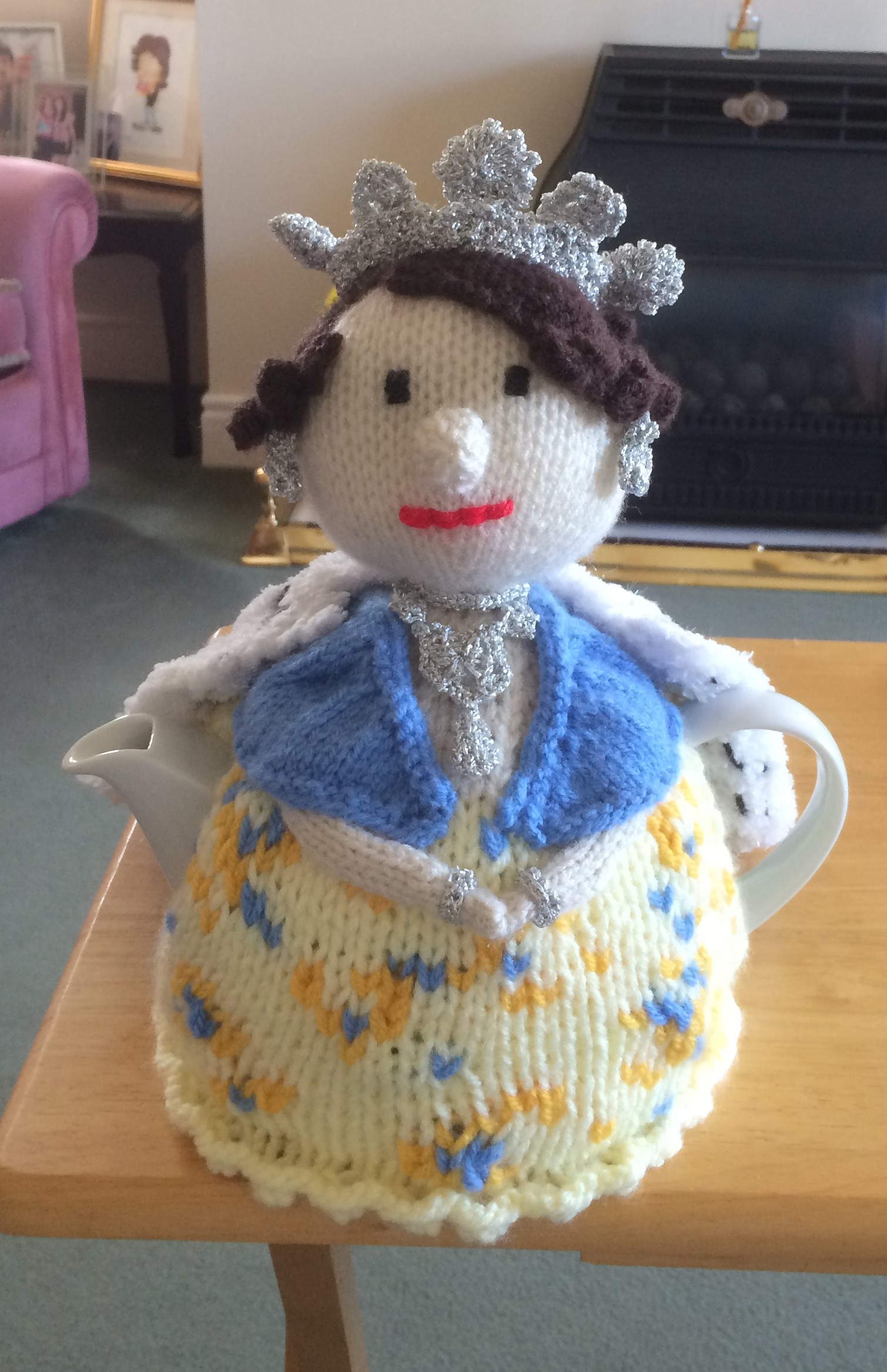 Maggie Dawson
09/07/18
My daughter who lives in California loves our Queen so when she saw this pattern she asked if I could knit it for her.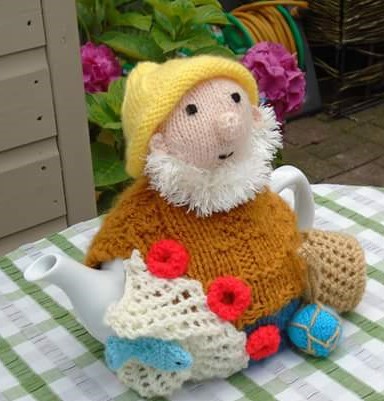 Sandra
08/07/18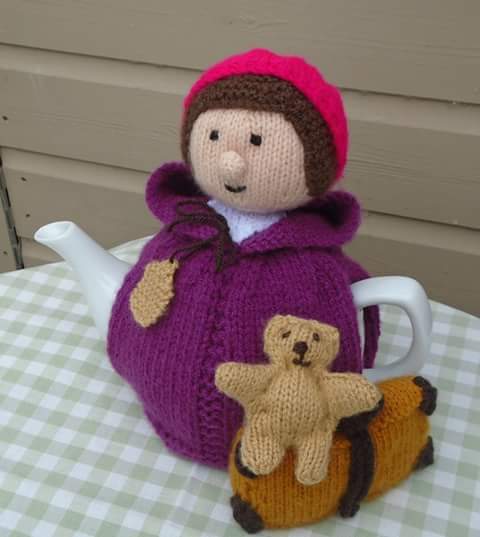 Sandra
08/07/18
I made the evacuee one for my mum who was one herself she loves It !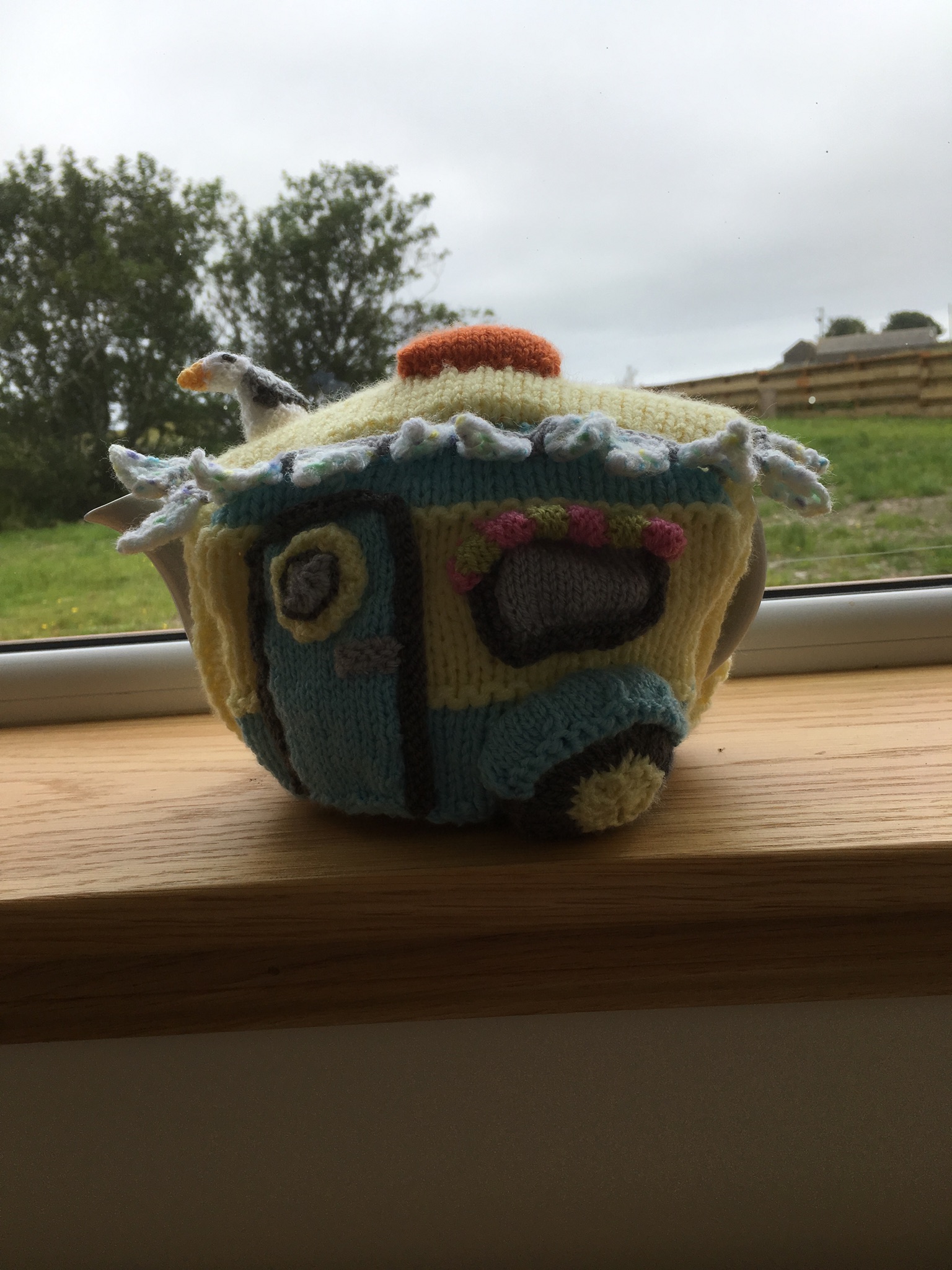 Lynn Ellis
01/07/18
It was great fun to do! I knitted all the pieces first and then constructed my caravan. My seagull looks more like a vulture crossed with a penguin, but hey ho!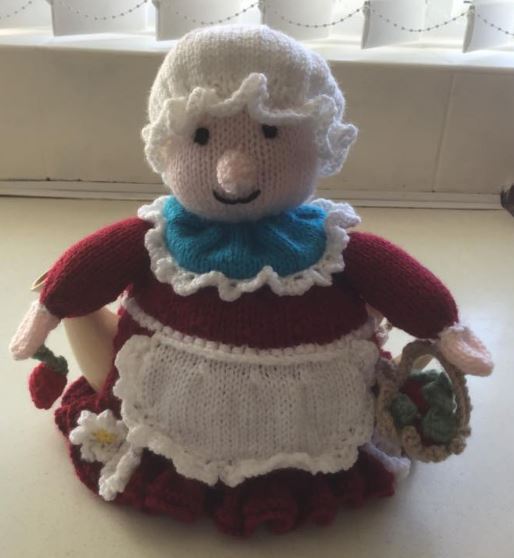 Jackie
30/06/18
This one has a lot of knitting and it took me a couple of attempts at the frill. The pattern was fine and easy to follow.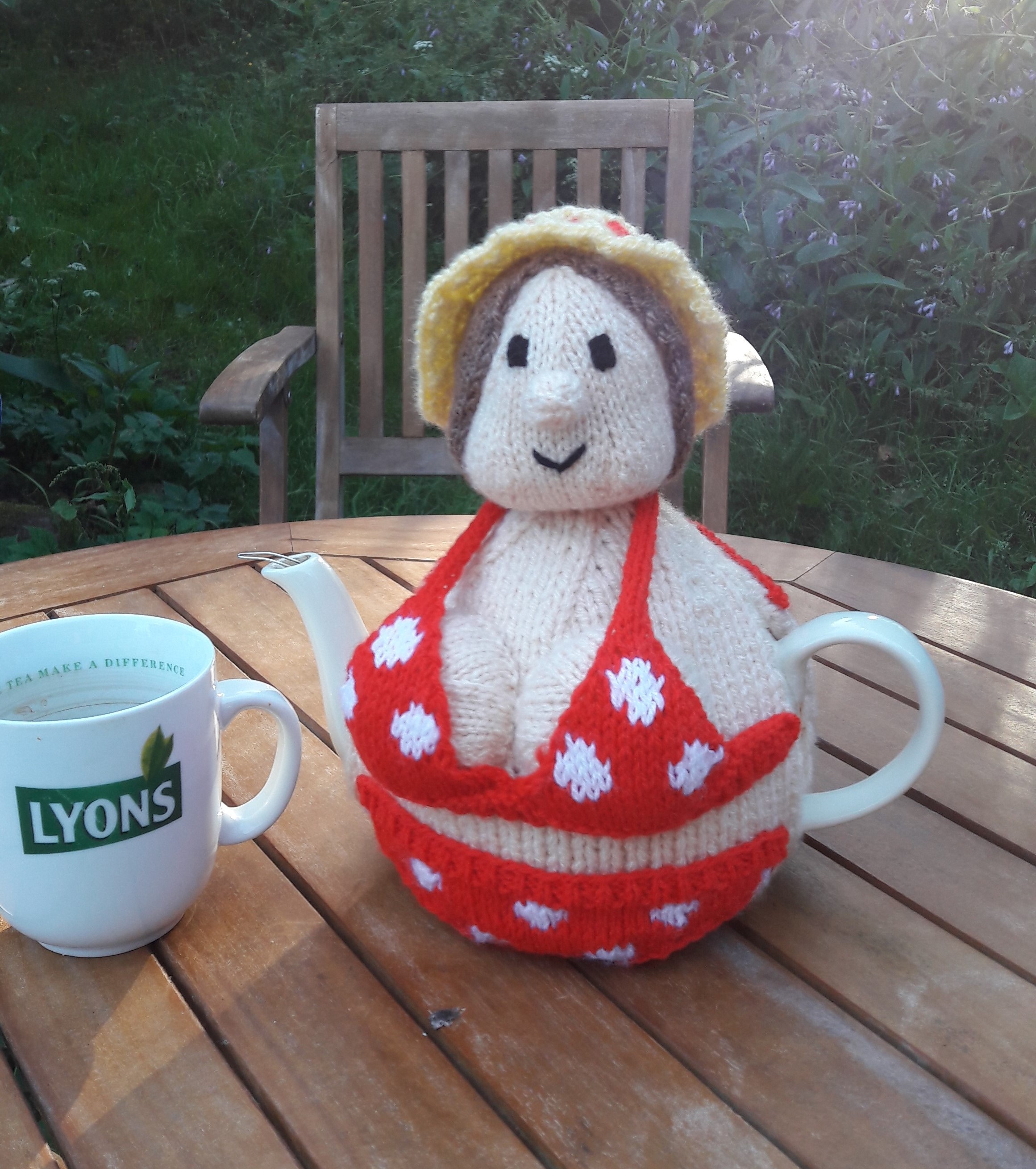 Petra
25/06/18
Loved the celebration of the 'stronger' woman, and ...now my (male) friend drinks tea too ;-))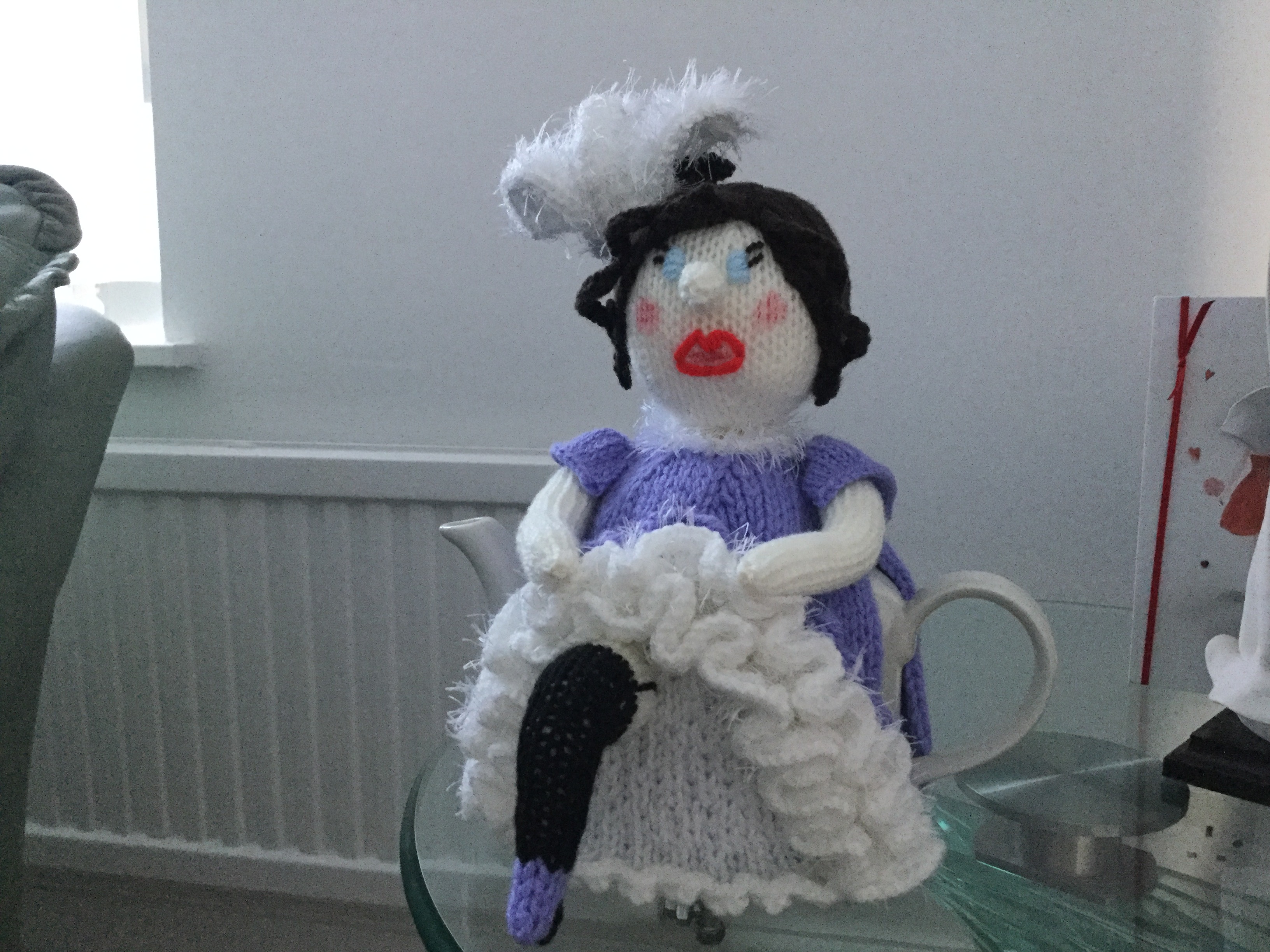 Deborah Akery
18/06/18
Can Can Girl she looks amazing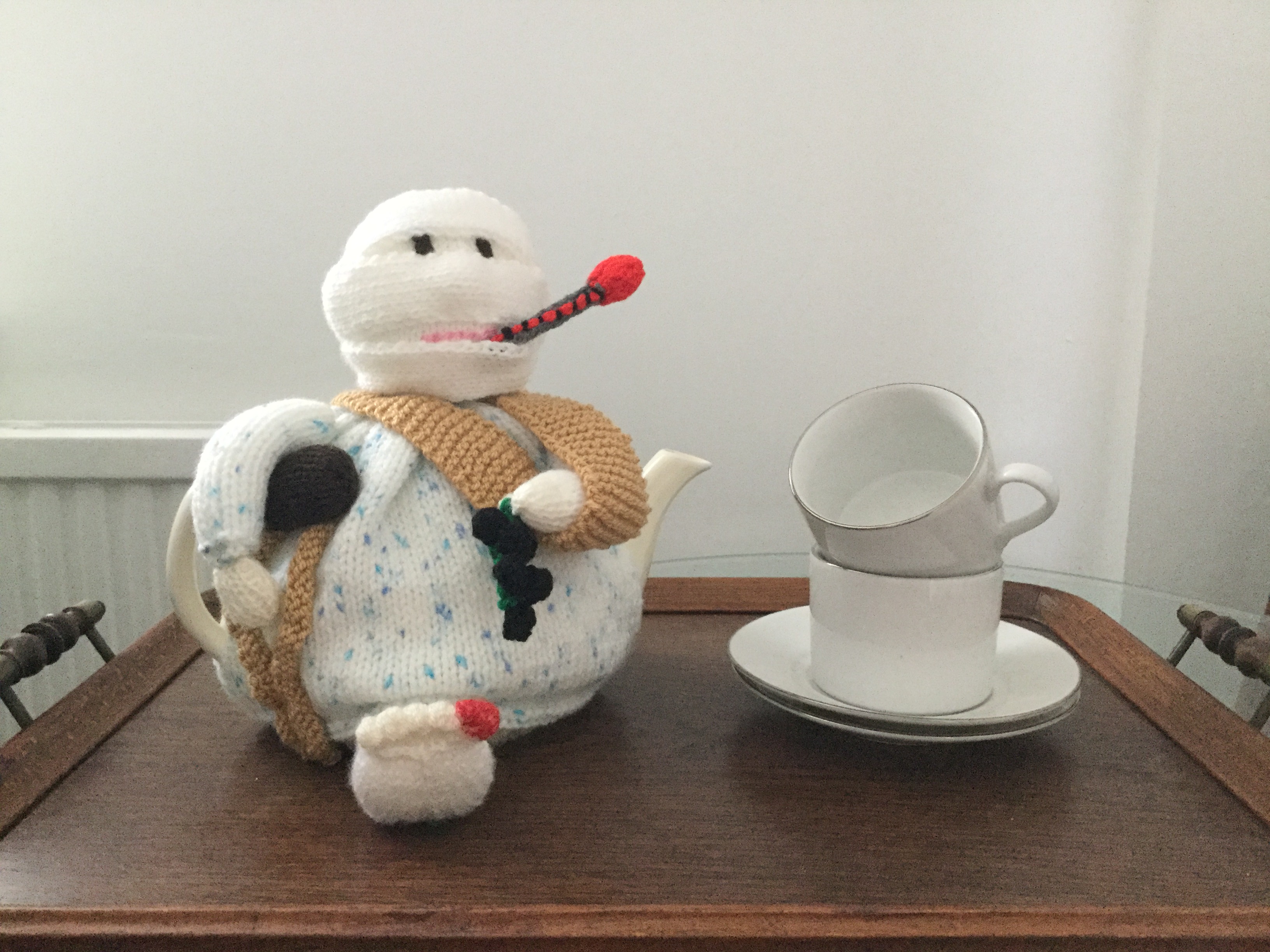 Deborah Akery
12/06/18
Easy to knit 💖 11/06/2018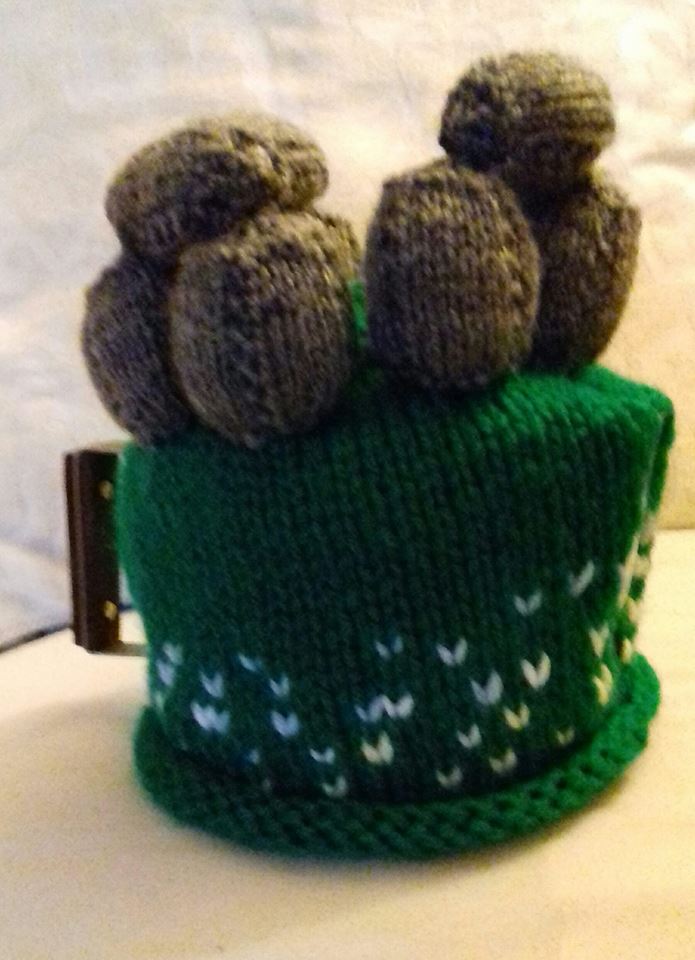 Julie
07/06/18
I'm really pleased with it, I might even knit one for my friend.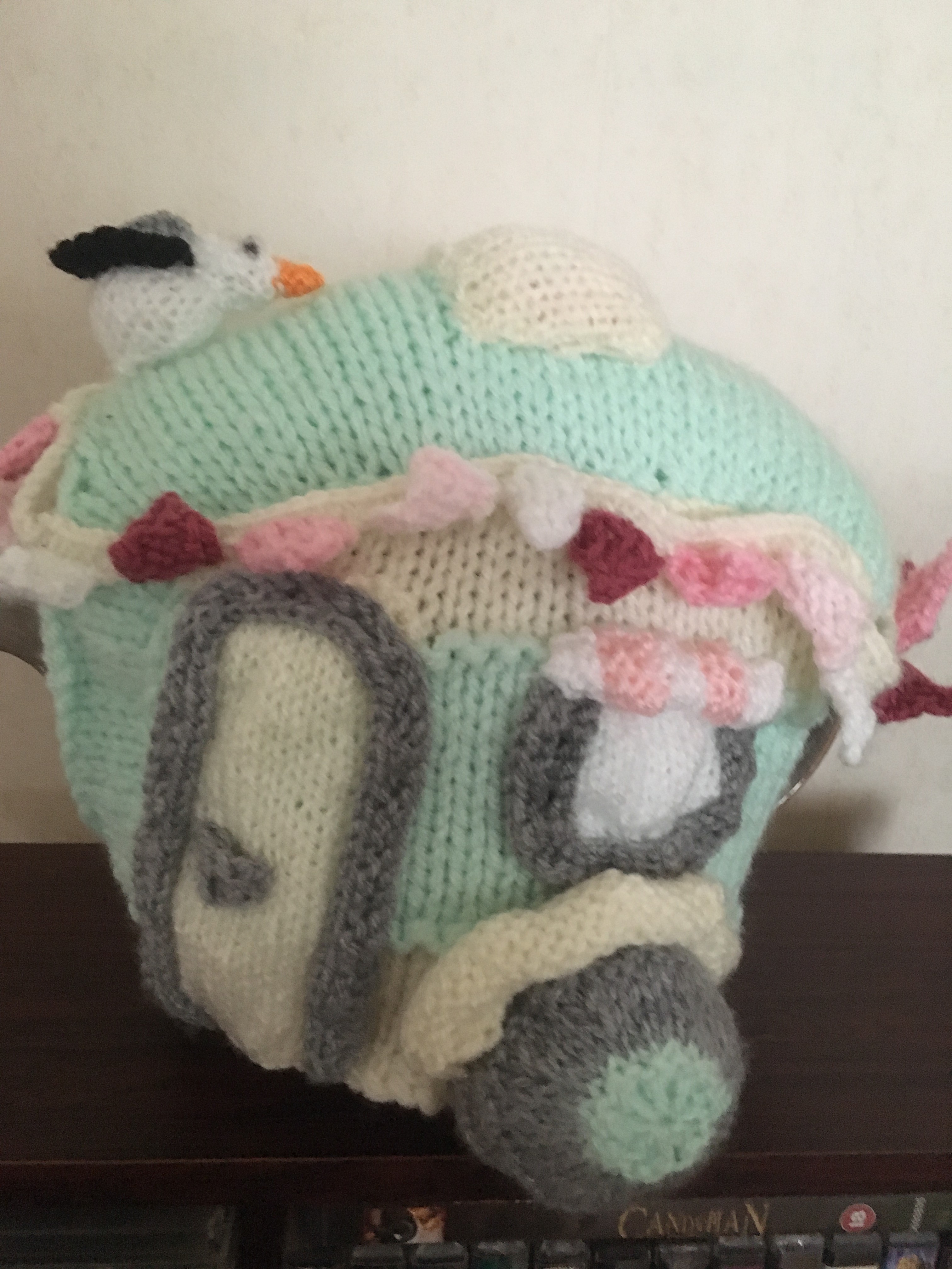 Jill Callender
25/05/18
loved how it was so easy to follow and all slotted together - couldn't wait to do next piece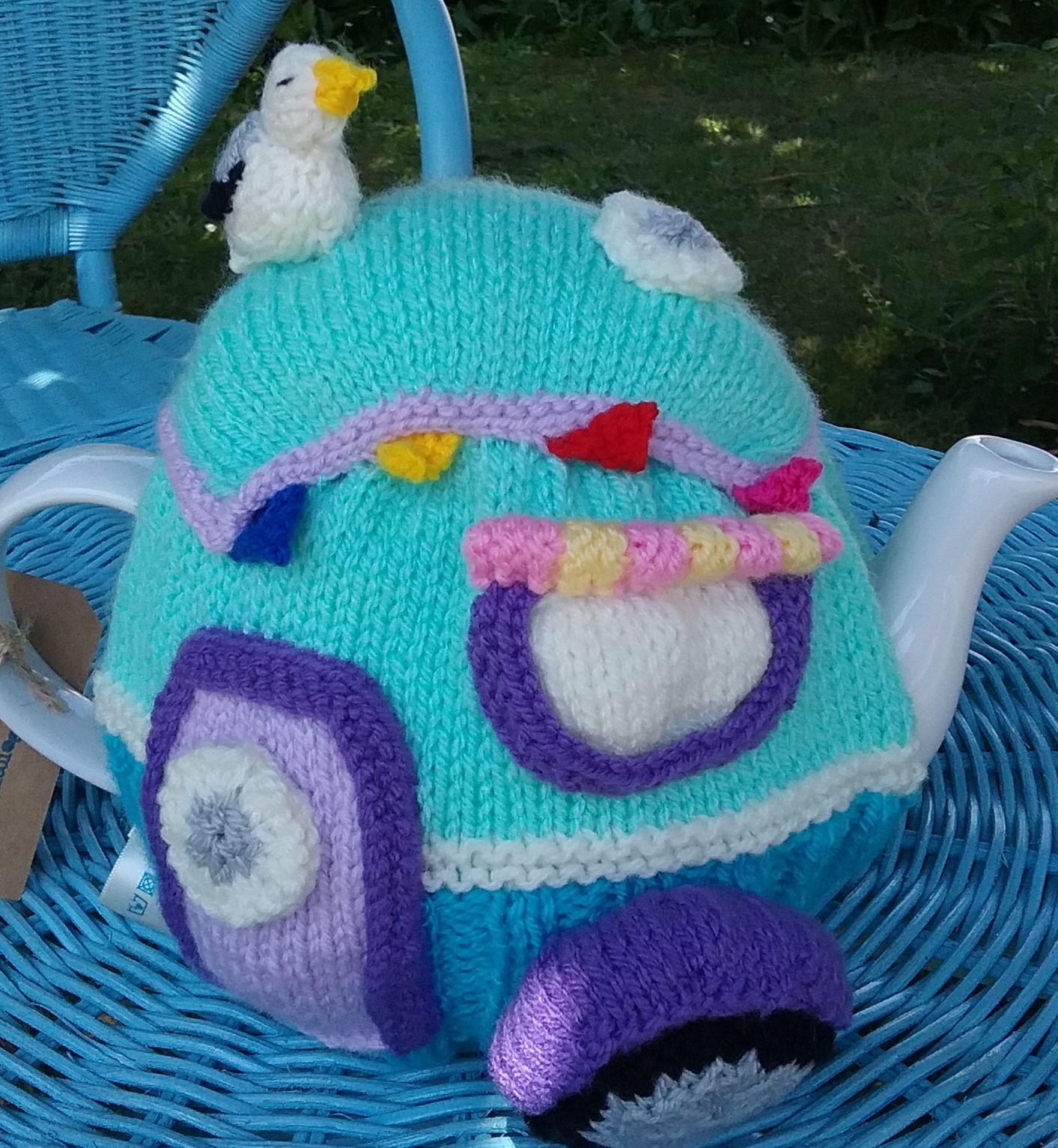 Jo Hinds
25/05/18
The genius behind the design!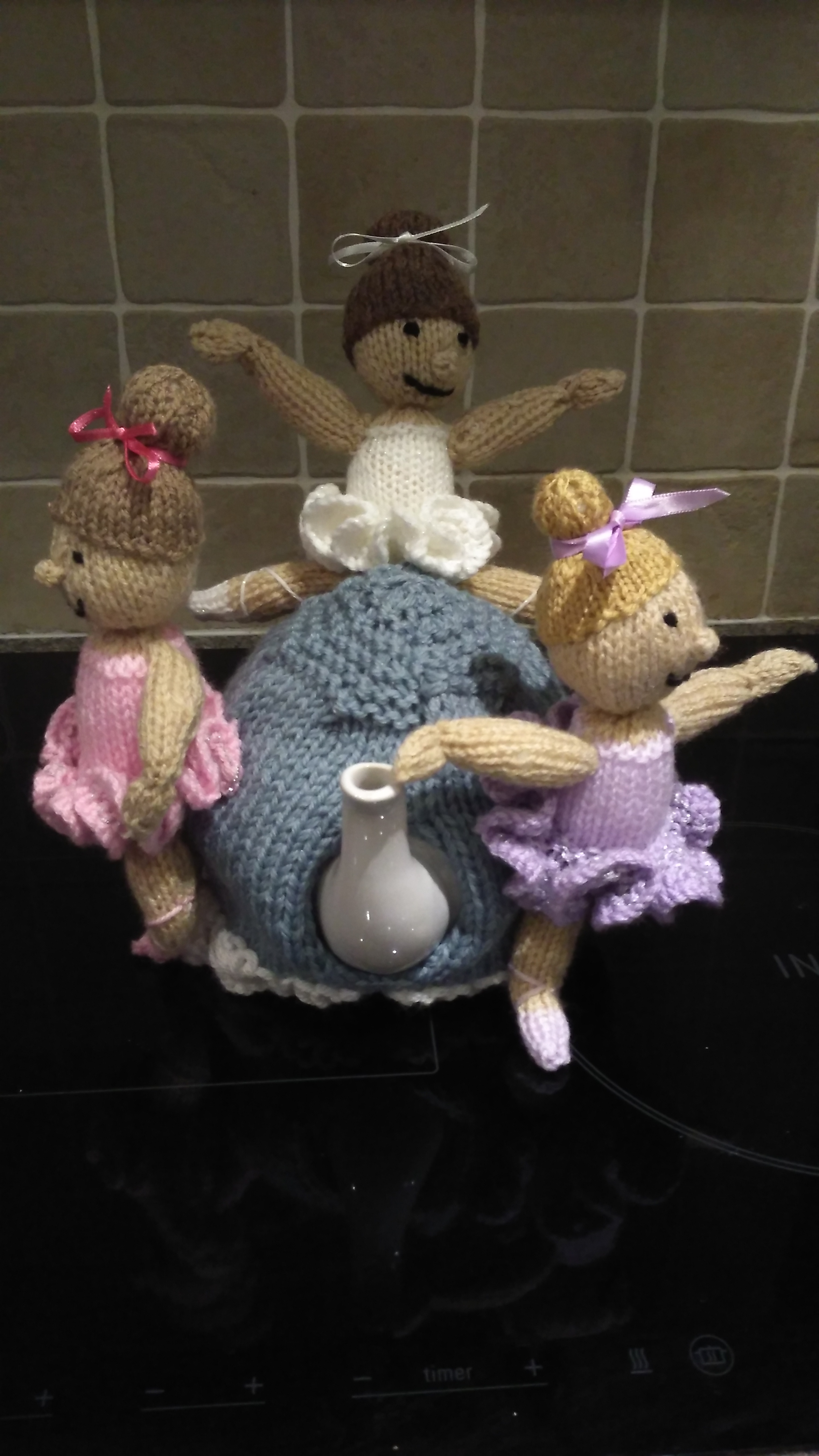 Tina Roberts
23/05/18
Loved knitting the ballet dancers. My granddaughter helped me with the positions.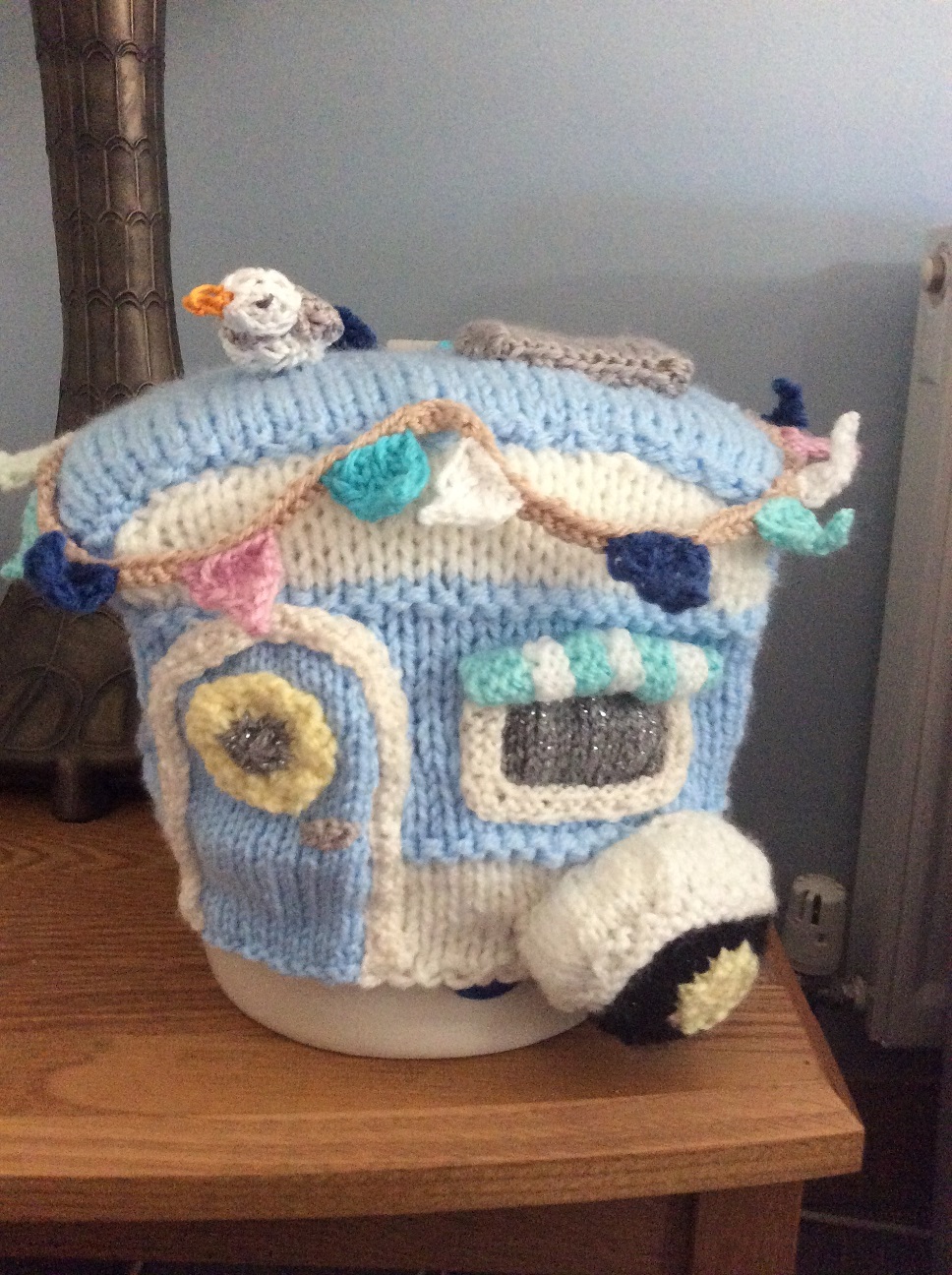 Julie Mounfield
23/05/18
It was fun to see how everyone progressed week by week I loved the project. Thank you for sharing your pattern.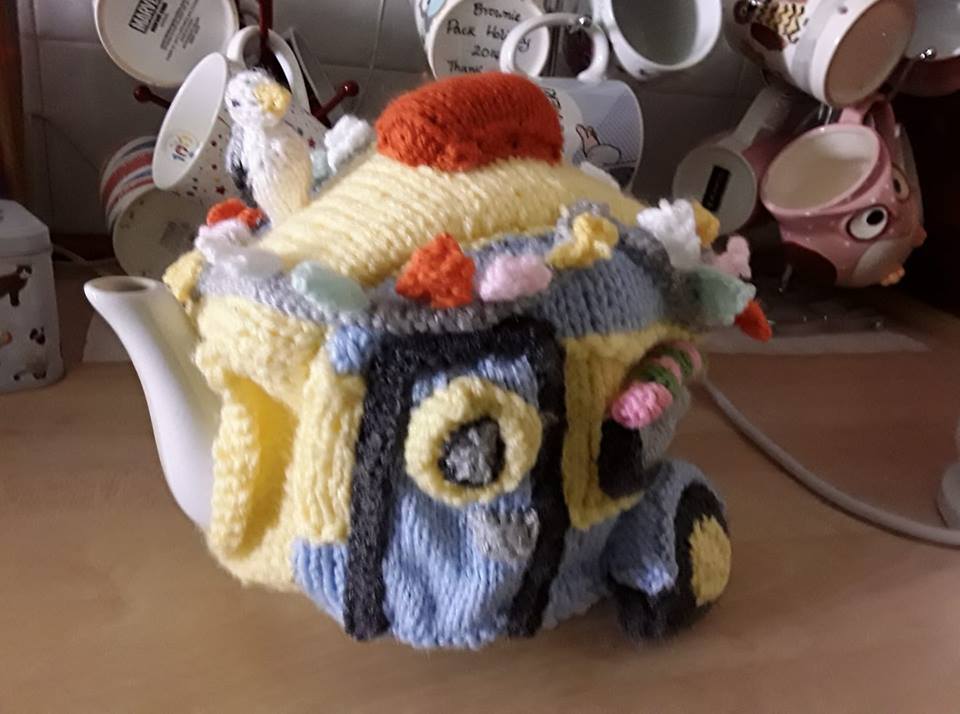 Jenni Lin
23/05/18
Surprisingly easy to knit and knitting the tea cosy brought back lots of lovely memories of caravan holidays from my childhood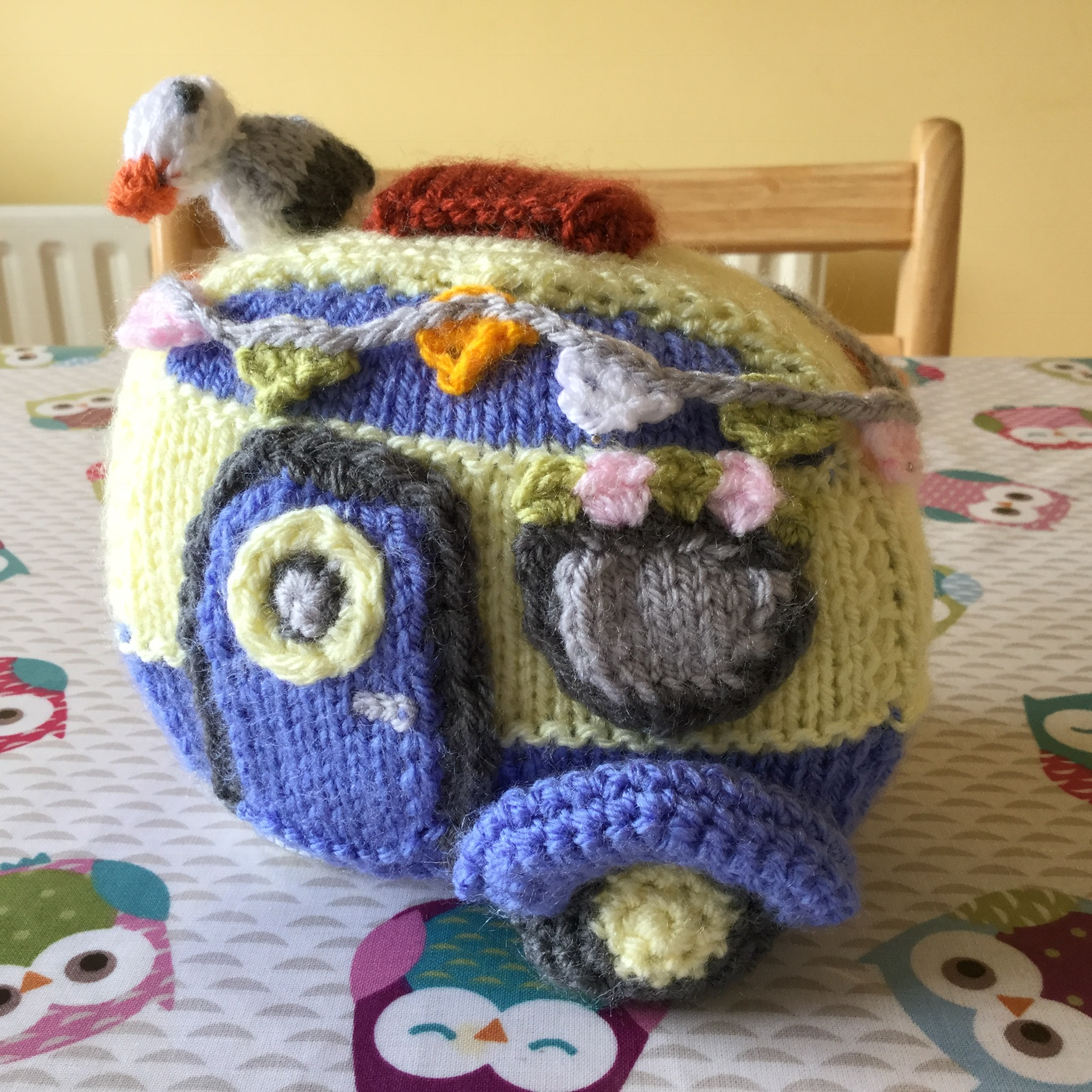 Lorelle Keogh
22/05/18
Simple, easy to follow instructions.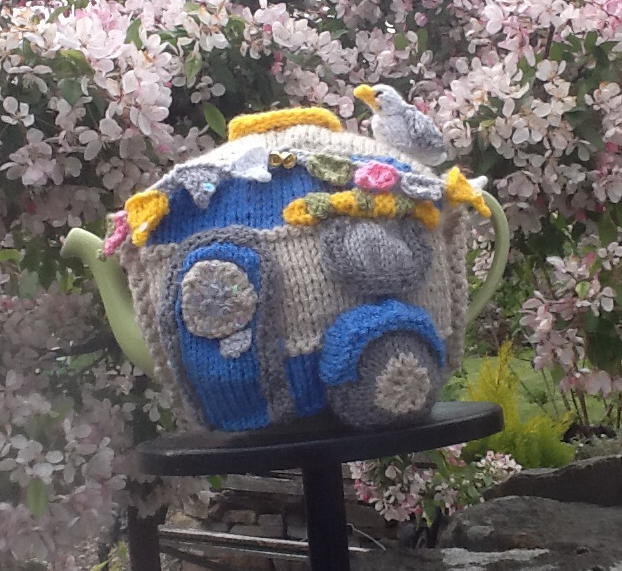 Frances Easby
22/05/18
This was such fun, knitting along with new friends. Thank you Sooz, when is the next one.....
Gayle
18/05/18
I loved the whimsy, the challenge, and the seagull.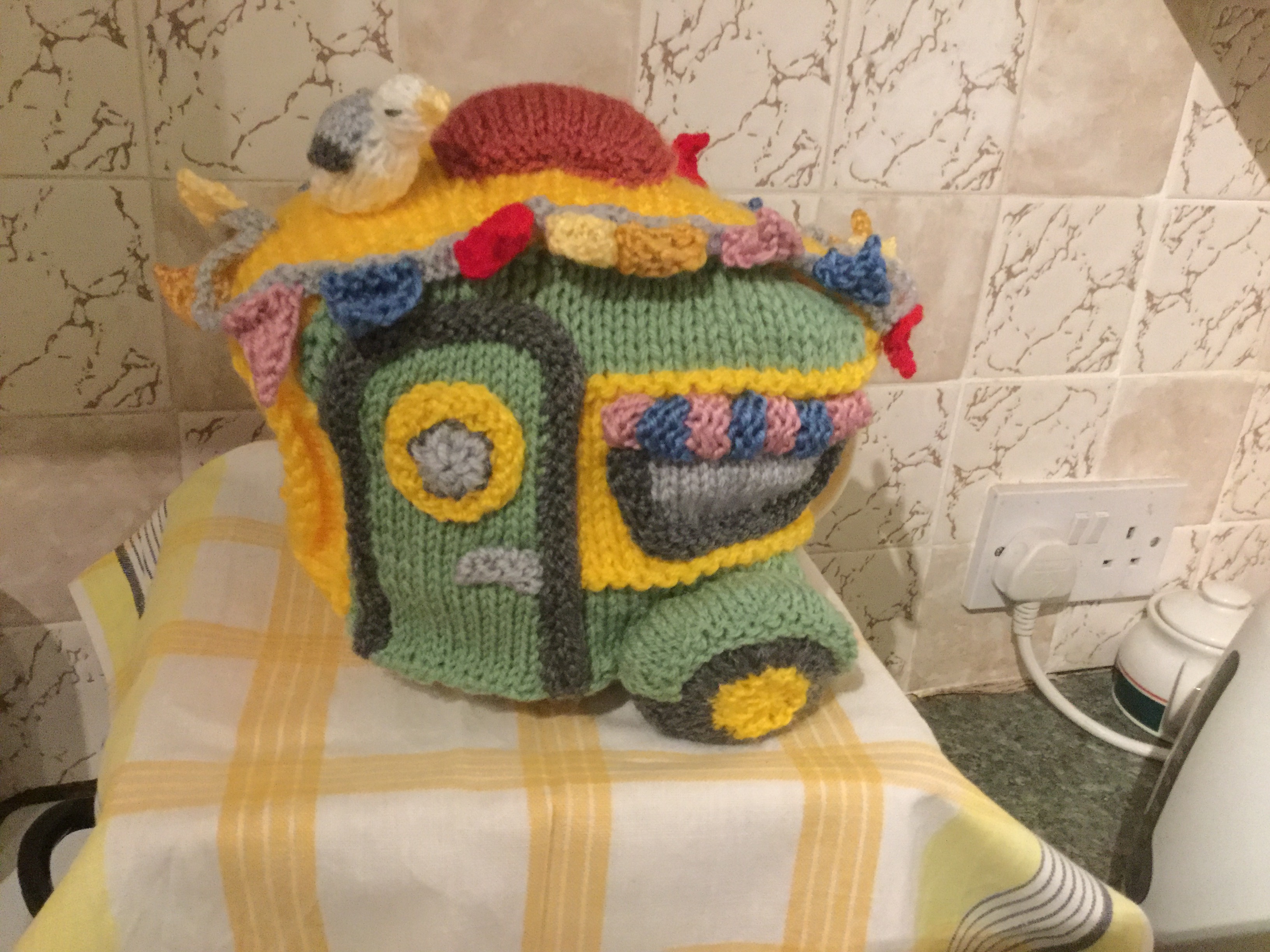 Lynne Fallowell
18/05/18
it was such fun and great for using up odds and ends of yarn.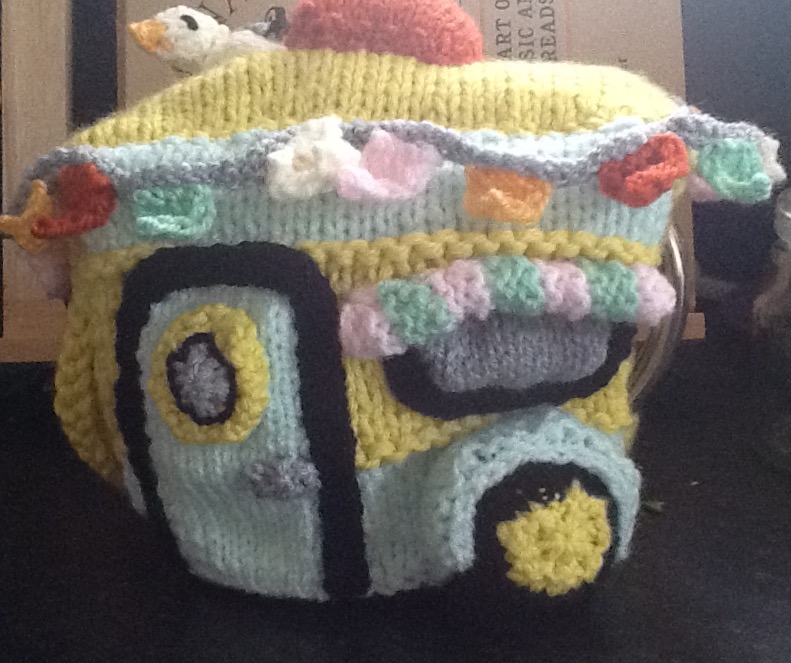 Joan Concannon
18/05/18
Fun to make, very easy if a little fiddly at times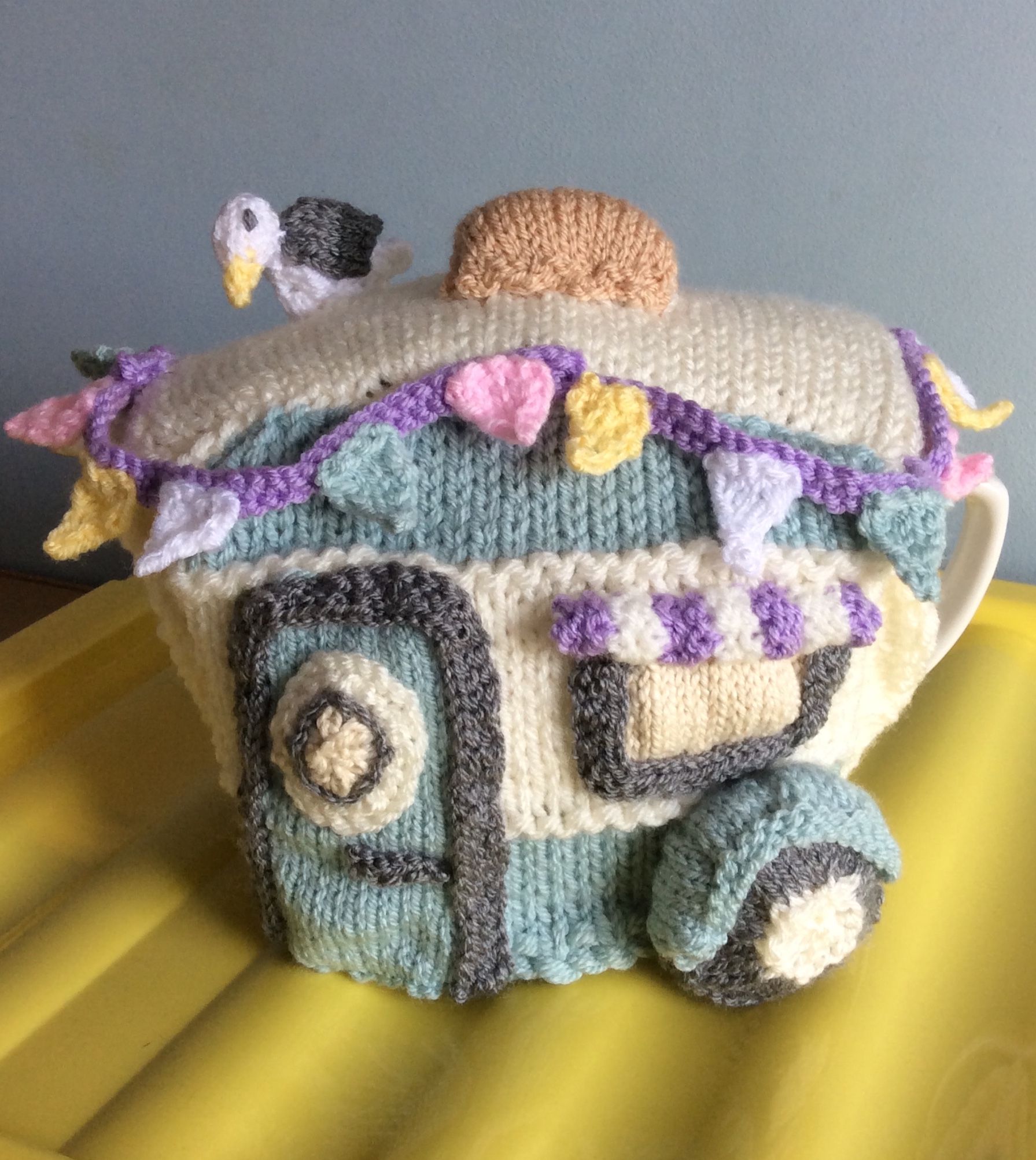 Tracey Major
18/05/18
Loved the Knit along x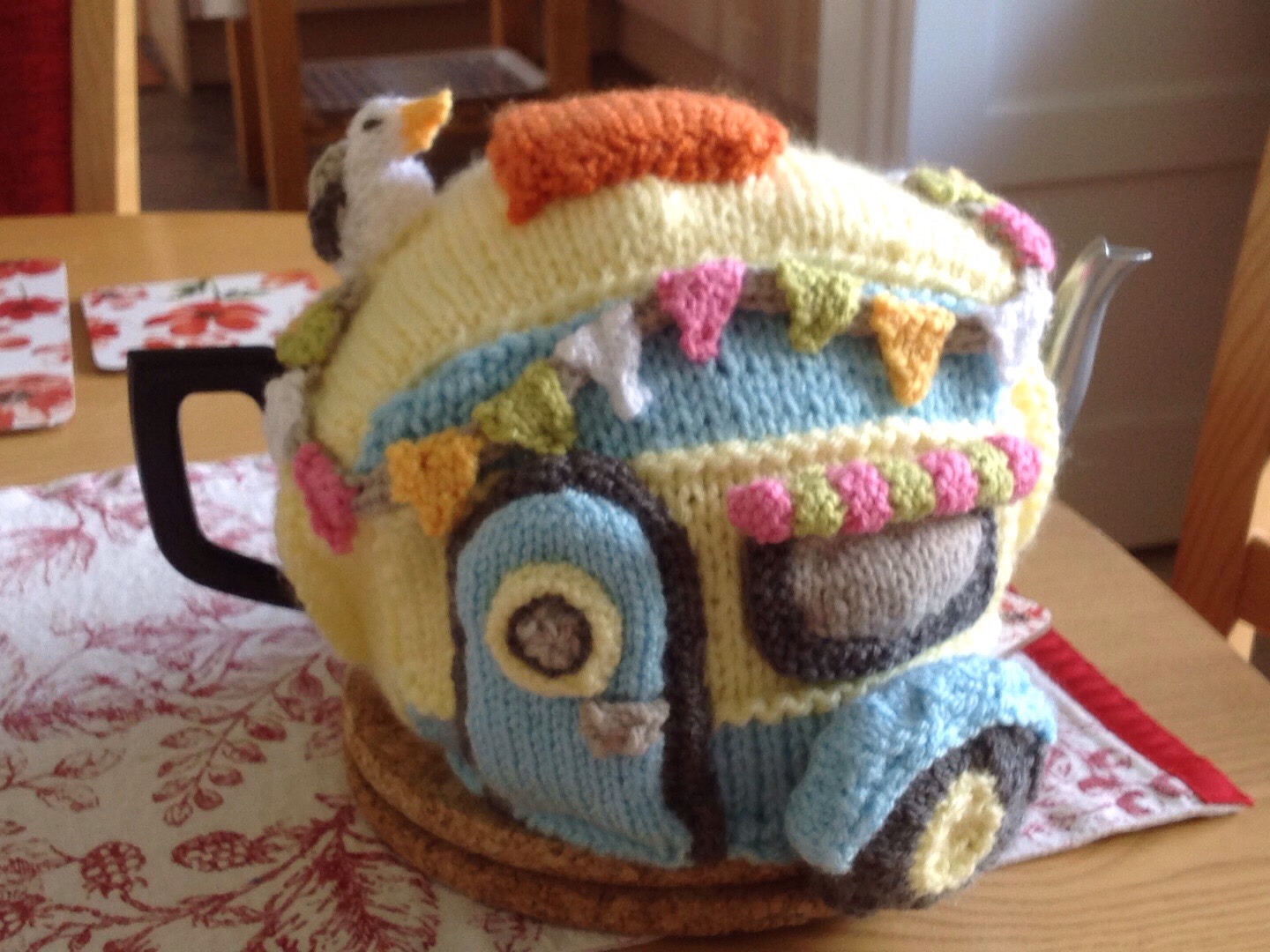 Gill
18/05/18
It was quirky, fun and nostalgic all rolled into one easy to follow pattern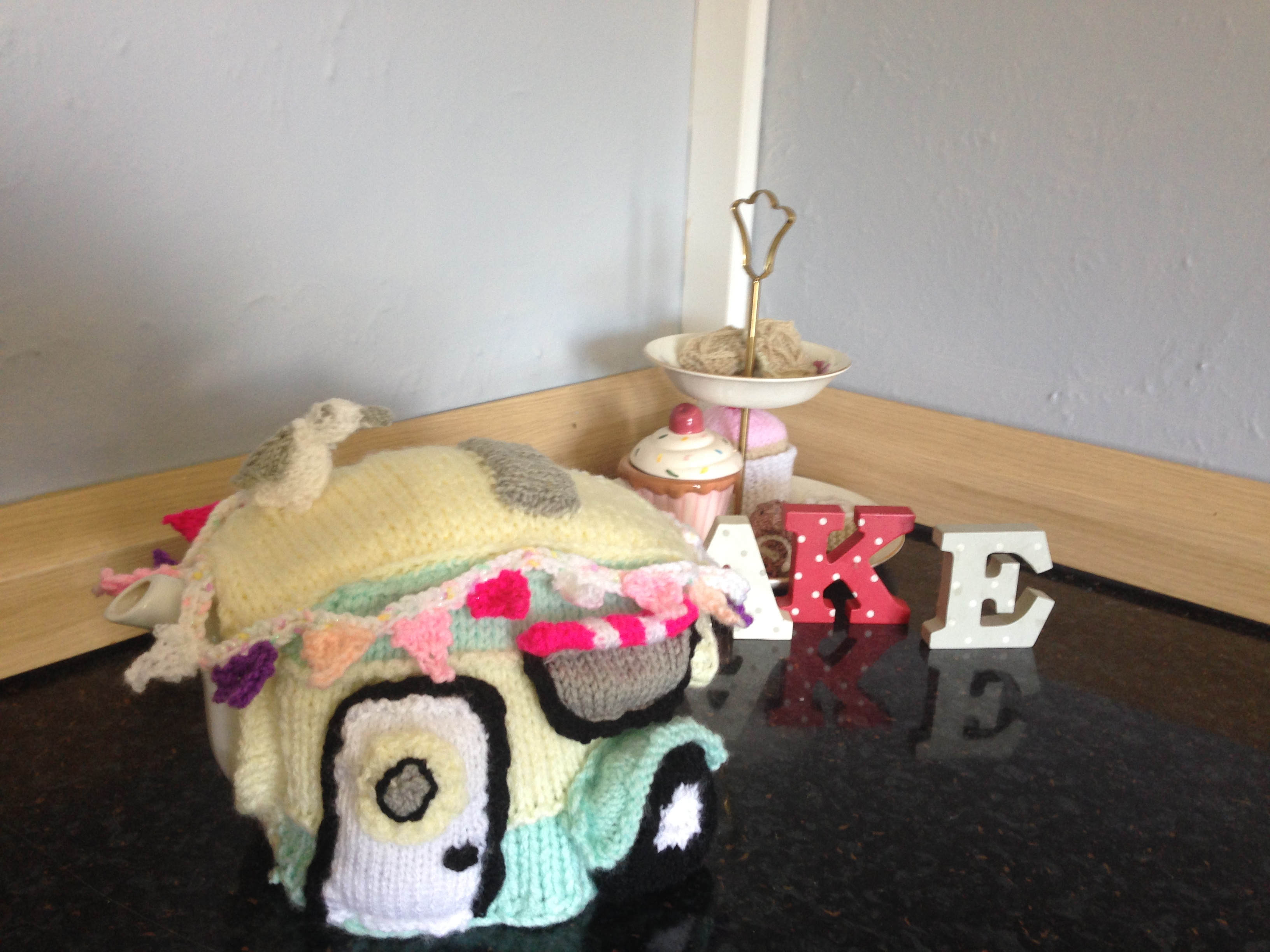 Ginny
18/05/18
the seagull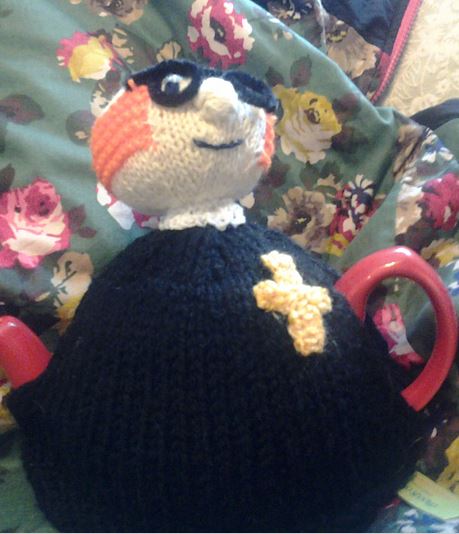 Carmela
17/05/18
I followed the pattern but then added glasses and more tea vicar on the back.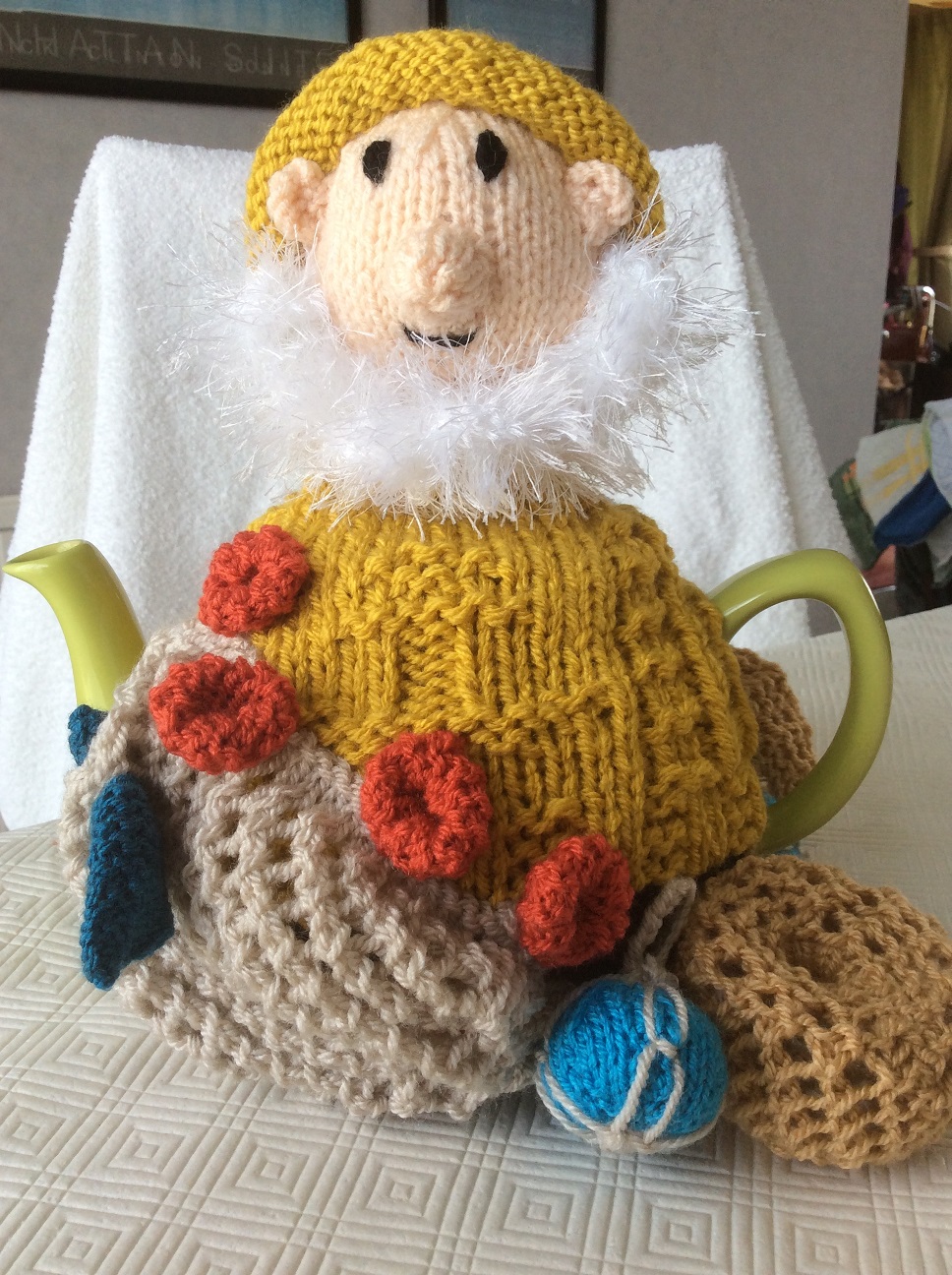 Chris
16/05/18
The front, looks like Uncle from Only Fools and Horses.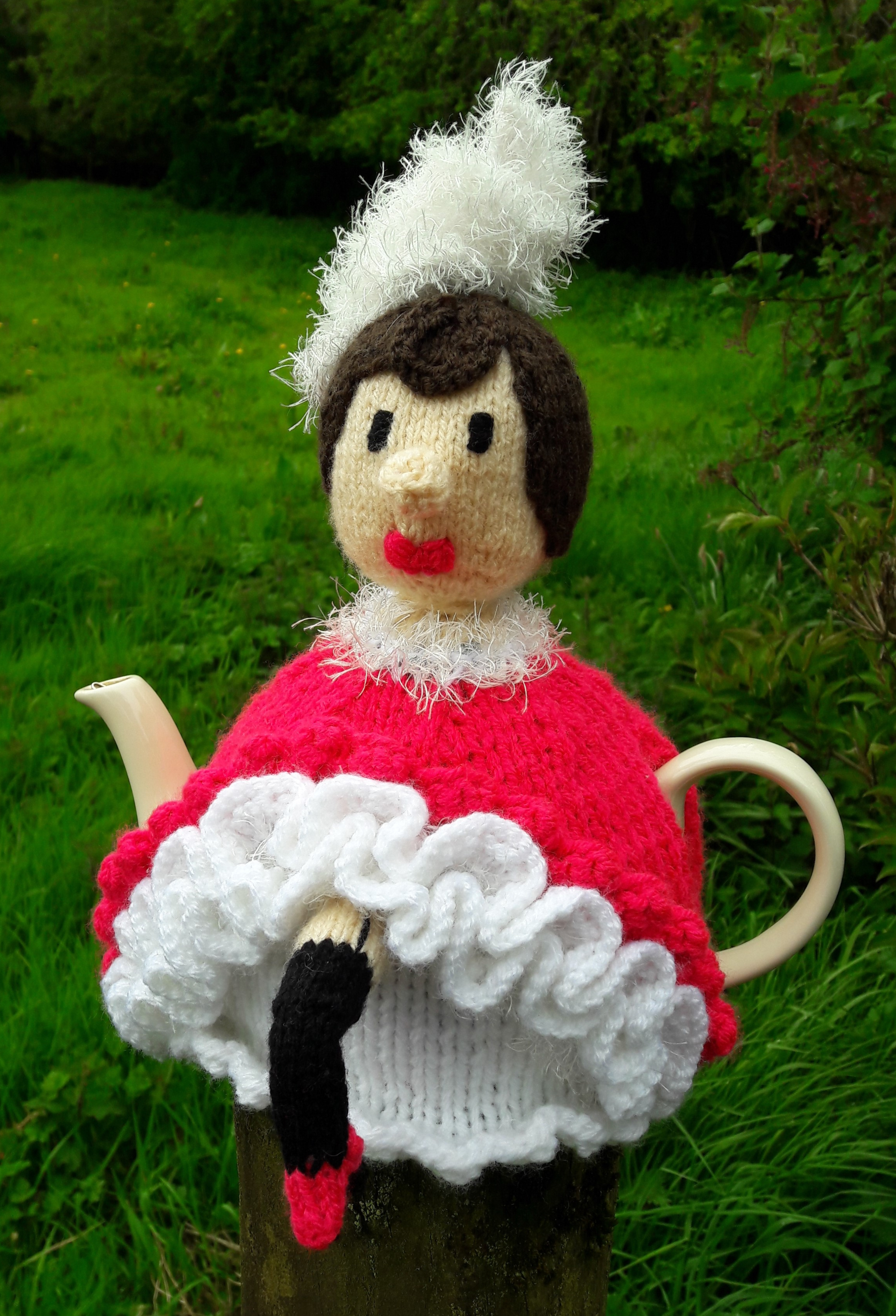 Petra
13/05/18
I love the cheeky leg and frills of the CanCan Dancer ;-). Think I'm hooked on Teacozies now, thanks Susan for your lovely designs.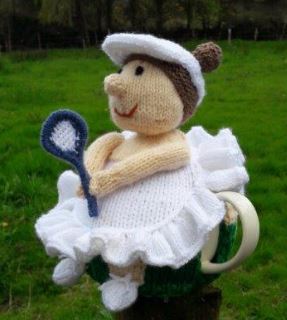 Petra
01/05/18
I finally finished my Tennis Champion. The tennis racket was the fiddliest part.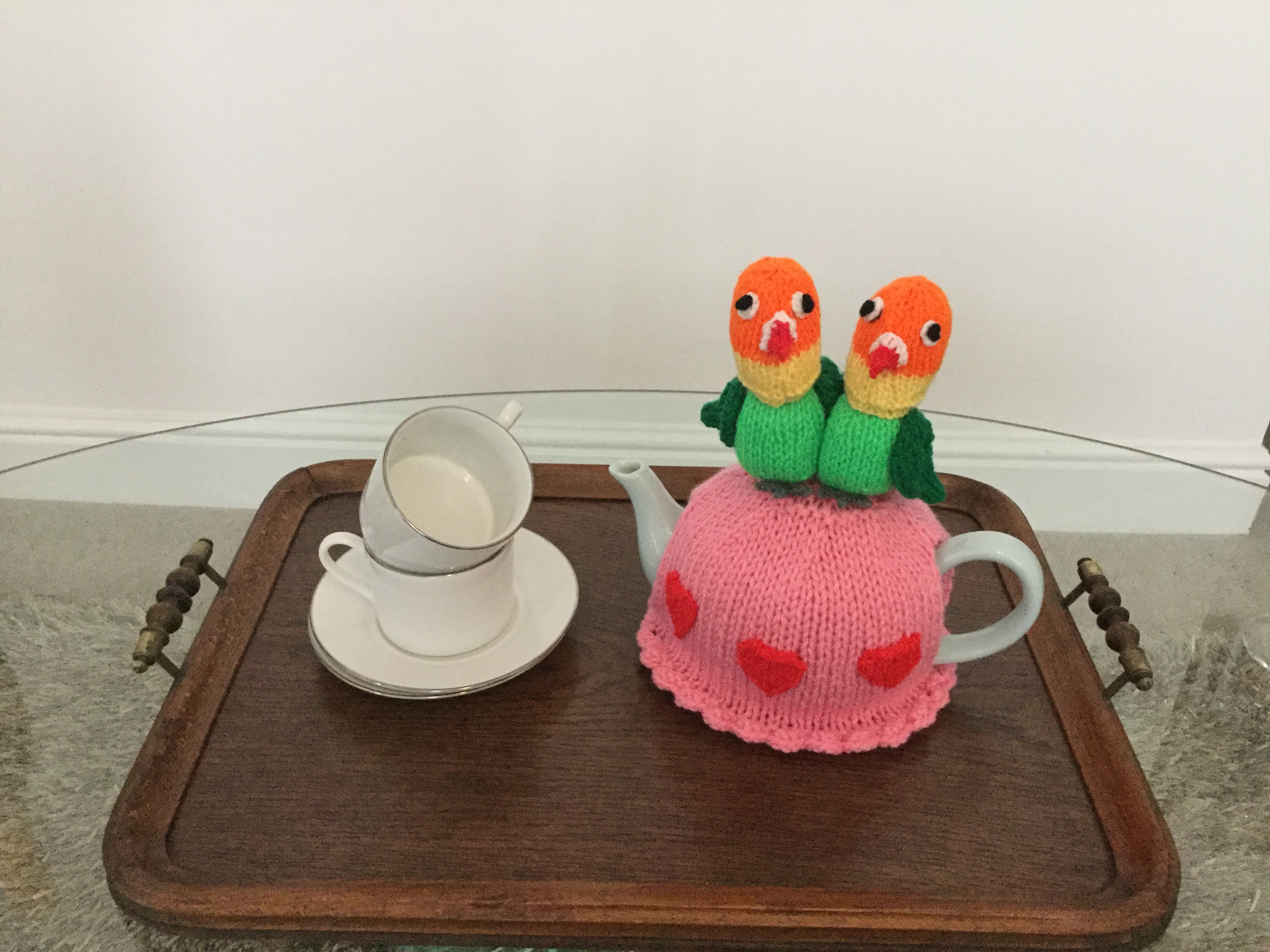 Deborah Akery
11/04/18
Just finished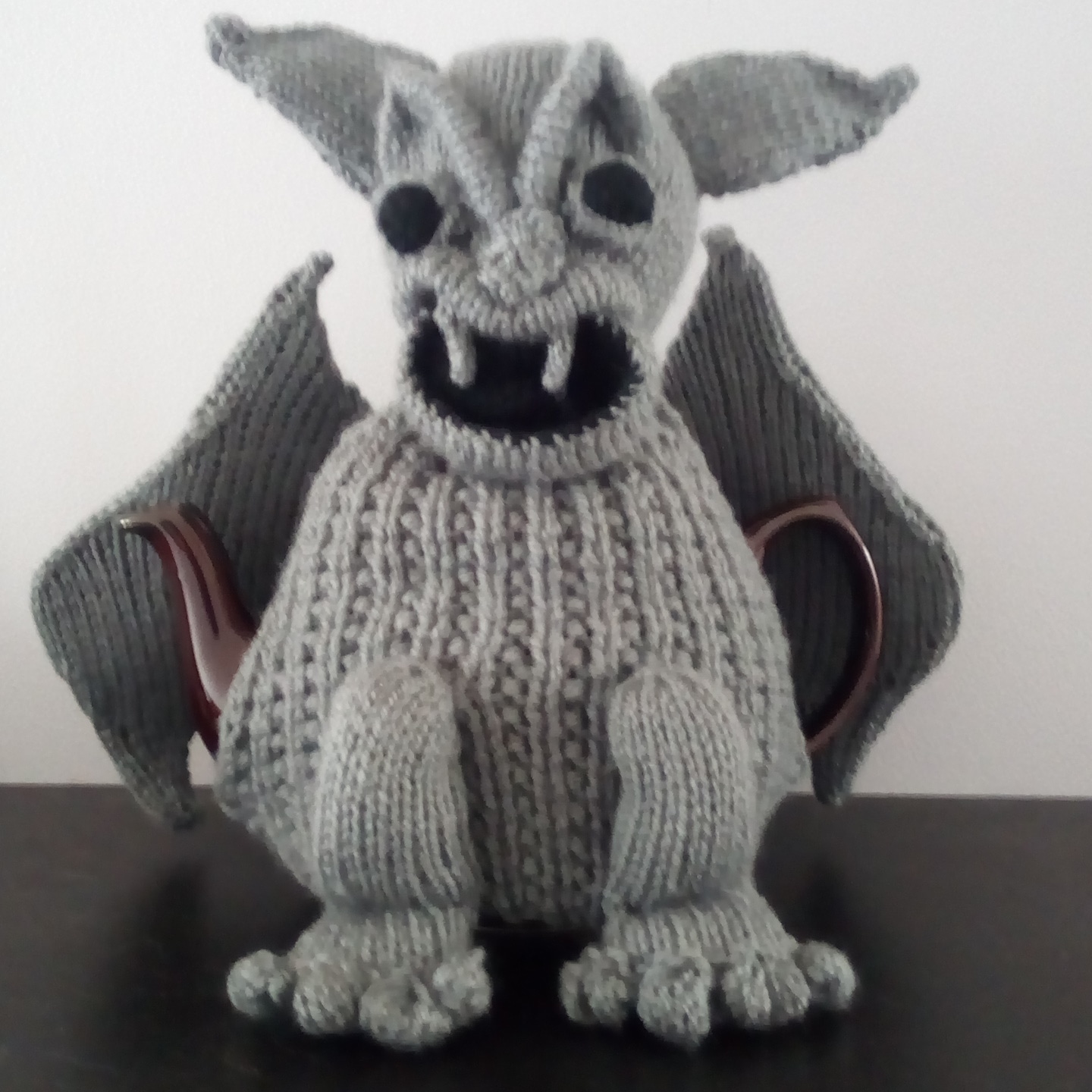 Sandra
04/04/18
As soon as I saw this pattern I knew I had to make it.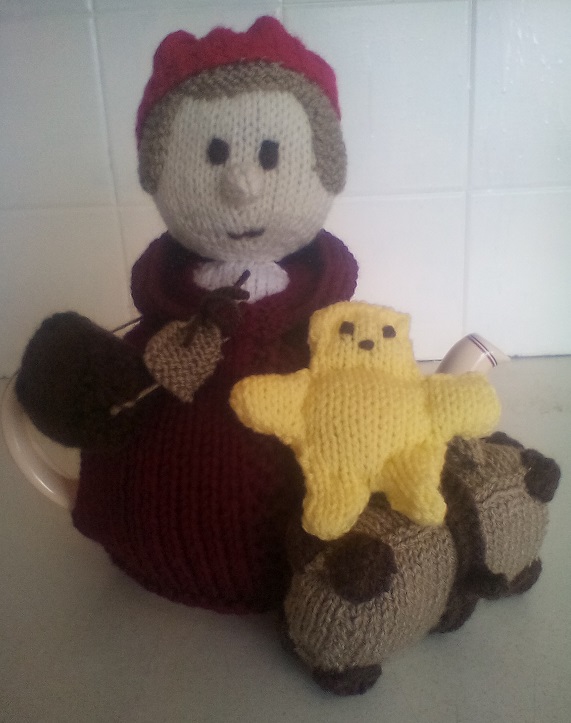 Jackie
29/03/18
Glad you like her I really enjoyed doing it. I am looking forward to the caravan knit along.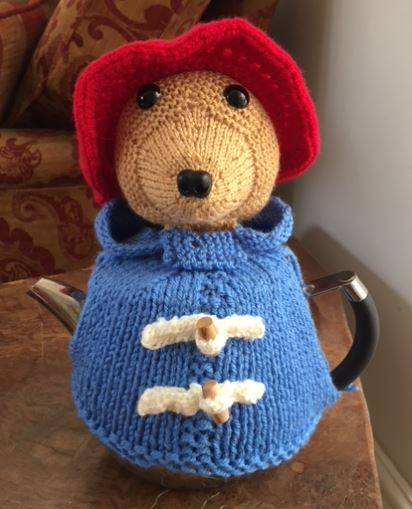 Lorri
26/03/18
I love tea cosies & normally always buy them but have just started knitting again after many years & thought i'd have a try!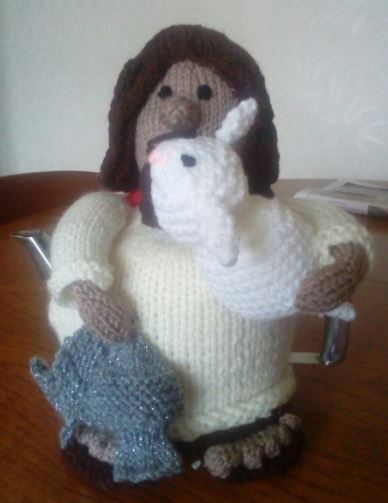 Spacehopper
24/03/18
This is my effort as a first attempt. My daughter wants one now!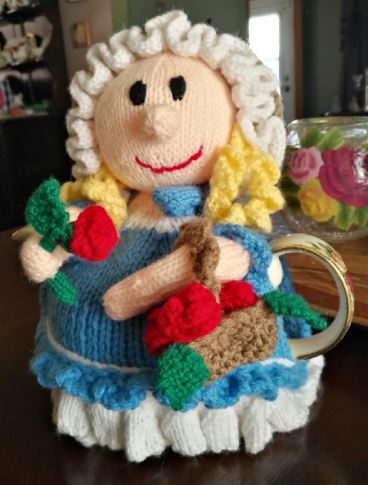 Kerry
19/03/18
This is the Victorian flower girl I just completed.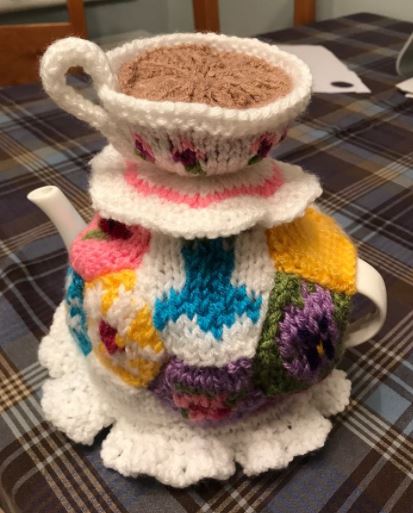 Ann
18/03/18
The knitting of it was pretty easy and grew quickly.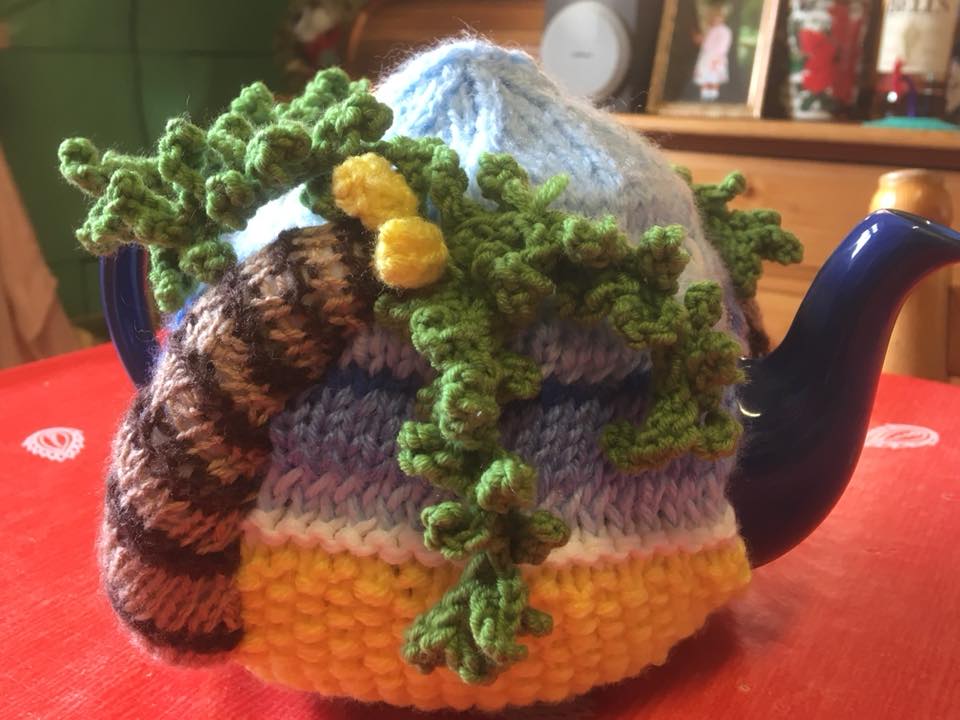 Maggie
18/03/18
Knitted with leftover scraps during the Beast from the East.
Purpinth
18/03/18
This is going to be for Miriam, who loves both Elvis and Tea Cosies - I was so excited to see that this pattern existed :)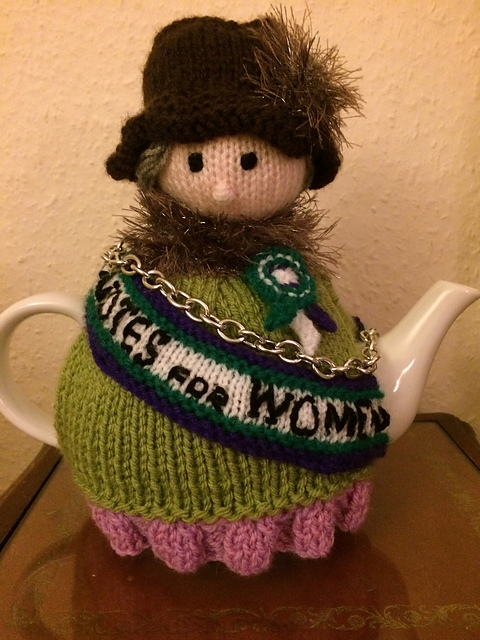 ElizabethLihou
18/03/18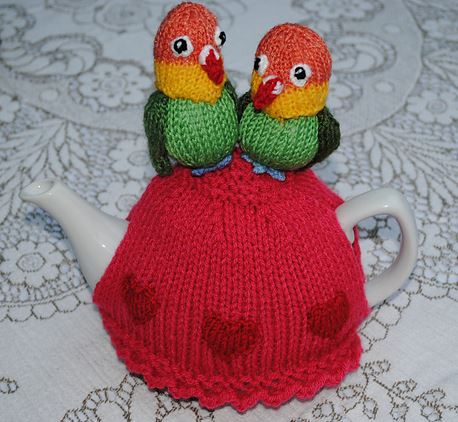 Nesquic
18/03/18
It's a lovely pattern and I've been asked to knit another by several people.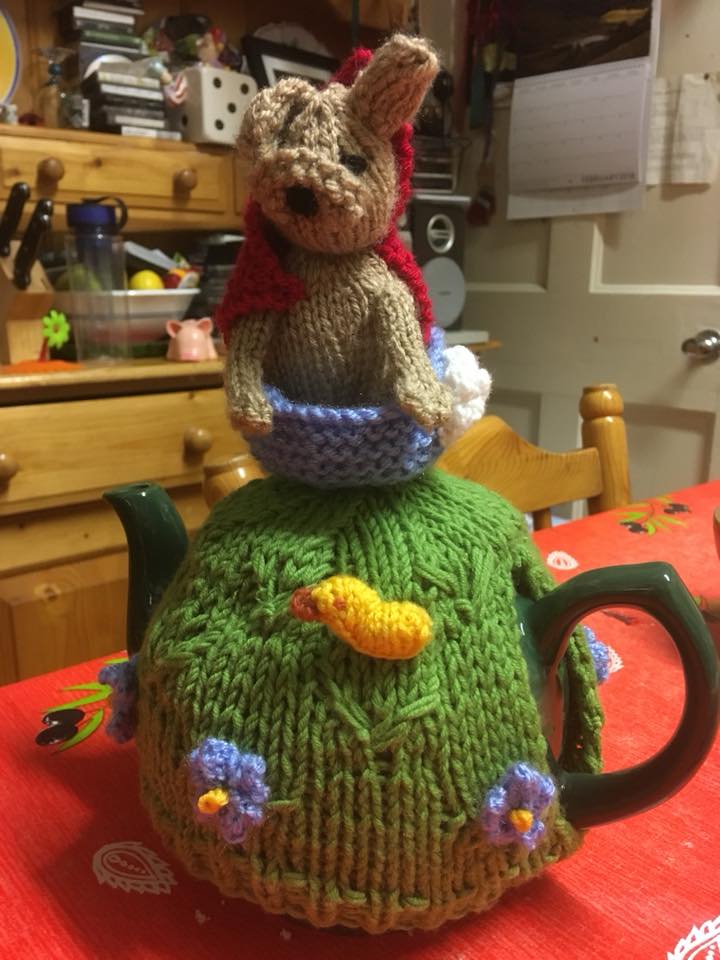 Maggie
14/02/18
Another fun tea cosy to make!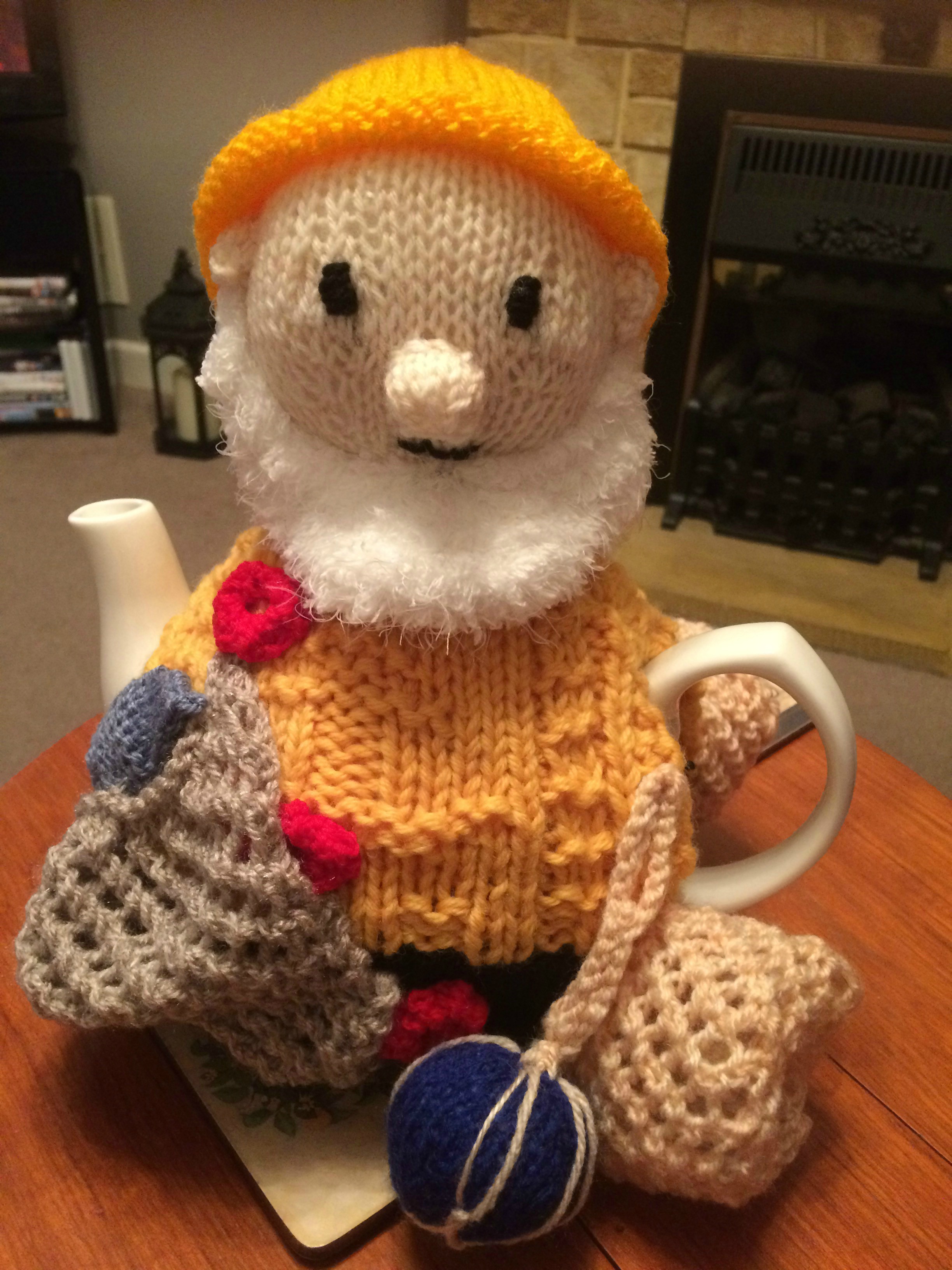 Susan Gosling
13/02/18
l live in Cornwall, so love this Cornish Fisherman pattern as it has such character.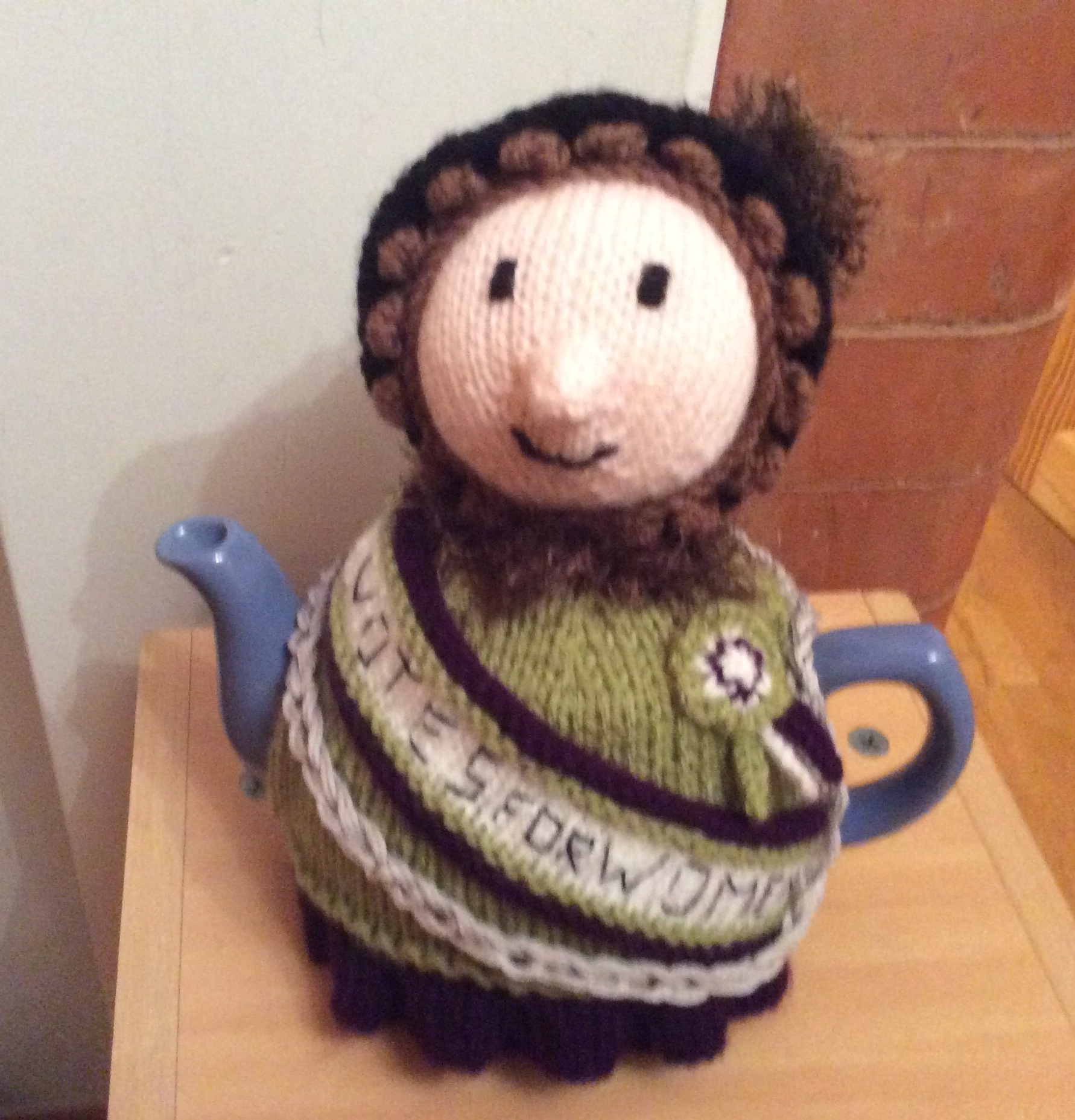 Jonet Middleton
13/02/18
Easy to follow and just right to celebrate 100 years of Women's Suffrage!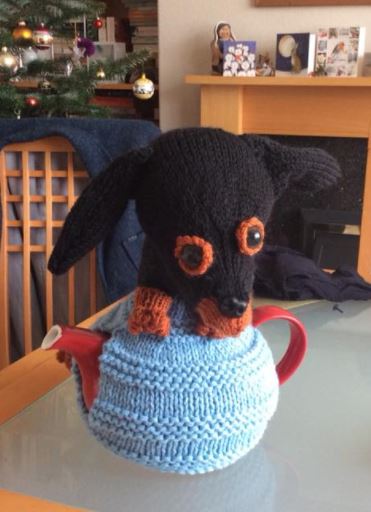 Lynne
13/02/18
My niece was delighted with her dachshund tea cosy Christmas present - and fun to knit too!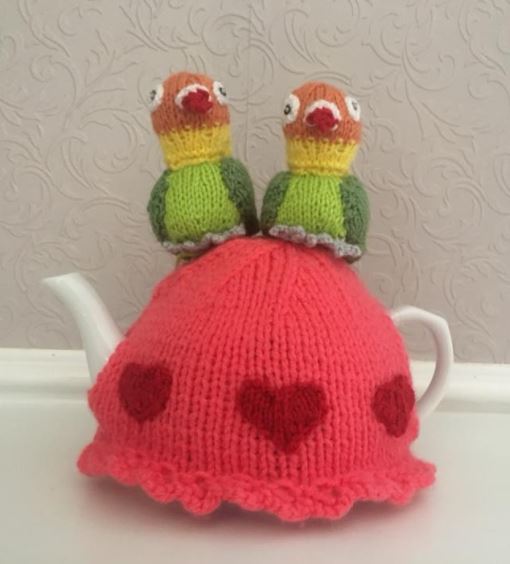 Lisa
11/02/18
Just finished my tea cosy.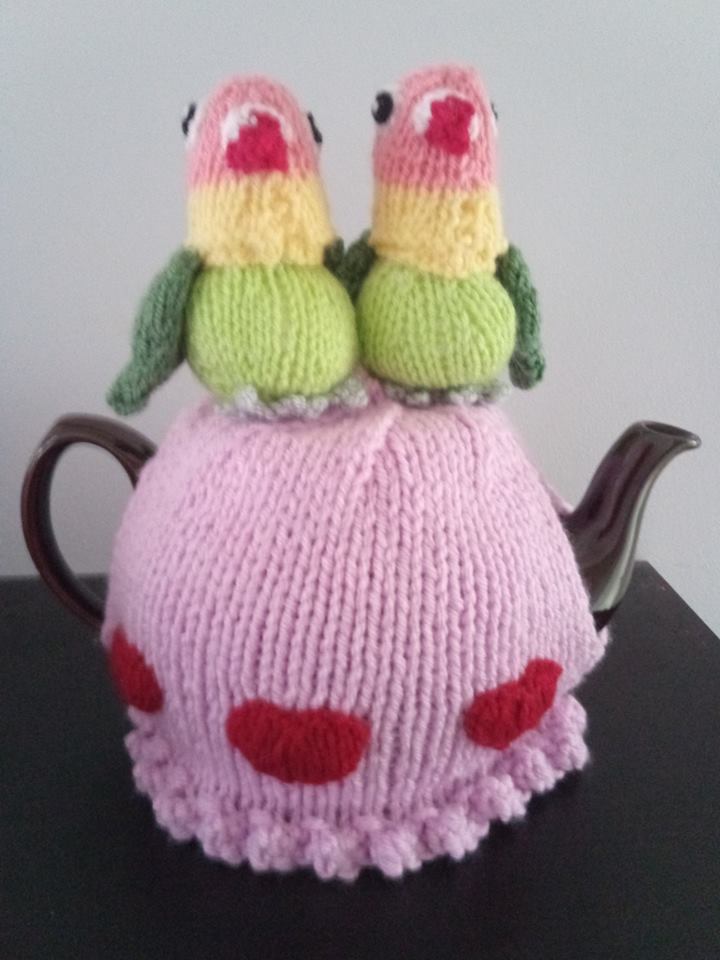 Sandra
07/02/18
This is my Lovebirds Tea Cosy from this months Simply Knitting magazine. The pattern was very easy to knit - very clear instructions.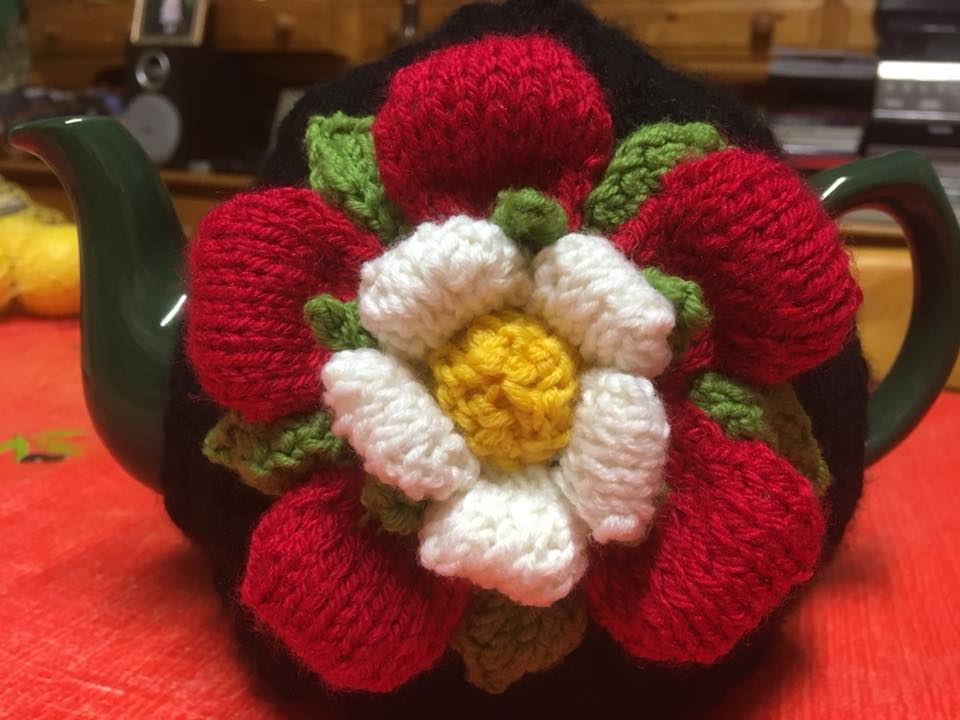 Maggie
07/02/18
Really enjoyed knitting the Tudor rose tea cosy.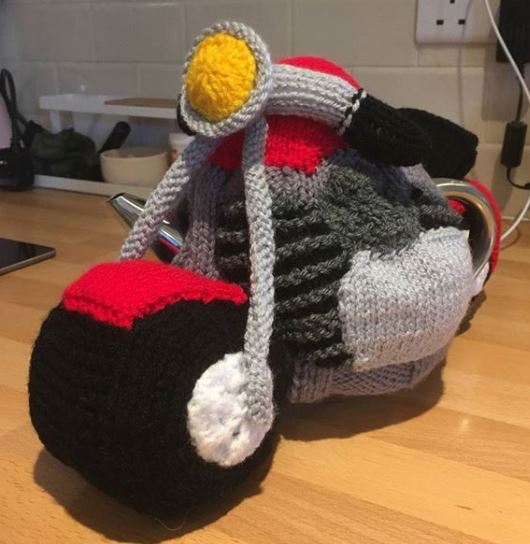 Sumthingcosy
01/02/18
A birthday gift
GeekyDuncan
29/01/18
Using the skull knitting pattern... this project was lightning fast, I couldn't believe it, and really simple.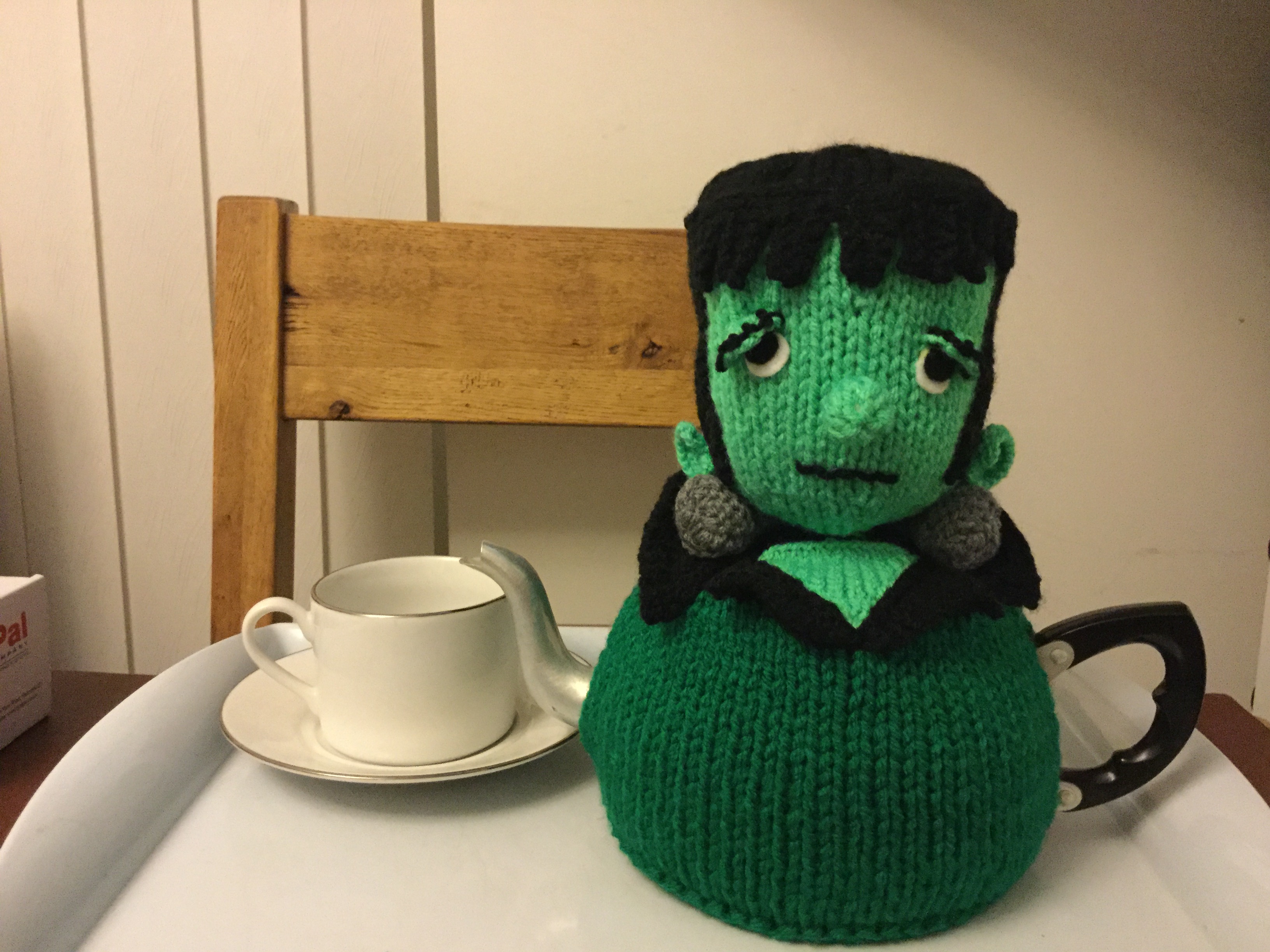 Deborah Akery
13/01/18
I love knitting my tea cosies, they all look great.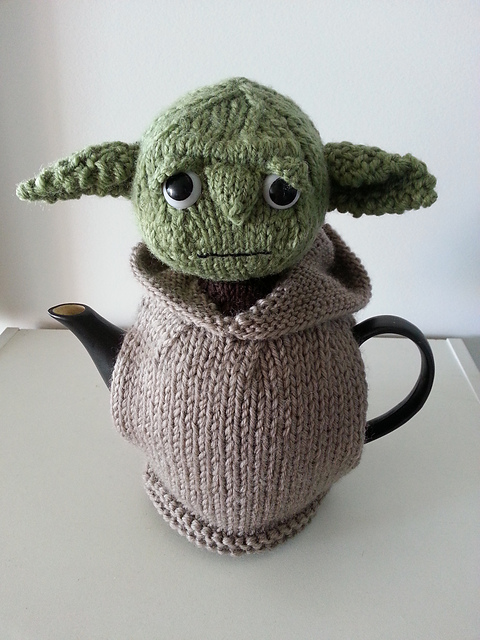 Natasha
12/01/18
This is a favourite amongst family and friends.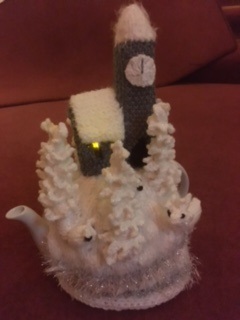 Maggie
02/01/18
My Christmas tea cost worked out really well.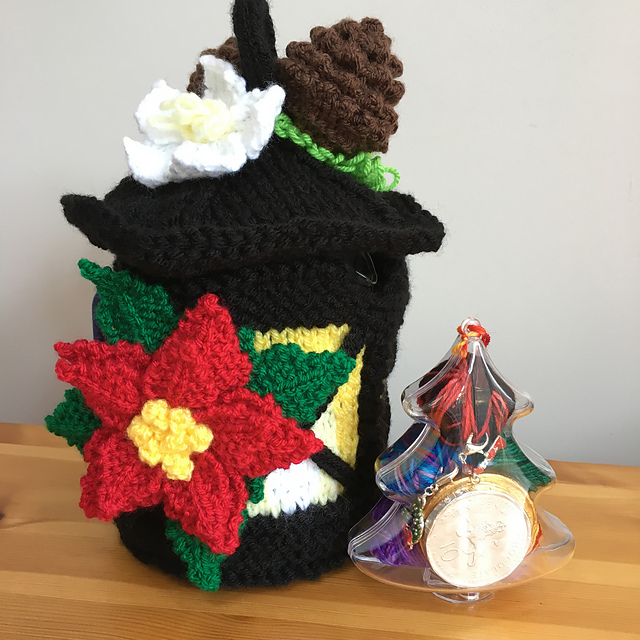 Mary
12/12/17
I modified it slightly: haven't attached the 'lid' to the body, as I'm using it for a chunky cafetiere. Mary won first prize with her Cosy at the local Ravelry group Christmas challenge.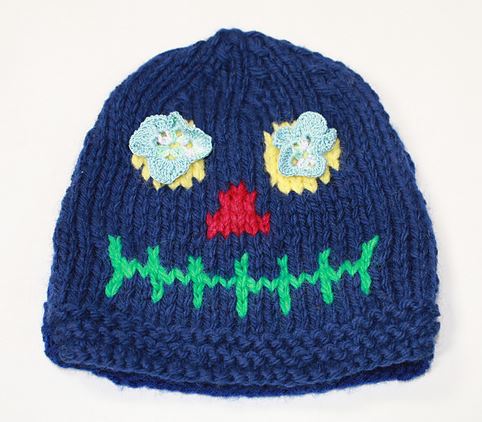 Artsenta
11/12/17
Day of the dead tea cosy which will be auctioned off.
Laura
29/11/17
My Sister loves the movie "the Nightmare before Christmas" so this Jack inspired tea cozy is for her :)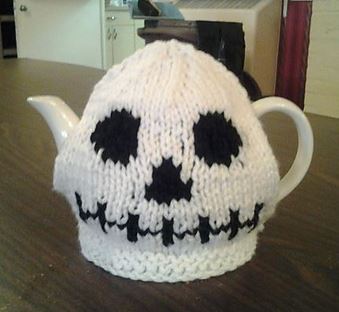 PrepGirl
28/11/17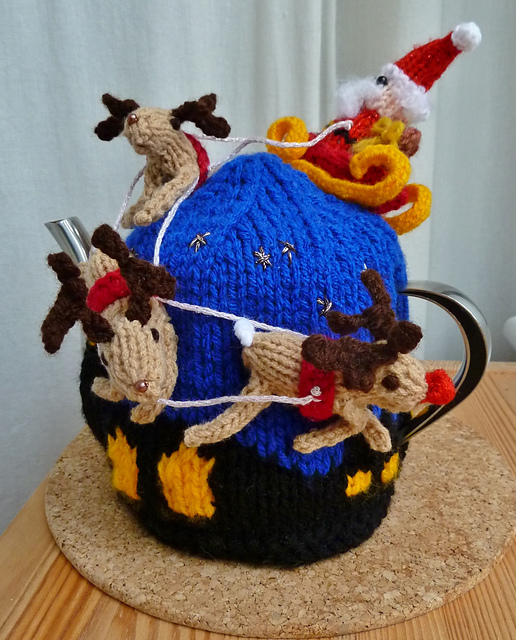 Cha
28/11/17
Going potty about teapot cosies haha! This is one of my favourite projects so far.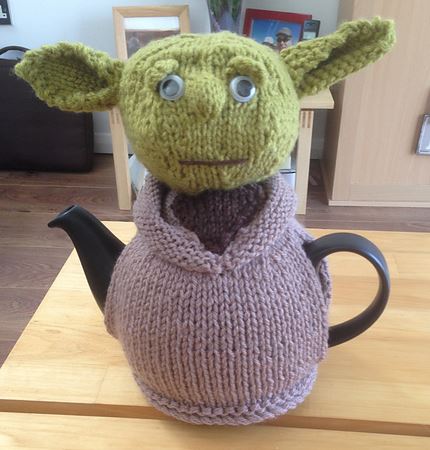 Ceri
28/11/17
You helped make my husband very happy!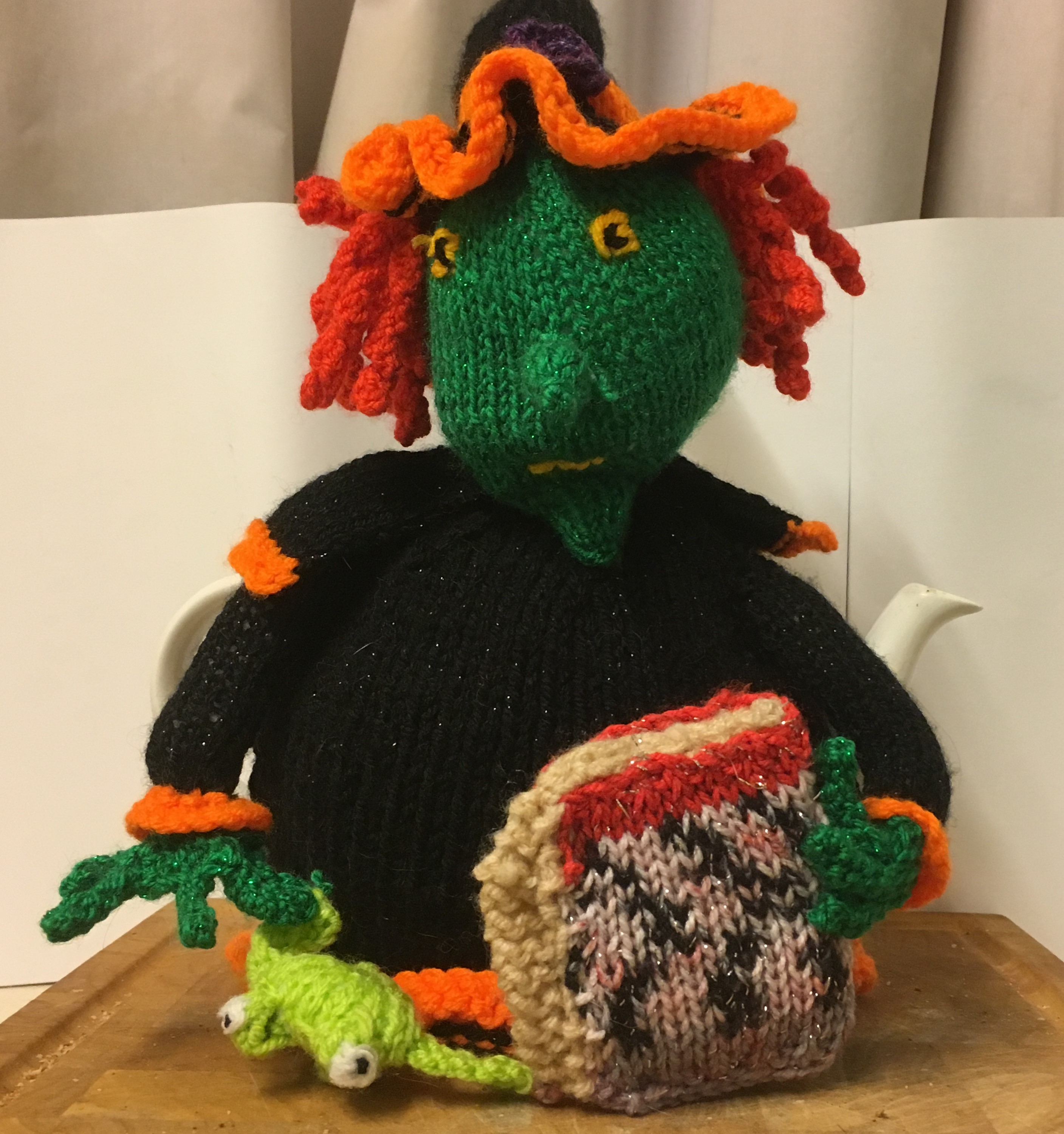 Fred
21/11/17
The Witches Brew Witch from The Simply Knitting Magazine.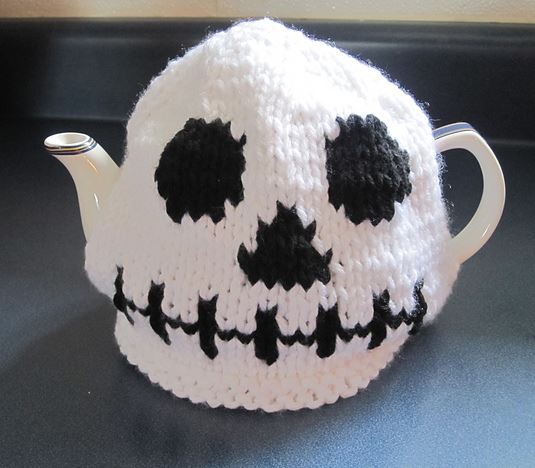 Jenine
13/11/17
It was the first thing I knit after teaching myself with YouTube videos :)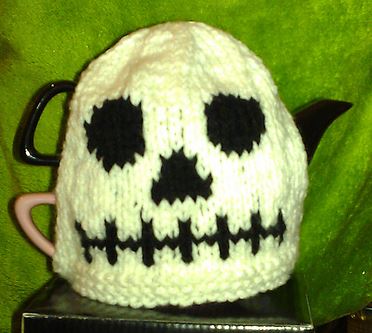 Claire
12/11/17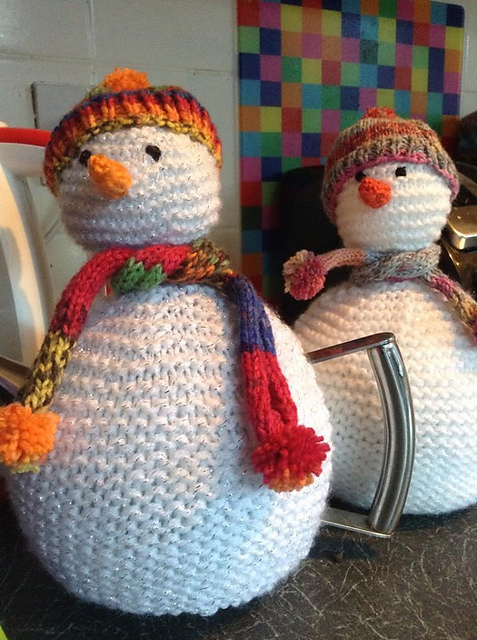 Ruth
09/11/17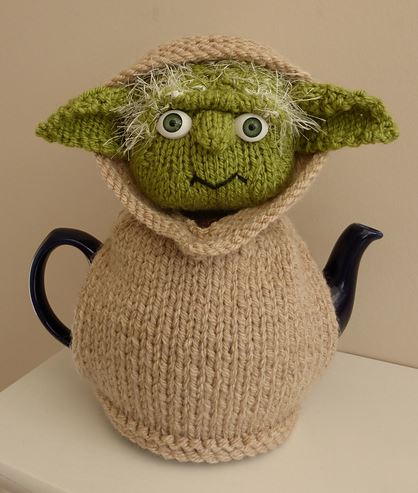 Alison
03/11/17
Will definitely make another one of these, great pattern and easy to follow so thanks to Teacosyfolk.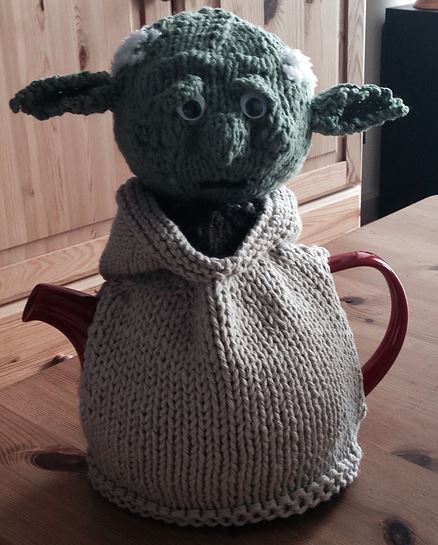 Jennifer
02/11/17
I loved knitting the cozy. May the force be with you,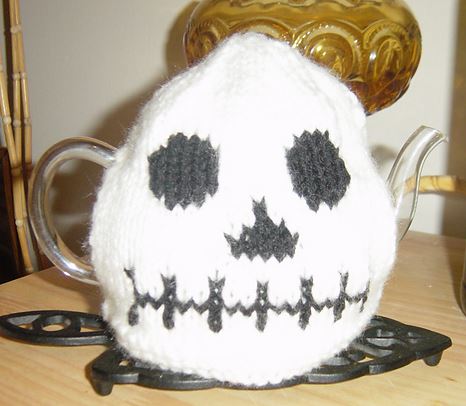 Stacy
02/11/17
I really enjoyed making that tea cosy and friends have commented on how much they like the design when they've seen my teapot wearing it.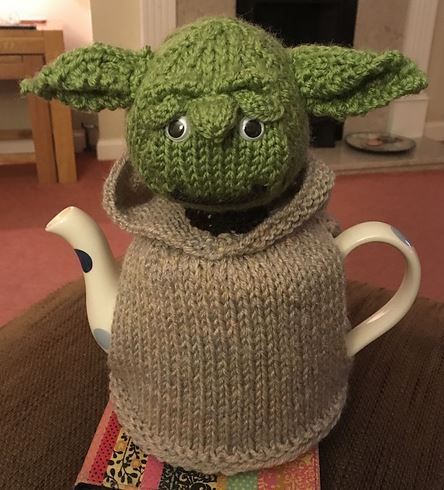 Fiona
20/10/17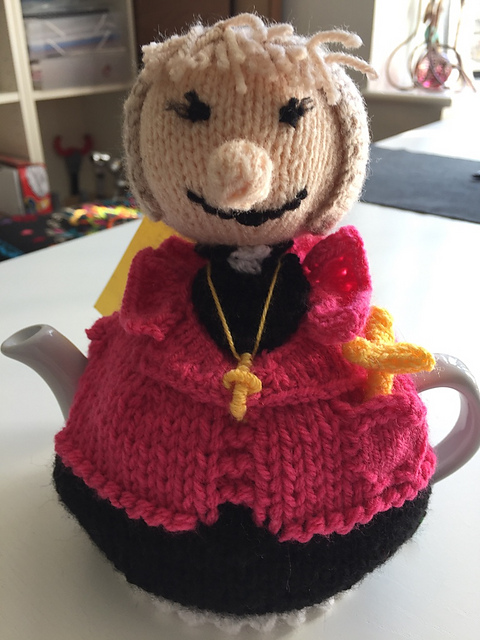 Jill
20/10/17
My friend loved it!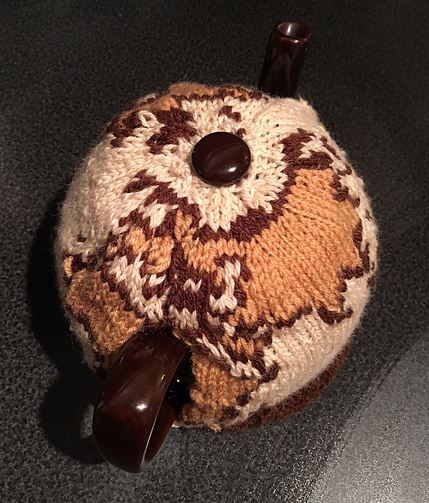 Elaine1Helen
18/10/17
I am really pleased with this. I think it looks great.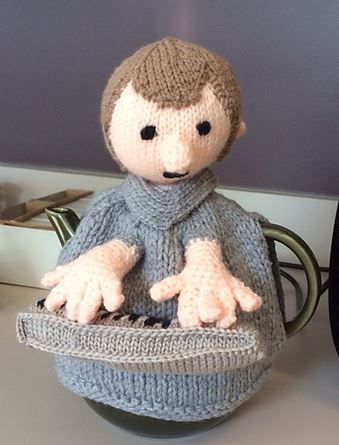 Sue
18/10/17
The cozy was made for a silent auction to support the music program at a friend's school. It was purchased and now resides on a piano in Palm Springs, California!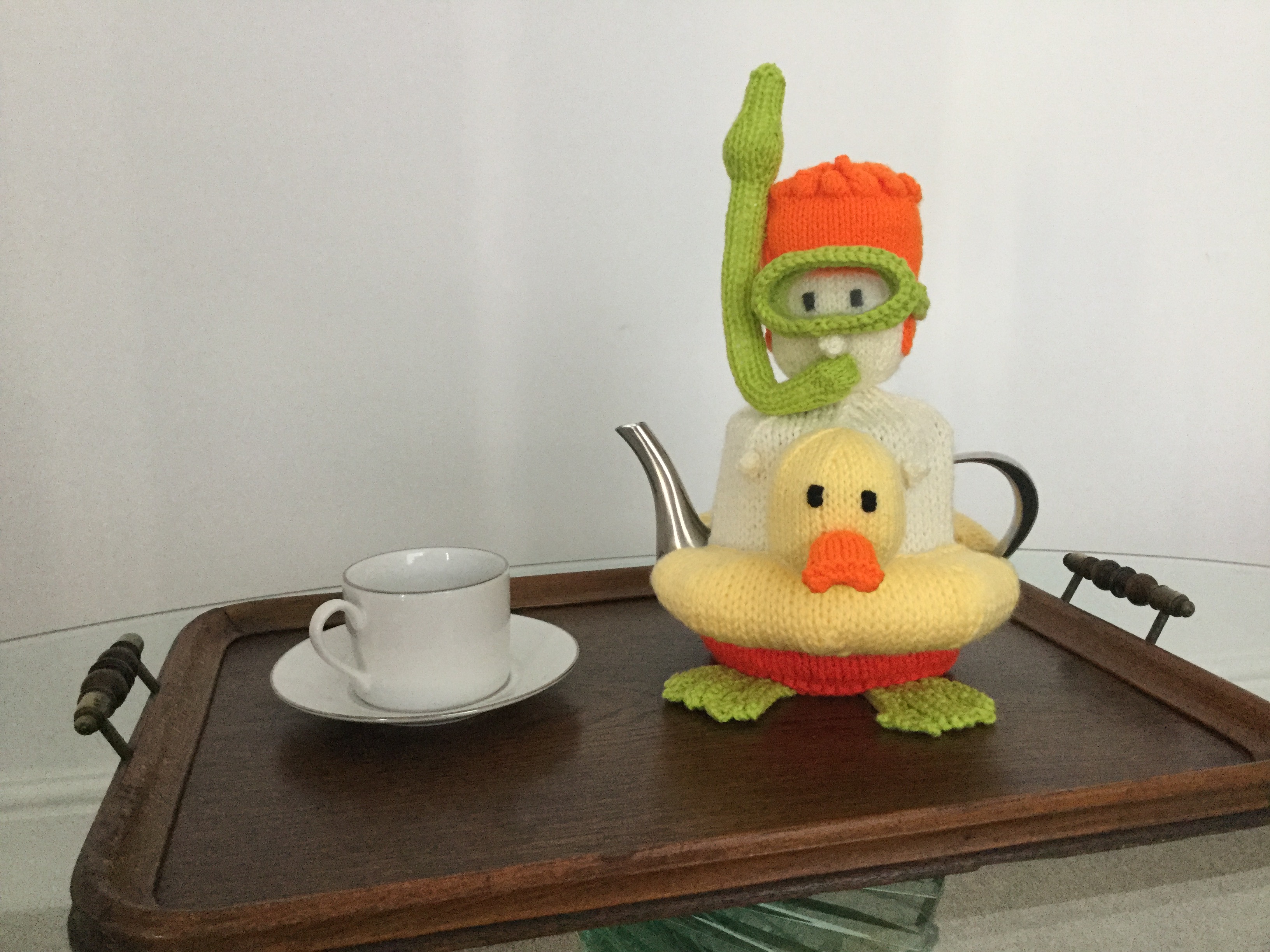 Deborah Akery
17/10/17
Love making the snorkeler tea cosy to add to my collection.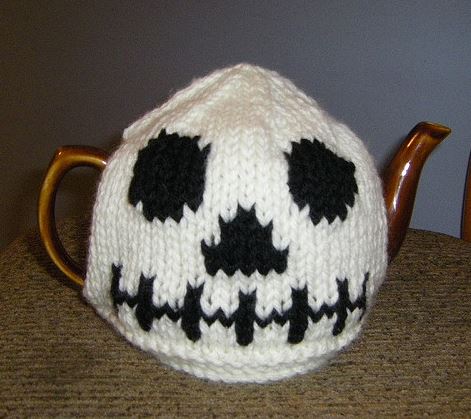 Wendy
17/10/17
Tea cozy was a gift for my cousins for their Hallowe'en wedding!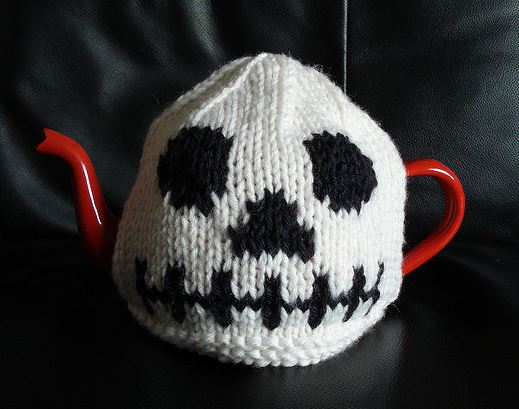 Jane
16/10/17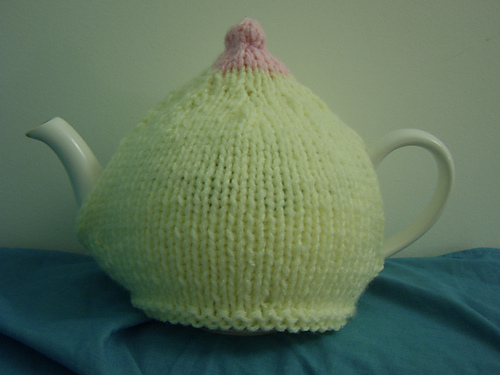 Karla
16/10/17
Adapt the skull pattern - a gift for a herbalist friend who makes a lot of lovely teas that I met through breastfeeding.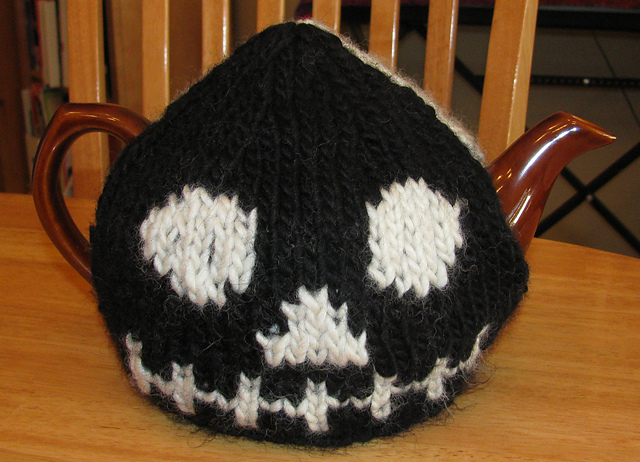 Leslie
16/10/17
One side is black and ther other side is white.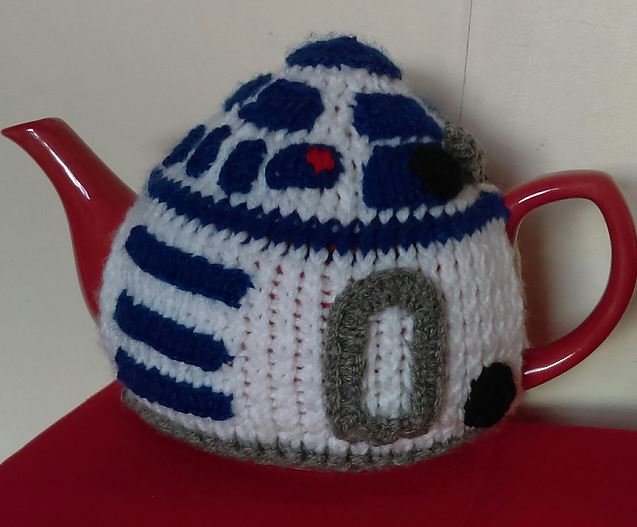 Ray
14/10/17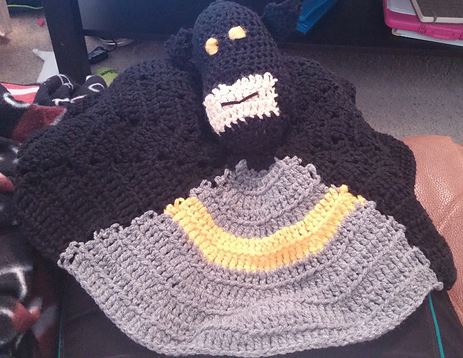 Dewey
14/10/17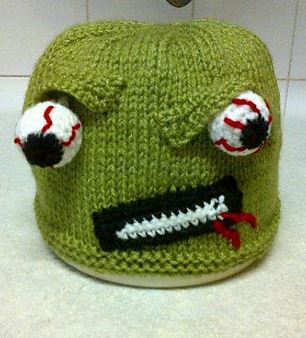 Sam
14/10/17
Made based on the Skull tea cosy pattern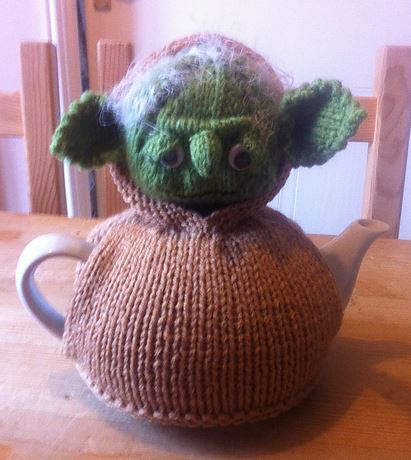 Kirsty
14/10/17
I love the Teacosy Folk patterns and had picked this up for a fun knit.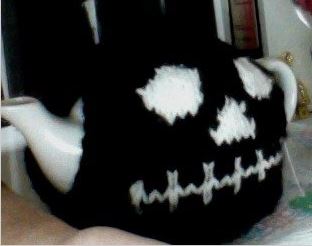 Nesan
13/10/17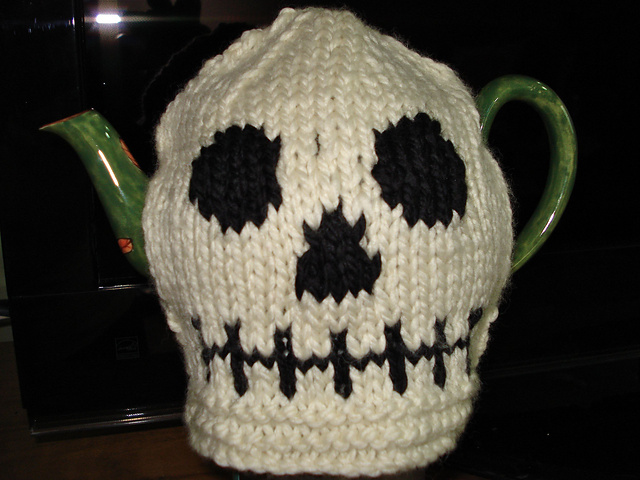 Ellen
13/10/17
ooooo skulls!!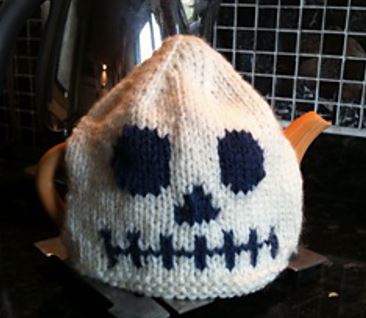 Gina
13/10/17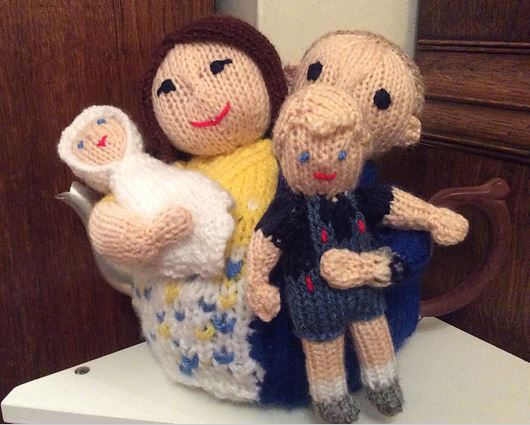 Mary
13/10/17
Requested by my daughter for her friend's birthday - definitely different!!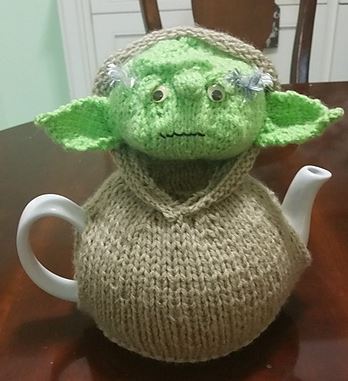 Beth
13/10/17
So delighted with how this turned out, and I've gotten tons of compliments on him already.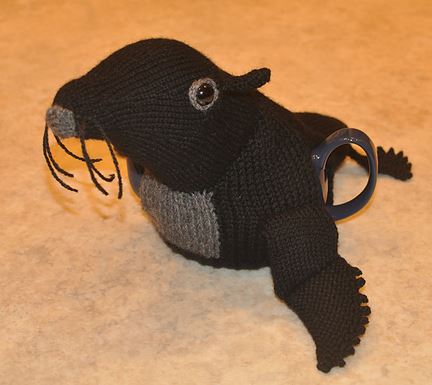 Cindy
13/10/17
Quick, fun project. Made as donation for a charity auction for which the theme animal was a Northern Fur Seal.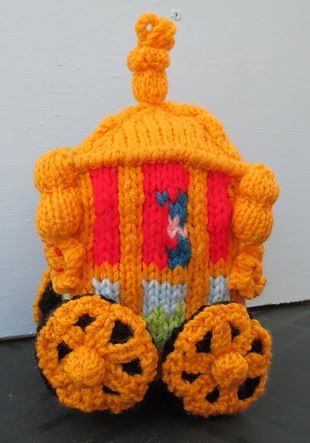 Janet
13/10/17
I thought I would just have it as a Coach not a Tea Cosy for my own Royal Knitted collection.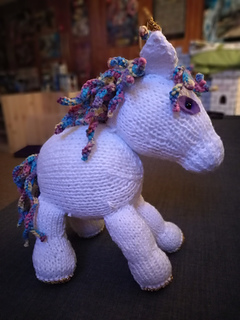 Emma
11/10/17
I made the Unicorn tea cosy, but the toy version. The pattern was really clear and easy to follow and FUN!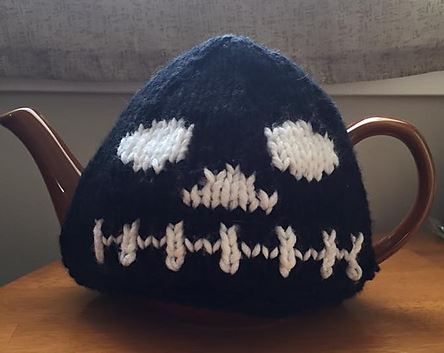 Lisa
09/10/17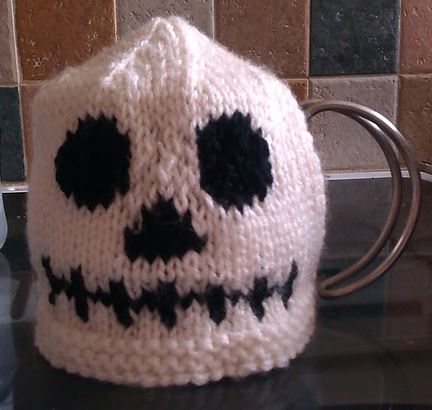 Jenny
08/10/17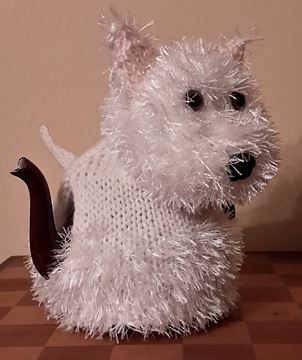 Jeanne
08/10/17
A lovely pattern, and easy to follow.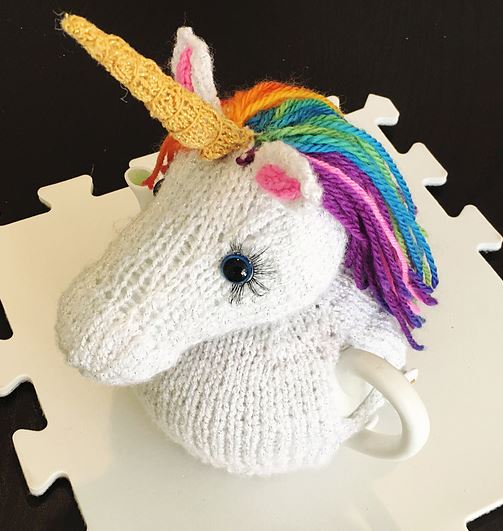 Marja
08/10/17
I submitted the project to a local country fair and it won a first place ribbon and a judge's choice rosette.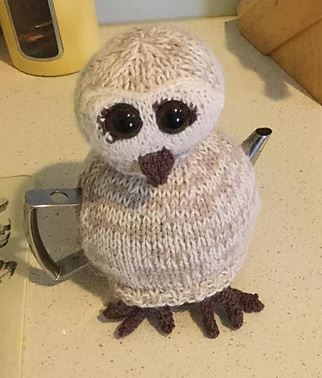 Melissa
08/10/17
I made it for my mum who is an owl lover and she displays it proudly on her kitchen bench.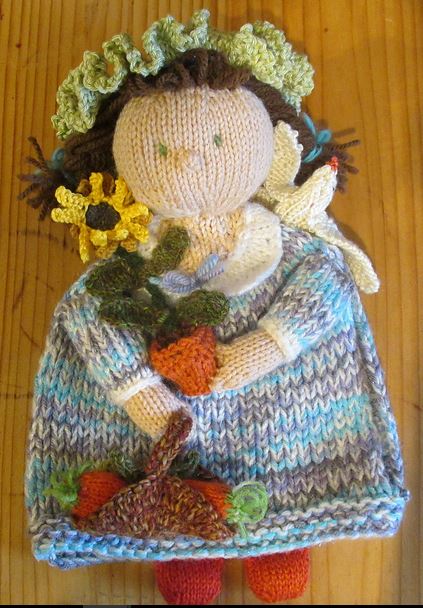 BlackPatty
08/10/17
Based on the Gardener Tea Cosy but I liked the look of Suzanne the Gardener but it's all in Spanish so I kind of copied the look of her.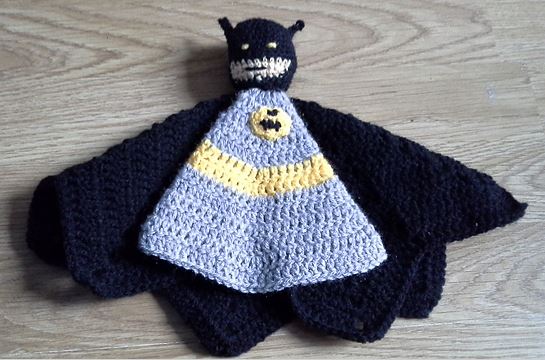 Indri
08/10/17
I enjoyed making it and the final batman was really appreciated by the parents and baby!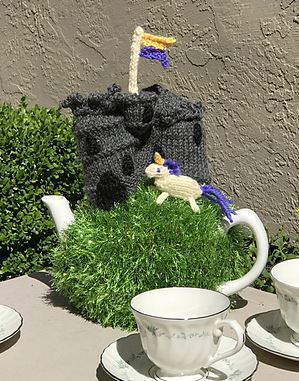 Sarah
08/10/17
Teatime at Hogwarts adapted from the Medieval Castle tea cosy.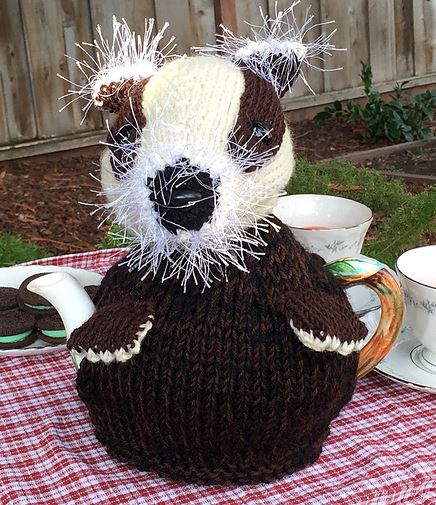 Sarah
08/10/17
I love your tea cozy patterns, they are so fun.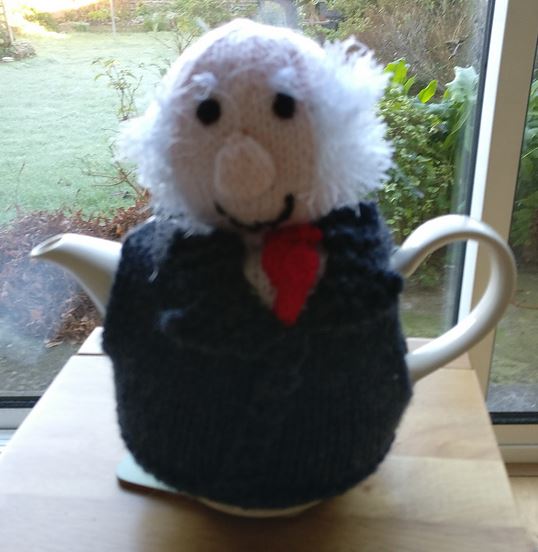 Una
08/10/17
Michael Tea Higgins using the Vicar Tea Cosy pattern with a few modifications.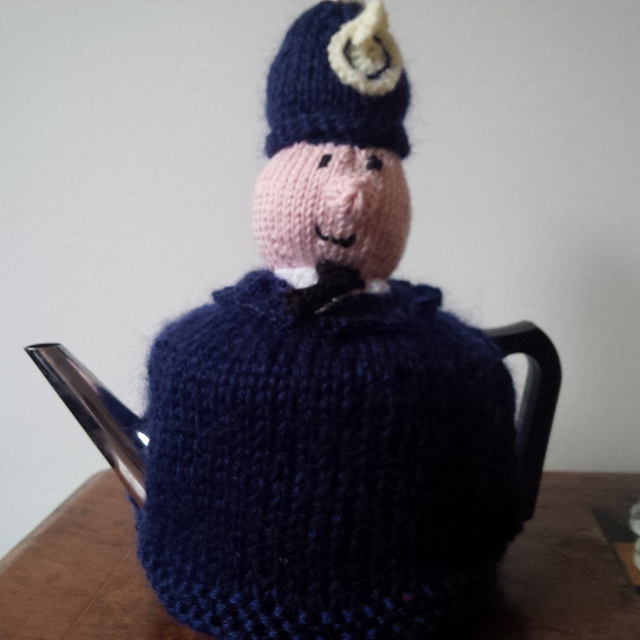 Tattie
07/10/17
The pattern was given to me as a Christmas gift. We love plod!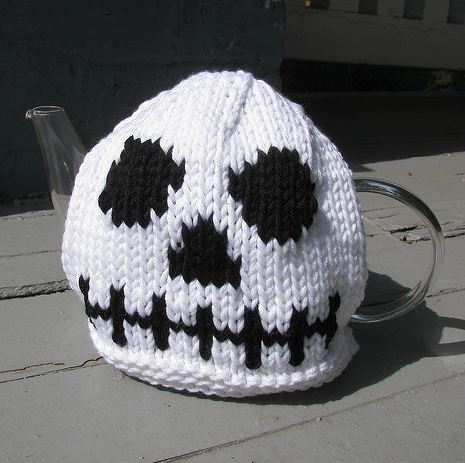 Catherine
07/10/17
Tea Cosy for Bone China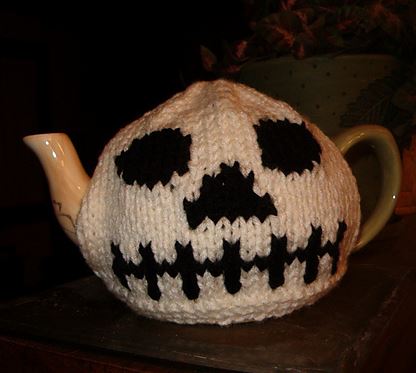 Karla
07/10/17
I am a tea drinker and do use it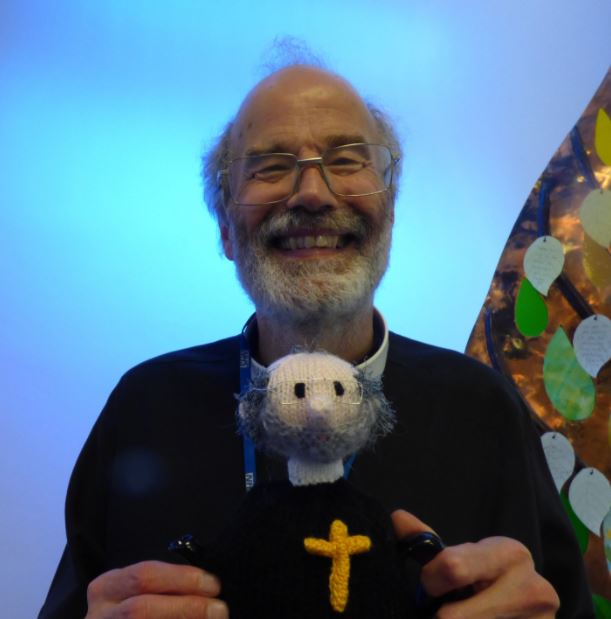 Sue
06/09/17
He was much admired and appreciated!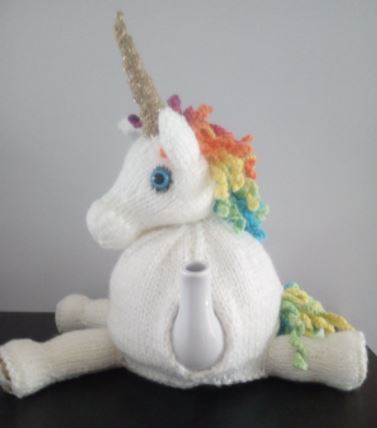 Sandra
28/08/17
It's my favourite cosy to knit.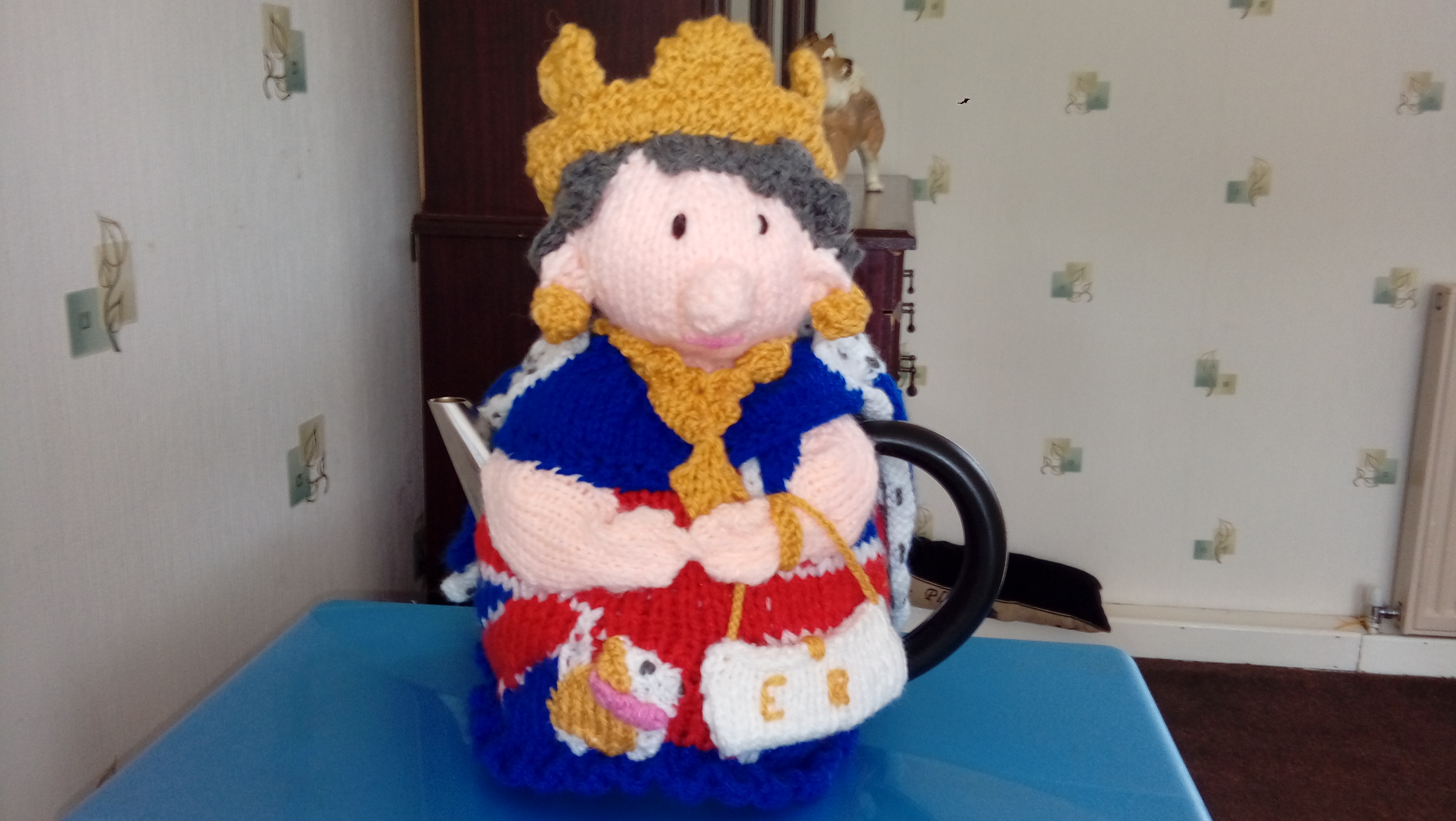 Lesa Simmonite
16/06/17
I found it quite easy but put my own take on it hope you dont mind ive never attempted to make a pattern myself so quite proud of it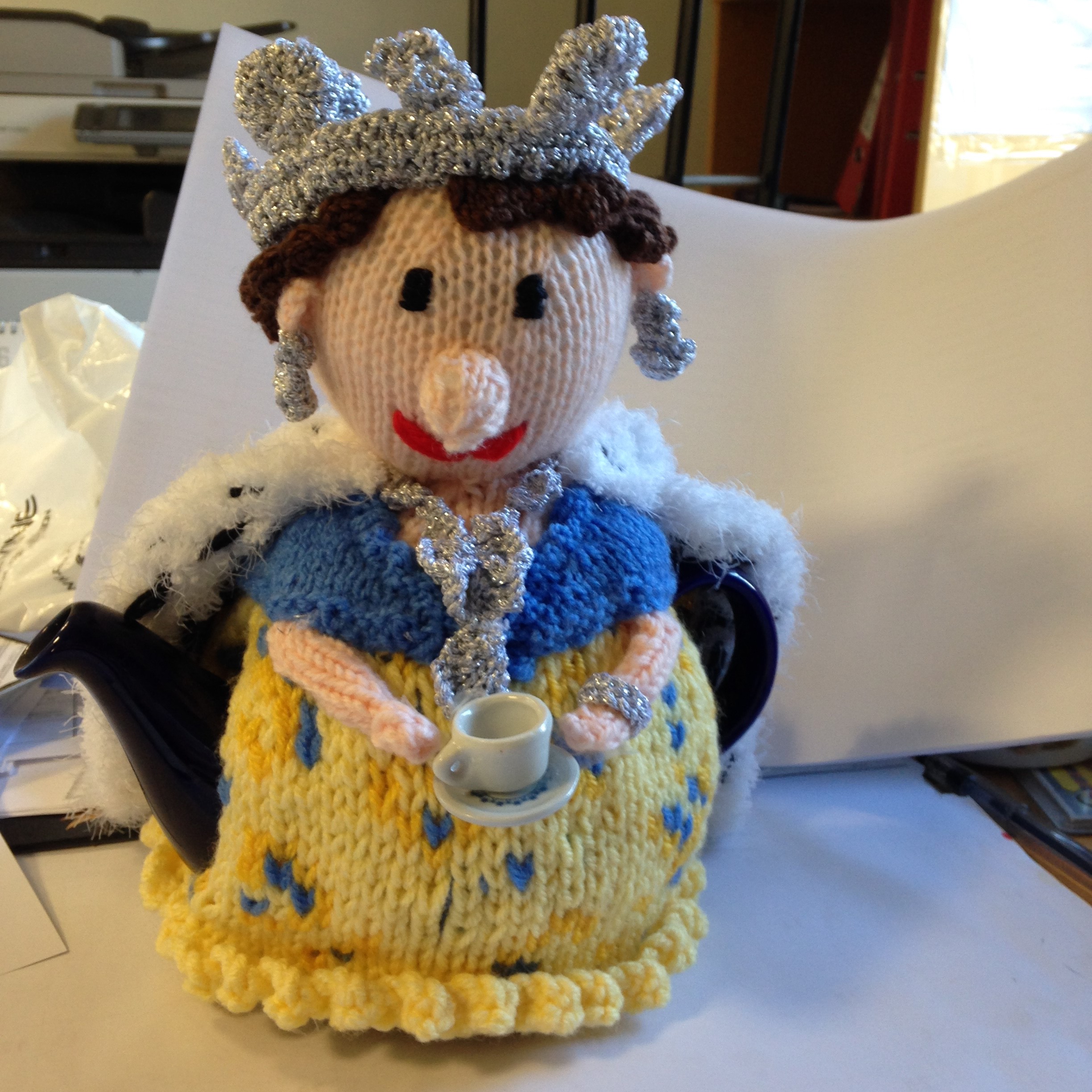 Yvonne Trigg
06/06/17
The Queen for my friend who loves the royal family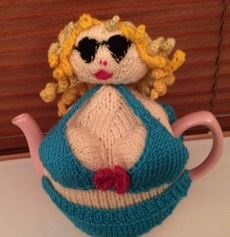 Val
22/05/17
My interpretation of the lady in the bikini - I call mine Busty Bertha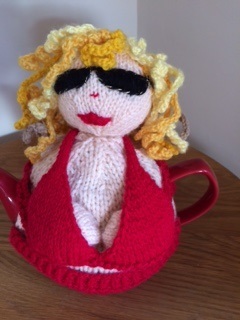 Val
22/05/17
She's a bit racy my girl but we Geordies can be you know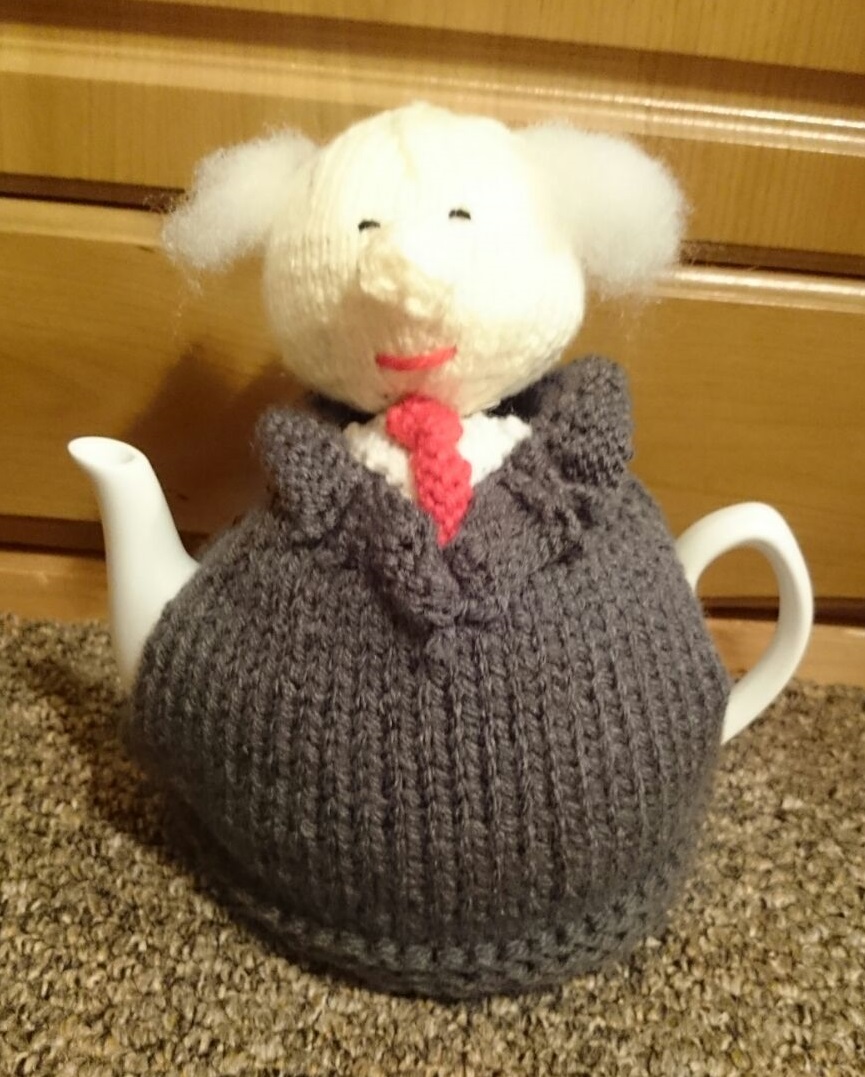 Catherine
22/05/17
I modified your policeman tea cosy to resemble the President of Ireland...Michael 'Tea' Higgins!!! He went down a treat with family and friends, and now everyone wants a tea cosy so I will have a busy summer. I love how easy your patterns are, and how professional looking the end result is, even for a beginner knitter like me!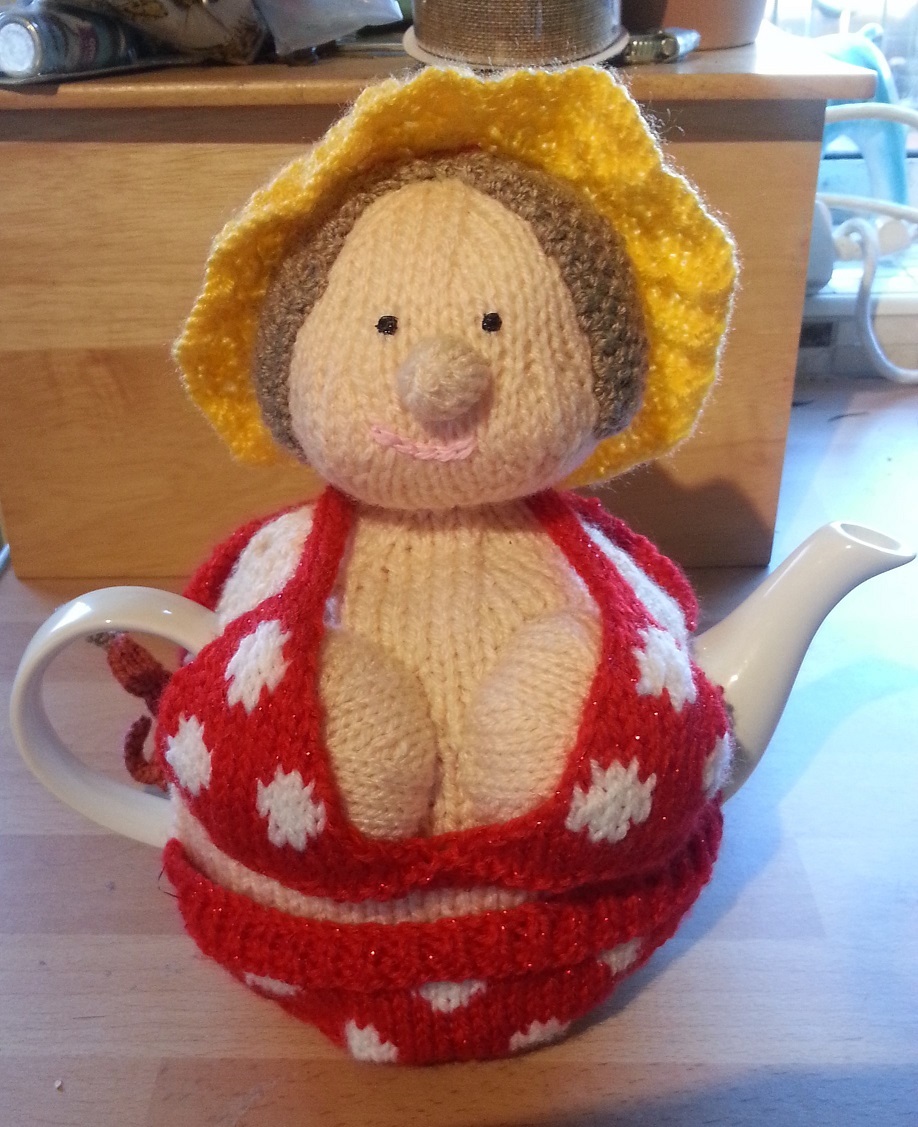 Kelly Williams
12/05/17
It's so reminiscent of the 50s style postcards. It's totally different to anything I've ever seen.
Bindi
03/05/17
Xmas presents for family & friends except the dinosaur - I'm keeping him for me!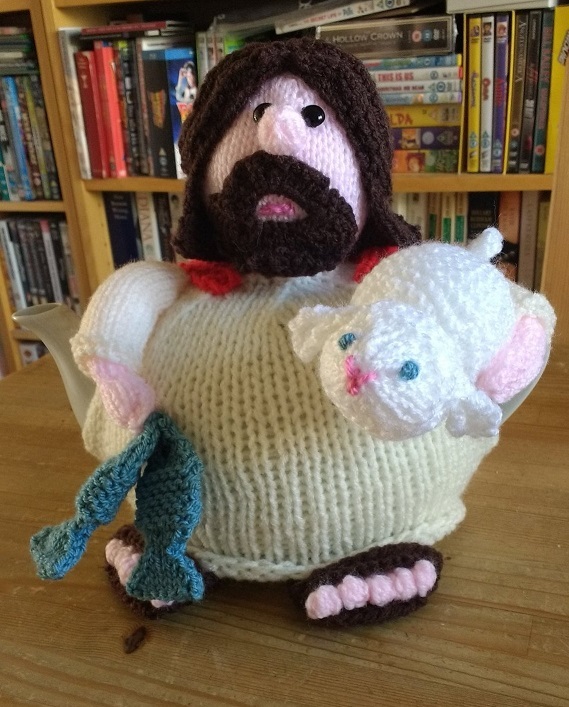 Kirsty
15/04/17
Just finished my new Easter tea cosy pattern from TeaCosyFolk. Water into tea. It's a miracle!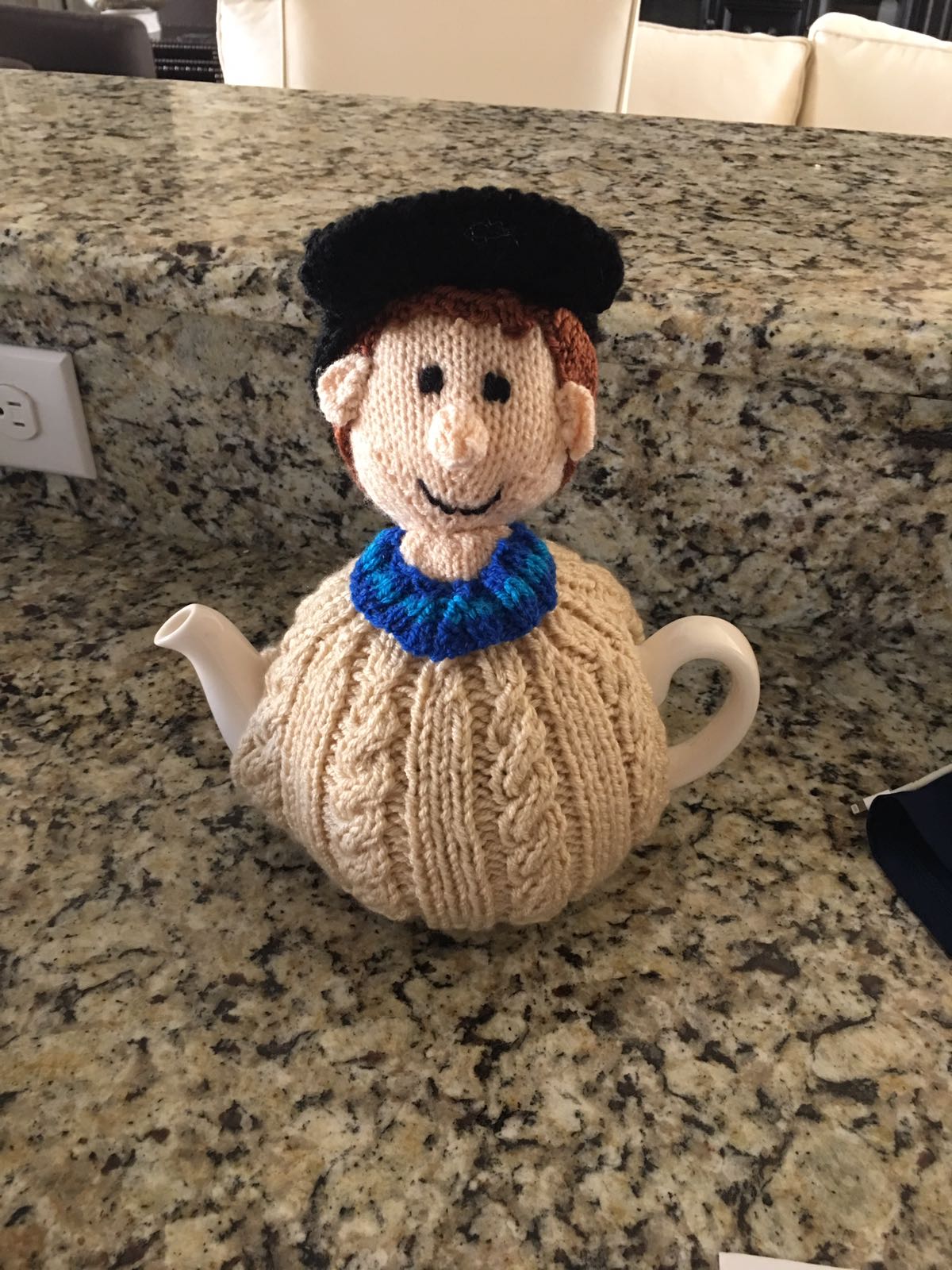 Lesley Jones
10/04/17
Fun to knit. And now in Florida with my sister who lives there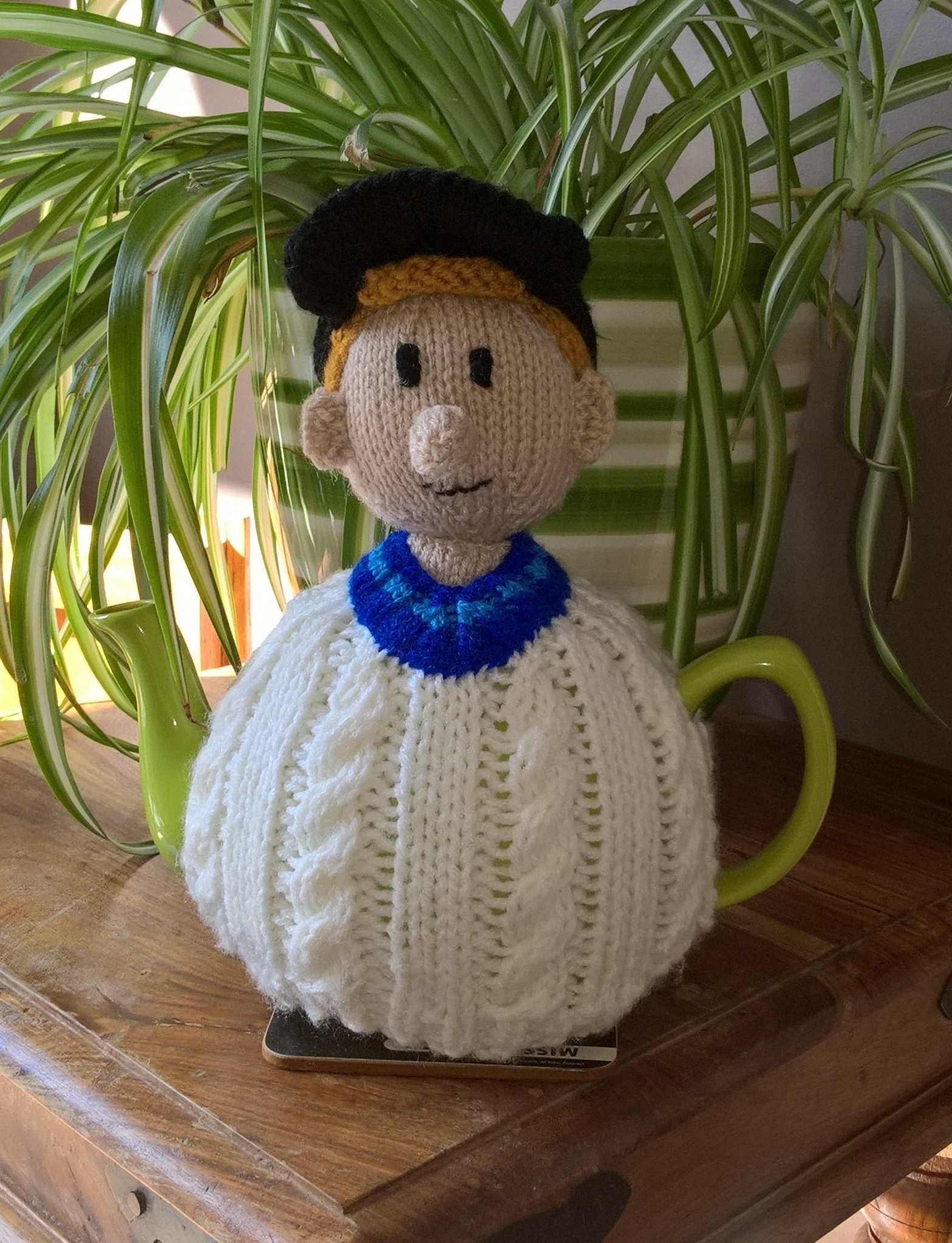 Bindi
05/04/17
I'm a novice knitter but found the pattern quite easy to understand & do. Tea & cricket - what could be more English!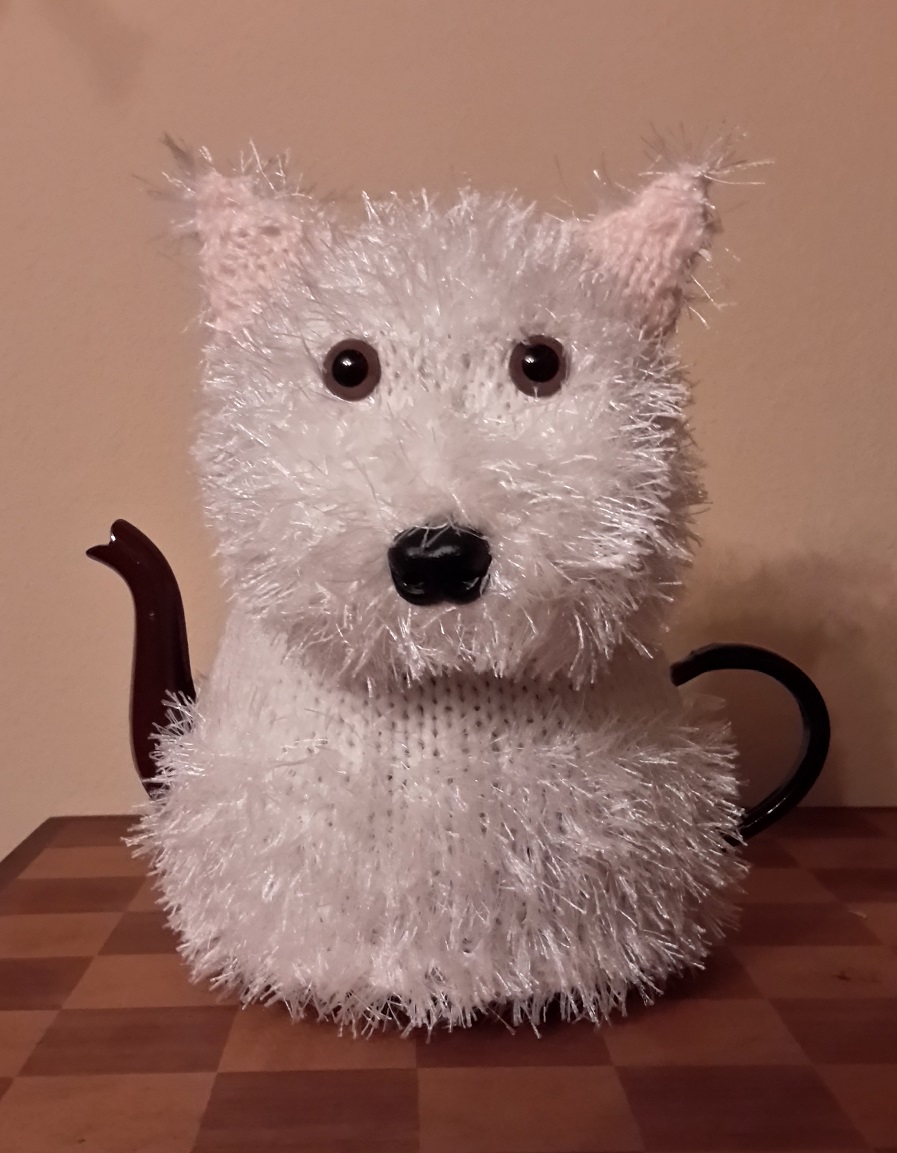 Jeanne Rayment
21/01/17
It was easy to follow, but most of all it really captures the look of a westie. He is a great little character.
Helen
11/01/17
The soldier pattern cried out to be a Christmas present for my brother, recently retired after 30 year + in the army. He loved it - and could even identify the rifle! Good stash-buster too.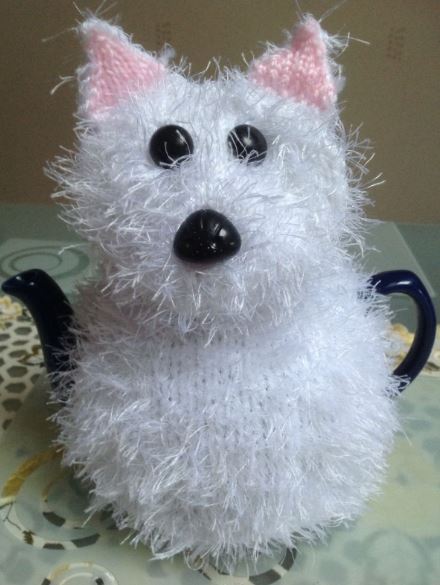 Paula
11/01/17
Perfect for Afternoon Tea Party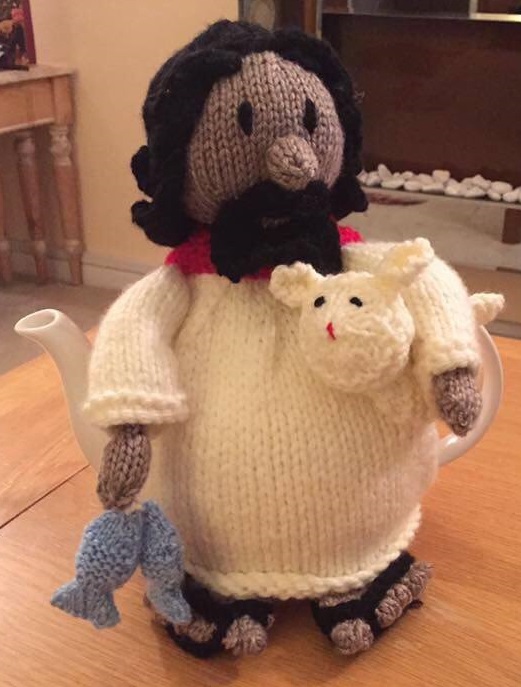 Sue
30/12/16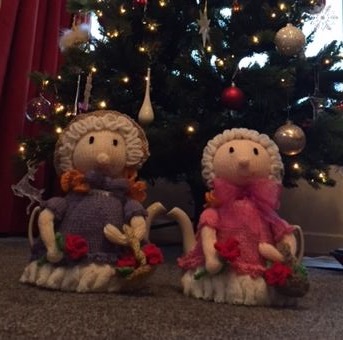 Vicky
27/12/16
I've just finished one I got from a magazine. I did it three times for Christmas presents!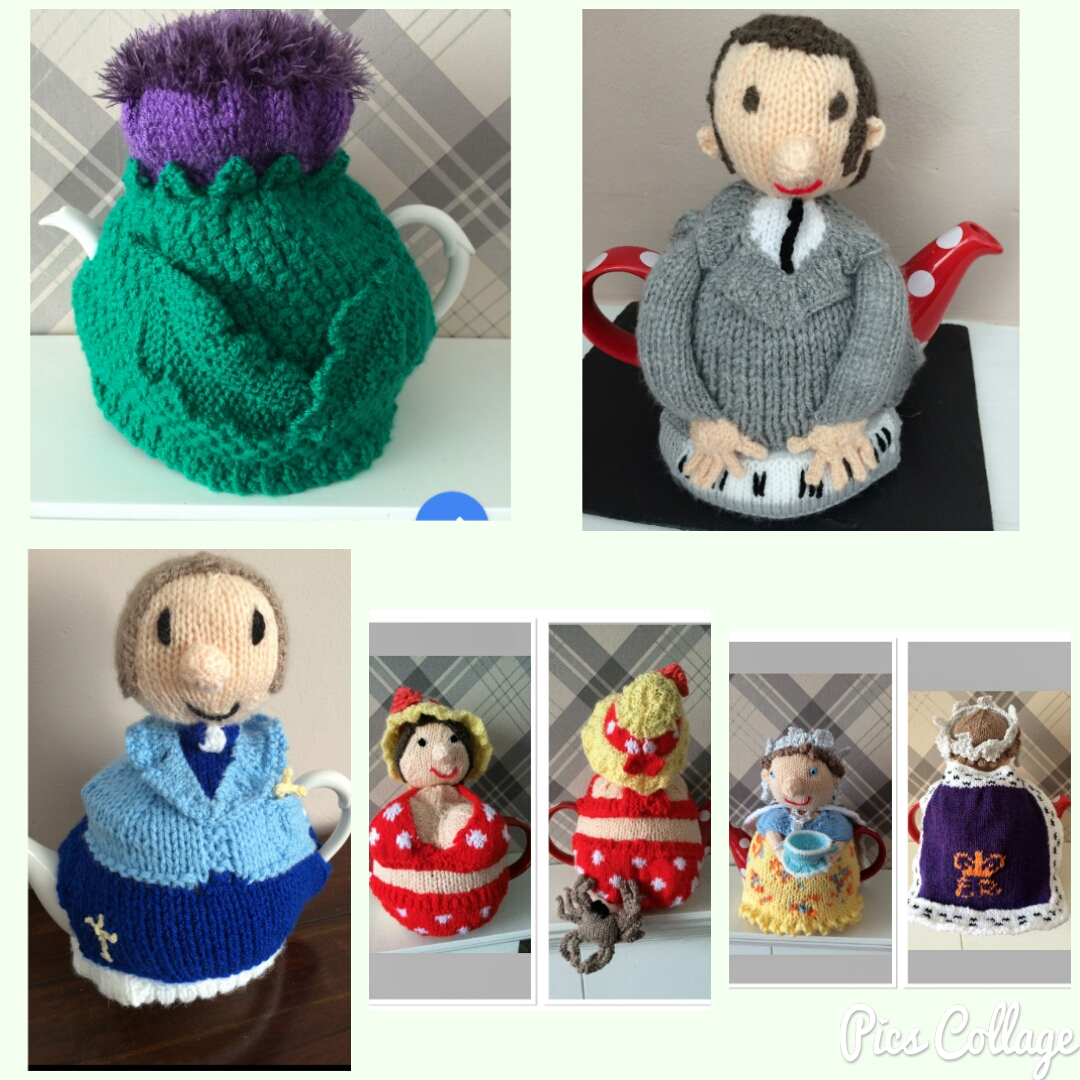 Linda Duncan
15/11/16
Love the novelty element of them & seeing friends faces when they get them as presents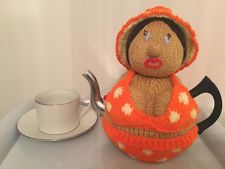 Debi
28/10/16
Fantastic Bikini Beach Babe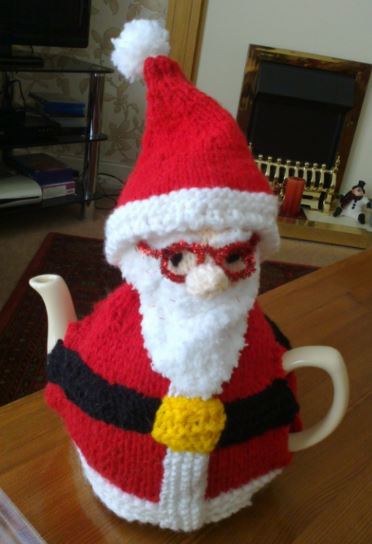 Gladys
01/10/16
I have had a lot of fun doing these over the winter months with one eye on the tele!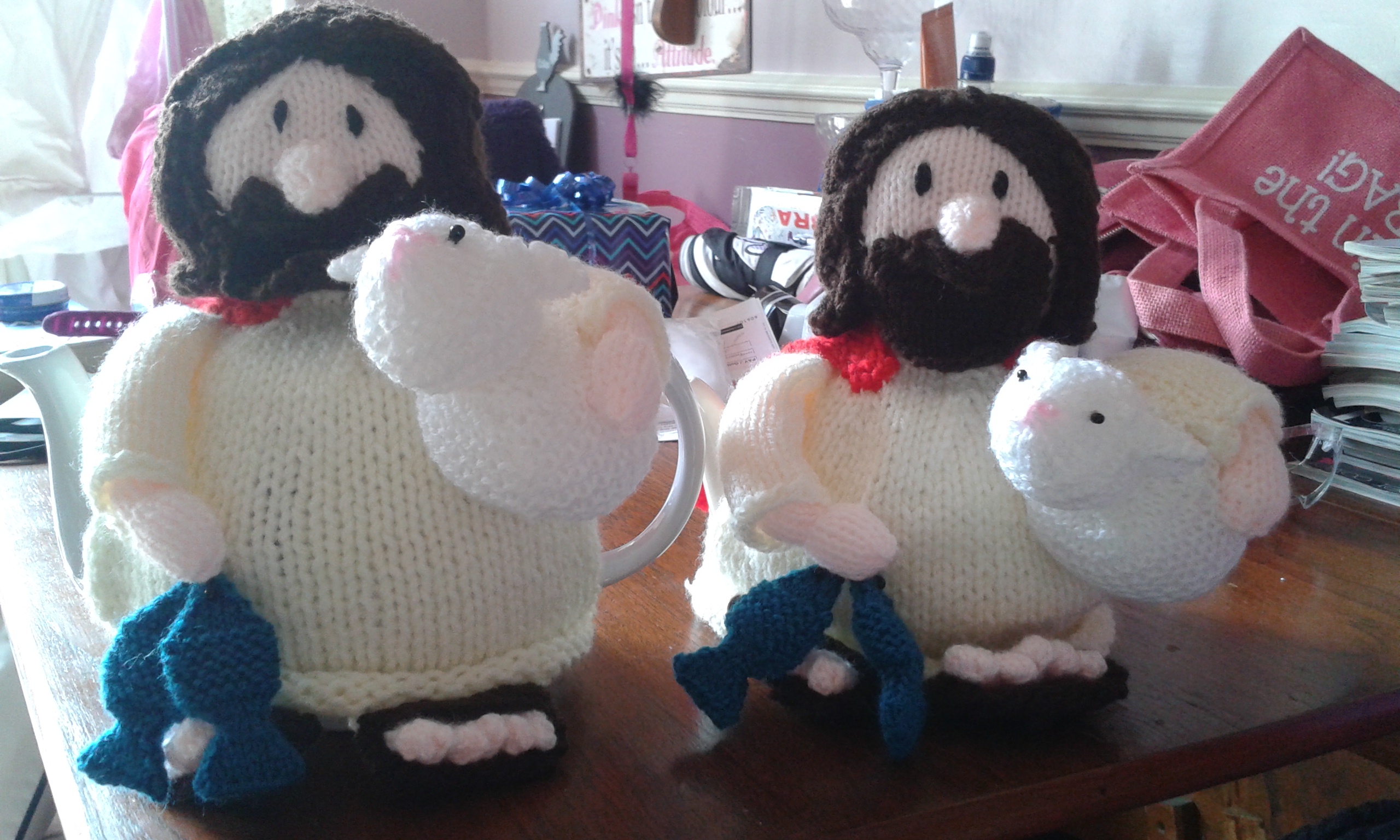 Jii G
01/10/16
Easy as ever to follow. The fish and feet were the cutest bits :-)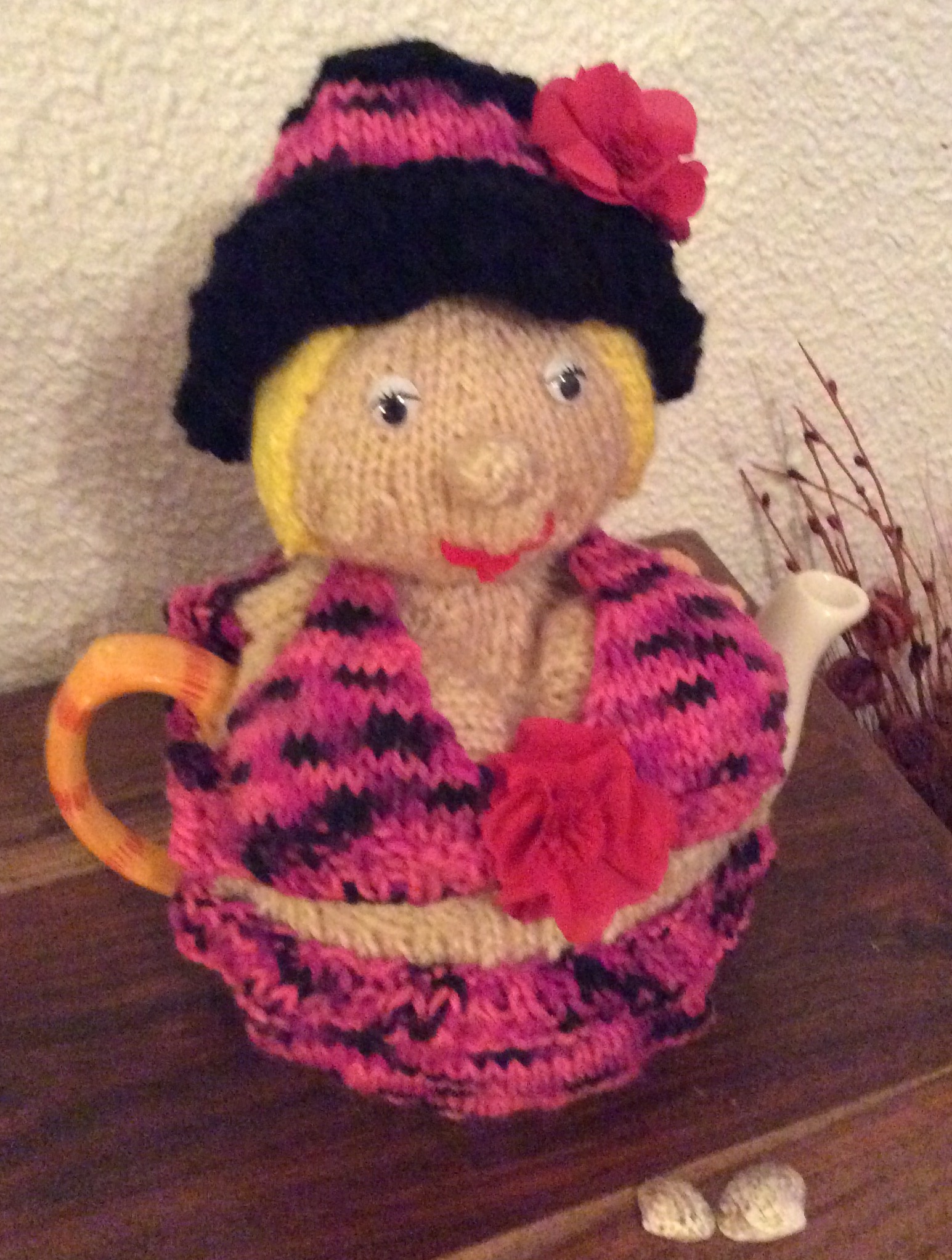 Dawn
28/09/16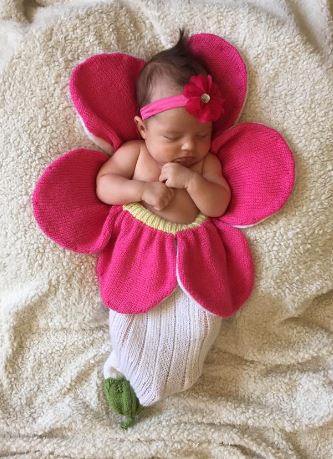 Diane
27/09/16
The trumpet flower turned out great! It was an easy to follow pattern.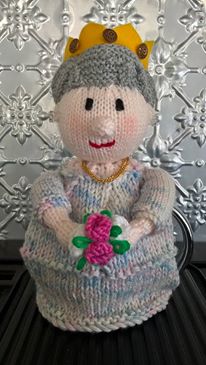 Sheila Caris
21/09/16
Loved this pattern as soon as I saw it, just made a few alterations as I couldn't find the small tea accessories.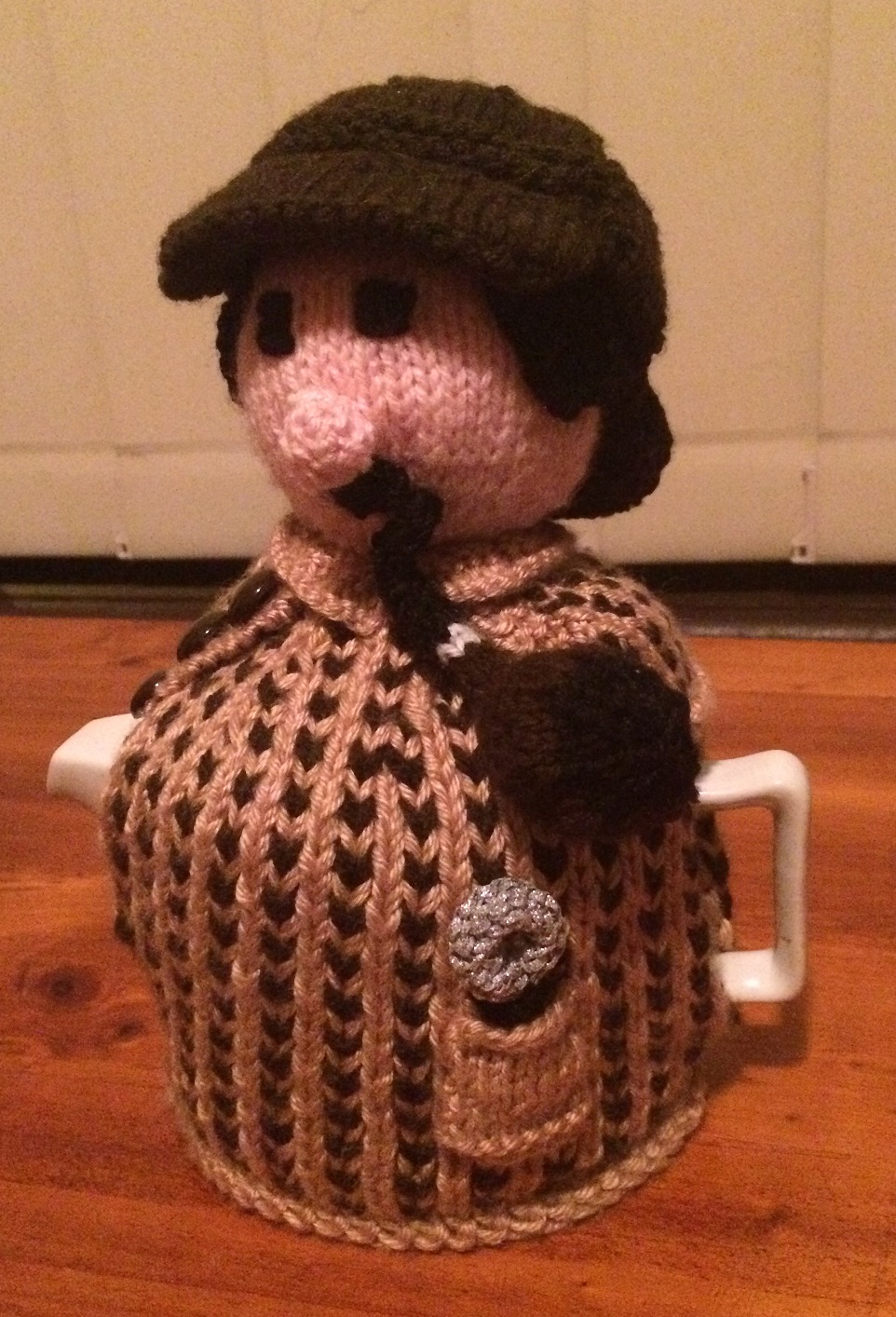 Colleen
21/09/16
Love Sherlock ! Made it for local tea cosy expo.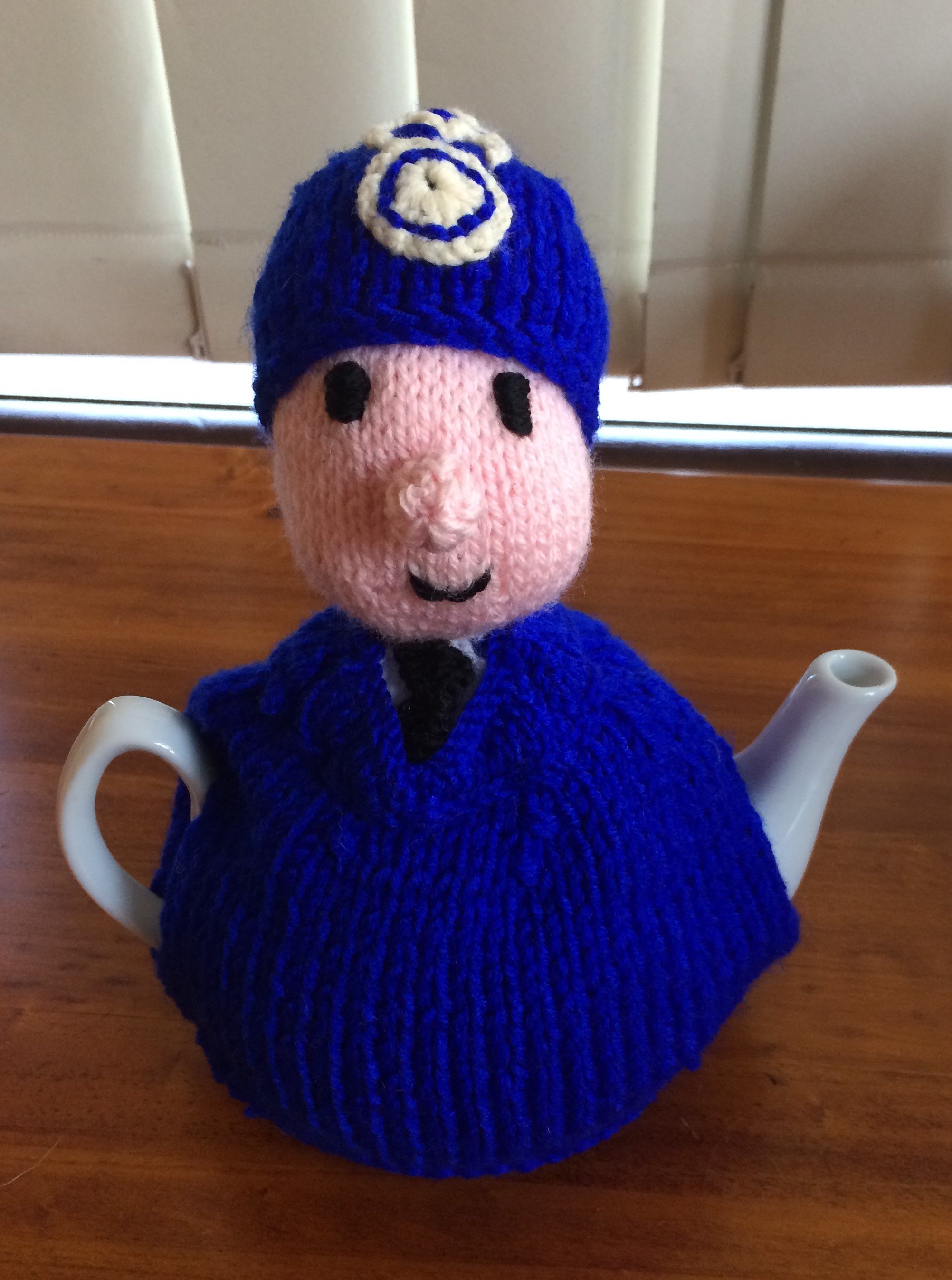 Colleen Beer
08/09/16
Made this for our local tea cosy expo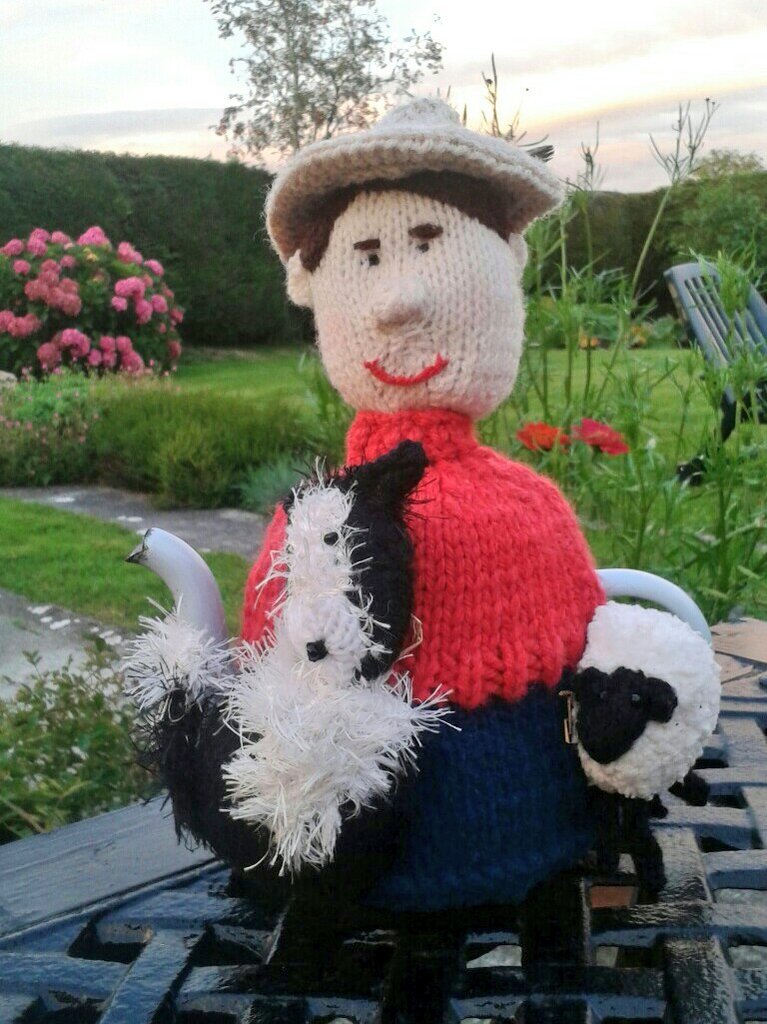 Catherine Seale
25/08/16
I am big fan of sheep and sheep dogs and I thought this pattern was lovely! Really happy with how it turned out. The pattern was very well explained and easy to follow. Thank you!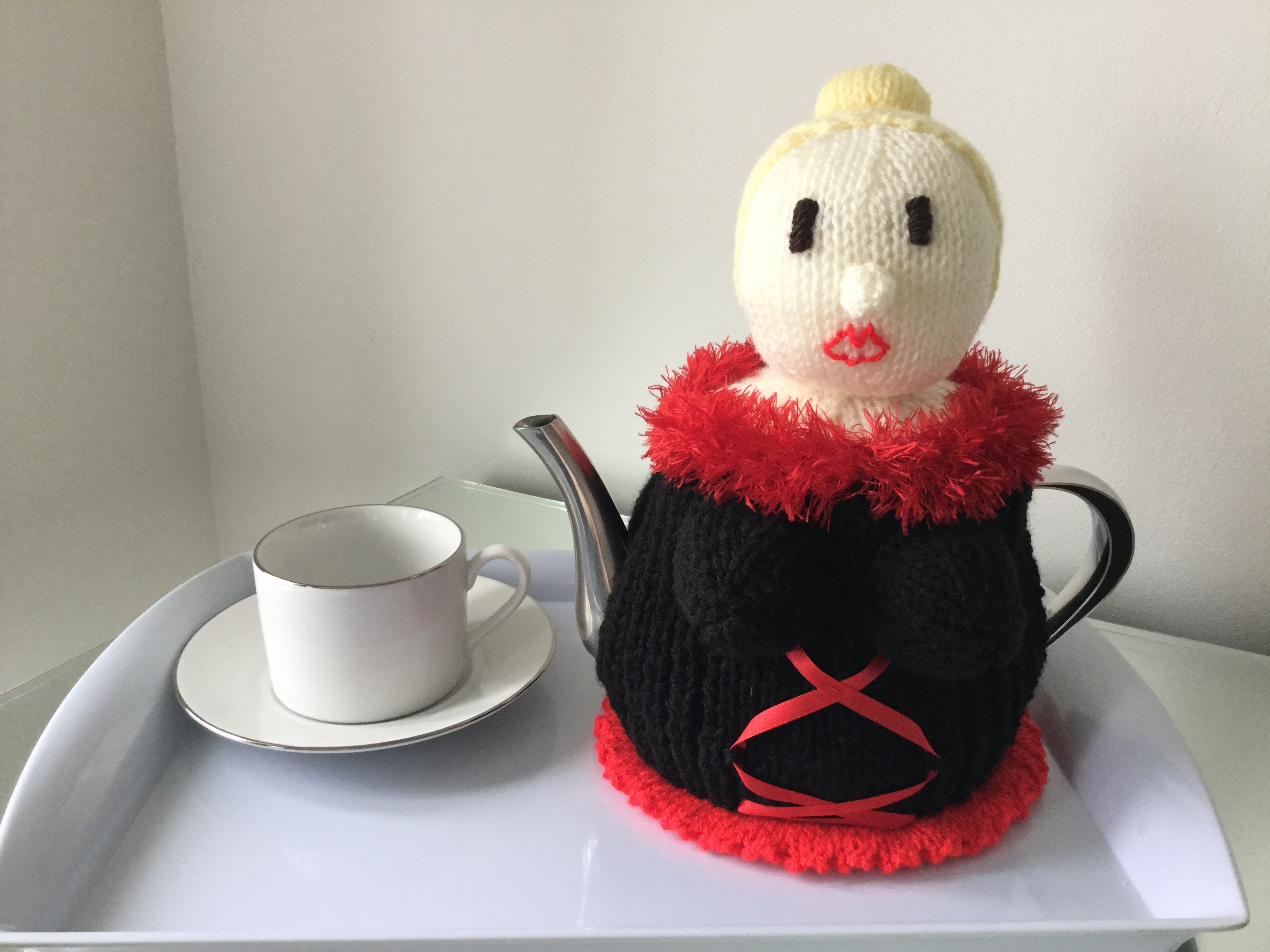 Deborah Akery
11/08/16
Made this for my son his mates think it's ace.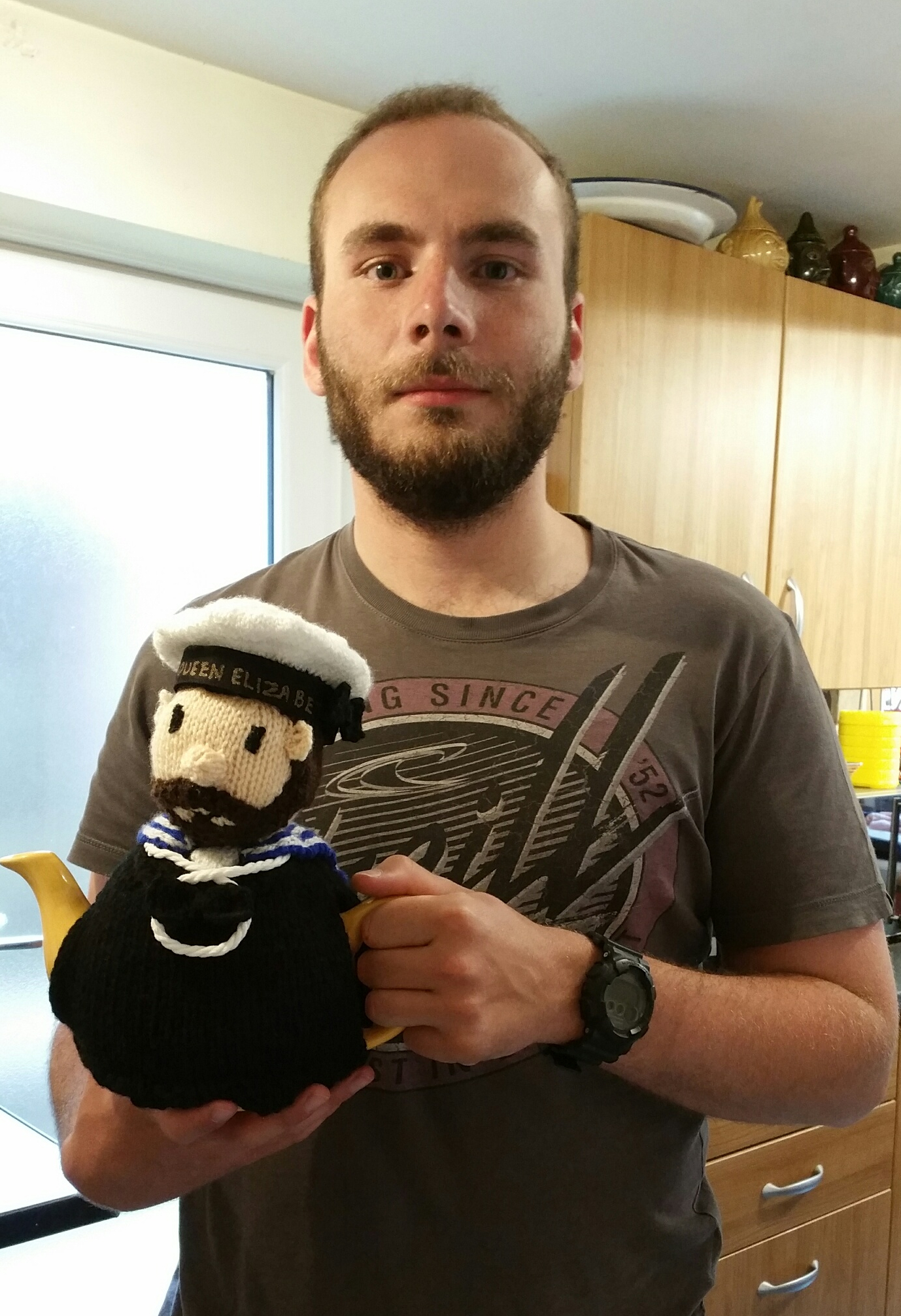 Trena
09/07/16
Easy to follow. Lovely Susan based it on my son. Great likeness . Thank you.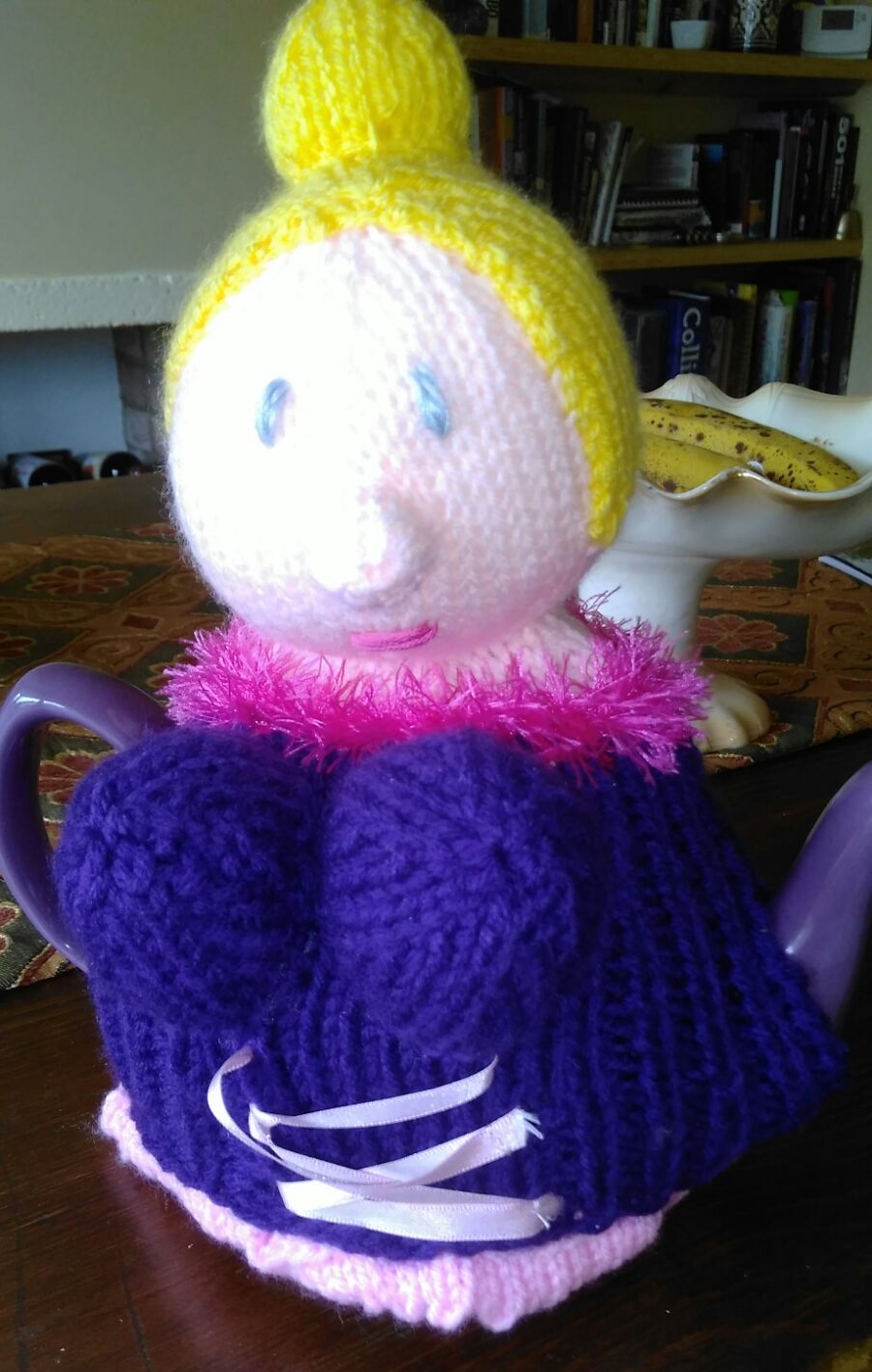 Jill G
04/07/16
As usual, the pattern was easy to follow. & its a great reminder for the oldies of their favourite (?) daughter 😂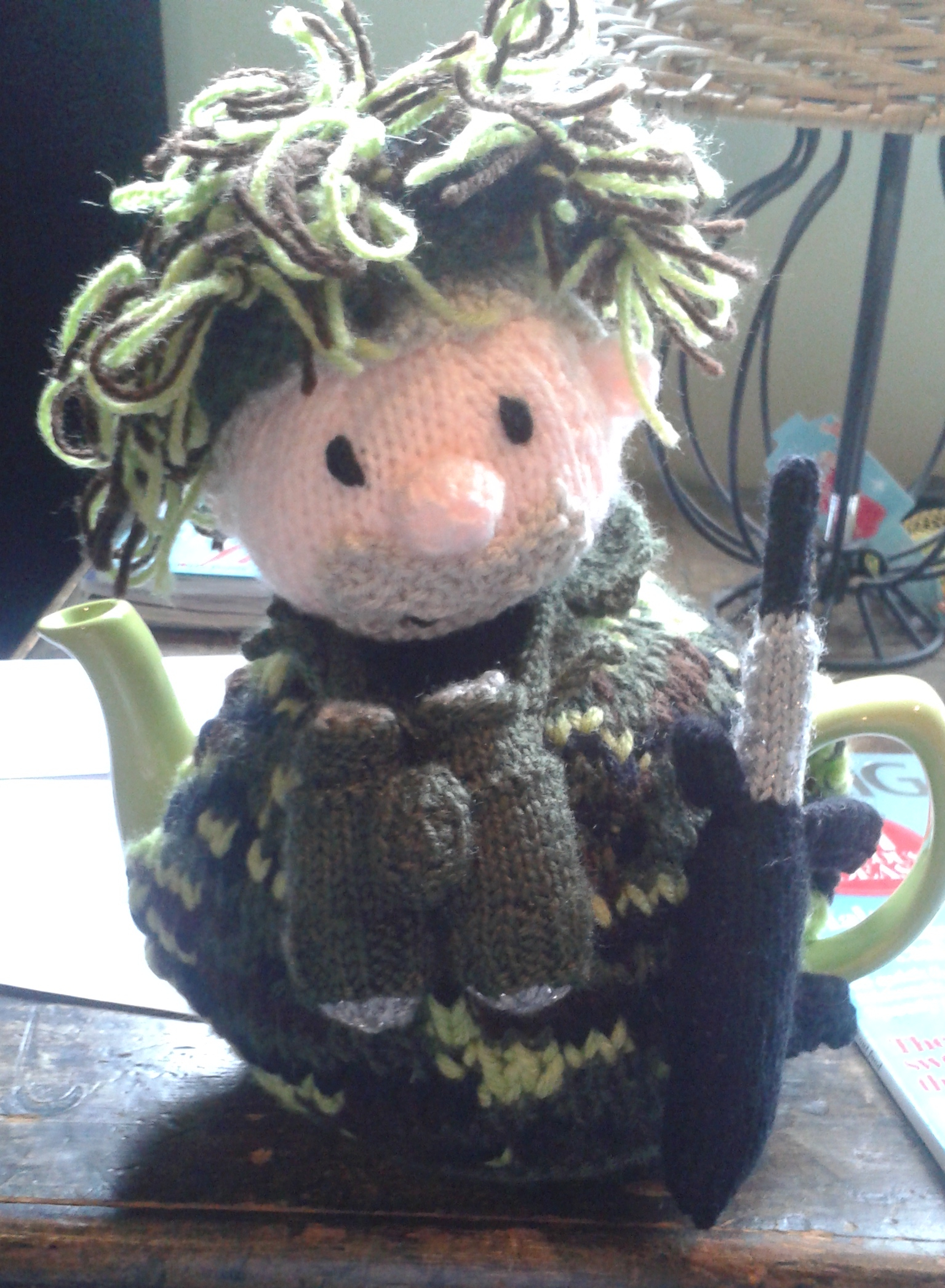 Jill G
17/06/16
This was one tough cookie for a novice like me! But clear instructions & great advice helped win the battle 😊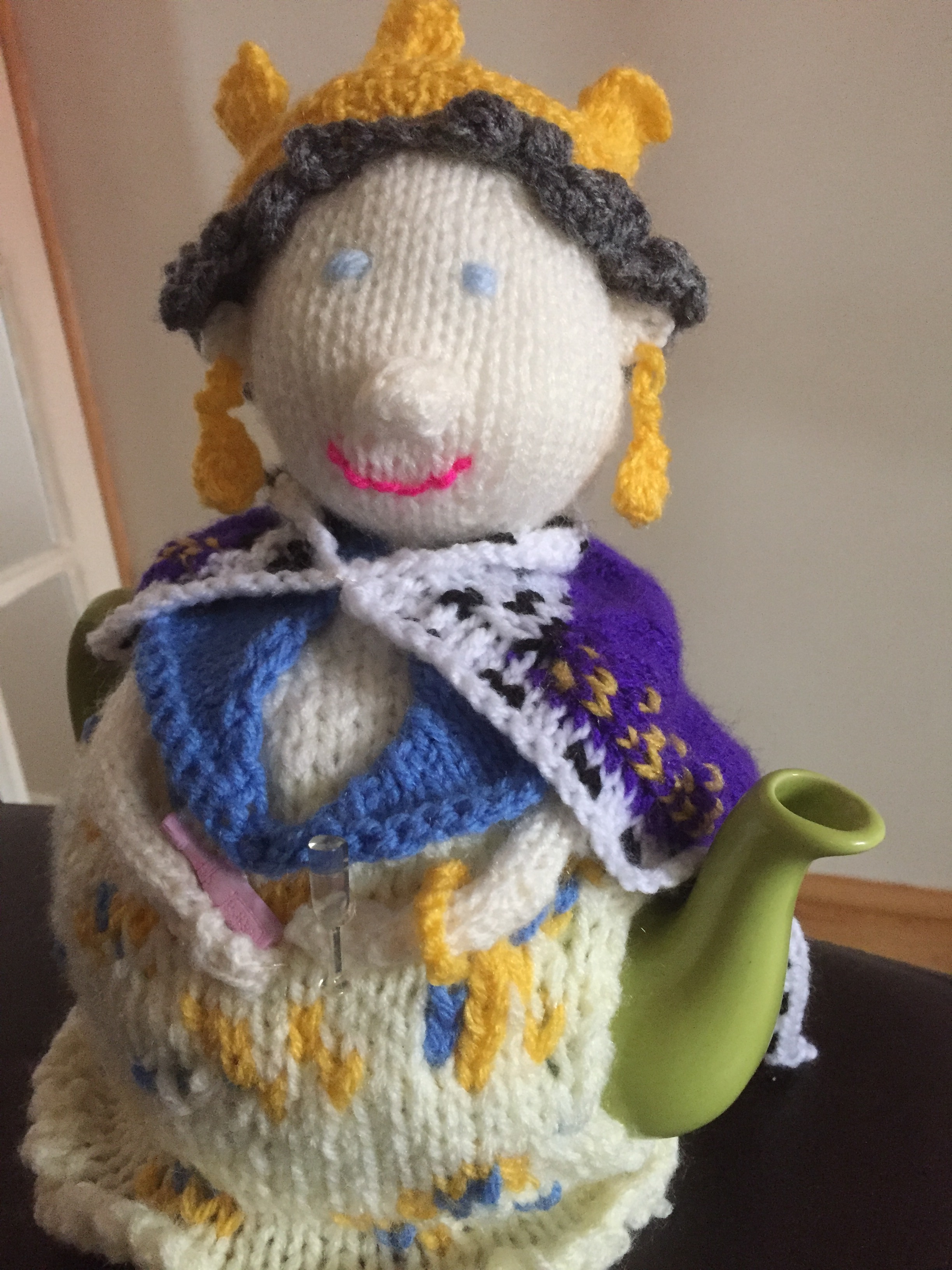 Iris Russell
26/05/16
fantastic addition to our street party celebrations for the queens 90th birthday.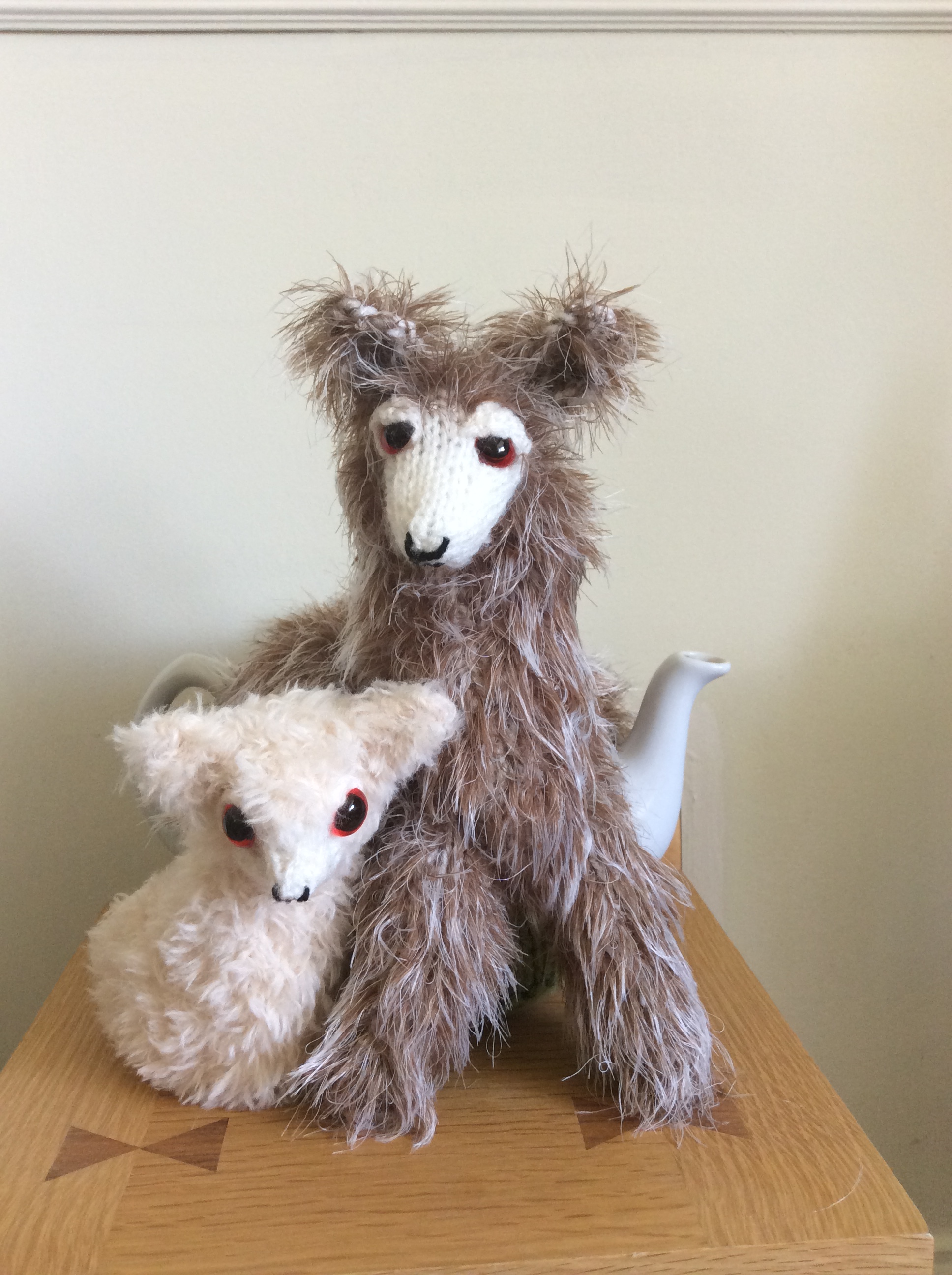 Eilash
18/05/16
Easy to follow pattern, love alpacas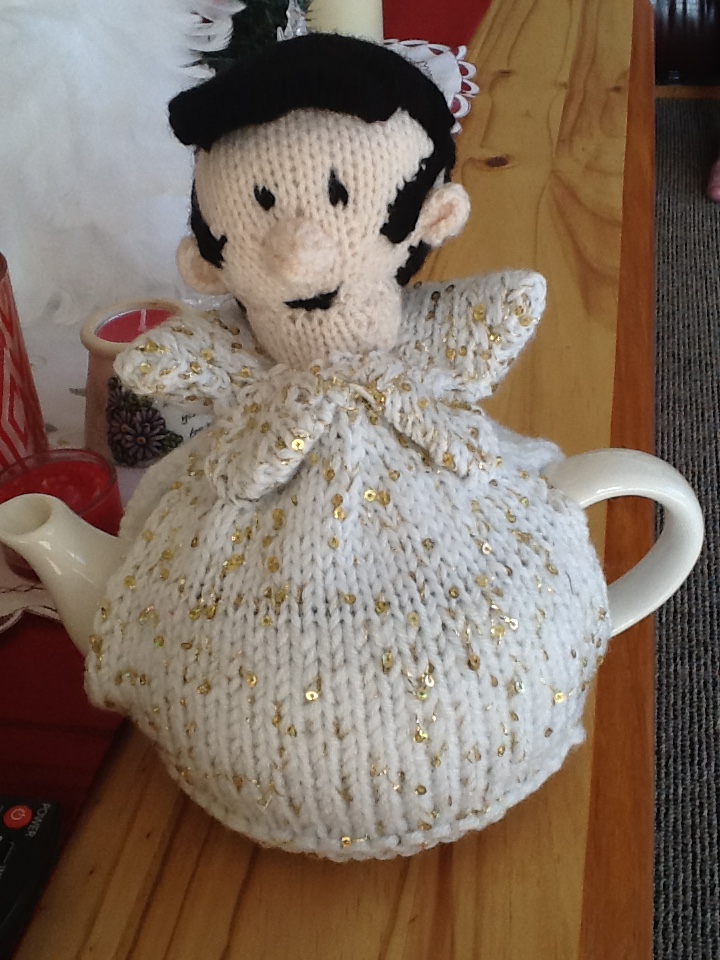 Diane Stevenson
18/05/16
My friend who I knitted the Elvis teapot loved it she has had a lot of remarks on her teapot.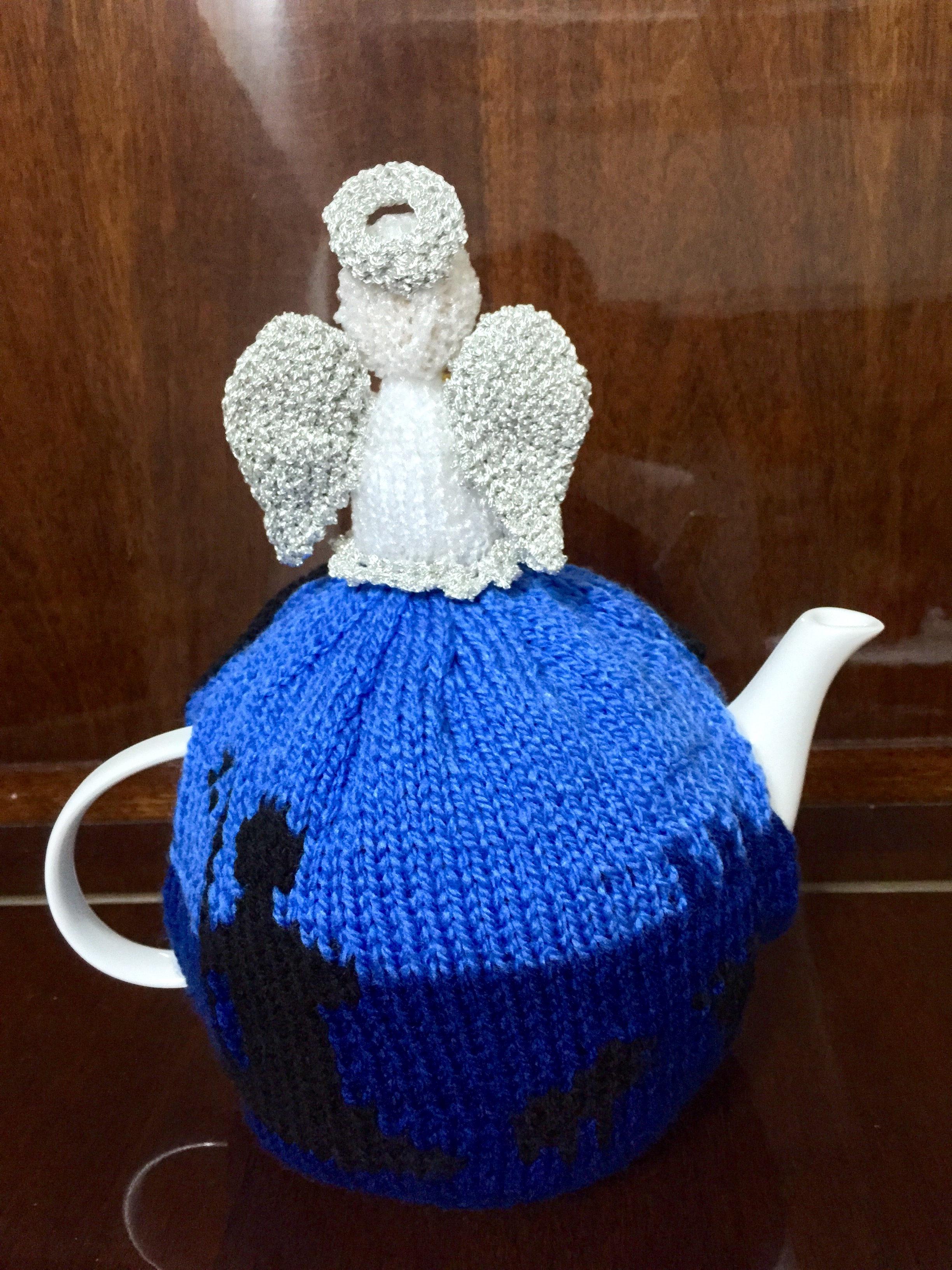 Yip Cheng Yue
17/05/16
Holy Night Nativity Tea Cozy. Back.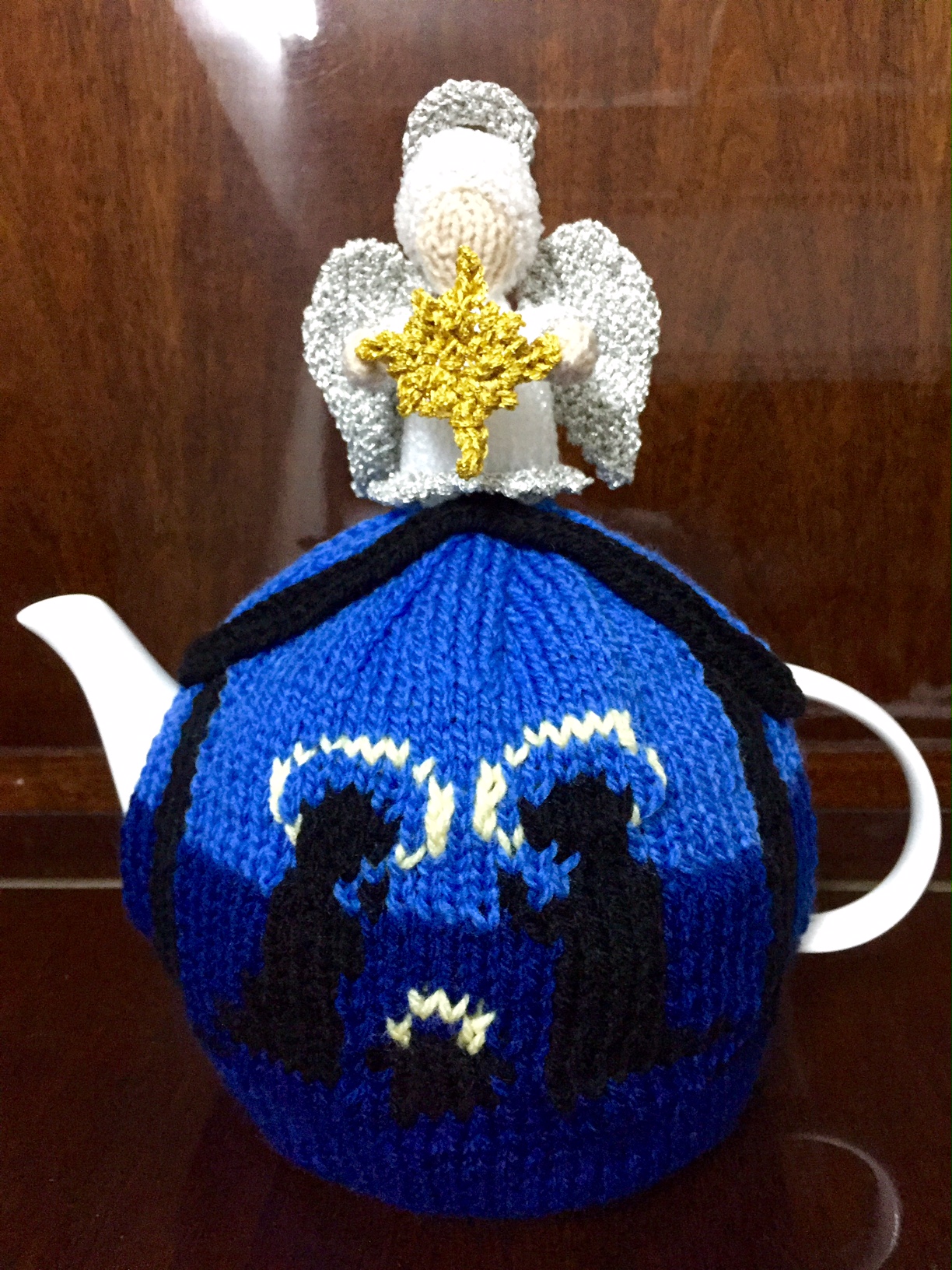 Yip Cheng Yue
17/05/16
Holy Night Nativity Tea Cozy.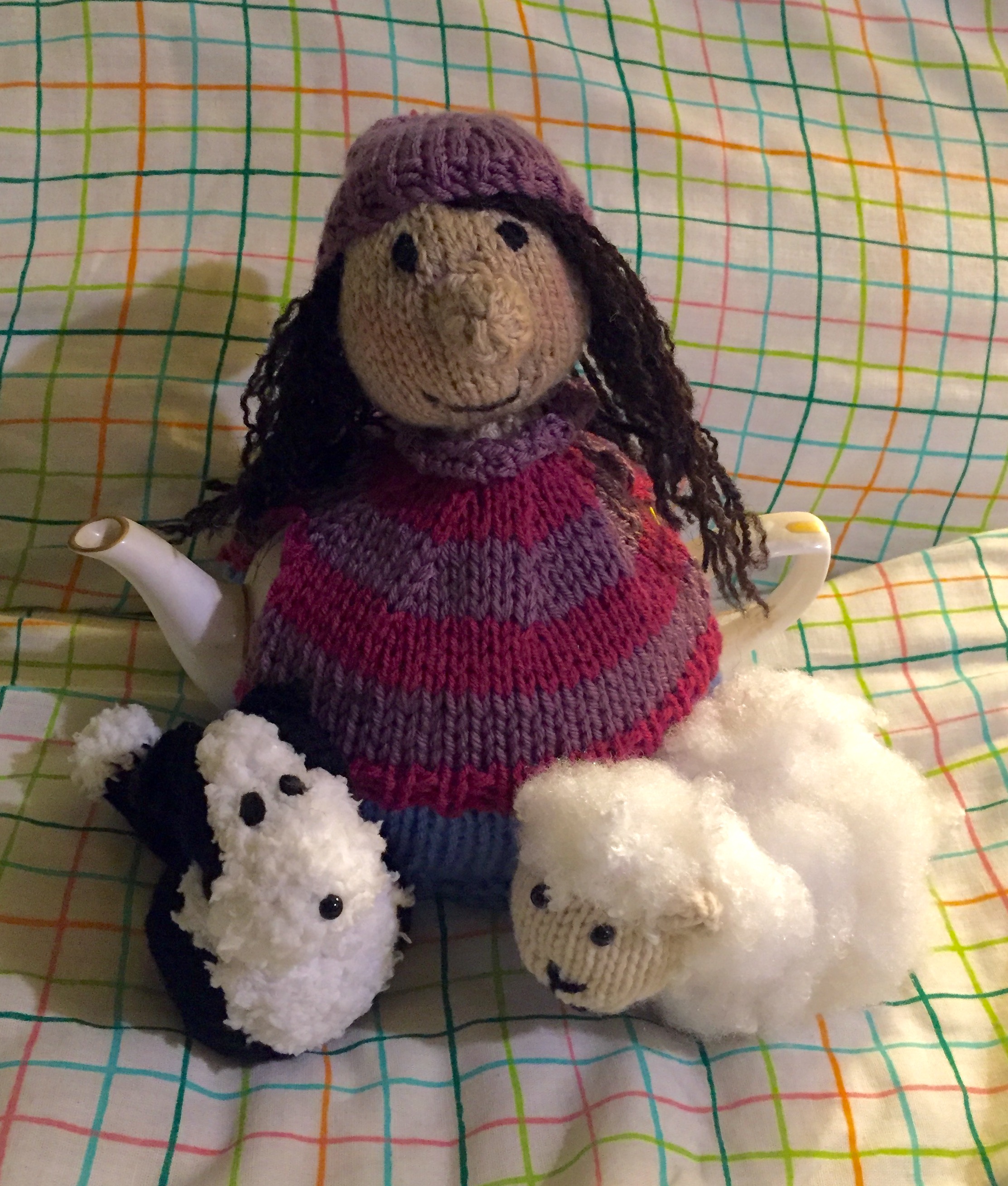 Holly
17/05/16
Easy to follow, great fun to knit!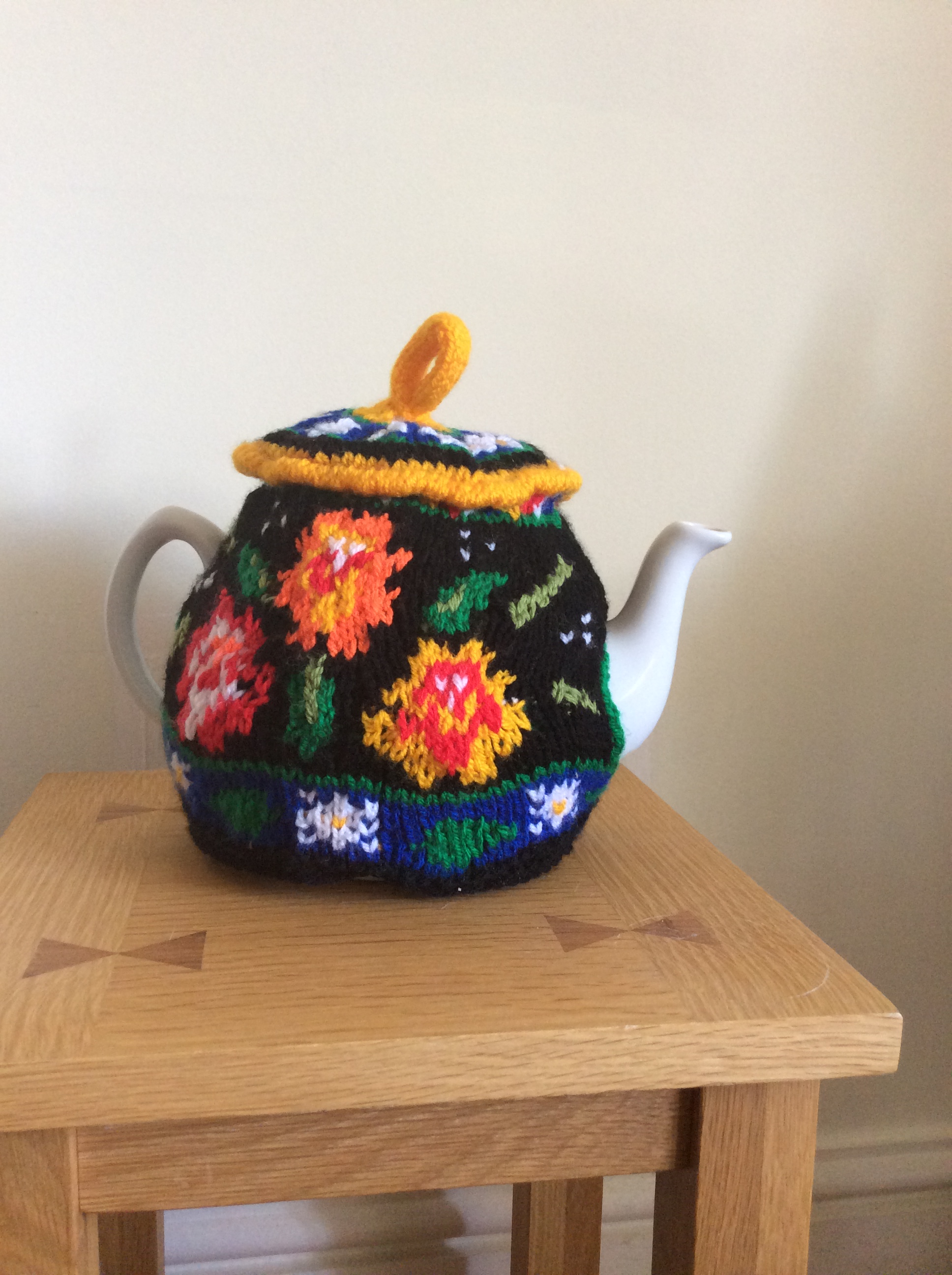 Eilash
17/05/16
colours and challenge for the canal art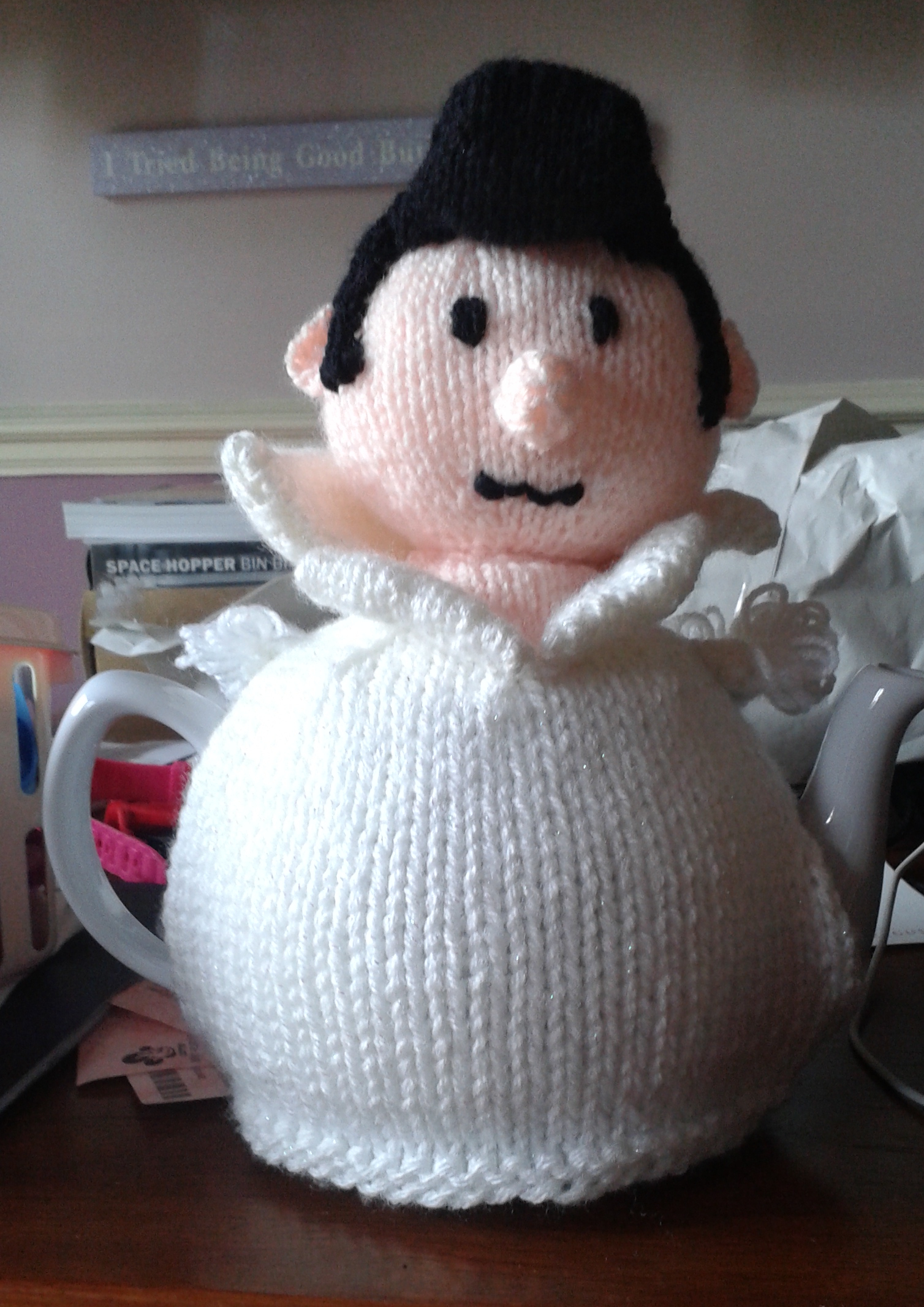 Jill G
14/05/16
My first EVER knitting project after learning the basics in the morning. The pattern was easy to follow .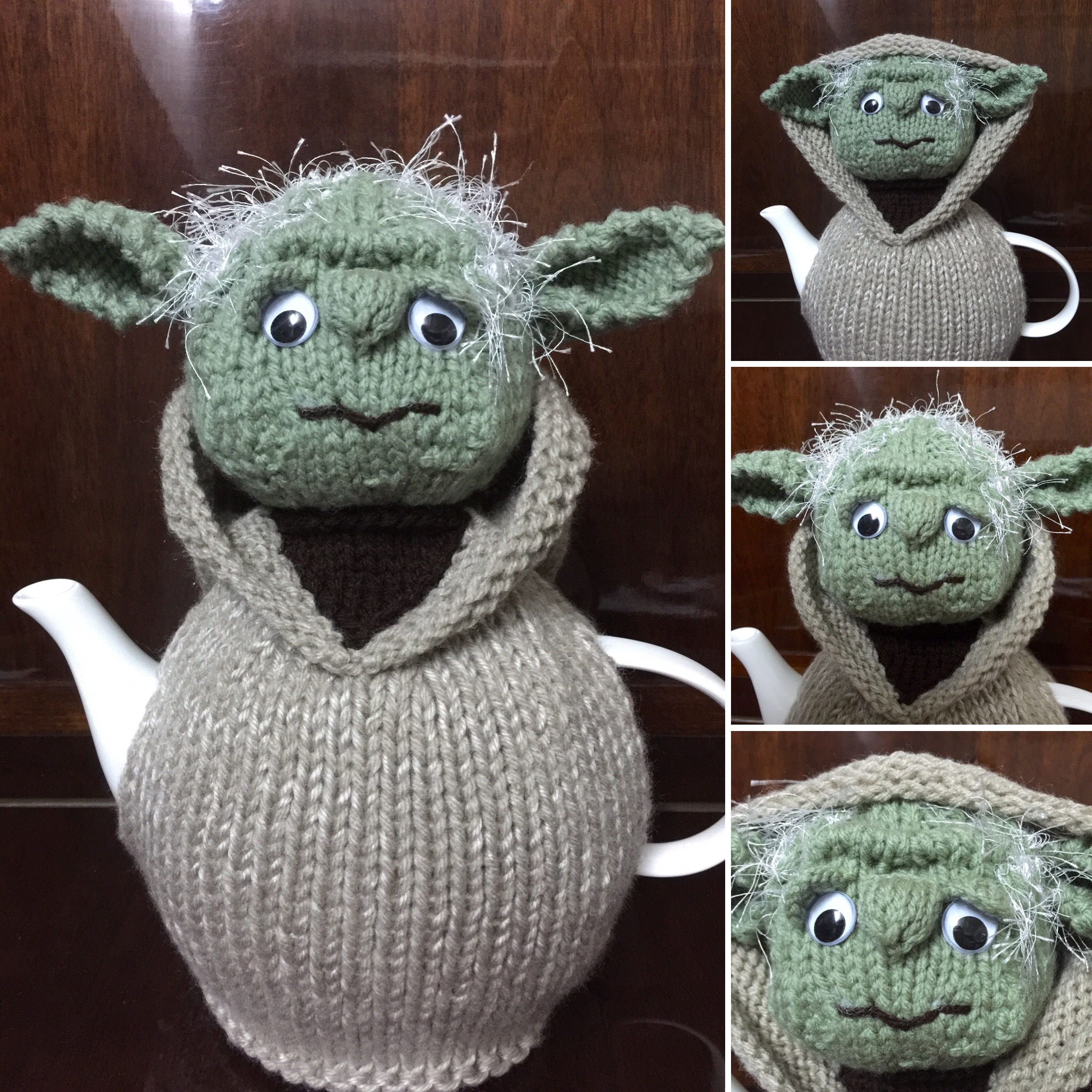 Glamteach
13/05/16
Patience, you must have!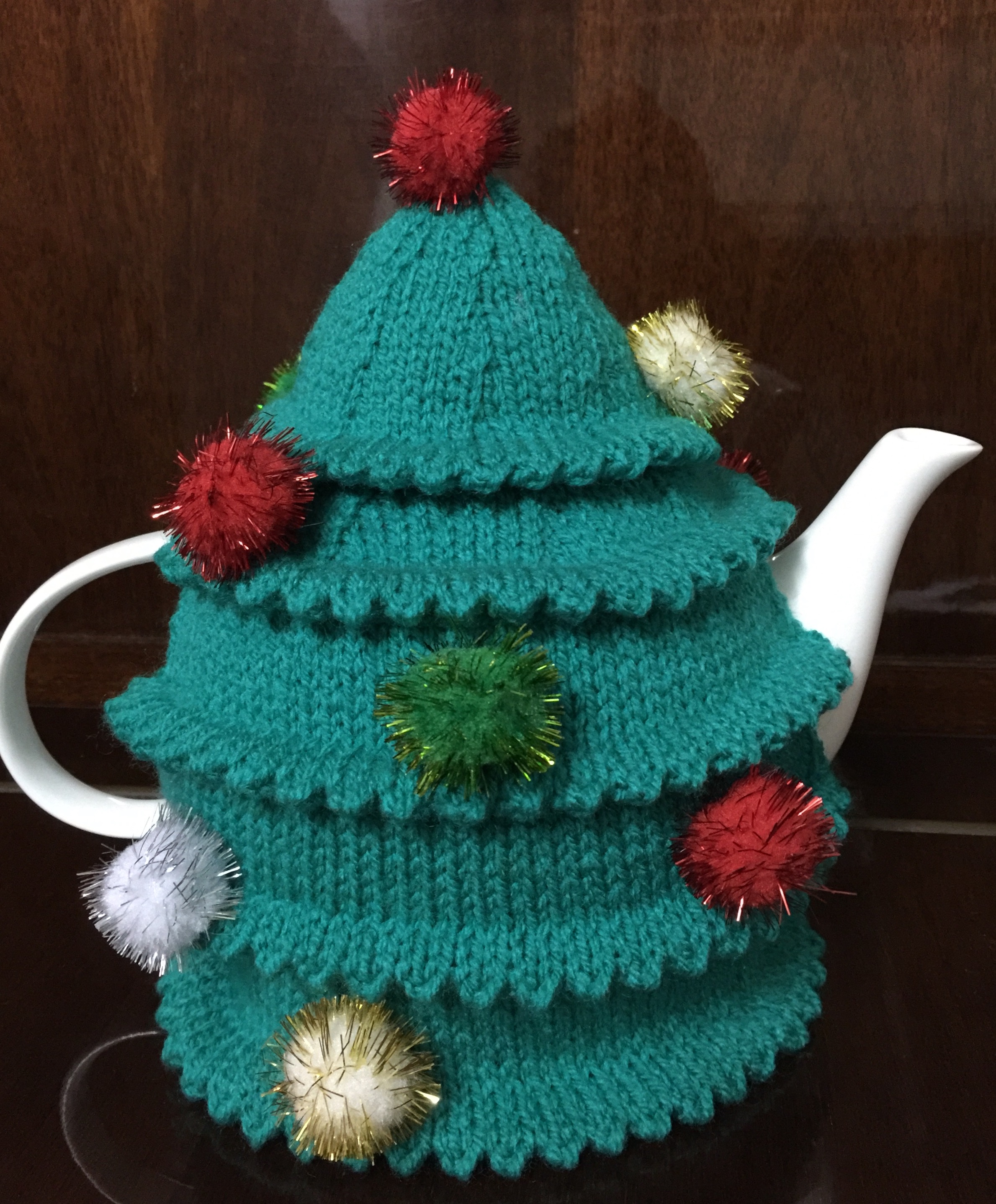 Glamteach
08/05/16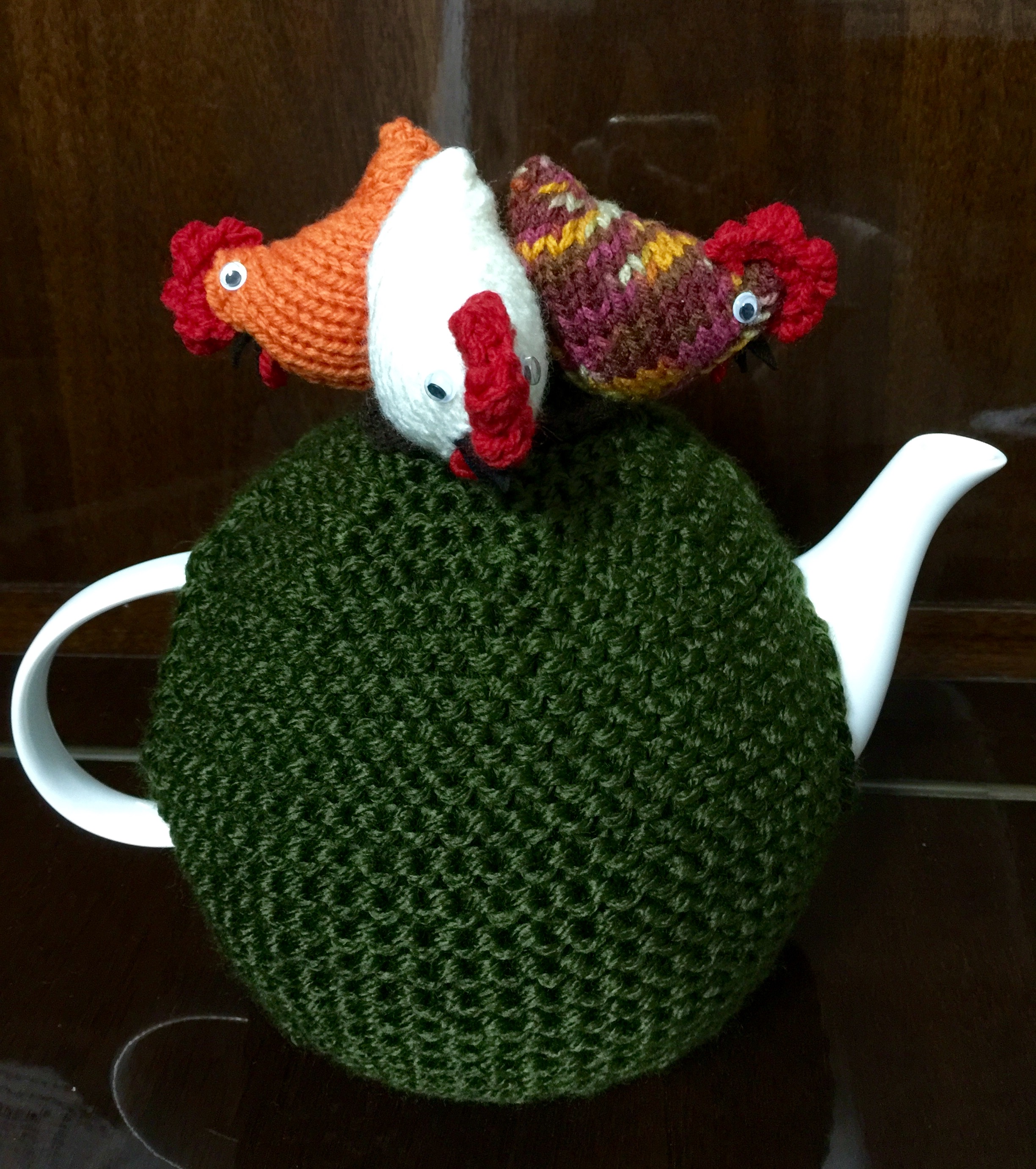 YIP CHENG YUE
03/05/16
Country Chicken Tea Cozy. All my friends love this tea cozy. Next year is the lunar new year of the rooster/chicken! The chickens are so cute. Great design! I feel that there should be zoomed in and close up pics of the attachments.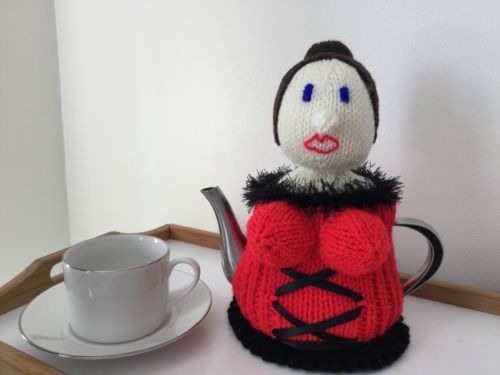 deborah akery
16/04/16
the pattern was easy to follow, I love my tea cosy it makes everyone smile 16 April 2016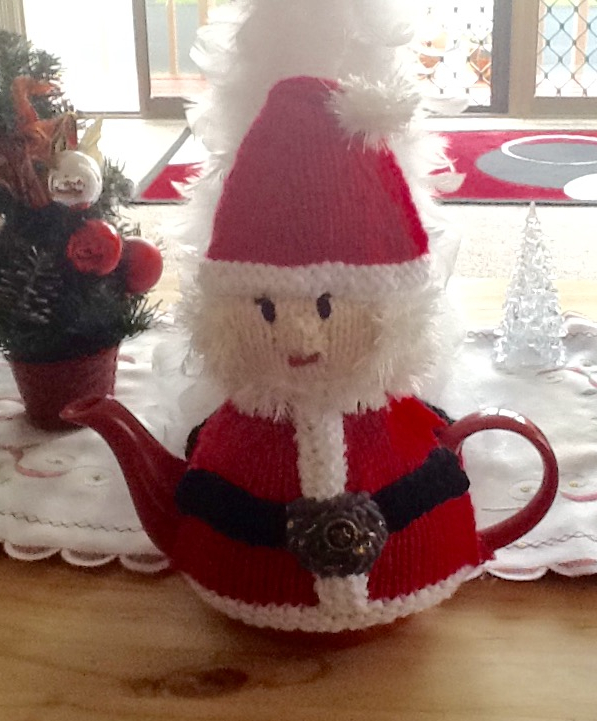 Diane Stevenson
22/03/16
Everything they were easy to knit and my grandkids loved them also my friend who I knitted Elvis for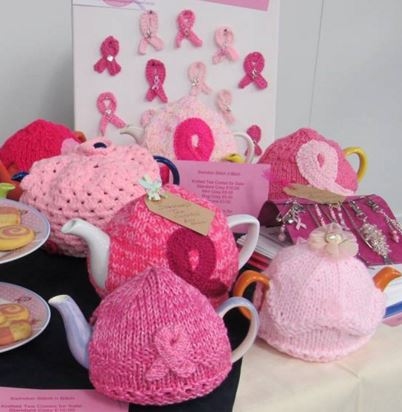 Swindon Stitch & Bitch
21/03/16
The Swindon Stitch and Bitch group have been knitting lots of Breast Cancer tea cosies to help raise money for Against Breast Cancer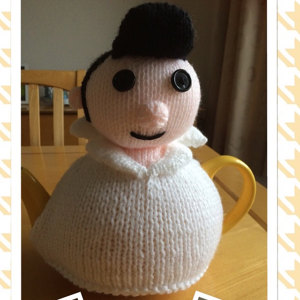 alisonfleetwood
08/11/15
It's fab ... Easy to follow pattern ... Made for a friend and she loved it!!!!!! X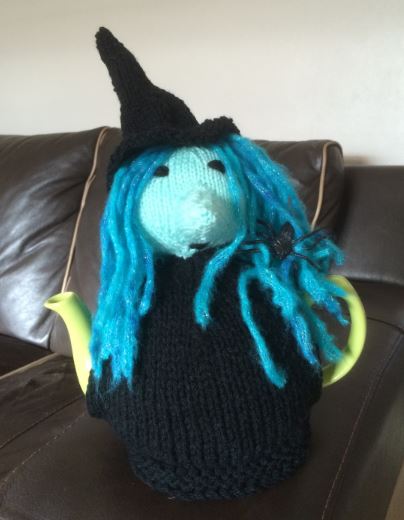 Iris Russell
23/10/15
Love these pattern they are so quick & easy to follow.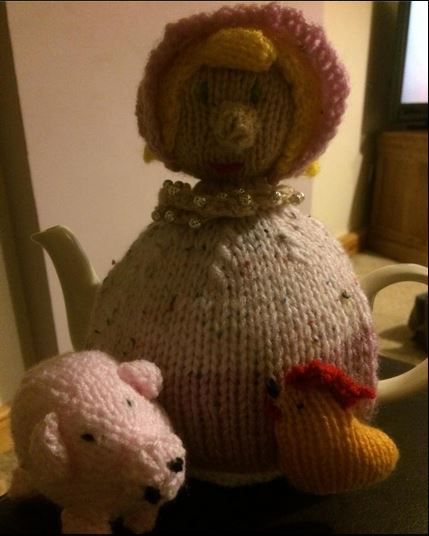 Iris
21/10/15
it was very quick & easy to make.
Elise
20/10/15
Super easy to make with useful, clear instructions, and the cute factor of course!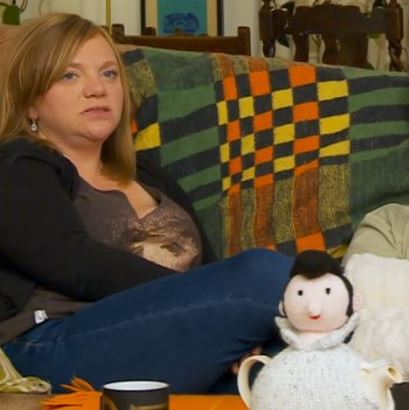 LivJimWillsMum
15/10/15
I'm a big fan of your patterns, love Yoda and Elvis, started a Paddington and Father Christmas!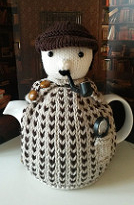 Biscuitbear
15/10/15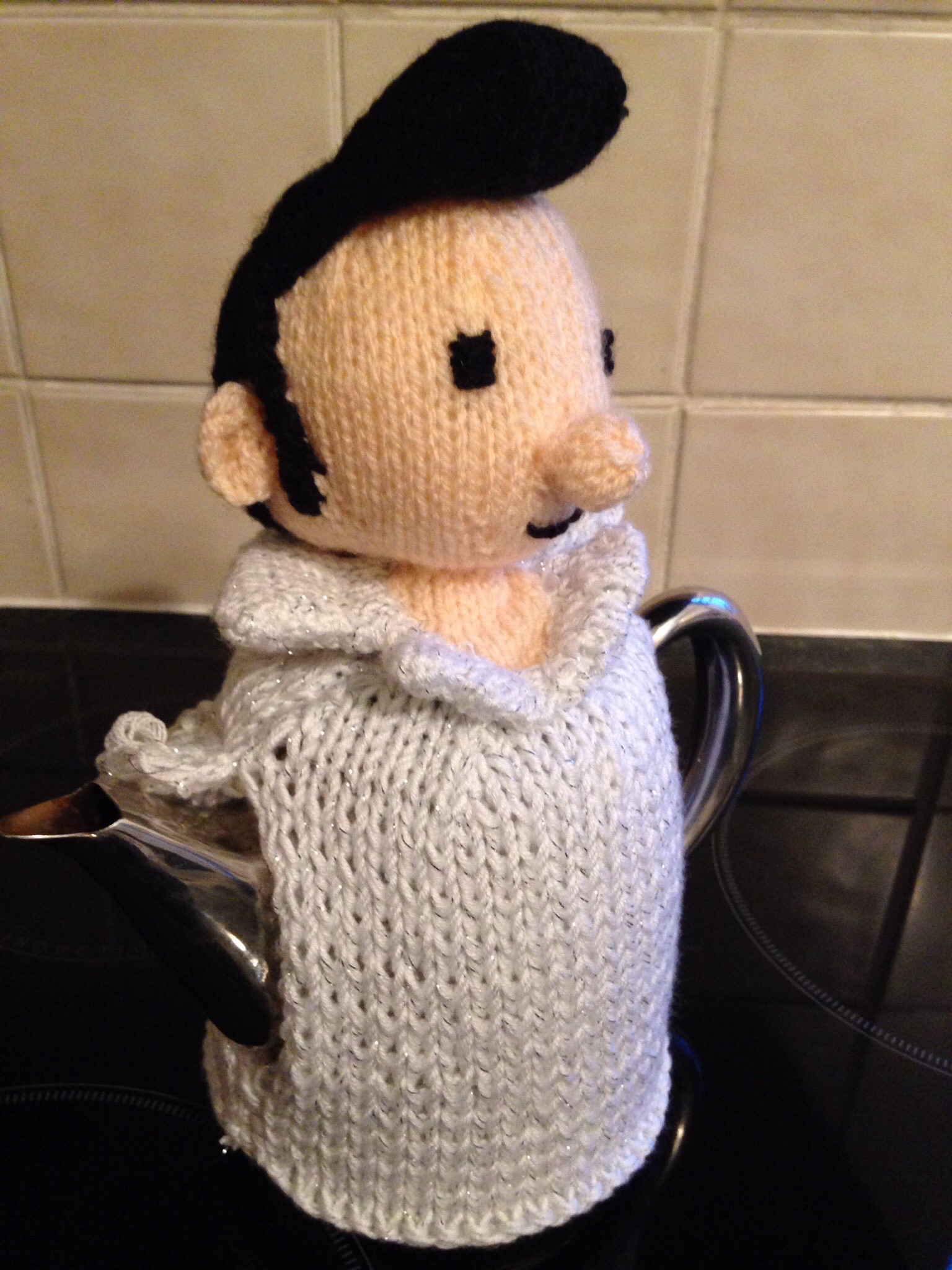 Gwen
01/09/15
Couldn't resist knitting this although I never drink tea!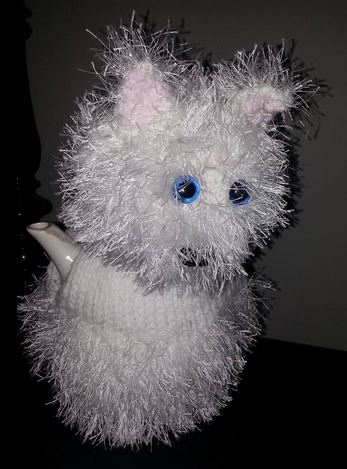 Kirsty Cook
25/06/15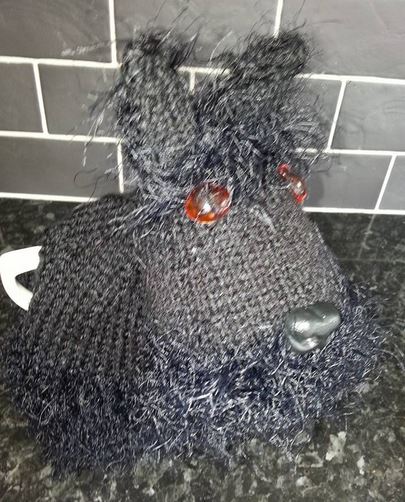 Kirsty Cook
25/06/15
Brilliant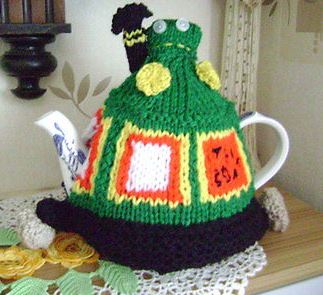 Esmerelda
18/05/15
New Hand Knitted Canal Narrowboat Tea Cosy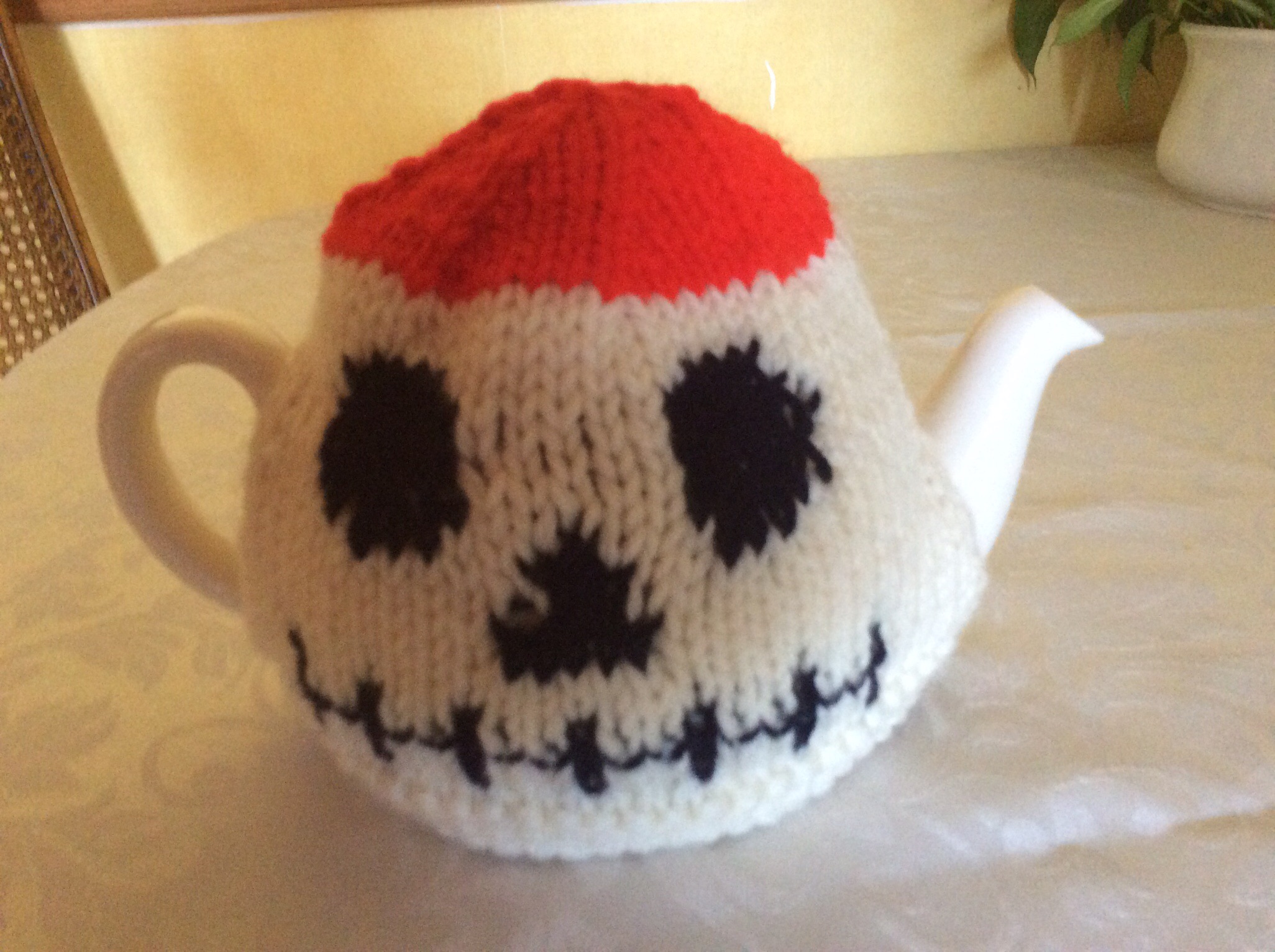 Lesley Ford
11/05/15
Loved whilst knitting seeing the face evolve made me smile. Easy to follow and did not take long to do.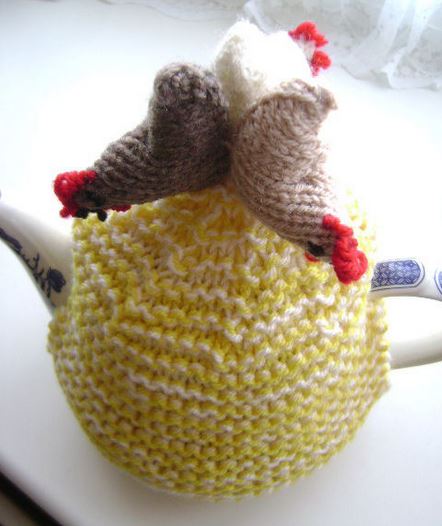 Esmerelda
09/05/15
Hand Knitted ~ Hen Pecked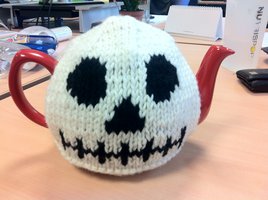 notyouraveragegeek
07/03/15
Made this for a mate. Makes me laugh just looking at it lol.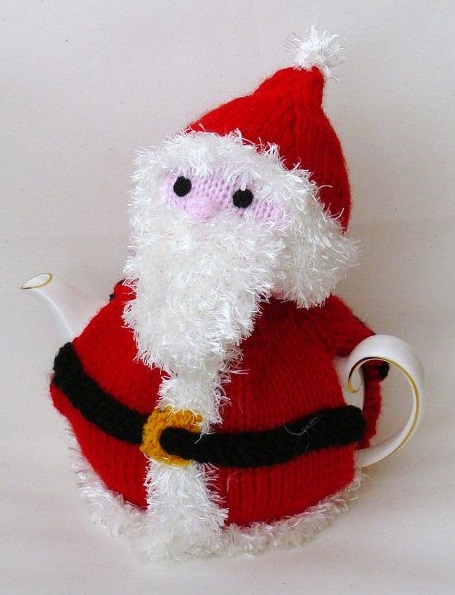 rtracy
07/03/15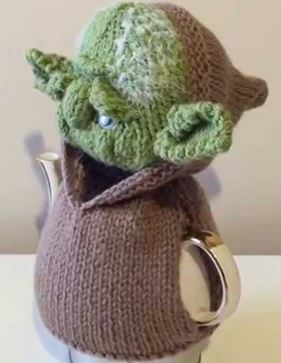 UKToyCollector1977
07/03/15
My favourite Christmas present of 2014.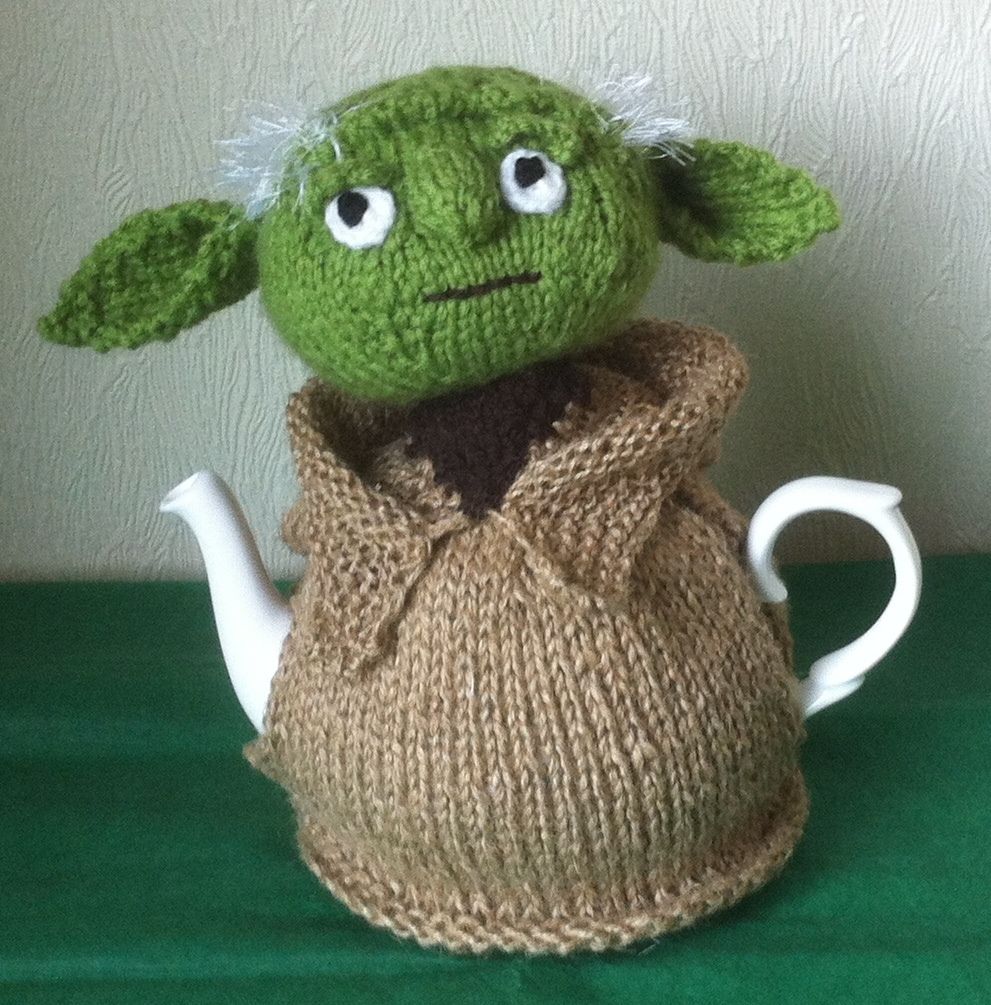 boxmania
07/03/15
Lovely hand-knitted Yoda tea cosy.