Stuffing
How you stuff your tea cosy is going to make a difference to the finished look. If you don't want it to look lumpy, bumpy, dark and dingey, read my stuffing tips.
I know in the past it was thought old tights were a good stuffing material, but maybe not the best for stuffing a knitted thing. I don't think that a knitted fabric is robust enough to contain tights. Plus, the colour of the tights shows through the stitches and doesn't look great.
I always use a polyester toy filling. It's more manageable and you can mould it. It's nice and white so keeps your yarn colours true. It's also light weight – perfect for modelling with.
When you start to stuff, pull your stuffing to bits first and fluff it up, you don't want lumpy stuffing. Start to stuff with small amounts at a time. Mould as you stuff to make the stuffing sit to the shaping of the knitting. Keep stuffing with small amounts and moulding until the part is full.
Under-stuffing can sometimes be a problem. If you don't stuff enough, the parts will be smaller and less able to stand by themselves, especially over time and repeated use. Get into the habit of stuffing well, so that the stuffing is compacted and firm but so that it's not bursting the stitches on the right-hand side of the work.
Just as an example, the average head for a TeaCosyFolk medium sized character tea cosy should be about 9.5cm from top to bottom and about 7.5cm across.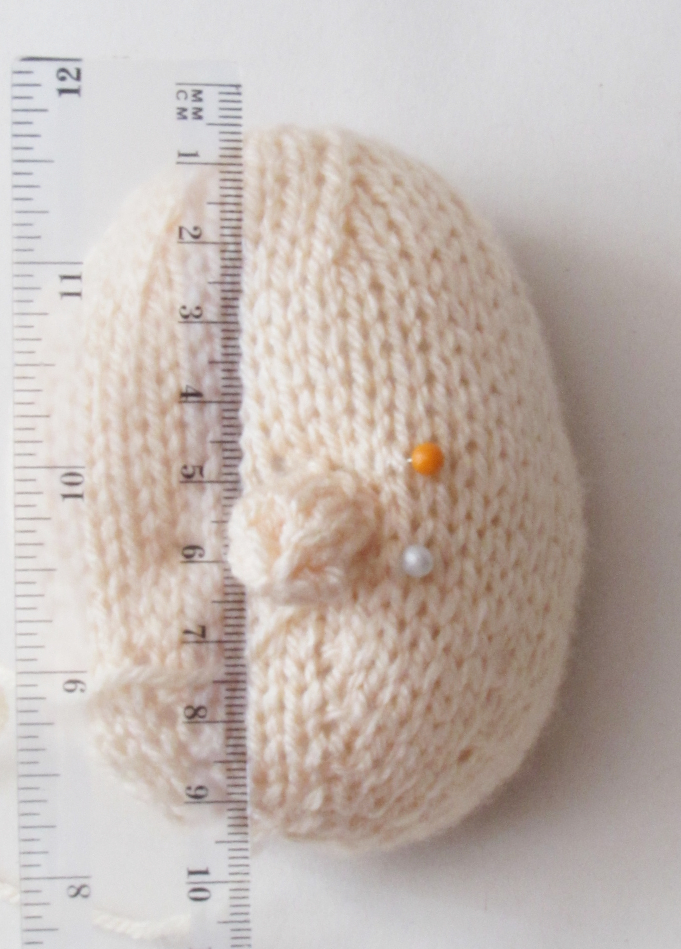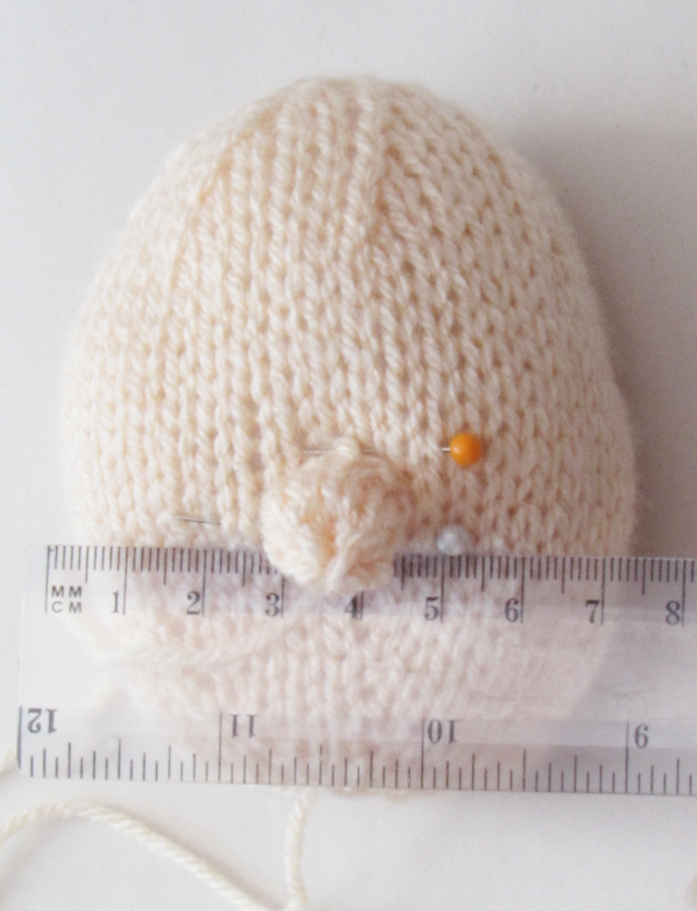 Stitch Markers
Do you know what? As just a knitter I never believed in stitch markers and I didn't even own any. But as a designer, I finally see the importance of stitch markers.
I bet you have seen that graphical joke that gets posted on Facebook; The one that say "I see you like to live dangerously – no stitch markers"; well, that was me. The pattern would say to use a stitch marker or mark the row and I would shrug and carry on and muddle through and later find that I really did need to have marked the work.
Because I know that this is probably how people feel about stitch markers, (well those who haven't seen the light yet at any rate) I really do make an effort not to use them. I just assume that the knitter won't do it, so I try to find another way.
However, sometimes in my knitting pattern I just have to use stitch markers. So, I'd just like you to know, if you're knitting a TeaCosyFolk knitting pattern and I say to use a stitch marker, you really do need a stich marker. I'm not just saying it casually. It's really important and I'm going to refer back to it later, so please, please, please, use your stitch markers, and if you haven't got one, use a bit of waste yarn, it will work just as well. Thank you.
Purling or Knitting 3 or More Stitches Together
This can be so difficult. It sounds easy, but if the stitches are tight or if it's the first row, oh my; it can be like a wrestling match!
There are things we can do to make knitting and life a little easier. Always ready a few rows ahead, then if you see this sort of thing coming up, you can make sure that the row worked beforehand can be a little looser. Looser stitches are easier when you must knit a few together.
Likewise, if they are in the first row, cast on loosely. If I need a loose cast-on I hold both needles together when casting on.

If you haven't had time to prepare looser stitches, there are other tips to help.
Try working nearer the point of the needles. Where the needle tapers, the stitch feels looser so you will have more moveable space.
Another thing you could try is to loosen off the stitches. Slipping them from the left needle to the right needle and back again. If this doesn't work the first time, put your needle in the stitch as if you were going to knit or purl it, and wiggle your needles in a scissor-like action to stretch the stitches a bit.
If you're still having no luck, you could 'SL1, K2tog, PSSO'. The stitch will look as if you K3tog, but it will be less of a fight.
Embroider on a Mouth
I do hear a lot that sewing on mouths is an issue. People feel that their embroidery isn't good and that their mouths are letting their finishing down and leaving them down in the mouth. (sorry couldn't resist!) So I'm going to show you how I do my mouths. I'm not saying that this is the only way or correct way; it's just the way I do them. And maybe this technique will work for you too.
I use a technique based on the Lazy Daisy embroidery stitch.
So, the yarn is already secured under the hairline or at the bottom of the head somewhere out of sight. Bring the needle out to where the first corner of the mouth should be.
Then put the needle back into the work, where the second corner of the mouth should be, but importantly, exit the work two or 3 rows down from the corners of the mouth and at the centre point.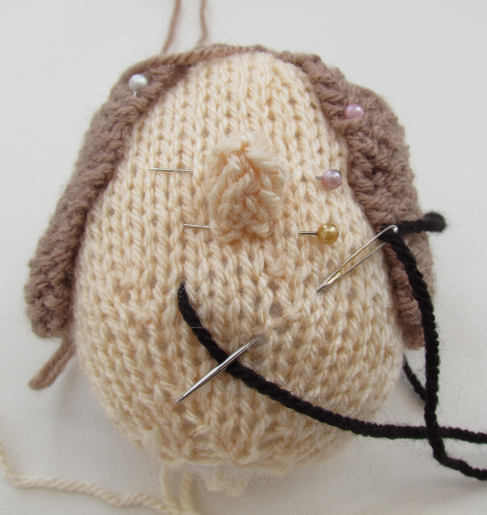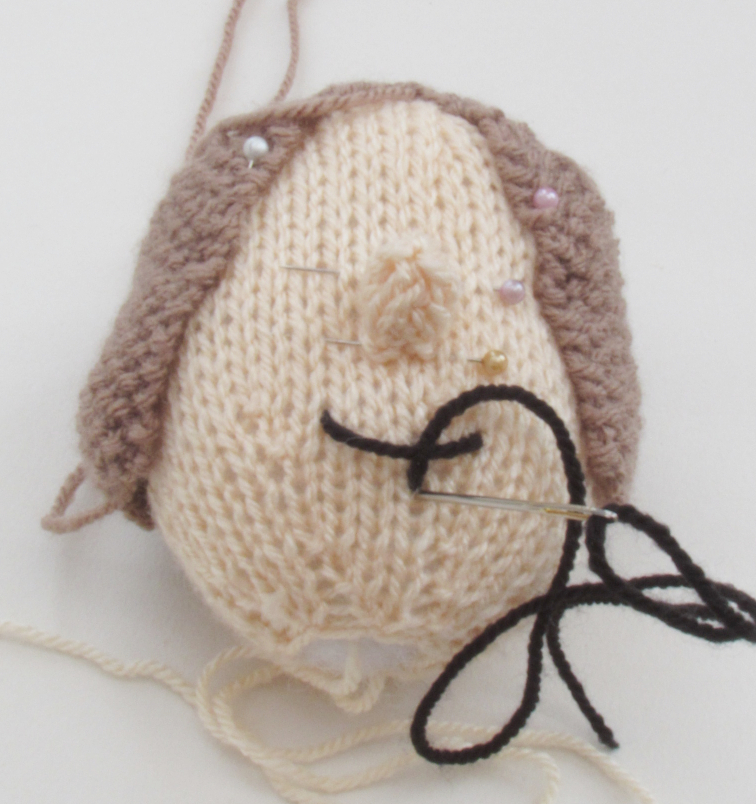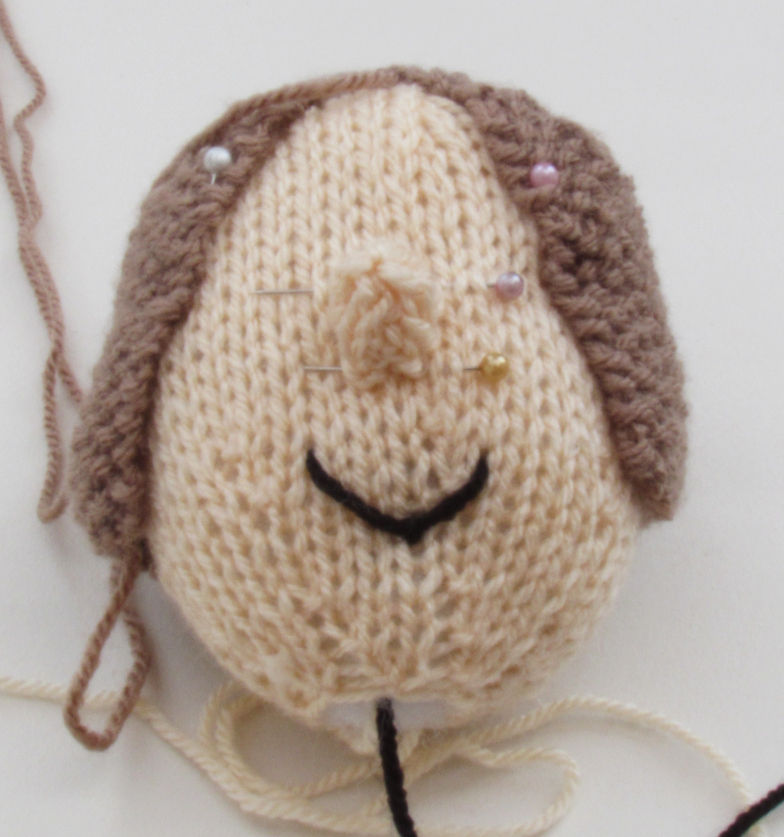 Lightly pull the thread through until the loose stitch makes a pleasing curve. And then, with your needle going over the stitch, put the needle back down the same hole to secure the stitch. Don't pull too hard or the mouth shape will change.
Secure the yarn somewhere un-noticeable.
Scallop Edge Cast Off
People sometimes find it tricky because they cast off the wrong stitches and end up with the wrong number of stitches on the needle. This edging is used on a number of TeaCosyFolk knitting patterns. The stitch numbers may vary but the basics are the same.

Unsightly Increase Ladders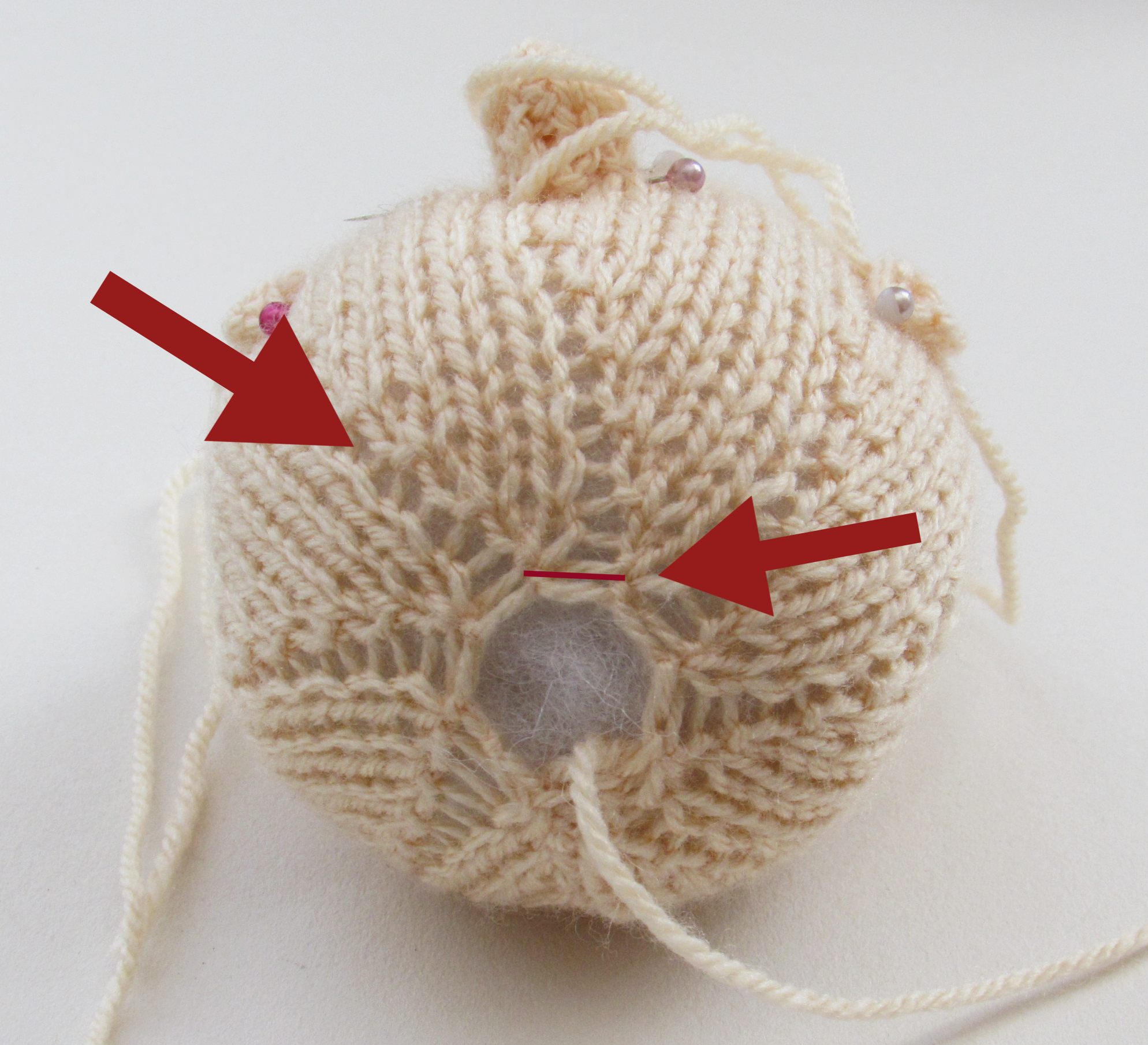 I find that the most common place that this happens in on heads. The increase is always in the same spot, and the ladders occur, and there always tends to be a ladder right up the front of the head, just where you want to crease a face.
The trick is when you sew the head to the main cosy. Attach the head using mattress stitch, and when you get to the bottom of a ladder, make sure that your needle goes through the stitch at the bottom of the ladder, to close it at the bottom. Once the bottom of the ladder is closed the stitches further up will re-adjust and close up, you can speed this up by stroking the ladder.
Closing the ladders will help to make your projects more pleasing and give you better results, especially in prominent places, like heads.
How to Knit The Bubble Stitch Pattern
Marking Along a Row
Sometimes in TeaCosyFolk knitting patterns you are asked to mark along a row. This is usually because you are going to be asked to knit into the back of each stitch at a later date. To mark along a row you need a length of contrasting scrap yarn that you weave in and out of the working yarn as you knit the next row. You need a contrasting yarn so that you can see it clearly. The great thing about marking a row like this is that when you have to remove it, just pull one end and the scrap pulls out easily. Watch the video and see how I mark a row.
Pins and Pegs
Until a couple of years ago, I have always used tailors pins to pin my work together before sewing. I use those lovely pins with the big purl heads. They are longer than the silver pin head pins, and the big ball heads mean that I don't lose them in the knitting. I still use them now, they are great.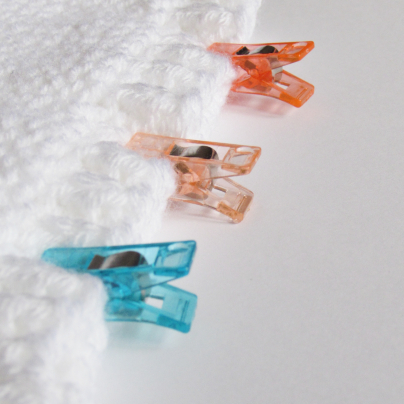 However, with a knitting magazine, I received a free gift of 'No Pin, Sewing Clips'. They are little peg like things that you can use to hold two pieces of knitting together with. Now I know you're perhaps thinking that you can achieve this with pins, and that the pegs are a gimmick. And before using them I would have thought the same; but now I find that I do reach for the pegs as often as the pins. In fact, if I am sewing two flat pieces together, I peg them and if I'm sewing something stuffed to another stuffed thing or the main cosy; I use pins.
I find that the pegs hold things just where I want them, it's like its being held by another finger and thumb. There is no chance of the knitting slipping or of the peg wriggling free.
I'm a convert! If you get an opportunity, try them and you'll see what I mean.
Vintage Tea Cosy Stitch
Some times being shown how to do something makes it so much easier.
This is a help video for the vintage tea cosy stitch. This stitch is used on the Crinoline Lady tea cosy and the Virgin Queen tea cosy.
It's an easy stitch once you get your head around how to make it billow out.
Working From The Inside
If I'm sewing directly on to the main cosy part, lets say I'm sewing on someone's arms for example, I pin the arms in place whilst the tea cosy is on the teapot. When I'm happy with how it looks, I add a few more pins to secure it in place.

Then I remove the tea cosy from the teapot and sew the arm to the main cosy from inside the main cosy. It's great because you can only see the stitches from the inside of the cosy. If you use the same colour yarn as the main cosy itself, you can't even see the stitches from the cosy inside.

You can't always use this technique, but sometimes it's a great trick to use and it gives neat results. It's great for when you want to attach things and you want them to keep their shape and look prominent.
Long Tails
That is when you have finished knitting a project part and you have to cut the yarn from the work, leave a long enough tail to do more than just finish off. Because sometimes you will use that tail to complete a part or sew it onto another part.

For example, when you finish knitting the hair, you might have to sew a part of the hair before you pull it on the head. Then once on the head, you will need to sew the hair into place. If you have only left yourself with a short tail, you may not be able to complete all the sewing.

Another top tip… usually the part you are adding is going to be the colour of yarn you will use to sew it into place. Using the hair as an example again, you would sew the hair to the head in the hair colour and not the head colour.

Don't Get Bogged Down in Monotony
The trick is to plan ahead. I have a little look through the pattern to see how many of a thing needs making. Three or over, then I know I will find it hard going. So, to stop my knitting becoming a chore, I have a couple of ideas to stop the monotony.

Trick 1 – Don't knit all of the boring parts in succession. Knit a boring thing, and then knit a fun thing. Keep alternating. You'll be super surprised that the boring things just seem to multiply as if by magic.

Trick 2 – Put something interesting to watch on the telly and settle down to doing the boring bits in one hit whilst distracting your mind.

Trick 3 – It's similar to 'Trick 2' only you call a friend or have a social zoom meeting whist knitting. Hopefully by the end of the call the boring bits are done.

Trick 4 – This one isn't always possible. But I like to save long rows of boring knitting that doesn't require much attention for long car journeys when I'm not driving. It is important to have a driver with this tip.