Hospital Patient Tea Cosy
Posted 06/10/2017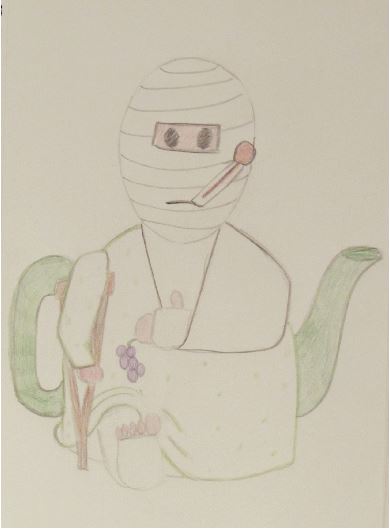 I have got a bit side tracked as I was waiting for yarn deliveries and I got enthusiastic about another tea cosy design that I'd like to make; the hospital patient tea cosy.
This tea cosy depicts a hospital patient who has multiple injuries. I thought if I was going to create a hospital patient; that I would do a bit of an over the top, Carry On Doctor, poke fun at sort of scheme. So, the design has the hospital patient with a broken leg and a crutch, one arm in a sling and their head completely bandaged up. I have put an old fashioned thermometer in their mouth which is red all the way tot he tip and they are also wearing an NHS gown and we all know the gapping problem there is with them!
I also love the tradition that when someone is ill that we give them grapes, it must be a throwback from the 1930's when grapes were expensive and a luxury item, and they were given as a special feel 'good food' treat that might magically make you better with their few extra vitamins. I thought it would be comic to give the hospital patient a dwindling bunch of grapes.
I have some lovely King Cole Smarty on order for the NHS gown to create a spotty pattern. I thought it would be easier than intarsia or swiss darning a pattern on after knitting. I'm looking forward to seeing how the yarn turns out.
I especially love the toes popping out of the plaster and I like that under the bandages, it could be a him or her patient. I like as well that if you know of someone who's I'll, that you could send them a get well soon tea cosy instead of a get well soon card and it's a bit tongue in cheek which will make people laugh. They do say that laughter is the best medicine.
Suffragette Tea Cosy
Posted 30/09/2017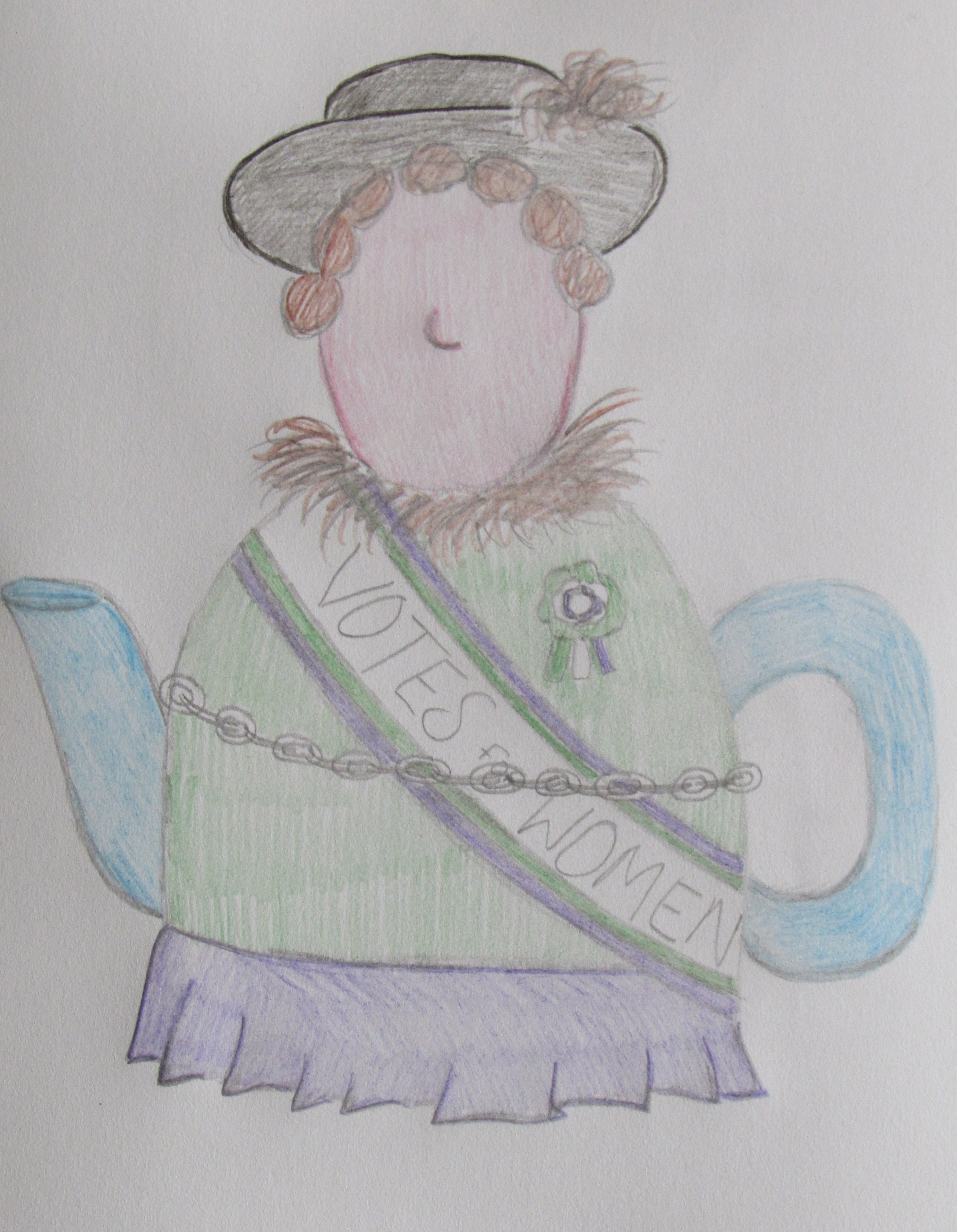 I love a bit of social history and I loved the idea of a women's suffrage tea cosy. The tea cosy will be knitted in shades of green and purple and as well as a 'Votes for Women' sash the tea cosy will also have a suffragette rosette.
I have studied photos of the time and the photos of the Pankhurst's, and I found, particularly with Emmeline Pankhurst that some were very well dressed and well to do women. Emily Wilding Davison who was hit and killed by King George V's horse at the 1913 Epsom Derby has a striking photo of her wearing a feather boa around her neck, and I wanted to include something on the tea cosy that echoed this image. With that in mind, the Suffragette tea cosy design had the lady wearing a nice hat and a fur stole or boa like collar, I shall use an eyelash yarn to achieve the effect of fur or feathers.
As part of their more peaceful demonstrations the suffragettes chained themselves to railings. I thought I'd include a chain in my design but instead of railings, I thought I'd chain her to the teapot. The commemorative fifty pence coins also include railings in their design.
Personally, I am very grateful to the suffragettes and I value my vote that they won my right to have. The suffragette tea cosy army will feel like a tribute to the battles these women fought on our behalf.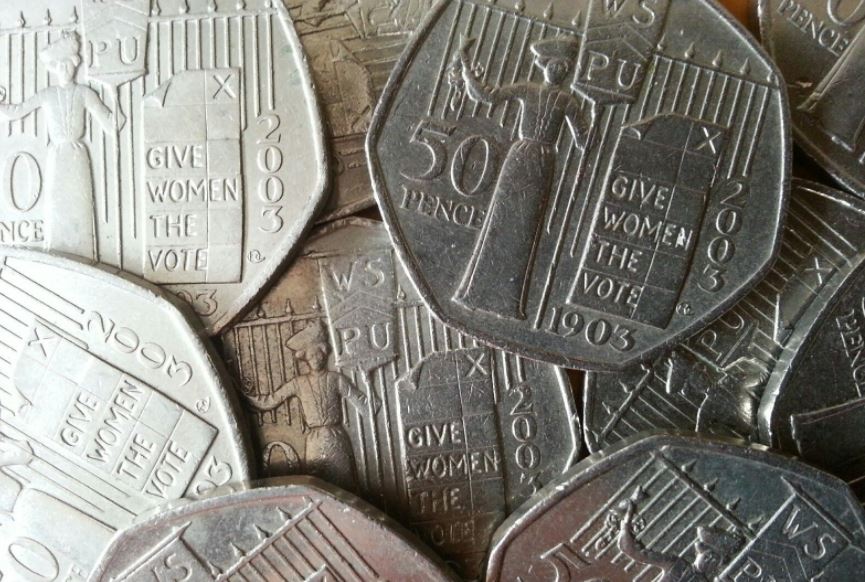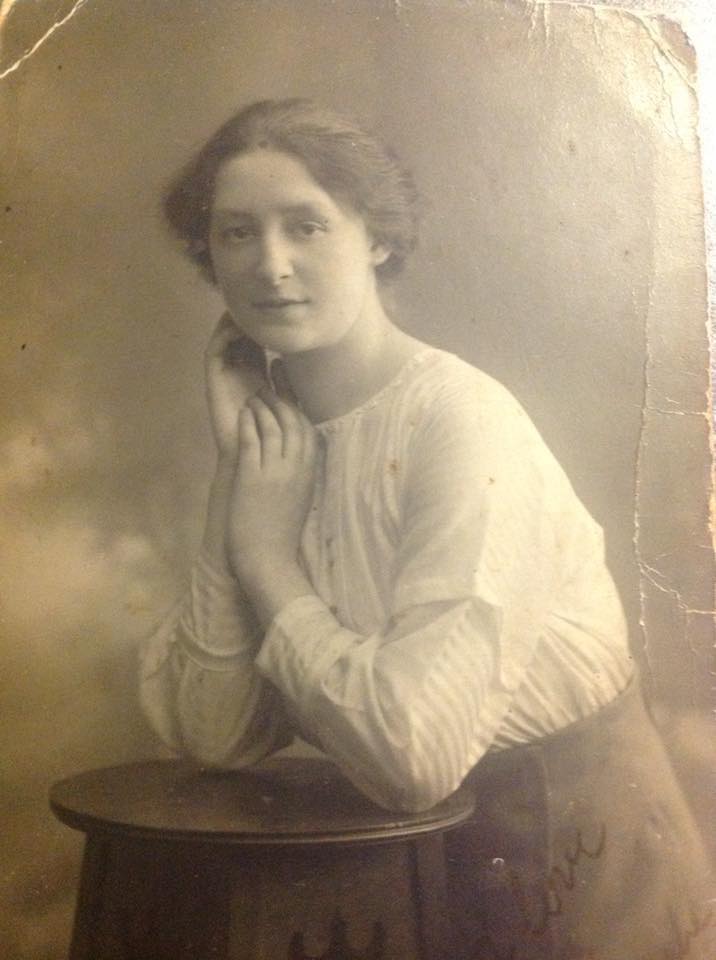 Valentine Tea Cosy
Posted 26/09/2017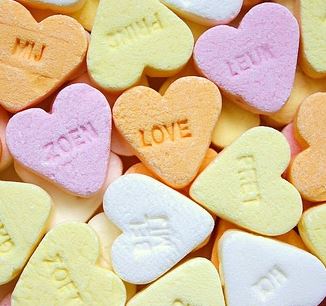 It might not be October just yet, but already my thoughts have turned to valentine's day because Simply Knitting magazine have asked me to design a tea cosy titled Love and Hearts, for all you lovebirds who love to have a seasonal tea cosy to knit.
I can't tell you anything about what I'm designing except that it will be published in the Simply Knitting Magazine Issue 169 on sale 2nd of February 2017, so you'll only have 12 days to knit it in time for the big day.
I make sure it's something extra special, so that you can enjoy a cosy cup of tea in bed for two with a beautiful love inspired tea cosy – perfect for any Valentine's couple!
Mr Punch Tea Cosy
Posted 04/09/2017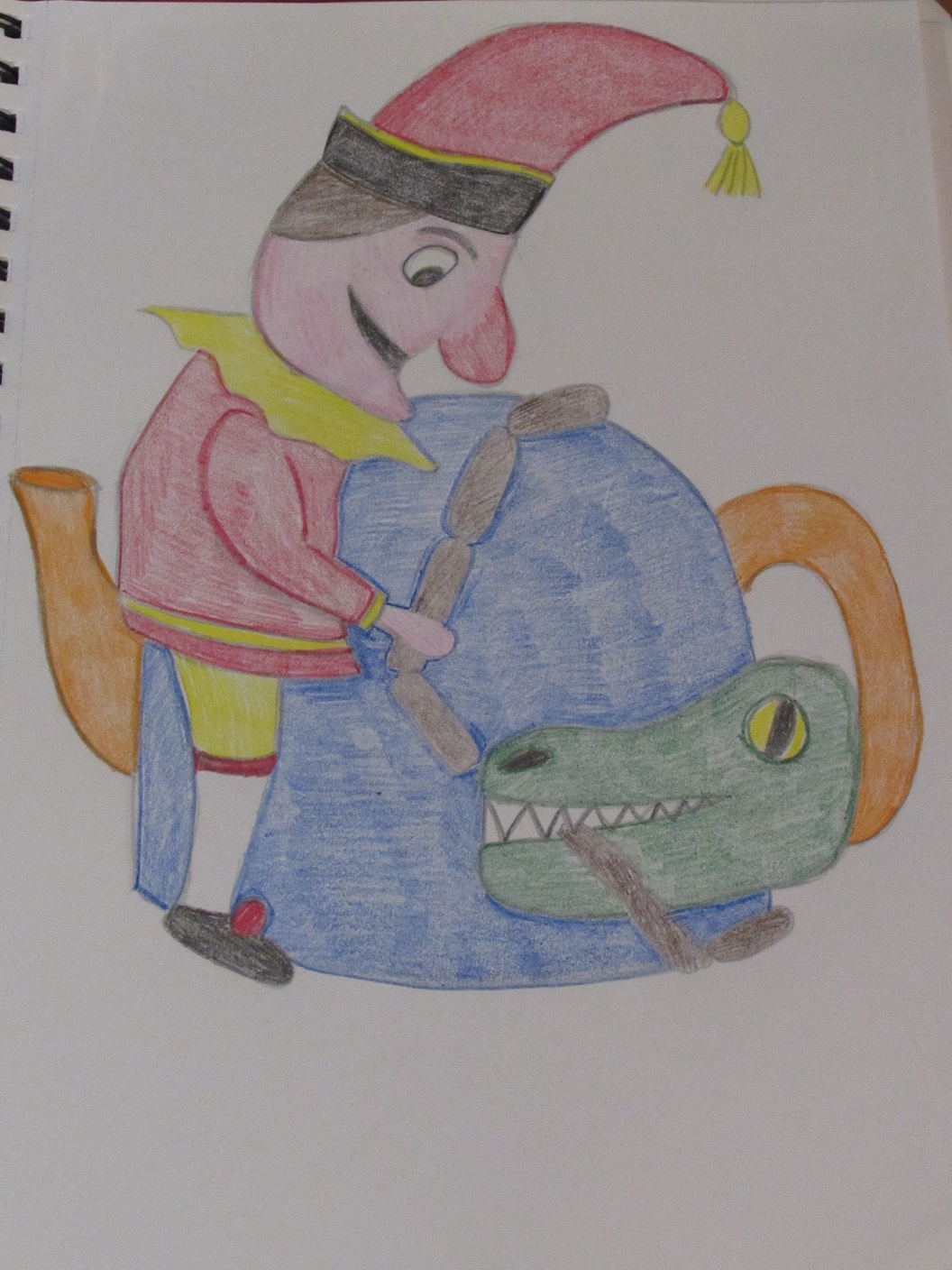 During the summer, we visited the world famous Beamish open air museum, it was amazing and well worth a visit. We had a wonderful couple of days there and I drew inspiration from their Edwardian Fair event where they had a Punch and Judy Puppet show for all the children.
I took a few photos on which to base my design. What I really loved in the show was Mr Punch, the crocodile and the string of sausages. Just a comic moment when Mr Punch and the reptile have a tug of war with them.
I wanted to make a summery tea cosy, because we are just hanging on to what is left of the summer now, before heading into colder times. I thought it might keep the warm glow of summer going for a little longer.
I have designed the cosy on a plain blue background, but traditionally you see a punch and Judy show at a seaside venue, so I want to make the cosy feel a bit more nautical, so I shall give the main cosy some sailor stripes.
That's the way to do it!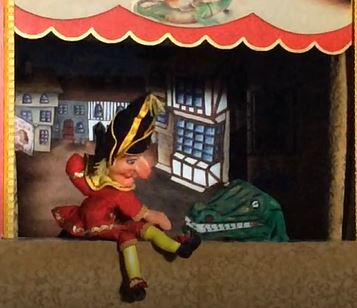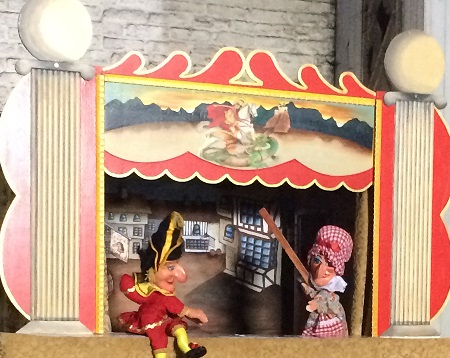 Winter Wonderland Tea Cosy
Posted 19/07/2017

I am working on a couple of top secret tea cosies, one for the Simply Knitting Magazine and one for Kirstie's Handmade Christmas 2017 - for the homemade gift competition. What I can tell you about these cosies is that both are have a Christmas theme, so get your sparkles and glitter at the ready!
The Kirstie's Handmade Christmas tea cosy is going to be titled a Winter Wonderland Tea Cosy, I will leave you to imagine the details that might involve.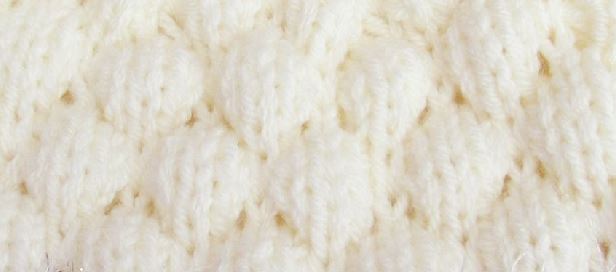 I have been testing out ideas for the tea cosy and I rather like a bit of cabling. I think cabled humpers remind me of winter and frosty weather.
I have also discovered an amazingly textured stitch which I think looks like little snow drifts; I love it. It's not the easiest of stitches on the pattern rows, but they are only every 6th row, and the rest is plain sailing.
I also want to test out an icord bind off, which gives you an edge that looks like a line of French knitting along the cast-off edge of the knitting. Sounds interesting, doesn't it?
Because it's a competition entry tea cosy I'm trying to tastefully include an assortment of techniques which means that this tea cosy will be a more difficult tea cosy to re-create. At some point, I will be making the pattern available so that others can try it for themselves and have a winter wonderland on top of their teapot.
Fingers crossed that my tea cosy get thought the judging process.
Cat Lady Tea Cosy
Posted 13/06/2017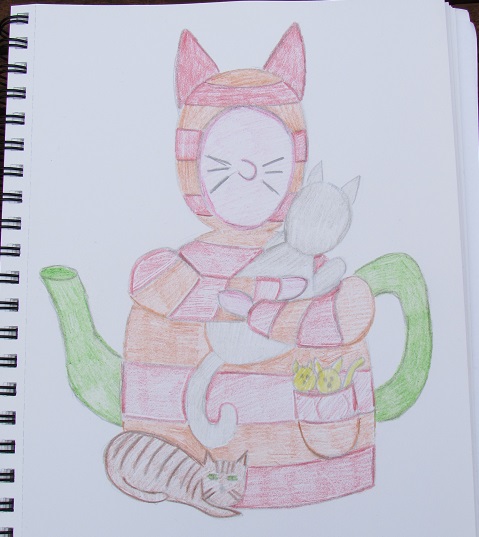 We all know of one, or someone who could quite easily be one given half the chance and now the cat lady tea cosy design will give tea drinking cat ladies the opportunity to express themselves with a tea cosy that reflects their personality.
This one is dedicated to anyone who is moggy mad. The cat lady on the tea cosy is dressed in a stripy cat onesie; with her cat, eared hood up. She is cuddling her prized moggy, a large fluffy cat that she is holding like a baby. She has a pocket with a couple of kittens peeping out, and about her feet she has more cats.
Unless you are trying to create types of breeds of cats, this tea cosy could be a real stash buster for all those natural shades in your collection.
I will design cats that look like traditional cat types, but ultimately the knitter will be able to free style and likewise, feel free to add more or fewer kitties.
I think this is going to be a super cute tea cosy, because cats are so adorable; and there are going to be a lot of cats. Cuteness overload!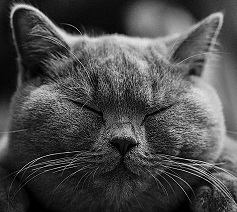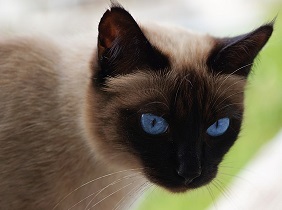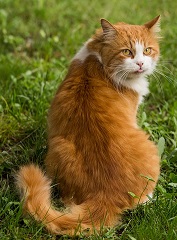 Tennis Player Tea Cosy
Posted 15/05/2017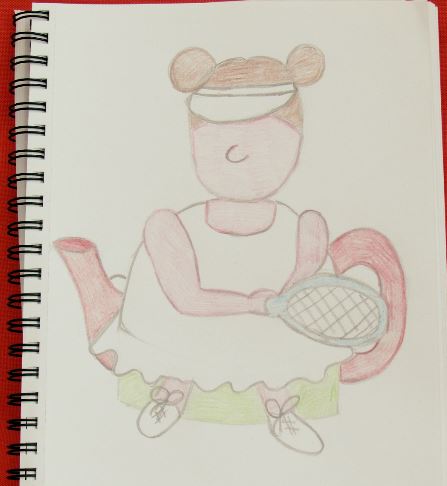 The Tennis Player tea cosy is a bit of a challenge with Wimbledon 2017 championships starting on the 3rd of July – that's just over 2 weeks away – Yikes!
I was so tempted to make a Fiona Butler style tea cosy, but thought I had better keep to tennis. So my design is of a lady tennis player with a cute two bun hair do, waiting for her opponent to serve. She's poised in a bent over position with her tennis racket ready for a back or forehand response to the serve.
I have given her a sun visor to keep the sun out of her eyes and a little white tennis dress. Behind her legs, you can see the green of the tennis court. I'm also going to give her some white tennis shoes.
The Tennis Player tea cosy is going to be perfect for all those armchair tennis players who are avid Wimbledon fans. She will keep you company whilst keeping your tea hot.
Just a thought, you could knit two; and have one at either end of the coffee table looking like they are having a game.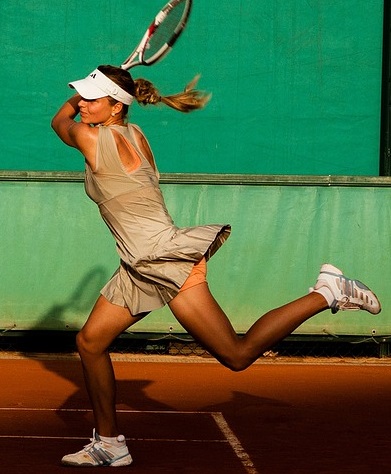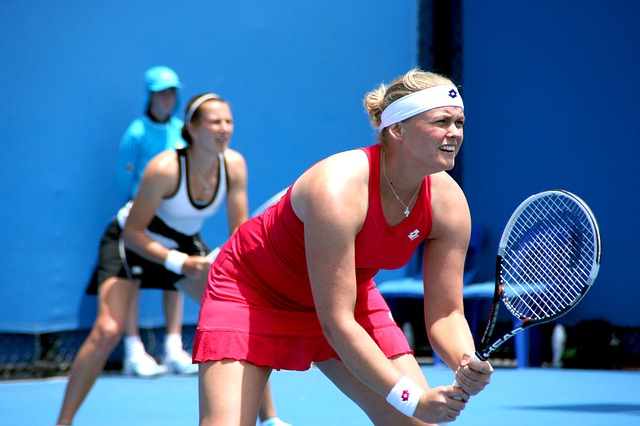 Orangutan Tea Cosy
Posted 02/05/2017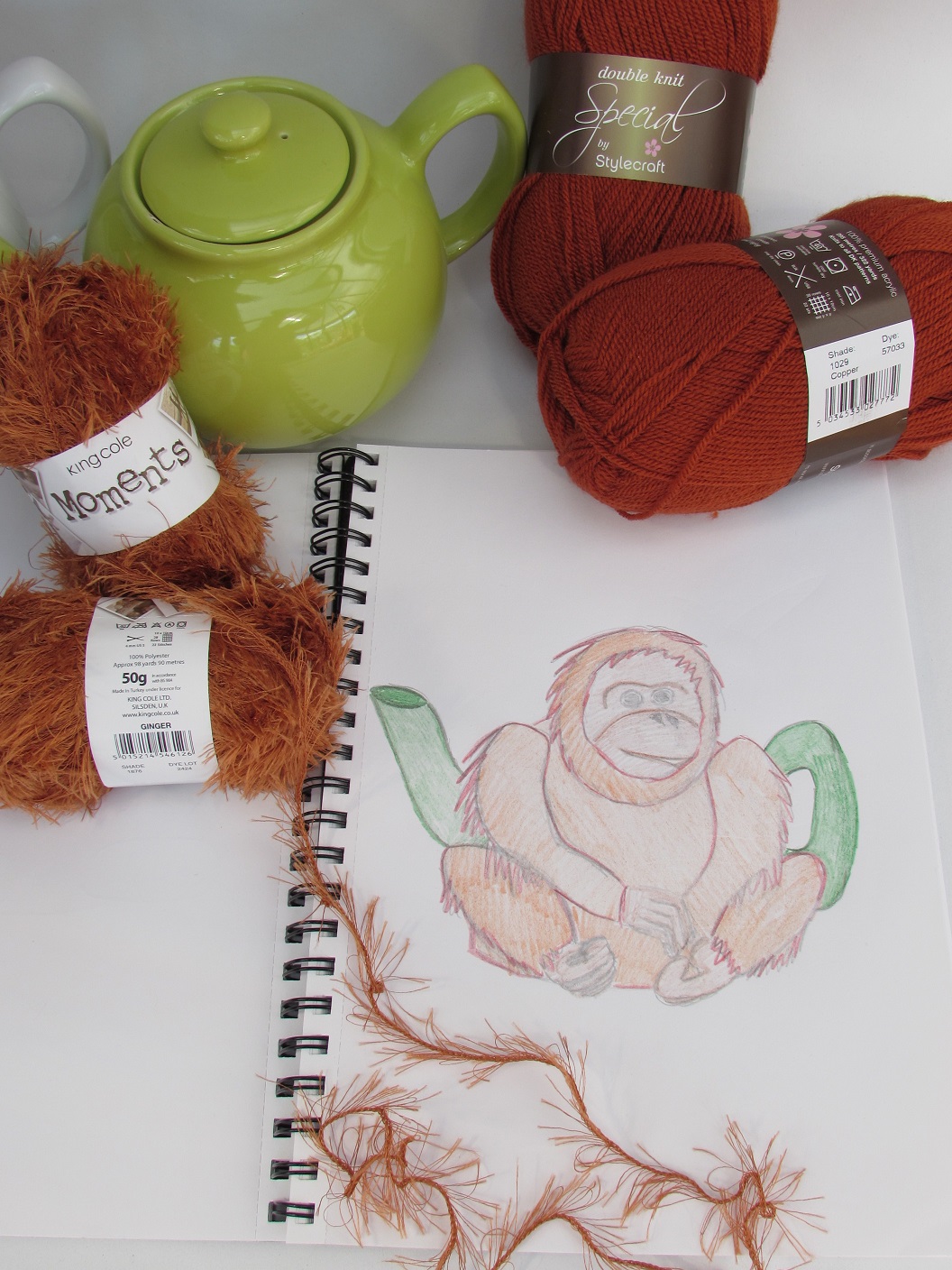 I have been inspired by the Spy in the Wild Orangutan to create an Orangutan tea cosy. Orangutan's are such beautiful creatures and so human like, and a beautiful colour – I can't think of a better tea cosy subject.
The Orangutan will be in a seated position and it will be a female, because I think they have the nicest faces. I want to include her legs and arm in a 'crossed' leg kind of position and I might give her something to hold – but not thought that far ahead yet.
I have the yarn ready, Stylecraft Special DK Copper and King Cole Moments DK – Ginger. I have a darker shade of Stylecraft Special DK for her face and hands.
I don't know about the King of the Swingers, more like Queen of the Tea Swiggers!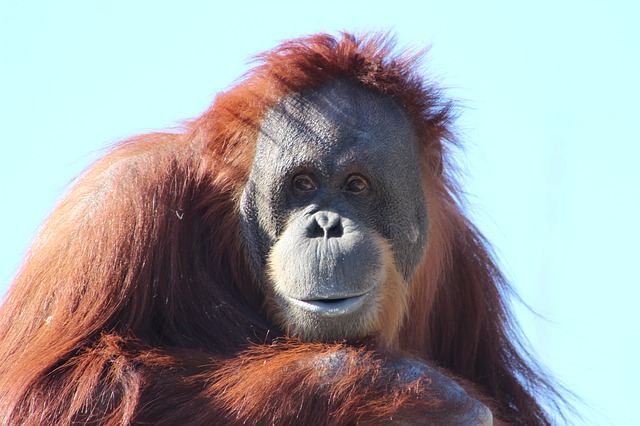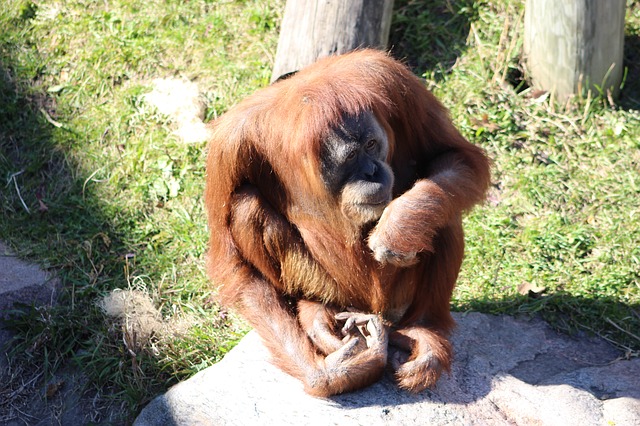 Unicorn Tea Cosy
Posted 02/05/2017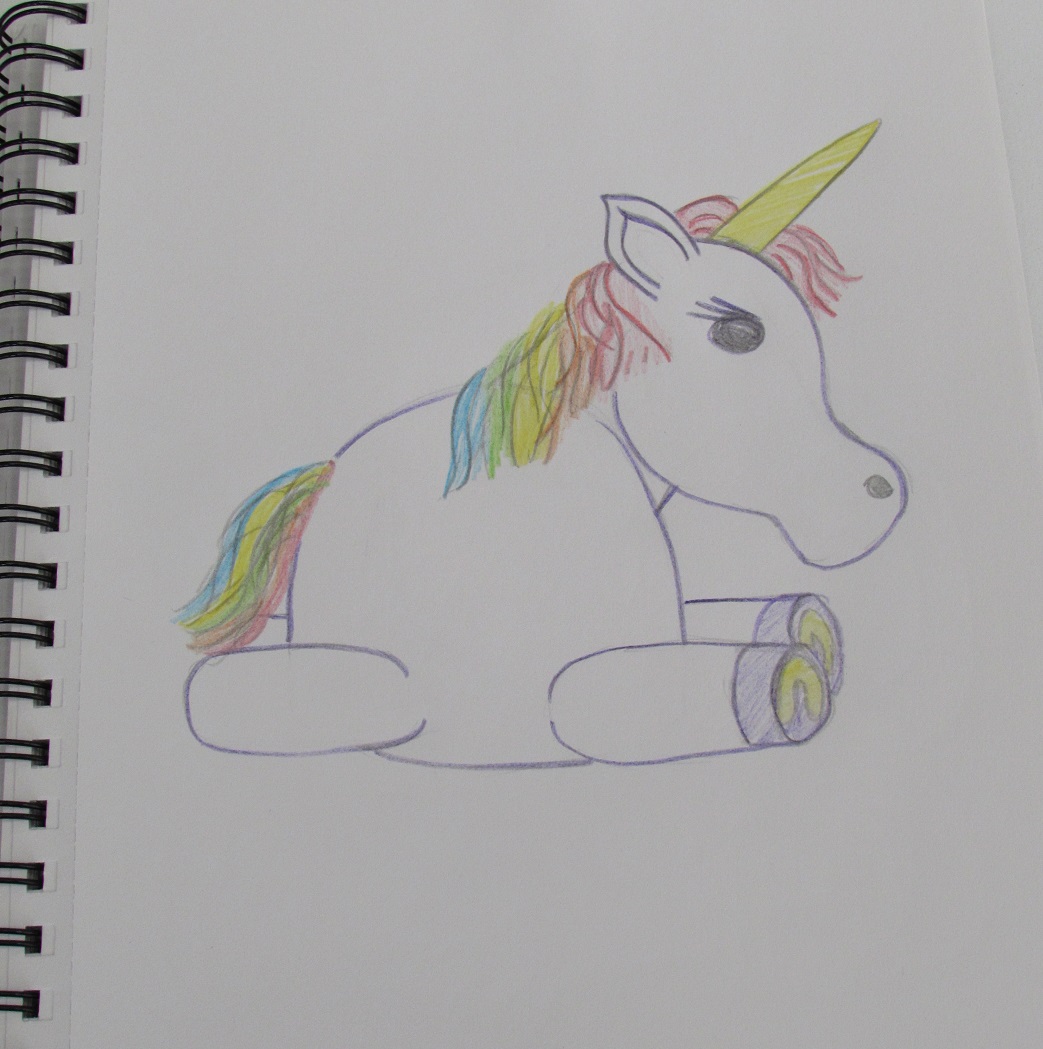 Everyone seems to be going unicorn mad – there has been a unicorn pattern in Let's Knit magazine and another in the Simply Knitting magazine (I knitted that one), and my friend has crocheted a unicorn. If you Google knitted unicorn you find lots of sitting and standing unicorns, and unicorn hats for people and pug dogs and even hats for cats! Unicorn hoodies, keyrings and unicorn security blankets and even a mug warmer, but not a single unicorn tea cosy. This is something I mean to fix by creating a unicorn tea cosy.
I find that most unicorns are white with rainbow mains, however my little one's toy unicorns are a lot more assorted in colour, and sparkle. I have studied them to create my tea cosy design.
I liked the unicorn laying on his tummy, I liked that you could see the bottom on his feet. Thought I could give him horse shoes – I know – horseshoes are put on by 'man', but I figured horseshoes are lucky so maybe it would make the tea cosies luck and who wouldn't want a lucky tea cosy? Plus, it's a mythical creature, so I can do what I like, and I like horseshoes!
I haven't drawn it in, but I am guessing that the teapots spout and handle come out the sides of the tea cosy, they would look funny emerging from its head or bottom. But I thought I wouldn't worry about drawing the teapot at this stage and just let it develop organically.
The head and hair will big the big challenge on the unicorn. I'm not keen on 'pegging' wool for hair, so I shall have to come up with something that I am happier with. I do love the sparkliness, I'd like to include sparkles.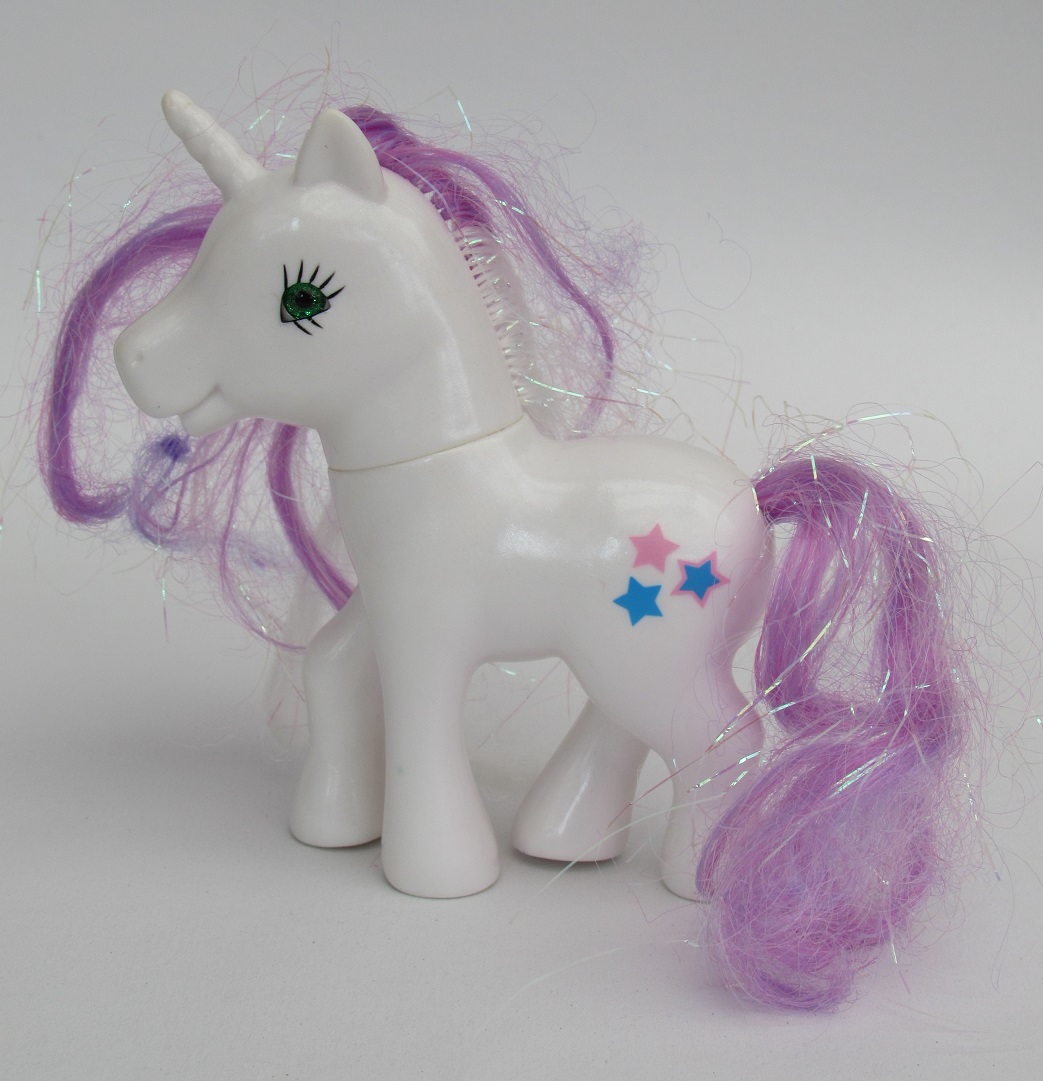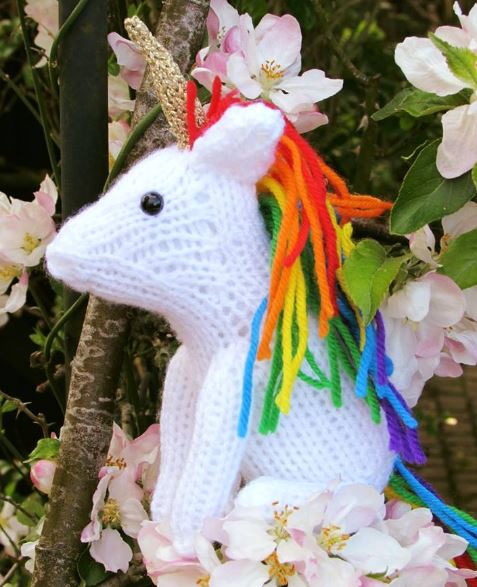 Cornish Fisherman Tea Cosy
Posted 02/05/2017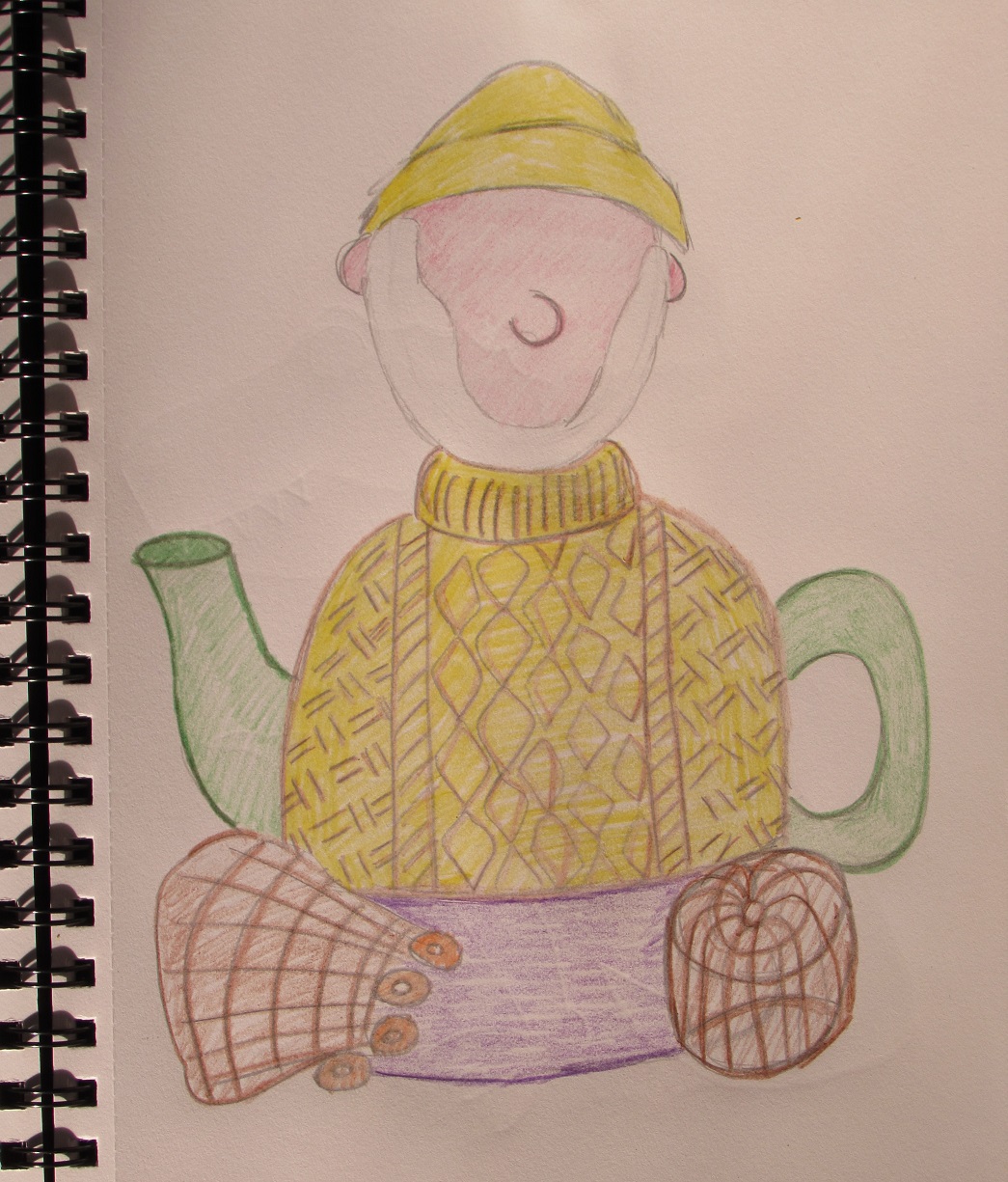 I know this might cause controversy, but I went to Devon and was inspired to create a Cornish Fisherman tea cosy.

I love to be by the sea and whenever there is one, we like to walk around the old harbours. The look so timeless and you find old and tatty fishing equipment there which just looks fascinating. So, I would like to include on my tea cosy a lobster pot and fishing nets (that's not bagpipes in the picture – just for the record)
What a love about the Cornish fisherman is the gansey. I love the romantic idea of a jumper that is recognisable to you, and kitted with love by your wife. I want my teapot to be wrapped up in that love.

I found a lovely old photo on Google of an old fisherman from way back. He had a hat on and a beard that came around and under his chin. It looked so iconic of how I think of old fishermen to look, so I have based my design on him. I have given him an old mackintosh style hat to keep the rain and sea water spray off.

I'm really excited about this cosy, the lobster pot, fishing nets and gansey are going to be a real challenge to design – I do love a challenge!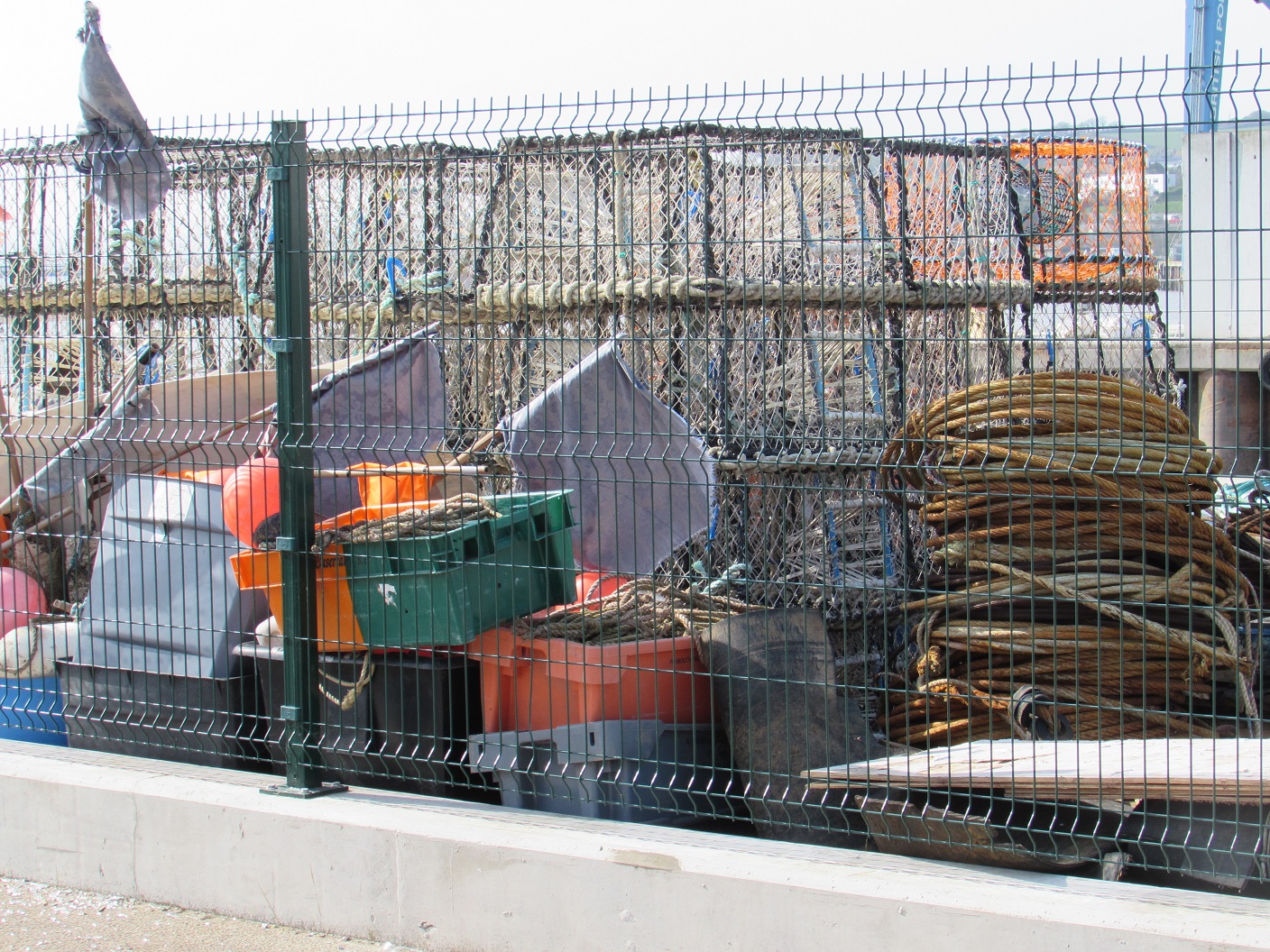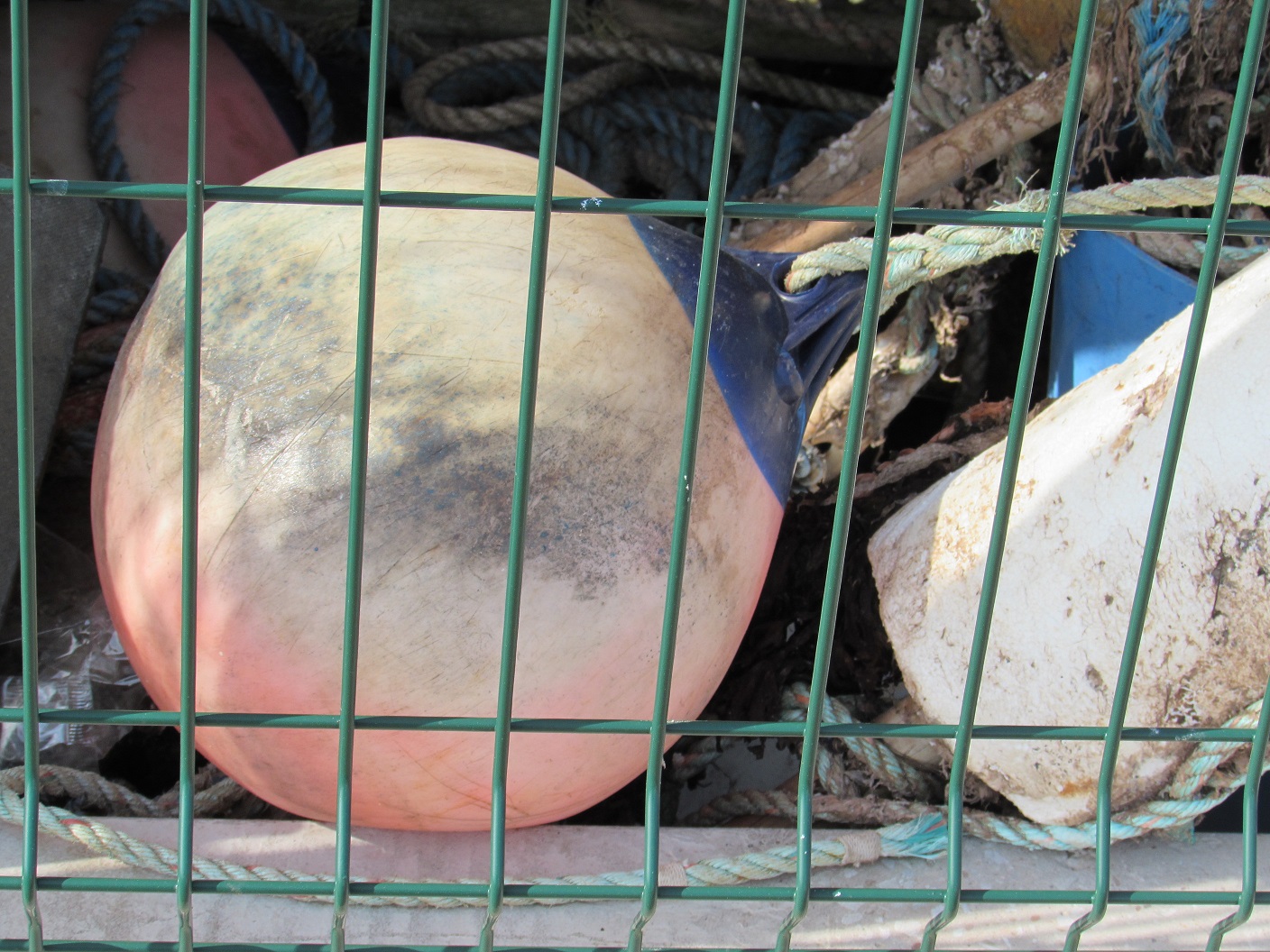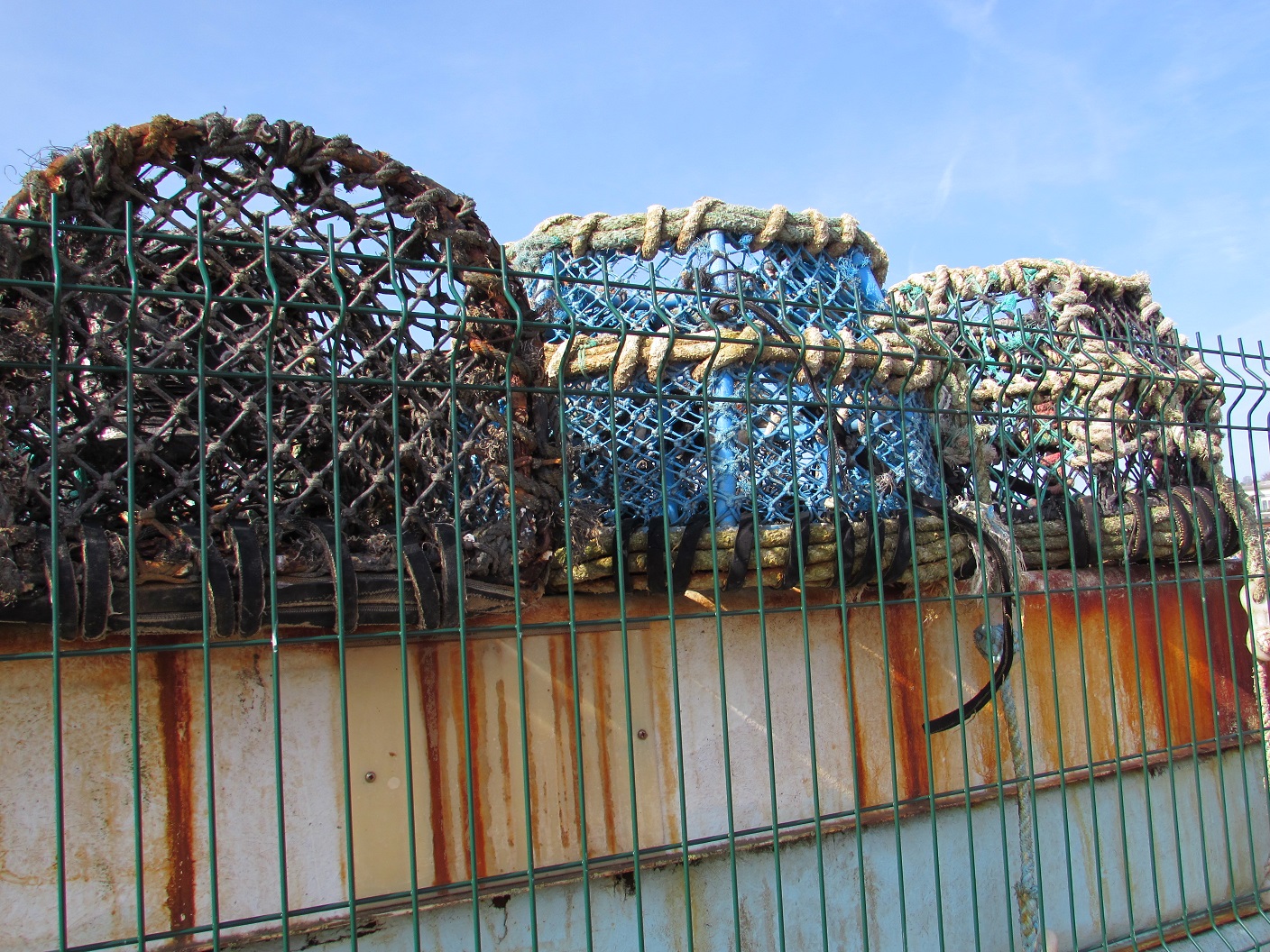 Dinosaur Tea Cosy
Posted 02/05/2017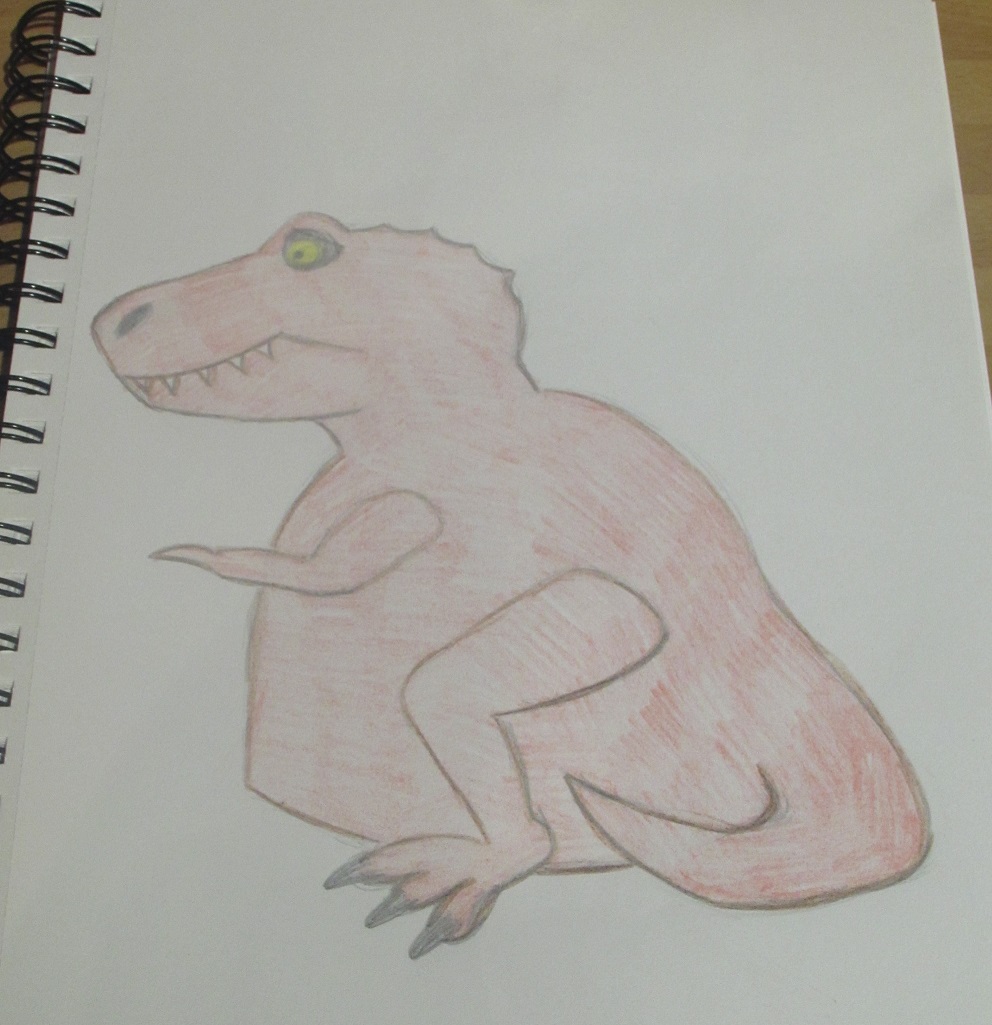 I am designing a dinosaur tea cosy for those people who like a monstrously hot tea. There are so many dinosaurs to choose from how do you know which to pick? My personal favourite is the Triceratops, he's big and cute and a veggie, but I guess the best known and the one kids love the best is tyrannosaurus rex, so a Tea-Rex Tea cosy it is then!
To get some inspiration I have been studying dinosaurs in their natural habitat. Not really, I have taken my inspiration from toys. My sketch looks a bit too cute so shall have to knit a meaner looking tyrannosaurus rex tea cosy, I think he needs eye lids to reshape the eye.
I like the red / orange looking toy dinosaur, I think green just isn't very inspiring and a red-looking dinosaur will look scarier.
I haven't worked out yet where the teapot handle and spout will pop out. But I don't think bursting out of his stomach will be a good look, but I can configure that as I go.
Well I'm sure you'll wish me a roaring success – remember to sign up to the newsletter at the bottom of the homepage if you'd like to see updates of this tea cosy's development.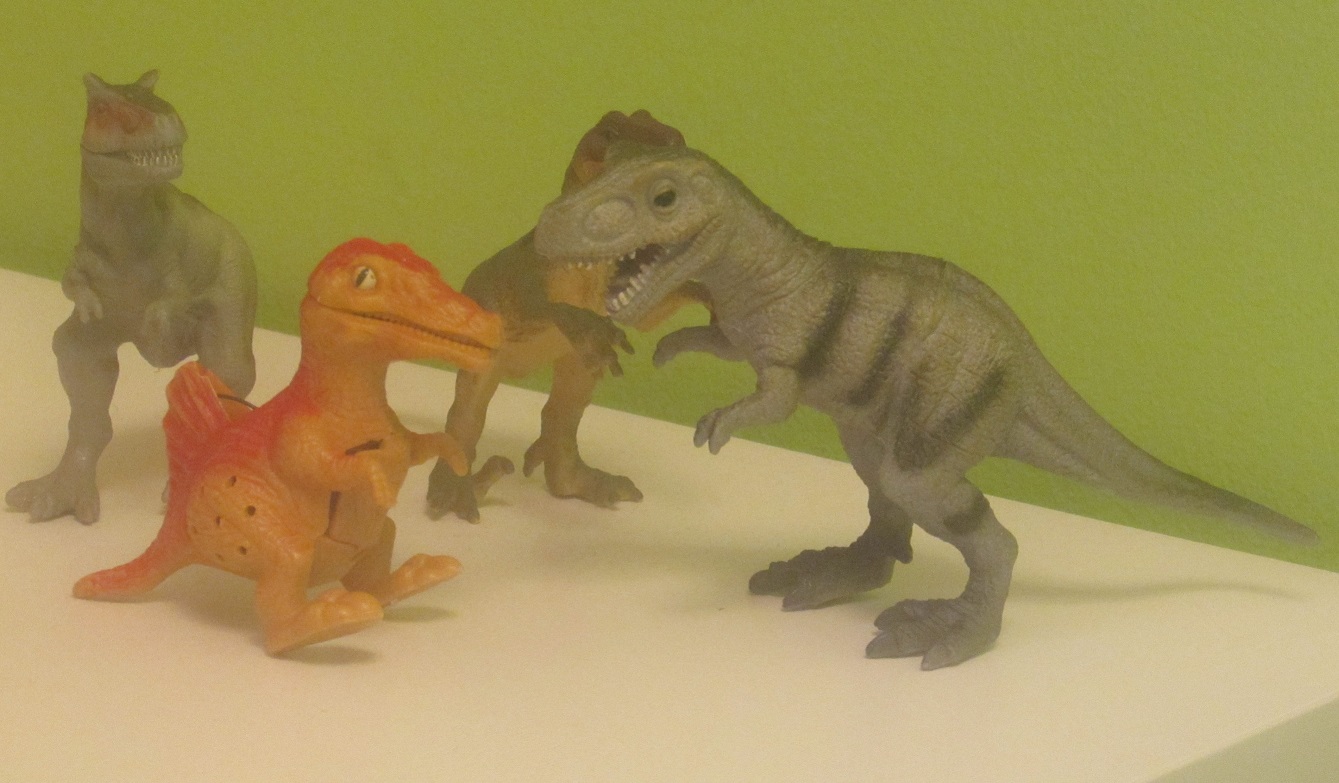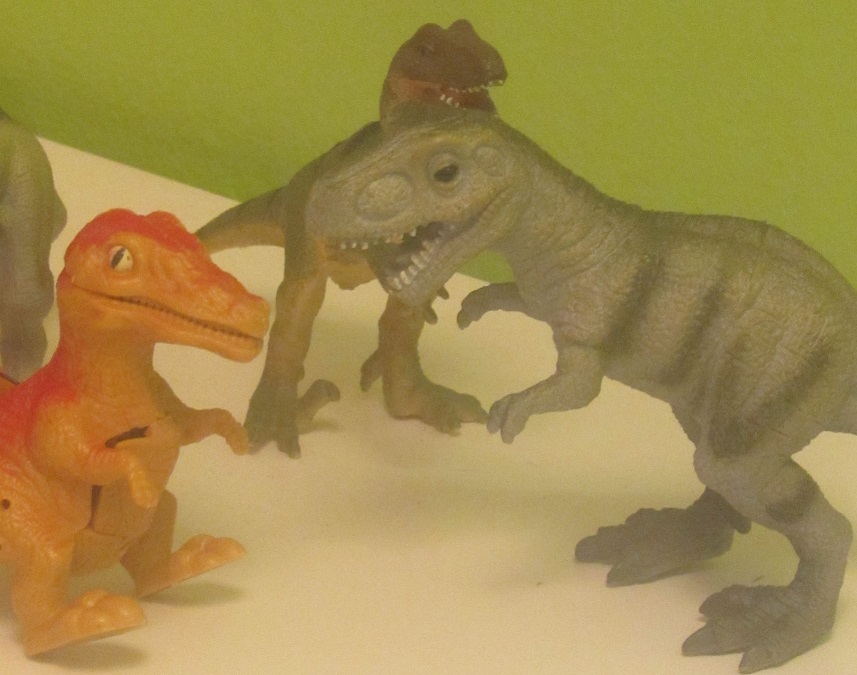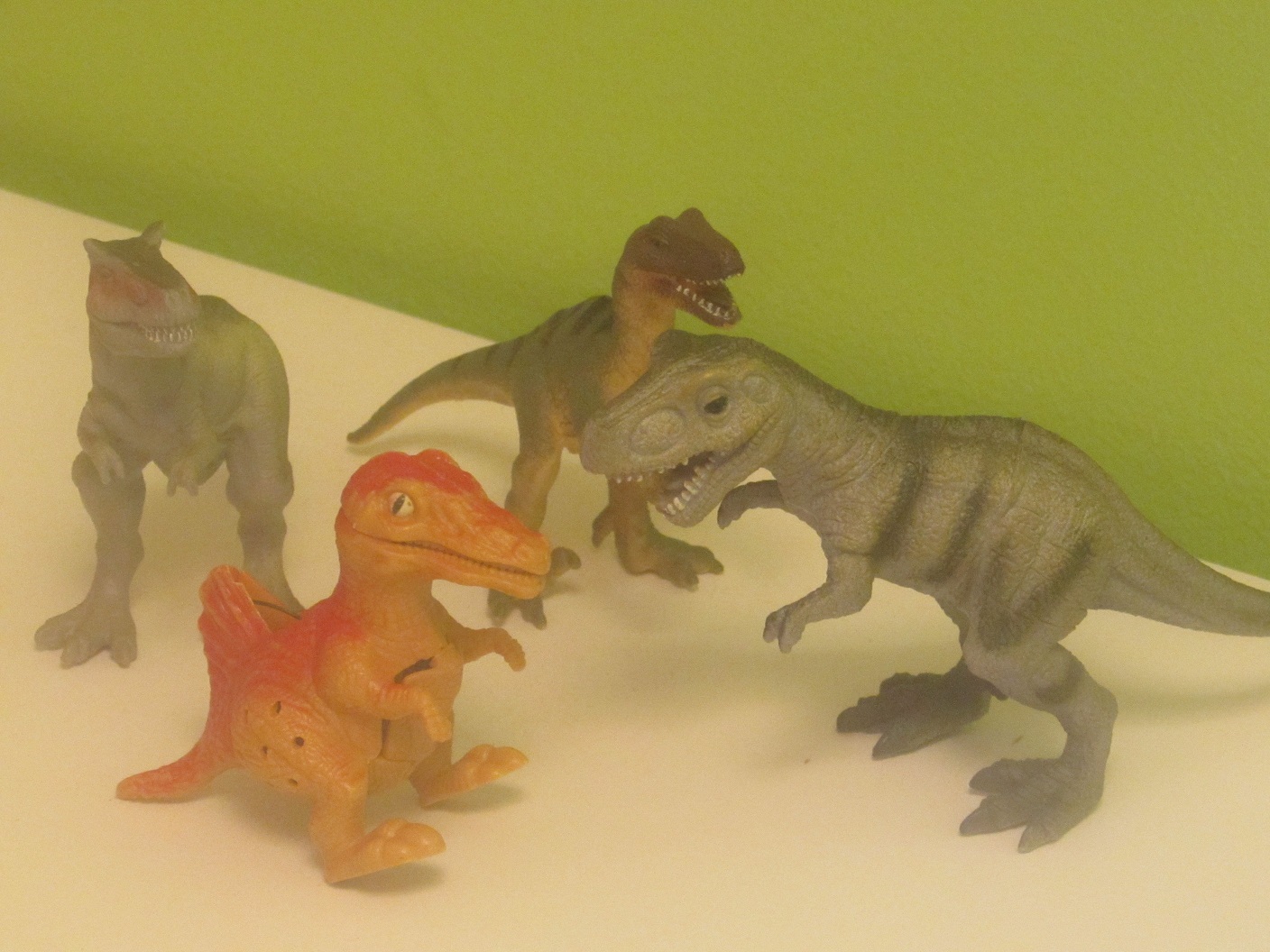 Snorkeler Tea Cosy
Posted 02/05/2017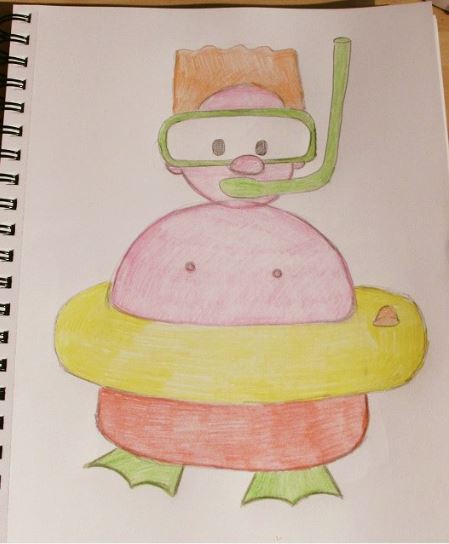 I love the slap stick sort of 'Carry On' comedy, and my sketch for a snorkeler tea cosy is very slap stick, but then again; it would be hard to make a serious looking snorkeler on a round and fat teapot.
I think the challenge for this tea cosy is the snorkel and the inflatable ring. The issues with the snorkel is the mask and the issues with the inflatable ring is I'm not yet sure how this will work with the teapots spout and handle.
I do love the idea of flippers on his feet, it makes him look like a duck. I thought I might also add a comic surprise around the back as I did with the Beach Babe tea cosy.
I have given him a mop of messy ginger hair too. When you go swimming it makes your hairstyle a bit crazy and I thought it should look a bit bonkers for this character.
Morris Dancer Tea Cosy
Posted 02/05/2017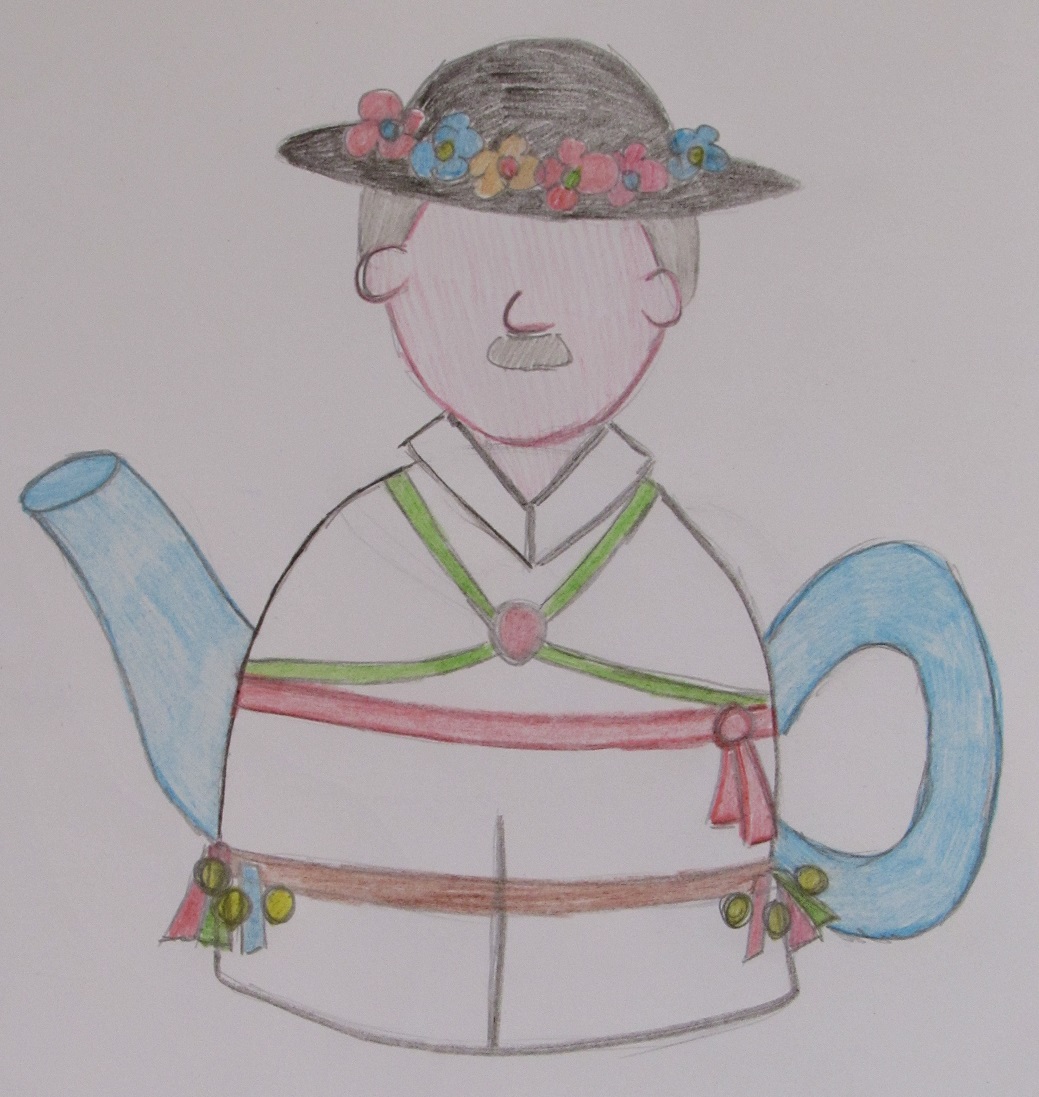 Morris dancers are so bright and cheerful, with their bells and brightly coloured ribbons. Morris dancers make me think of summer time and garden fates and our English heritage. Sadly, you don't get to see Morris dancers much these days, so I thought it would be lovely to have a Morris dancer tea cosy.
Being an old English tradition, I wanted my tea cosy to be an older gentleman with grey hair and a moustache. I want to give him real bells, I just think a jingly teapot would be rather jolly.
I do think that the Morris man will be a great yarn stash buster, because it will want lots of small amounts of bright colour yarns.
Maybe having a tea cosy in Morris costume will help to hurry the summer along? I hope so!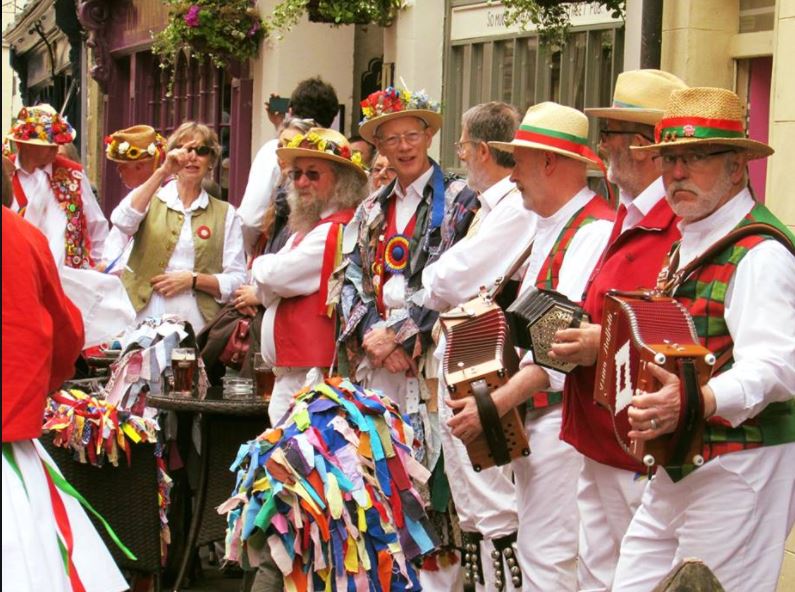 Victorian Lady Tea Cosy
Posted 14/02/2017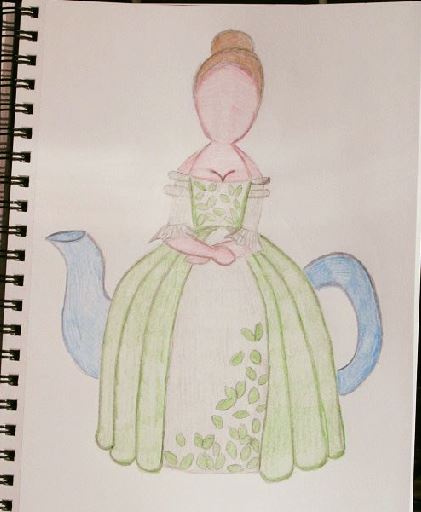 I have been commissioned to design a bespoke tea cosy of a Victorian looking lady tea cosy, wearing a very ornate dress with a 'falling leaf' pattern on the panel of the dress.
This tea cosy had a torso on top of the main cosy, my usual style is to make the main tea cosy the body, but in this case the main part of the tea cosy is dedicated to the dress.
The dress will be made in green and grey, but once the pattern is made the cosy could be knitted up in any combination of colours to suit any taste.
I watch a lot of period drama and I love history, so I'm looking forward to making this one – It will be fun!
Meerkat Tea Cosy
Posted 16/01/2017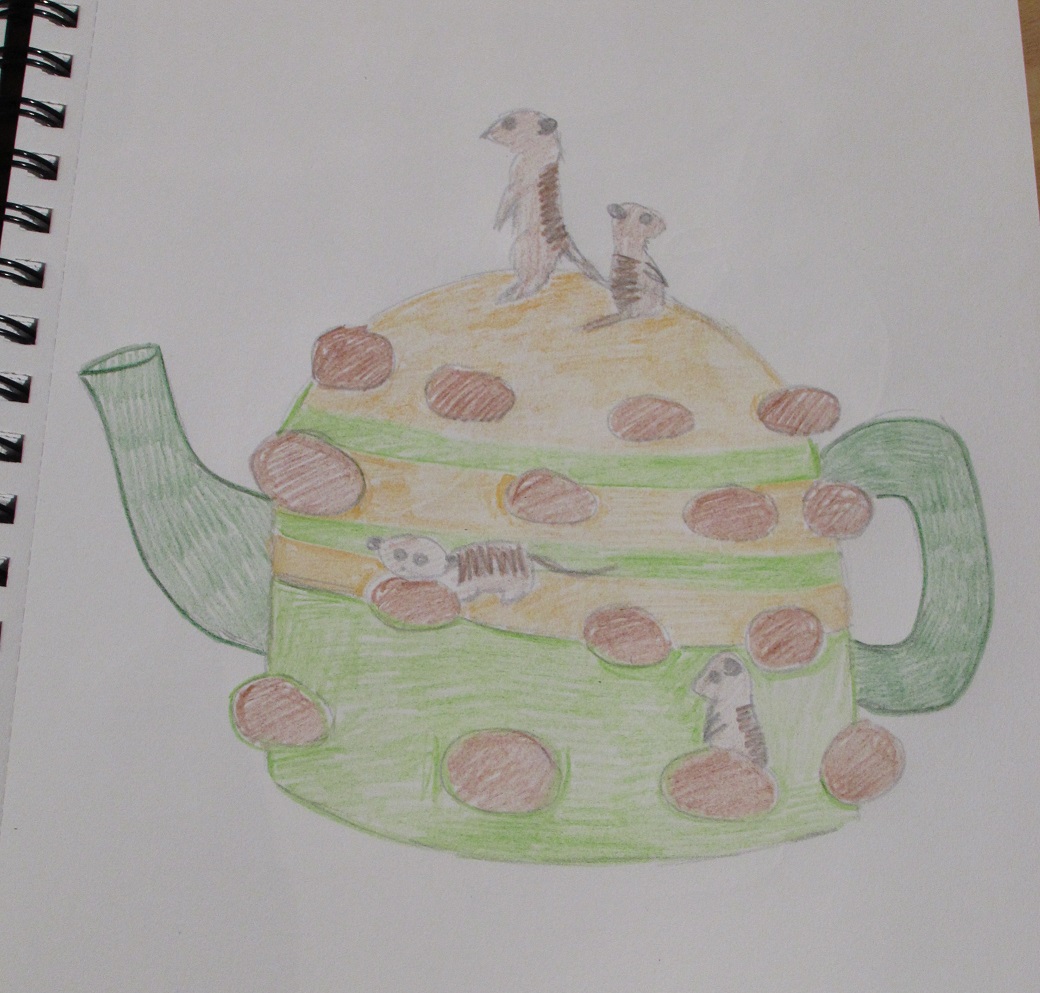 We recently visited an tourist attraction that had meerkats and as I was taking photos of them going about their business I was charmed by them, and I wanted to make a tea cosy based on my experience, but portraying the meerkats in their natural environment.
I have designed a tea cosy with sandy parts and grassy parts with boulders to make the main part of the cosy look a bit like a hill or the bound of the burrow. I'd like to use a knitted pattern on the tea cosy to give the surface a texture representative of the landscape.
I shall design little meerkats to adorn the cosy. I hope to make 3 types of meerkat, standing on lookout, sitting enjoying the view, and walking about.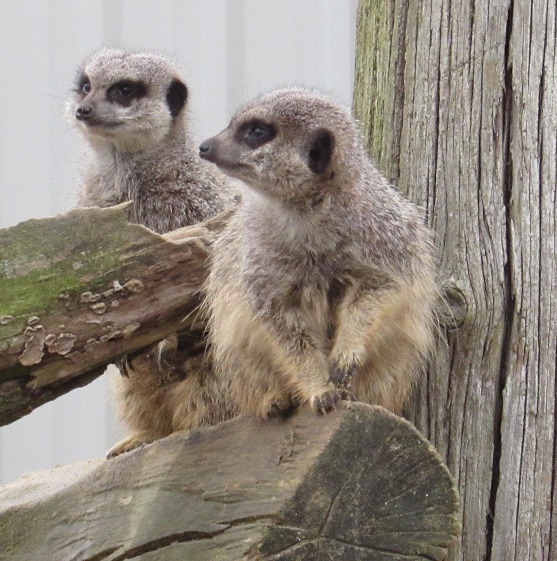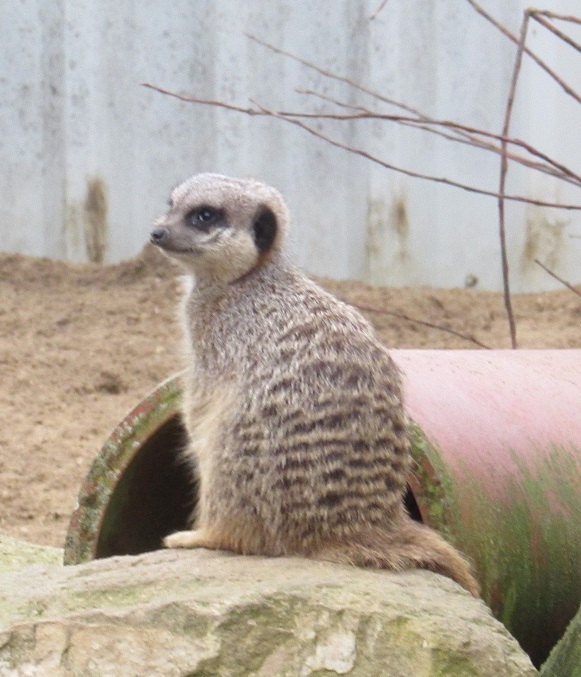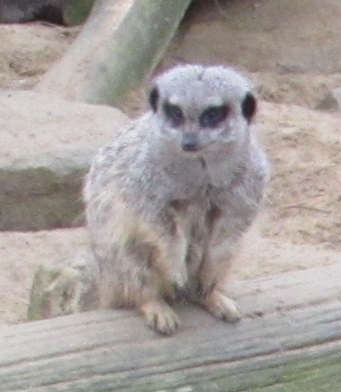 Married By Elvis in Las Vegas
Posted 13/01/2017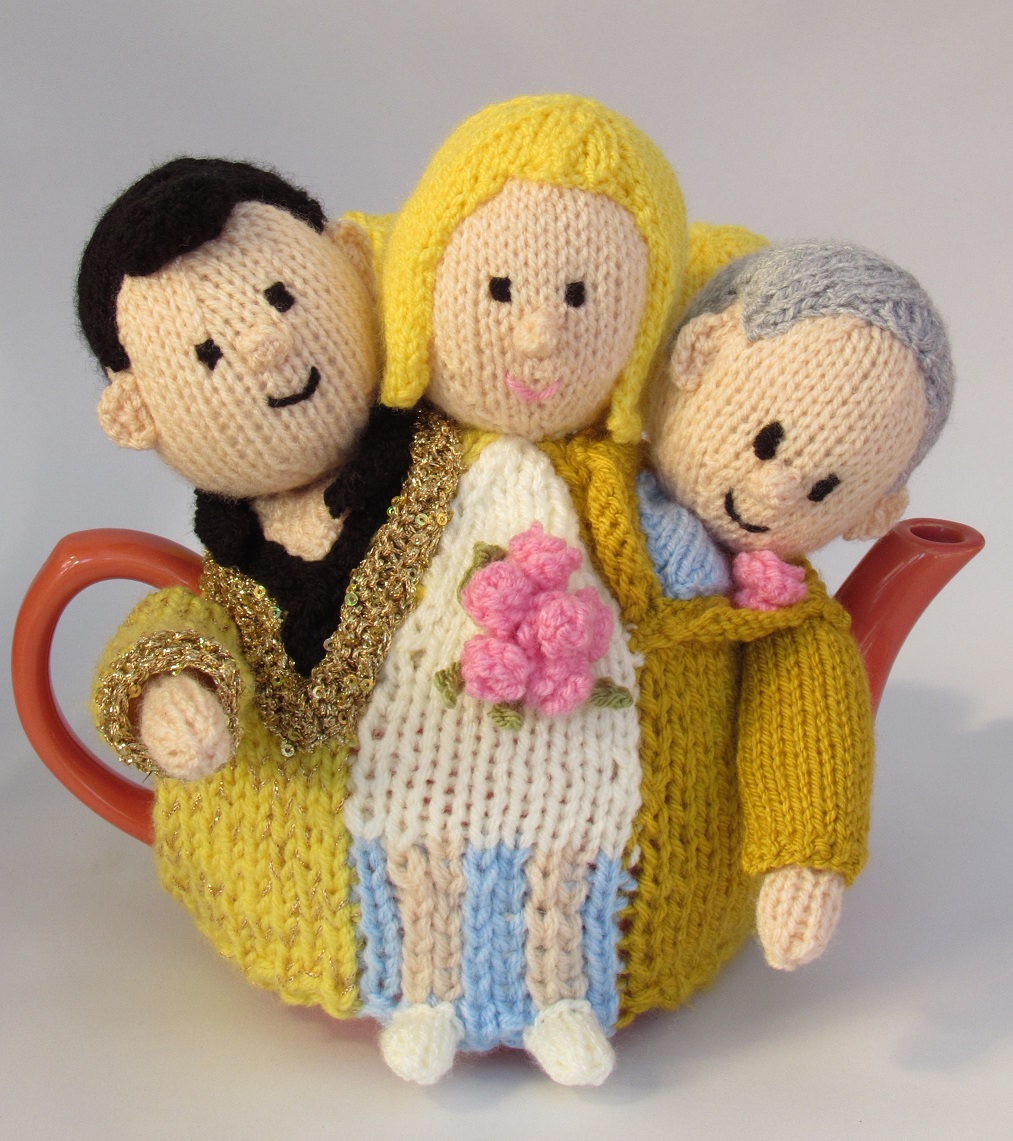 I know what you're thinking… How did I dream up this tea cosy design.
A lady wanted a bespoke tea cosy for a friend for Christmas. Her friend had recently married in Vegas and Elvis performed the ceremony. I was also asked to include the bridesmaid and page boy who were also there. Wow what a big commemorative tea cosy!
I was sent photos to work with and I designed a tea cosy of the big day.
As you can see I added glitter and sparkle to Elvis's suit and the bride had a lovely pink bouquet and the groom and pageboy had a pink rose buttonhole each.
I am test knitting the pattern and then I shall release the design as a tea cosy for anyone who wishes to knit a Married By Elvis in Las Vegas tea cosy. The knitting pattern will include the bride, the groom and Elvis in all his sparkly wonder. If you would like to know when the pattern is ready, join the TeaCosyFolk newsletter on the homepage…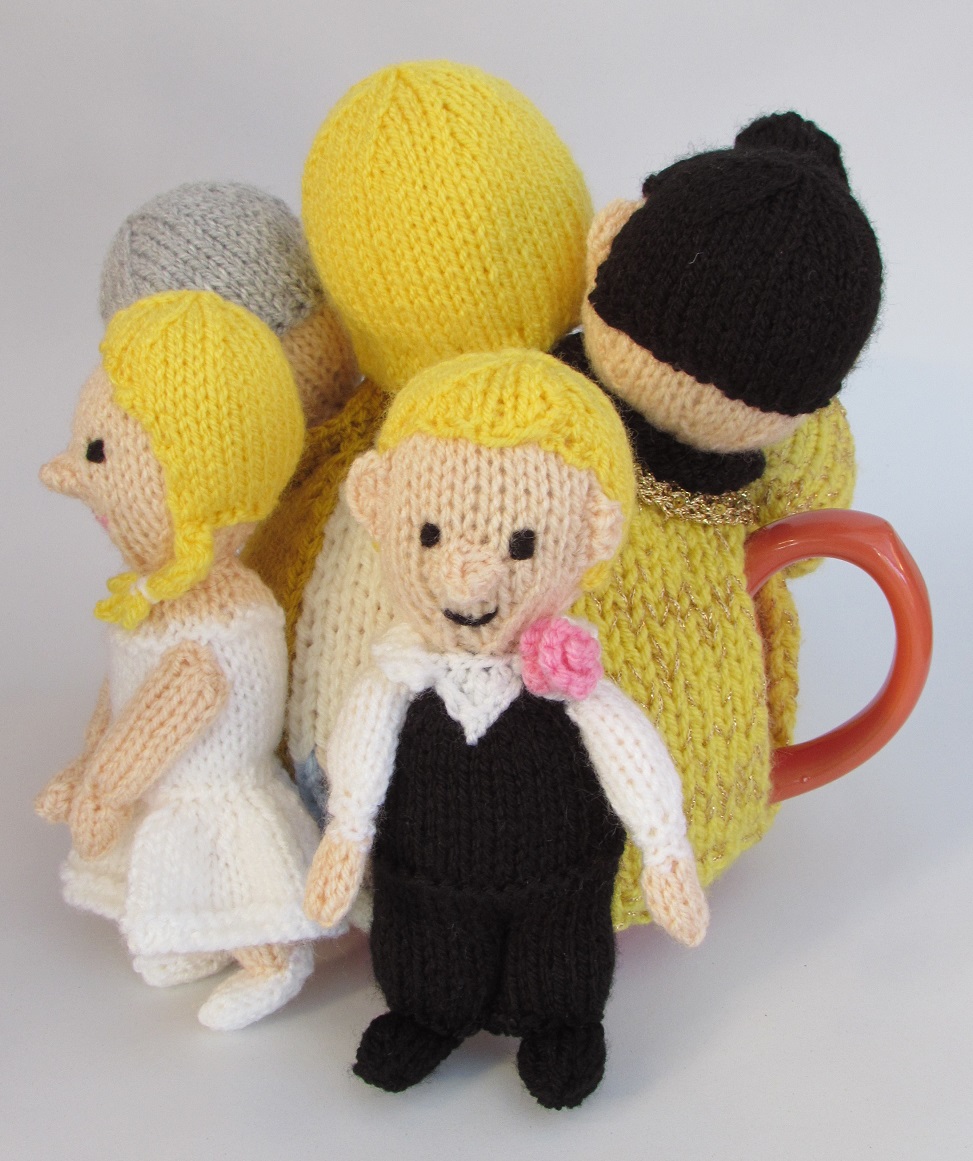 Red Panda Tea Cosy
Posted 31/12/2016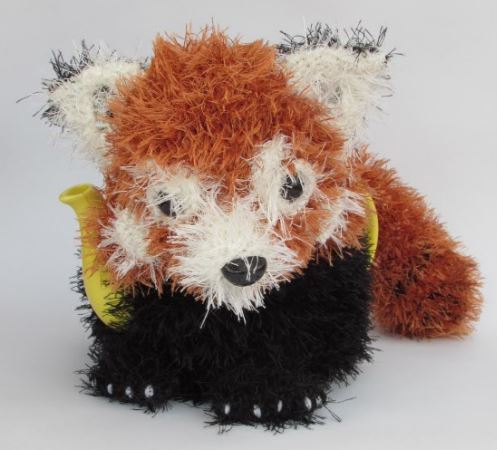 I haven't blogged for a while because I was working on bespoke tea cosies for people on the run up to Christmas. But now its New Year's Eve I can safely tell you what I have been designing.
A lady asked me to design a red panda tea cosy. An unusual request but it all became clear when she said that it was for a friend that loved tea and worked at a zoo. I was sent photos of the zoo's red pandas to model the tea cosy on.
The red pandas are very cute and look fox like. I used King Cole Moments yarn to give the fluffy effect. It is lovely designing cute animal gave him a lovely long tail that hangs quite freely so that you can curl it over the handle of the tea pot or leaving hanging down at the back.
I still must test knit the pattern, but it will be ready to buy very soon. If you would like notifying of when the Red Panda is ready, please join the TeaCosyFolk newsletter.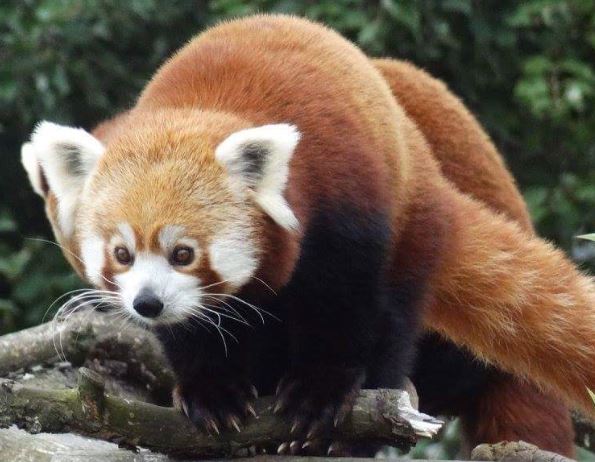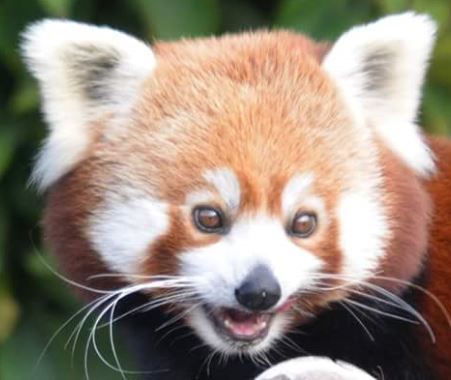 Nottingham Forest Football Supporter Tea cosy
Posted 01/11/2016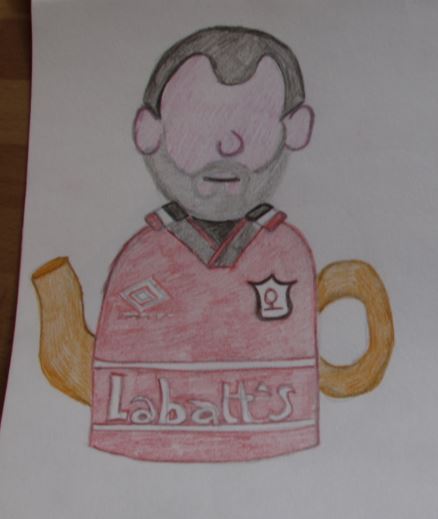 I have been asked to design a Nottingham Forest Football supporter tea cosy for a lady who wants to surprize her boyfriend.
I have a photo I'm working from to create a look alike head and I have to design and knit a Nottingham forest football shirt for the main tea cosy – Oh crikey!
Knitting is limiting and so I have said that the font of the text on the shirt will be a little off and more of an impression. Likewise, the football club's emblem and the UMBRO logo are too detailed for knitting to re-create them accurately, but I shall have a go at more simplified versions.
Well for a kick off I have all my yarn and a clear idea of my goal, so I guess I had just better start knitting!
Friesian Cow Tea Cosy
Posted 05/10/2016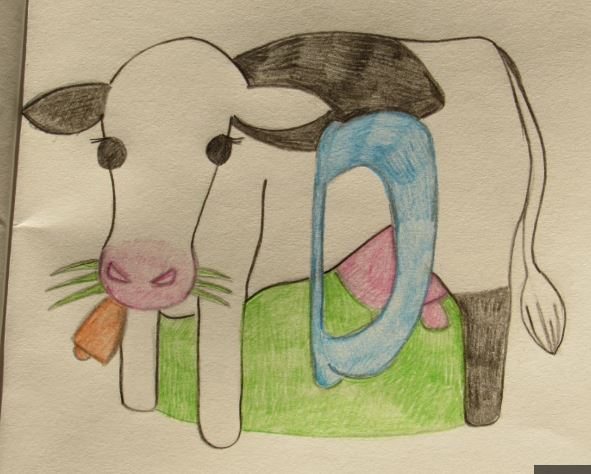 I have been commissioned by a lady in Tasmania to design a Friesian cow tea cosy, not content with just seeing them outside; she wants to bring them in doors too… in a small way. She requested that the cow has an udder, cowbell and is chewing grass.
The Friesian cow is a probably the most iconic of cattle breads with their beautiful black and white hides. The Friesian cow is also known as a dairy cow because they give a large milk yield, so it will be appropriate to give her a large udder.
I think the colours of the cow make her look very fresh and cheery and will make a lovely rural tea cosy.
Firefighter Tea Cosy
Posted 27/08/2016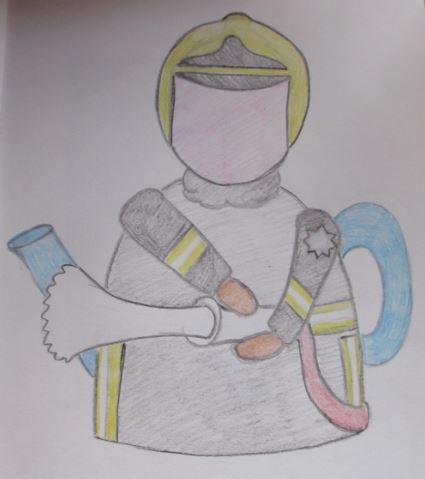 My mind is turning to my next project, and I'd like to design a fire fighter tea cosy.
I want to make a fireman because the fire brigade do such an amazing job keeping us all safe and they are a British icon. Also I can't wait to knit with florescent wool. That's right, you can buy psychedelic wool - King Cole Big Value Neon DK. Growing up in the 80's when florescent was all the rage, you can see why I'm excited at the prospect of knitting with it.
I also think that the water gushing out of the hose is going to be a challenge to design, but will make the tea cosy.
I have been researching on Google and found a badge on the left arm of some fire fighters, so thought I should include that and I shall give him a pair of orange gloves, I think the additional colour will perk the pallet up.
Beekeeper Tea Cosy
Posted 24/08/2016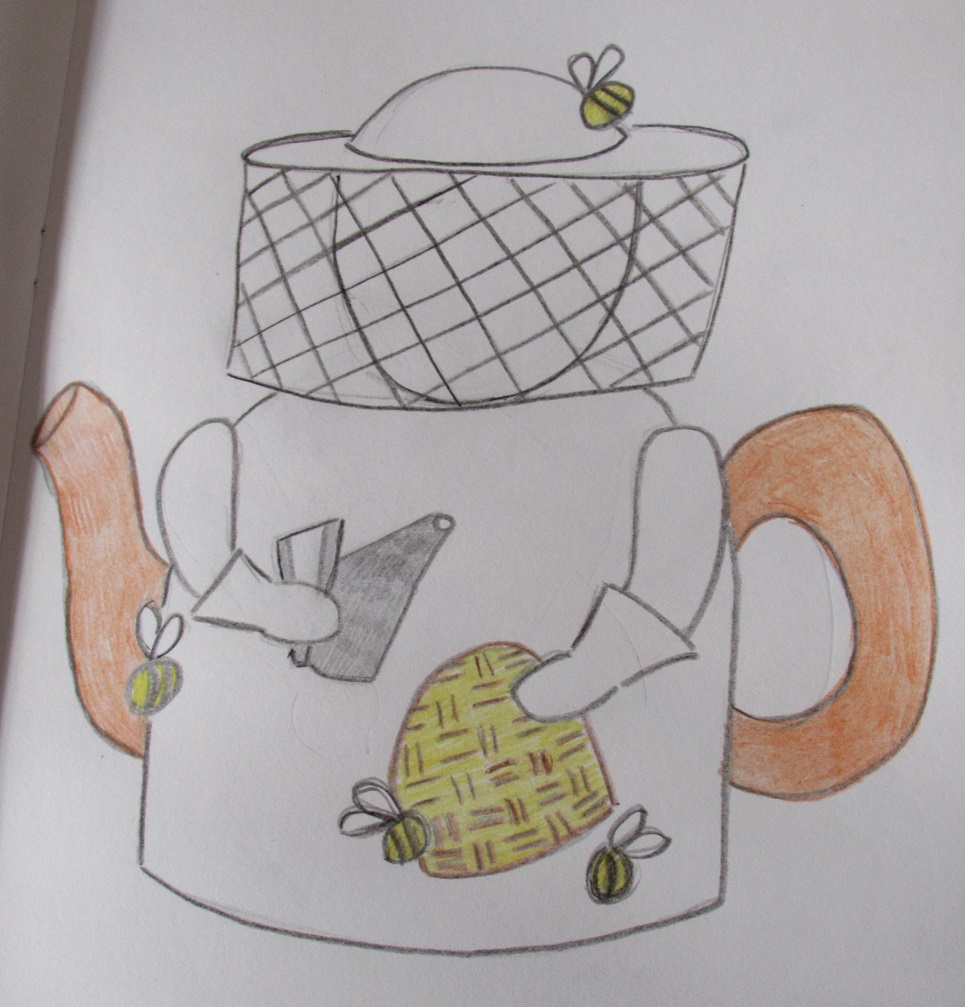 Following an online poll; I am designing a Beekeeper tea cosy.
The poll asked people to choose from 5 possibilities which tea cosy I should design next, and as you can see, the bee keeper was the winner. I am secretly pleased, because I rather fancied making a bee keeper and they are rather summery so a perfect tea cosy for the summer.
The beekeeper will have a traditional style especially around the hat. The net on the hat will be moveable so that it can be worn on top of the hat to reveal the face. I thought I'd make her a lady bee keeper because a friend has recently started bee keeping this year, so thought I'd base it on her.
The tea cosy will be holding a skep and she will also have a smoker with her, after all she doesn't want to get stung. I think the smoke will be the biggest challenge.
Of course there will also be lots of bees buzzing about and fussing around the skep. I think the bees and the traditional bee keeper's hat will make this tea cosy really charming and perfect for breakfast tea with honey on toast.
King Cole Tinsel Christmas Tea Cosies
Posted 02/08/2016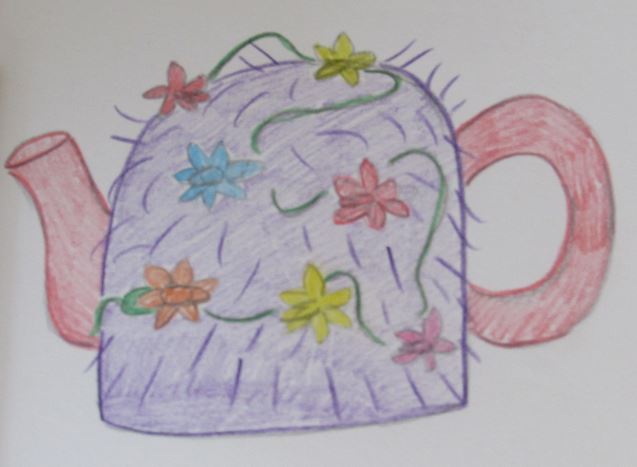 Having discovered King Cole Tinsel chunky yarn I wanted to make a Christmas tea cosy.
I was inspired by Christmas trimmings. You know in the middle of December when you go up into the loft to get the Christmas decorations down so that you can decorate the house? Don't you always find that the tinsel and fairy lights have got knotted up together? This is what I wanted to create as a contemporary Christmas tea cosy design.
I love our decorations; some are very old and very precious and remind me of bygone Christmases. I particularly love vintage fairy light, because they transport me back to my childhood in the 70's. The little lantern fairy lights remind me of my primary school and they huge Christmas trees in the main hall. And flower like fairy lights remind me of the small silver Christmas tree we had of kids that sat proud of place on top of the telly. I used to like the pink and turquoise lights the best.
So my new Christmas tea cosy design will be a knot of Christmas tinsel and fairy lights.
I have had a few requests for large tea cosy knitting patterns to fit a 10 cup sized teapot, so I thought I'd make this tea cosy in three sizes, small, medium and large; perfect sizes to knit for your own tea cosy in any size and perfect for gift giving too.
Beach Babe Tea Cosy
Posted 19/07/2016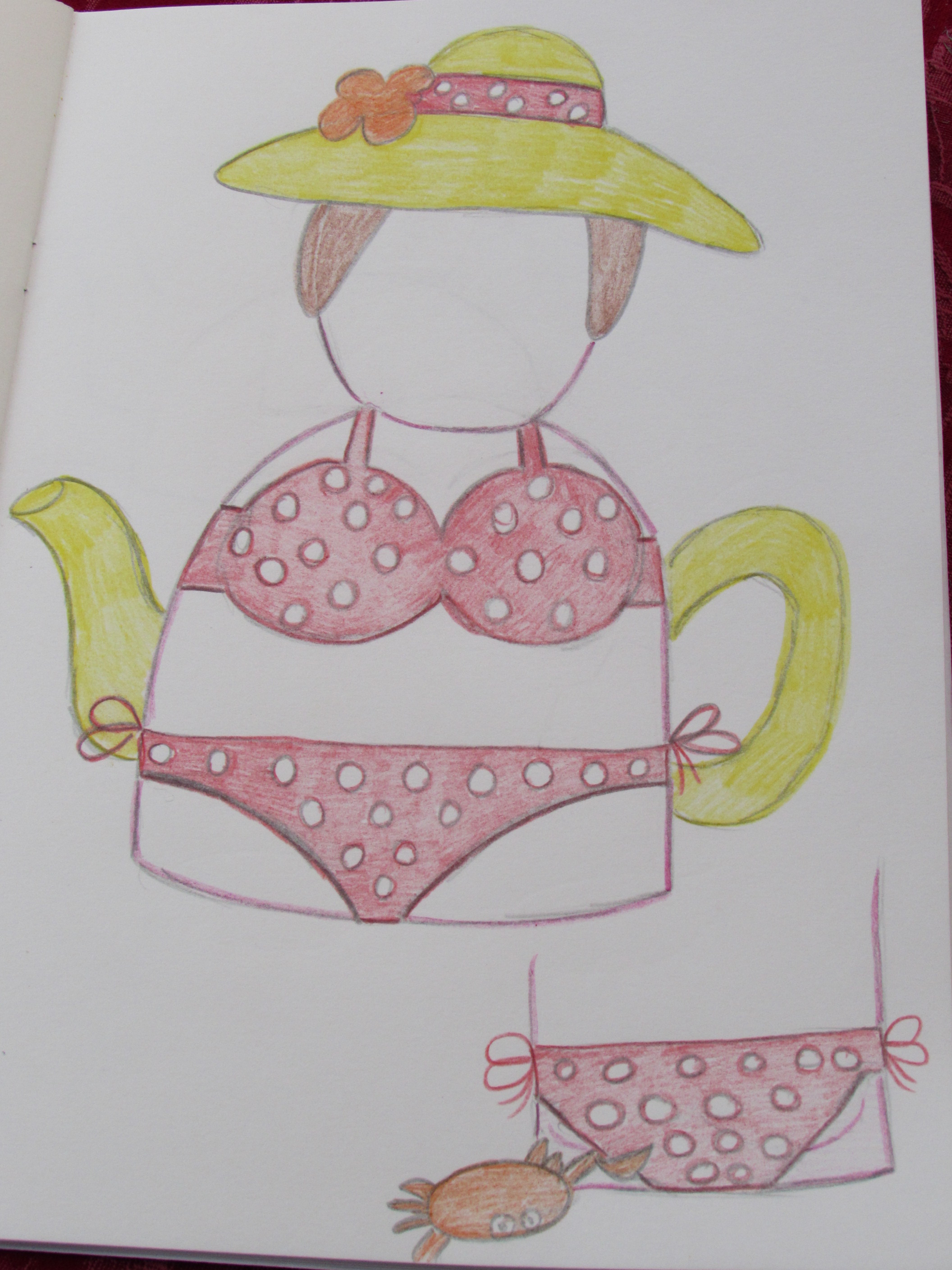 The beach babe tea cosy is a commissioned design that features a voluptuous lady in her red polka dot bikini, with a big sun hat on.
I felt inspired by old saucy postcards where the larger ladies were always wearing skimpy swimming costumes and they looked very round everywhere, so I designed her with big bangers and bulging bottom cheeks.
Sticking with the old postcards, something funny and visual was always happening, so I have designed the beach babe with a crab gripping on to the knicker of her bikini as though it grabbed her when she was swimming, for a bit of comic effect.
The beach babe tea cosy will be perfect for summer tea times.
On a visit to Weymouth I took a few photos of the kinds of inspiration I had in mind when designing the beach babe tea cosy.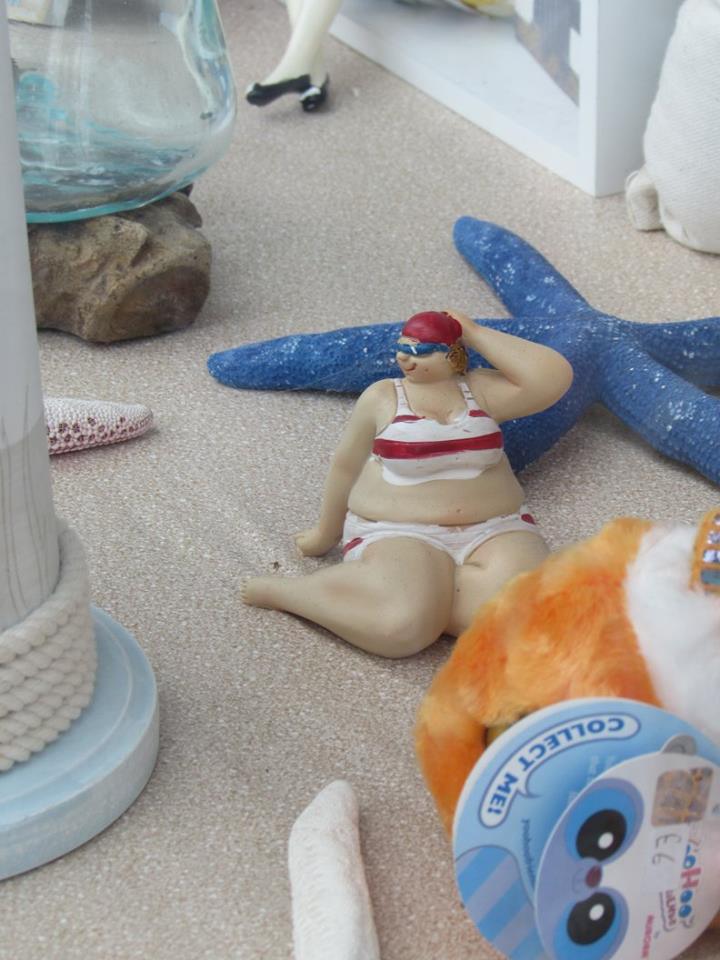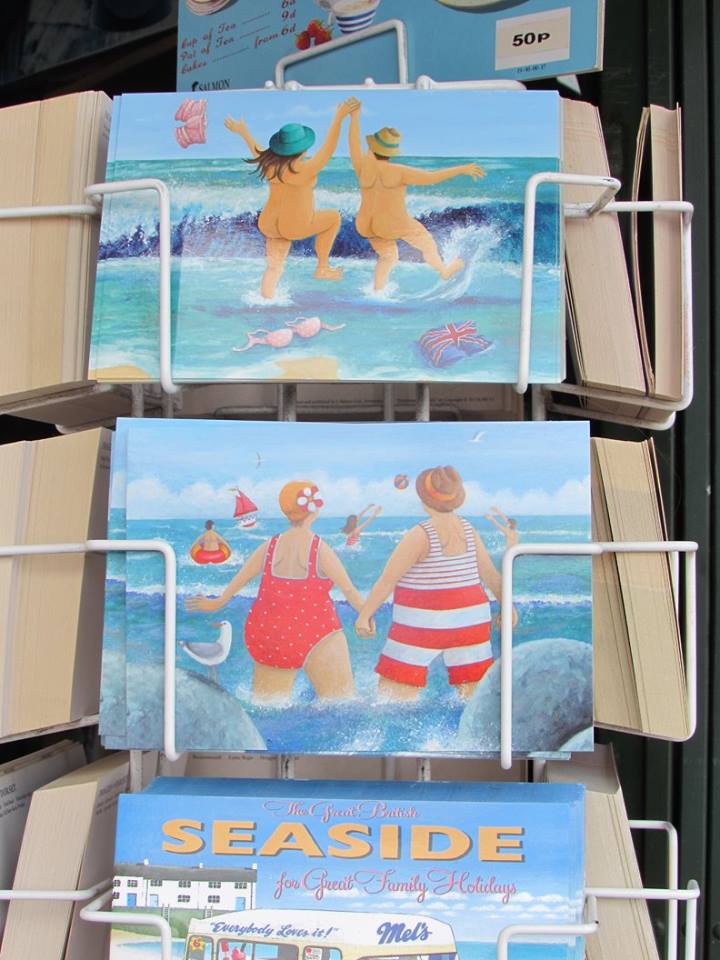 King Cole Tinsel Tea Cosies
Posted 09/07/2016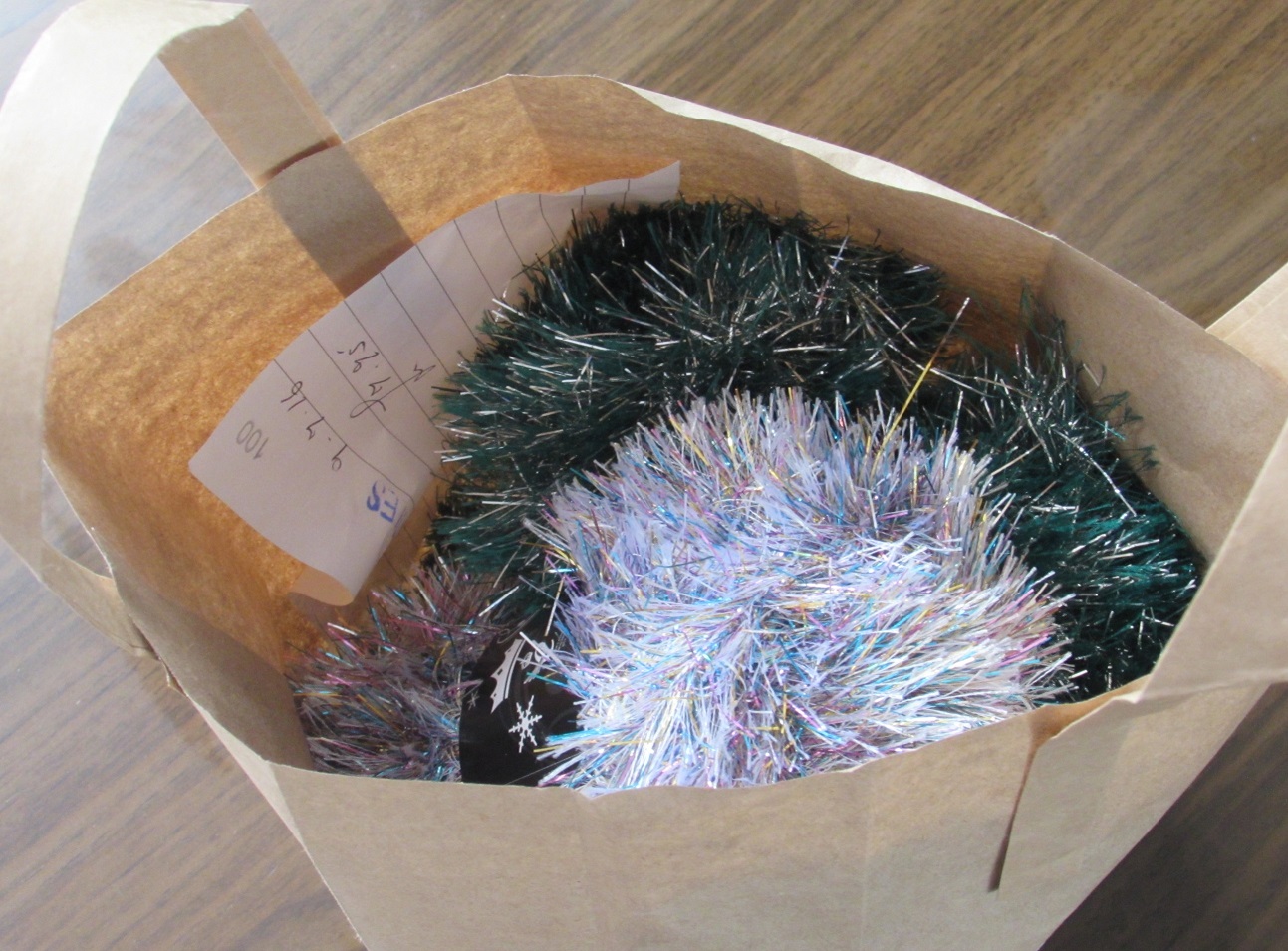 Today I have been to a lovely little wool shop in Devizes with a wonderful knitted display in the window and I bought a couple of balls of King Cole Tinsel - My mind is turning to Christmas tea cosy designs.
I can't tell you how much more exciting this wool looked in person in the shop in a lovely wicker basket; It was difficult choosing colours to choose. Internet photos do not do this yarn justice.
The Argent shade (the lighter one) Looks like a 70's Christmas; that's why I chose it. I do love the sparkliness of King Cole tinsel, but must knit other things first! Have a work in progress and another cosy I want to knit before I get carried away with Christmas tea cosy designs.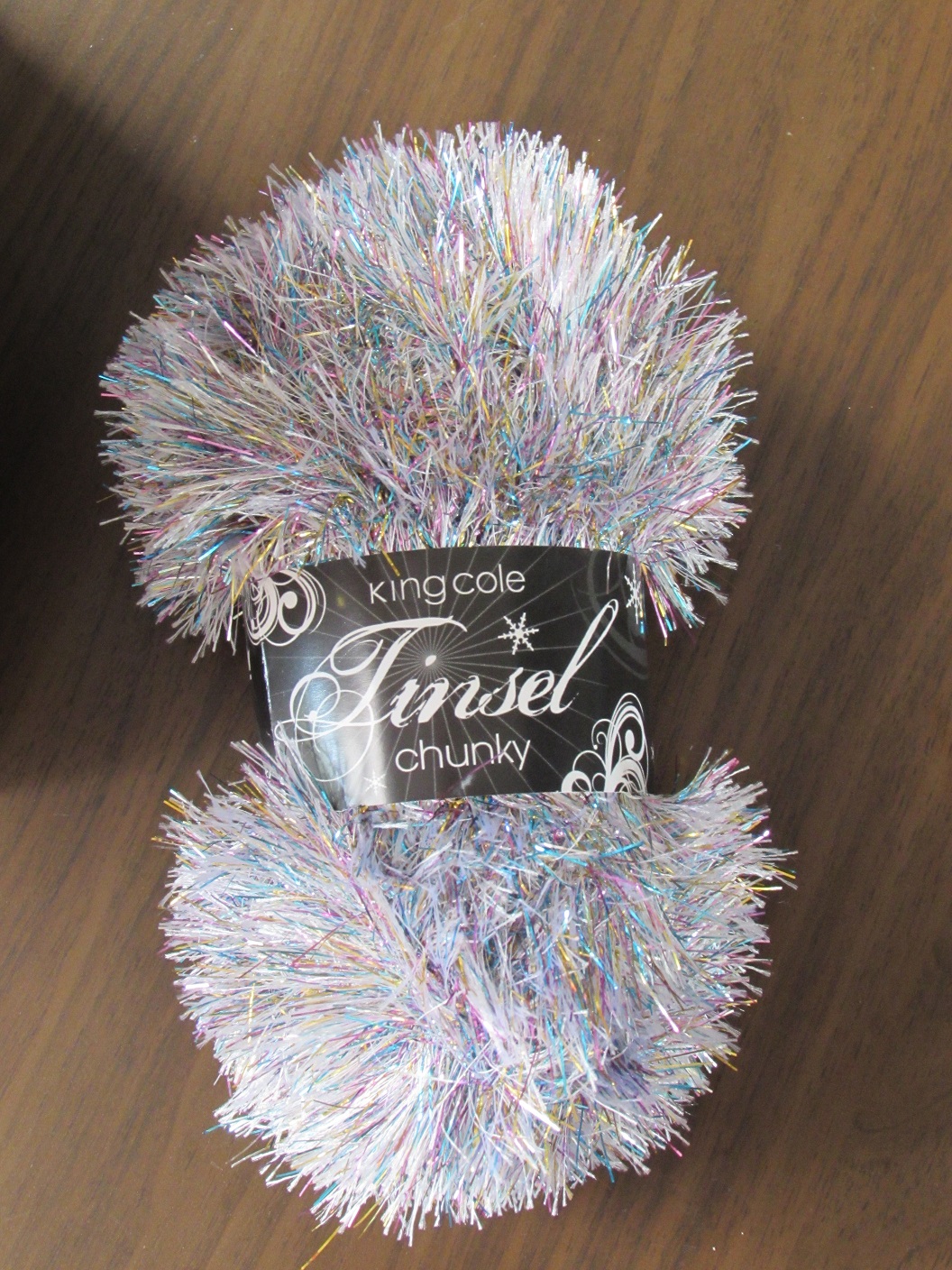 British Bulldog Tea Cosy
Posted 19/06/2016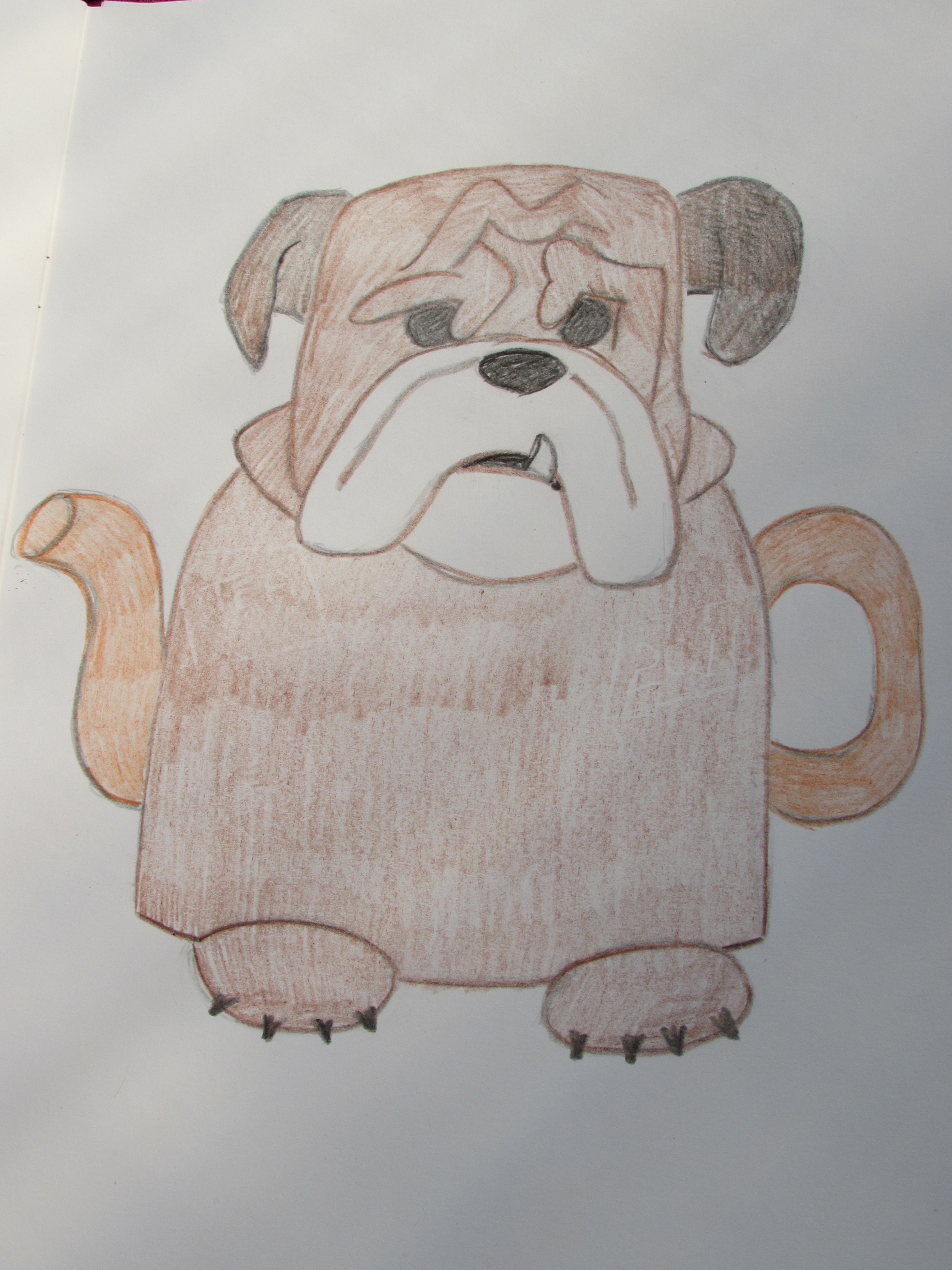 I have been commissioned to design a British Bulldog tea cosy based on a beloved pet - Big Norm (see photos) Cute isn't he? I get a feeling that he likes cakes and hats.
It's rather a challenging project to knit a bulldog with their wrinkles and I'm looking forward to it. I have also been asked to include his snaggle tooth.
Animal tea cosies are always a joy to design and look so cute on the teapot, and who would steal the last cupper in the pot with Big Norm guarding it?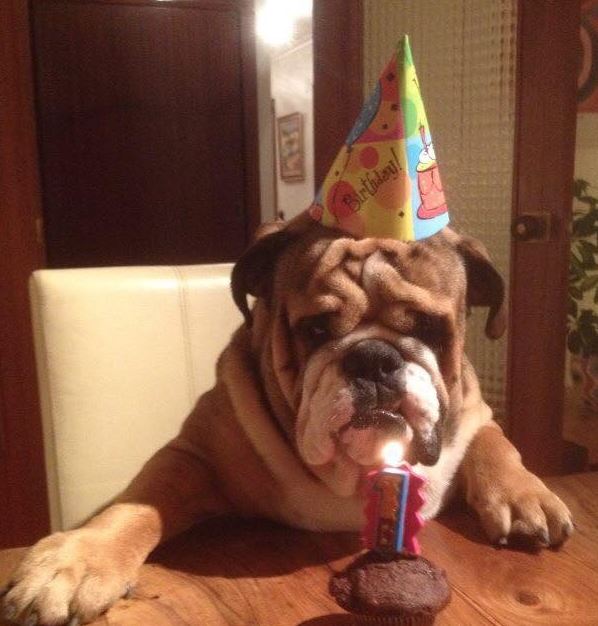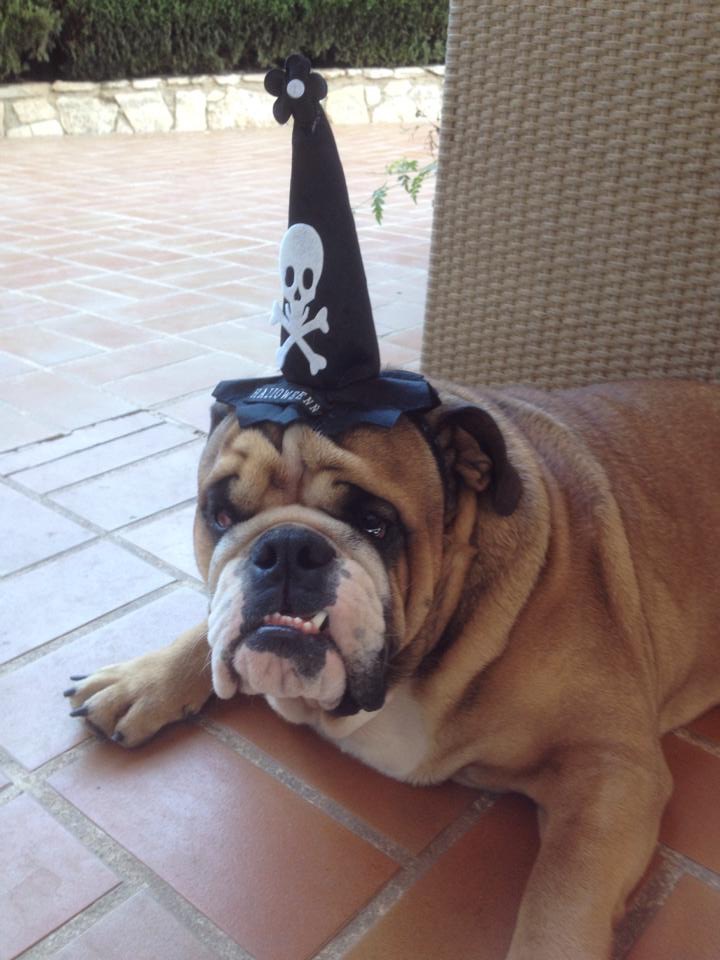 Royal Navy Sailor Tea Cosy
Posted 15/06/2016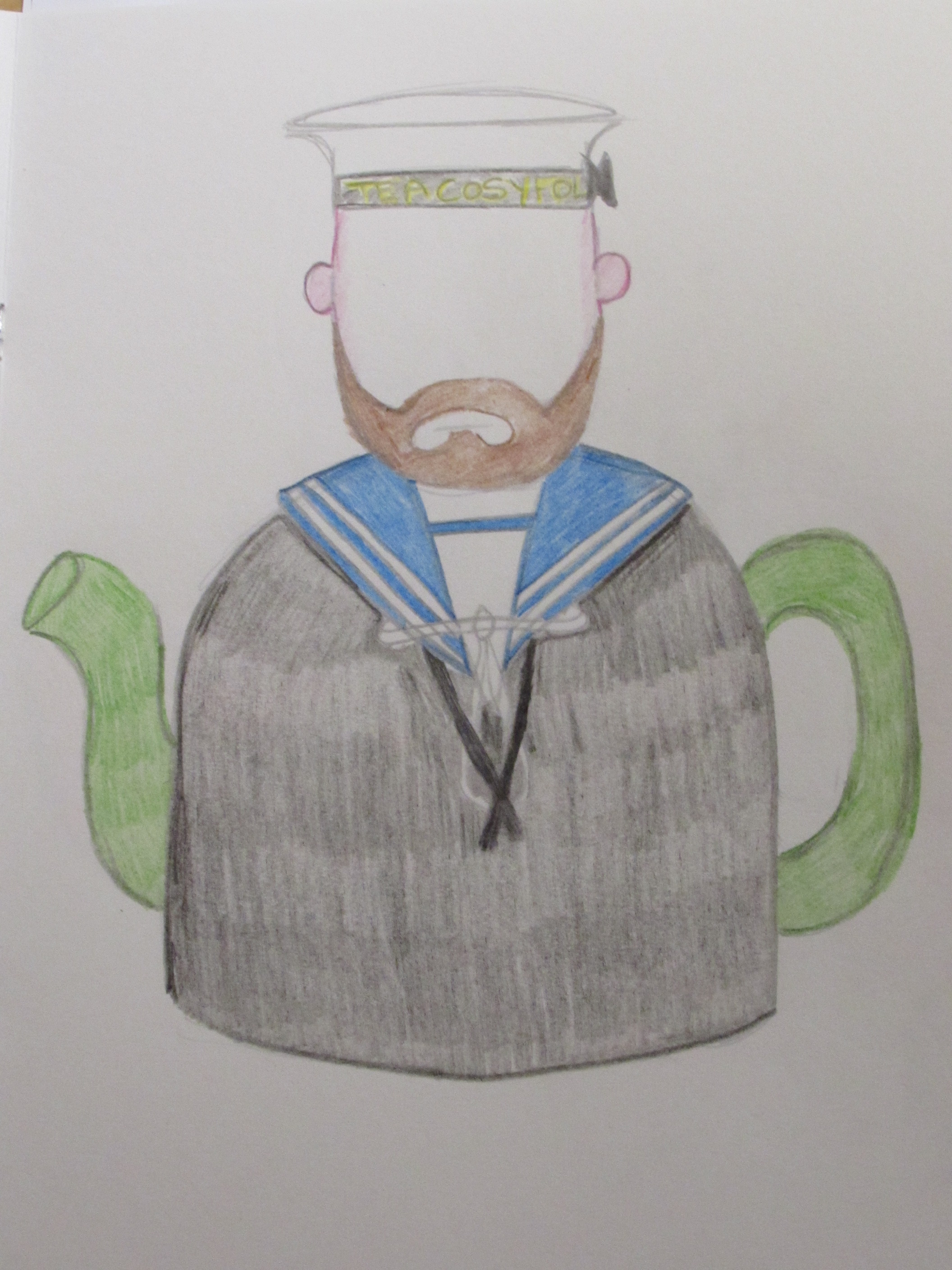 I thought I'd expand my armed forces range of tea cosies. Having already designed a soldier the cosy; I thought it was now its time for a Royal Navy Sailor tea cosy.
The design is based on an actual sailor, hence the facial hair.
The main cosy will be black, which a blue collar at the back. The hat is black and white and the tally will read 'Tea Time' on my tea cosy, but for people knitting their own, they could add they name of a ship.
The tea cosy will be recognisable as a Royal Navy Sailor uniform, but I have had to simplify it for the knitting needles.
Get ready shipmates for the launch of the Royal Navy Sailor tea cosy!
Glastonbury Festival Tea Cosy
Posted 01/06/2016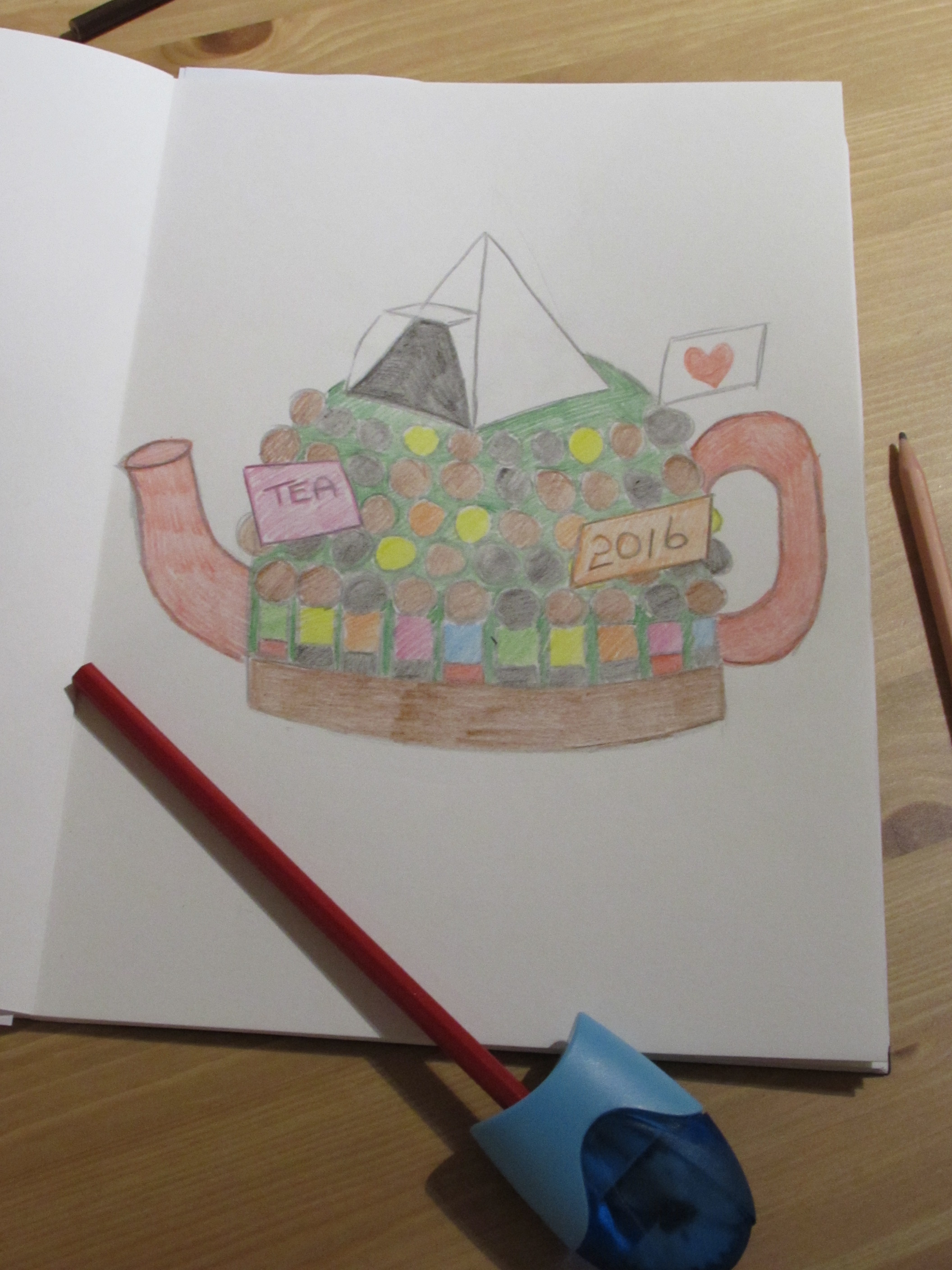 This tea cosy design is based on the Glastonbury festival, mud, crowds and the pyramid stage.
The stage is on the top of the tea cosy; all around are people, but really you can only see their heads.
The first row of people are wearing wellington boots and are stood very close to the mud what the Glastonbury Festival classically suffers from every year.
Some members of the crowds have flags, I thought it would be nice to have a flag with the year on - I thought it could be the year of attendance.
The tea cosy would be a lovely reminder of the festival for anyone who has ever been, or went this year. Thought it would also be lovely for people who intend to go one year, or who missed out on tickets.
It will be a lovely summer feeling tea cosy for music and tea lovers.
Puffin Tea Cosy
Posted 19/05/2016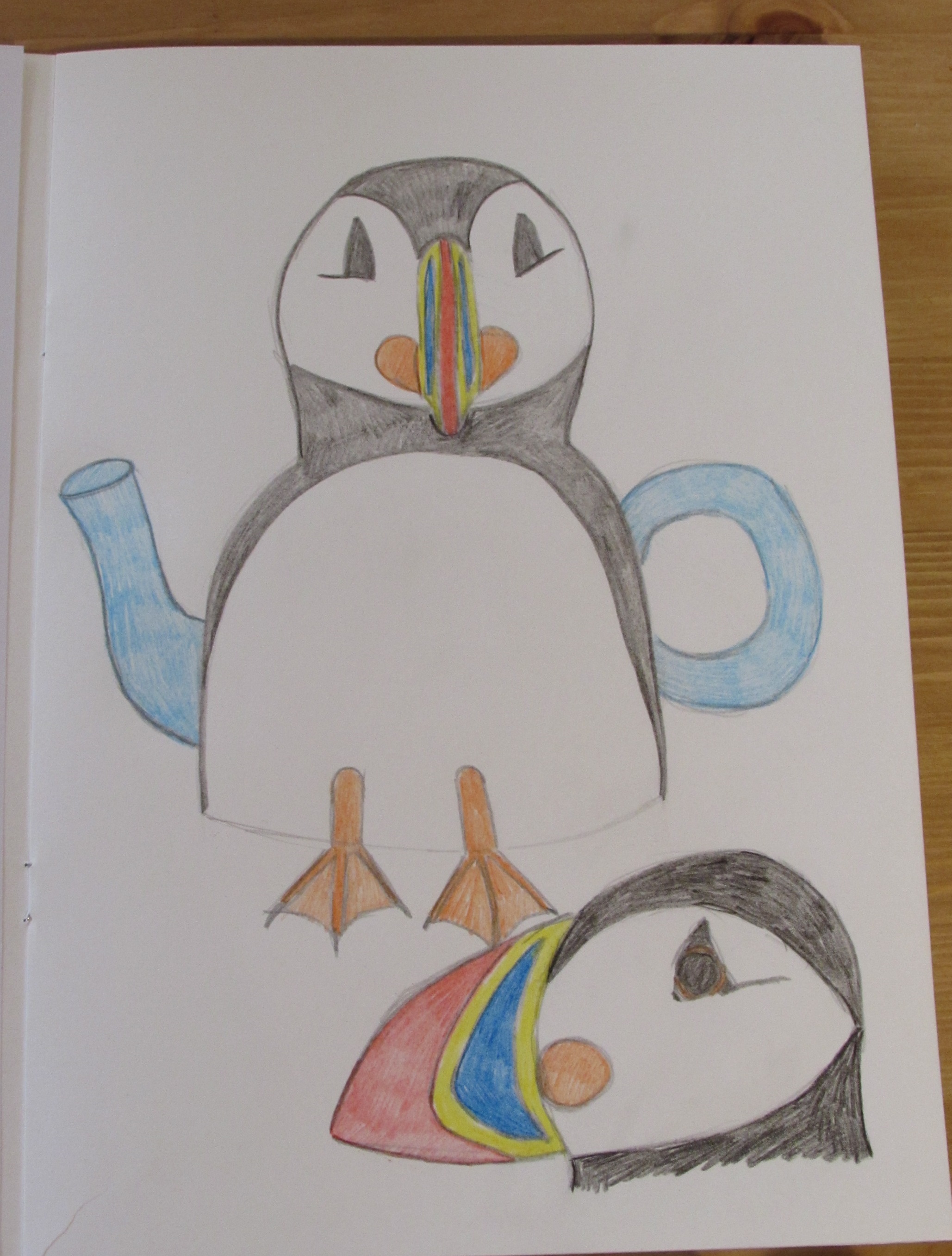 I'm designing a puffin tea cosy for the pint sized tea cosy range. With Puffins only being about 18cms high, they are perfect for the small sized tea cosy.
I wish I had, but I have never seen a real puffin. When it's the mating season the males look so beautiful and colourful, and this is what I'd like to create as a tea cosy.
Puffins are so cute, and always look sad with triangular little eyes and sad animals are always endearing.
The design includes the brightly coloured beak. I only had a bright blue in my pencils, but I think the Stylecraft Special DK Midnight blue will be a better shade for the beak.
I'd also like to include his bright orange feet; I love how the structure of the foot stands proud of the webbed part.
Around the back I shall also have to give him a tail, short and stubby.
Puffins make me think of the sea and the coastline of the UK, and that makes them feel a bit summery. They also make me think of light houses, so would make a perfect tea cosy for a cottage by the sea or cliffs. A puffin tea cosy would also make a great tea cosy for avid readers of puffin book.
Catholic Nun Tea Cosy
Posted 30/04/2016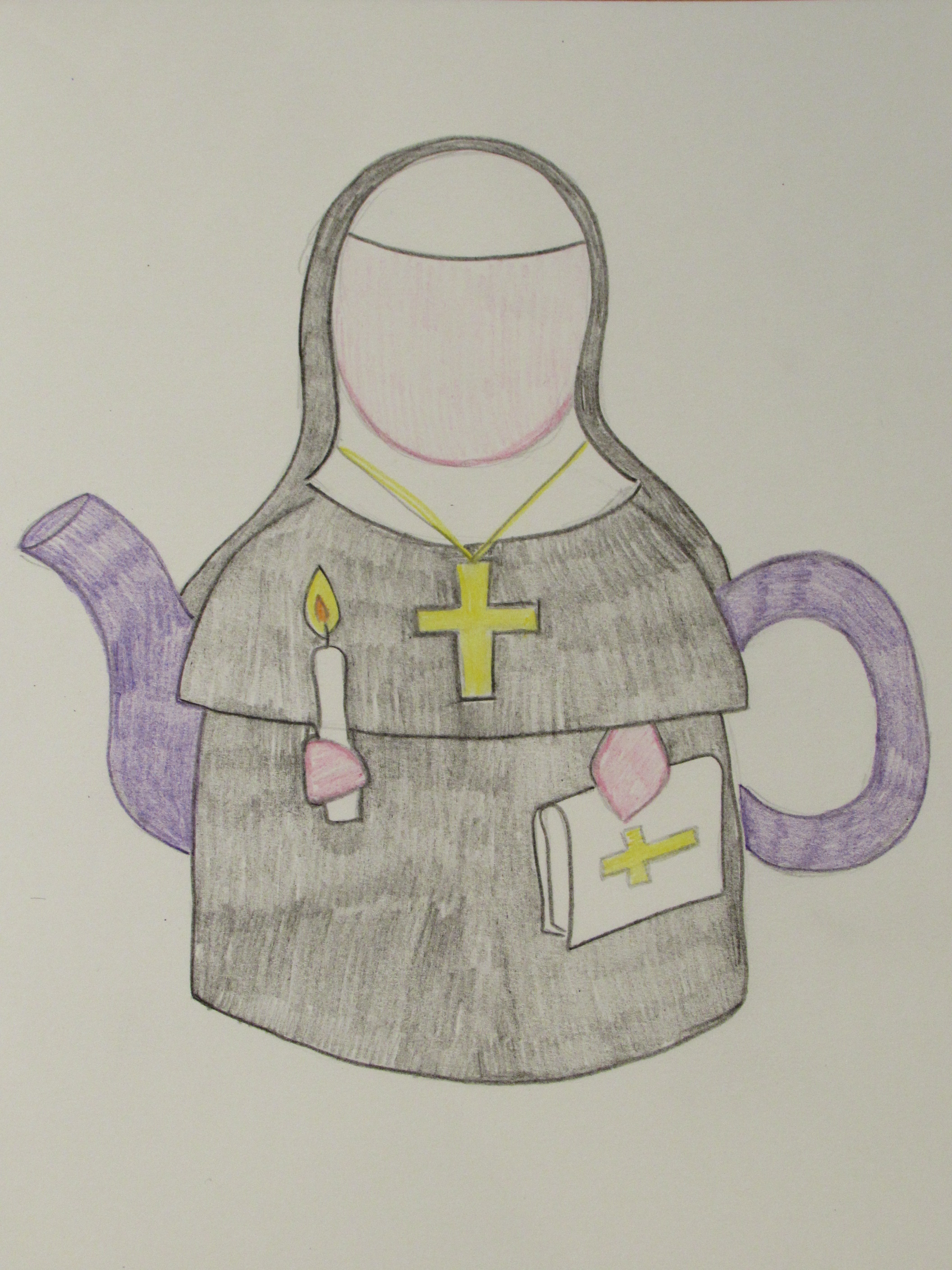 The Religious Tea Cosy Folk collection is growing - is this going to be a habbit?
I was asked to design a knitting pattern for a catholic nun tea cosy. The lady commisioning the pattern requested that she was wearing a black habbit and a veil with a white under hood. Other than that she was happy for me to inturpret the desgin how I liked.
I thought a nun would have a crucifix close to her heart, so I have given her a crucifix necklace. In her right hand I have designed ina bible and in the left a candle, representing the light of Christ.
I'm really looking forward to designing the Nun tea cosy. I'm aware that there are other nun tea cosy patterns available, so I want my nun to stand apart from these and bring something new to the order.
Canal Boat Roses Tea Cosy
Posted 13/04/2016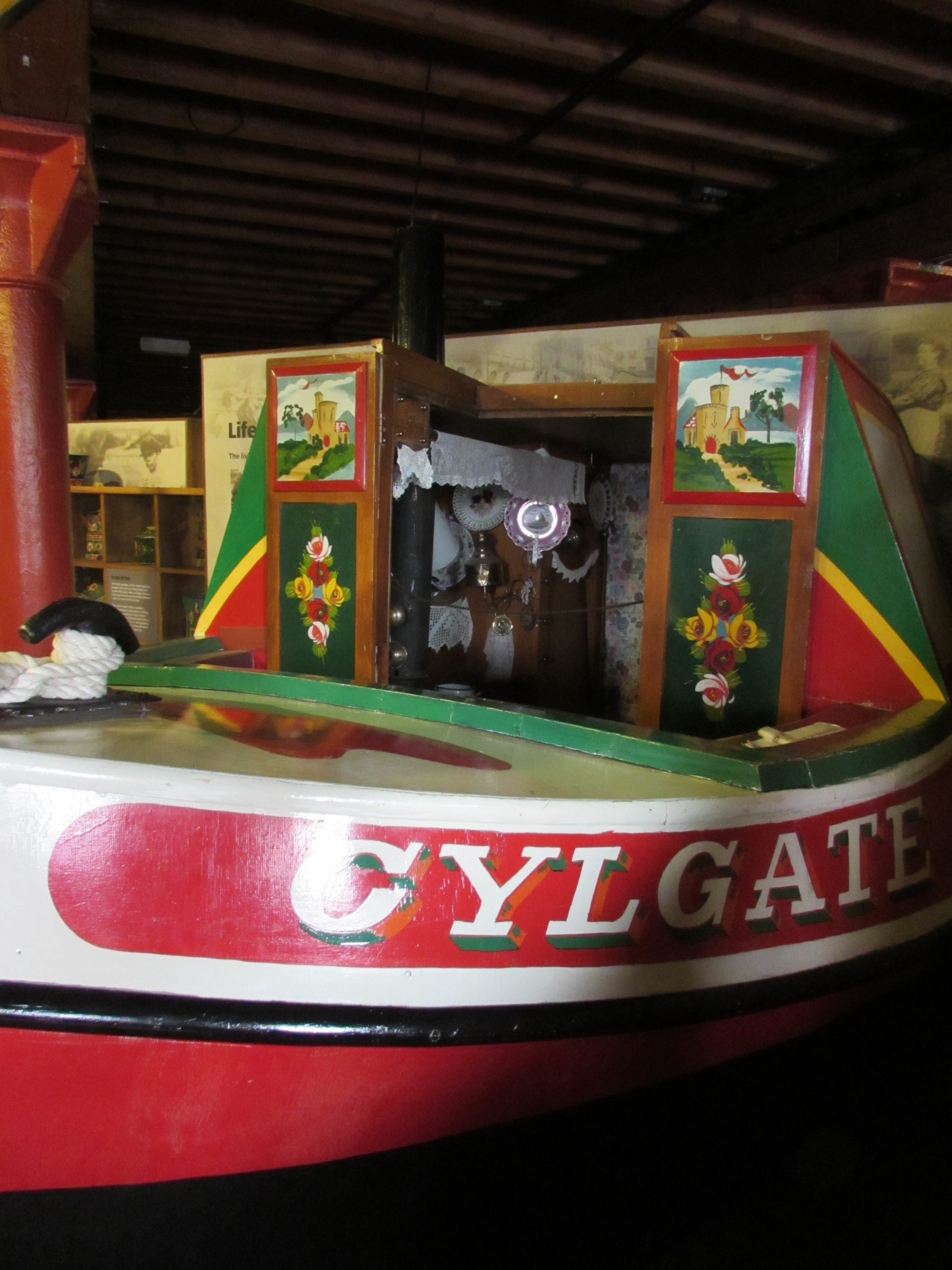 I love brightly coloured narrow boats and that nostalgia of traditionally painted roses and castles, they look so quaint. We often go for walks along the canal and see the beautiful barges.
I had designed a narrow boat tea cosy a couple of years ago. But with a project on such a small scale I wasn't able to get the detail of roses and castles on the tea cosy.
After a recent and inspirational visit to the Gloucester Waterways Museum, which is where my photos were taken, I planned to design a canal boat roses tea cosy knitting in the design of roses and daisies and sticking to a traditional canal boat pallet of colours.
Having had a fair few narrow boat holidays, I know that in a narrow boat kitchen space and storage are like hens teeth. So practically, my tea cosy needed a handy storing solution - a loop to hang it up.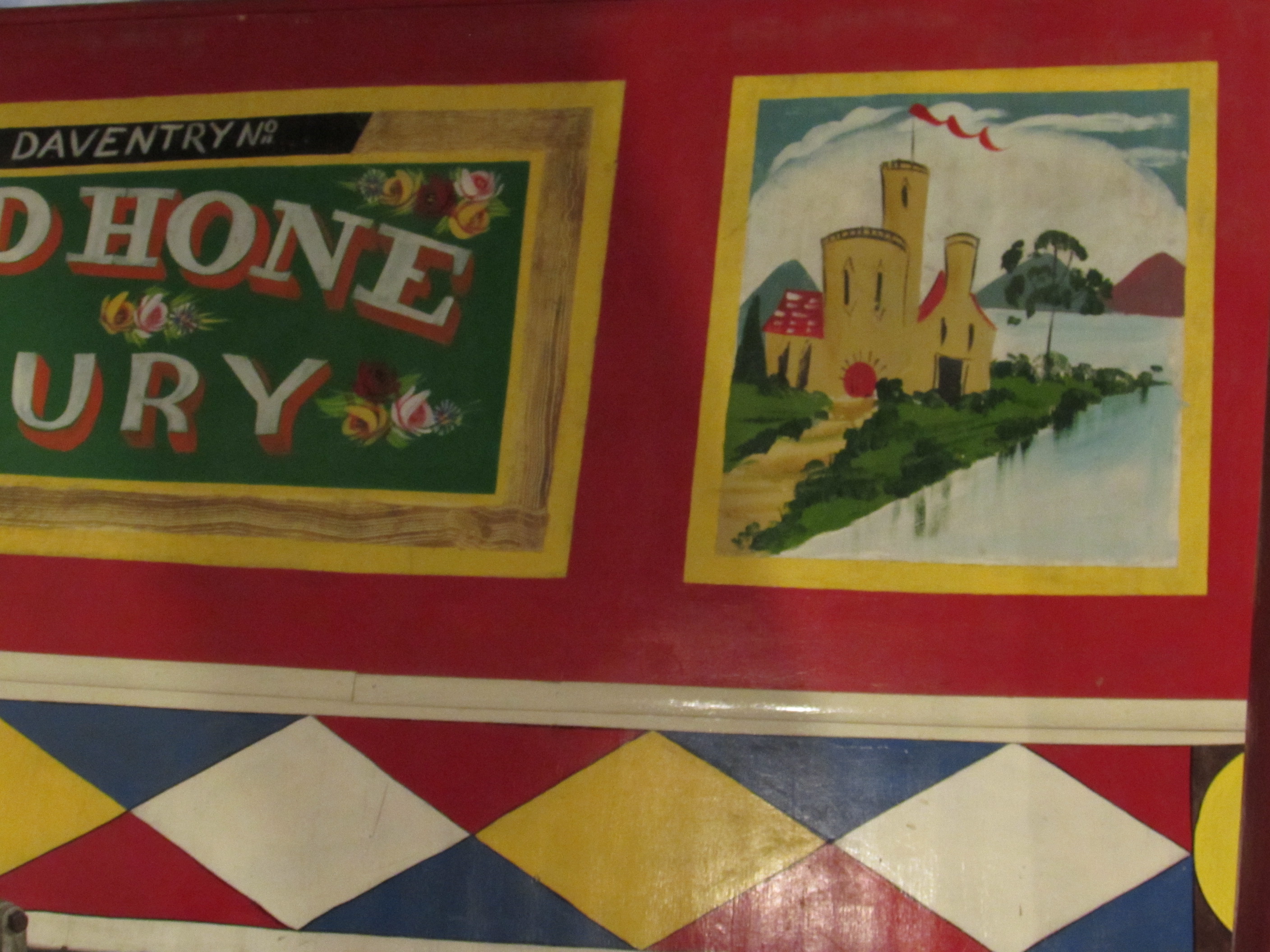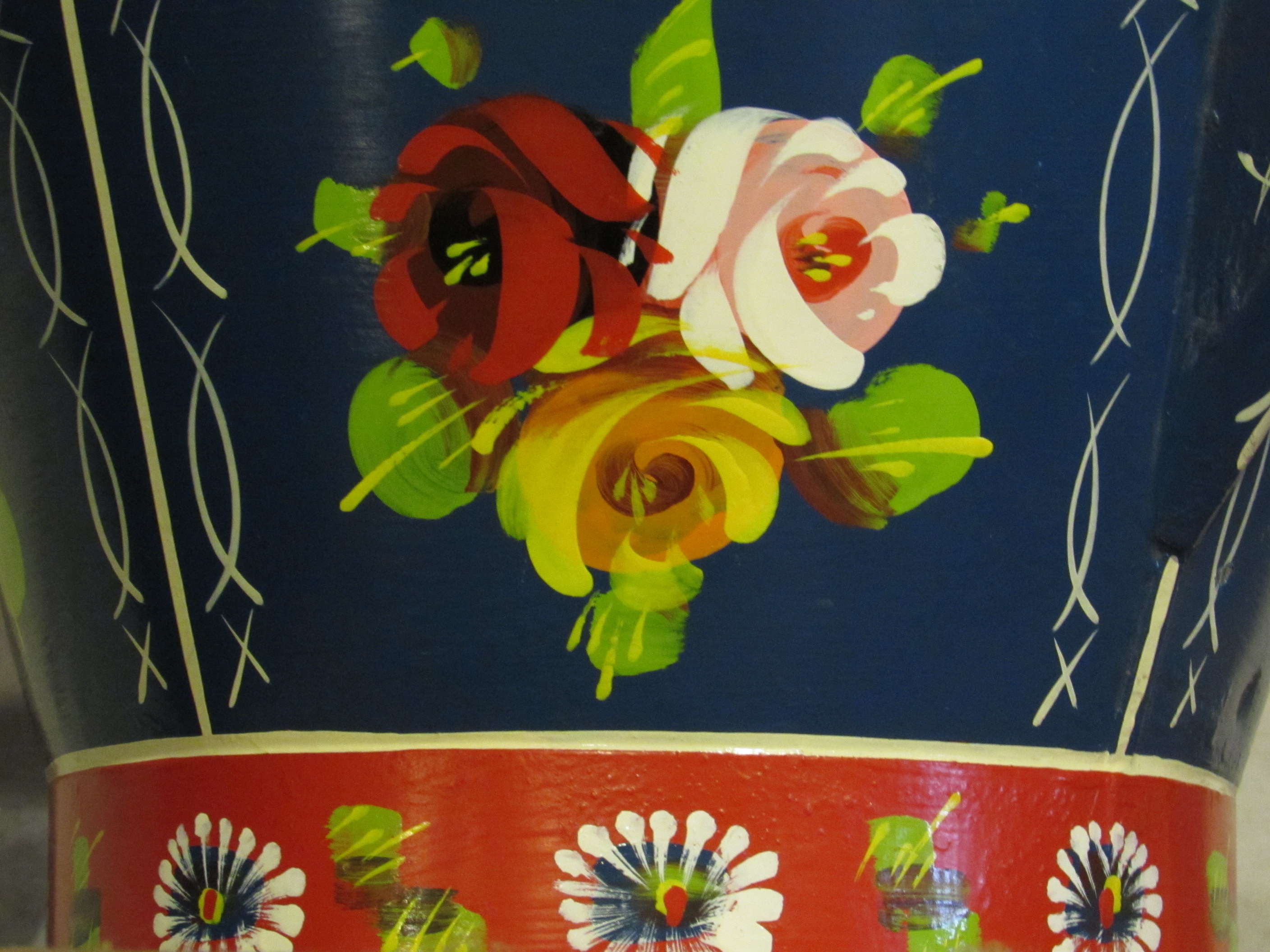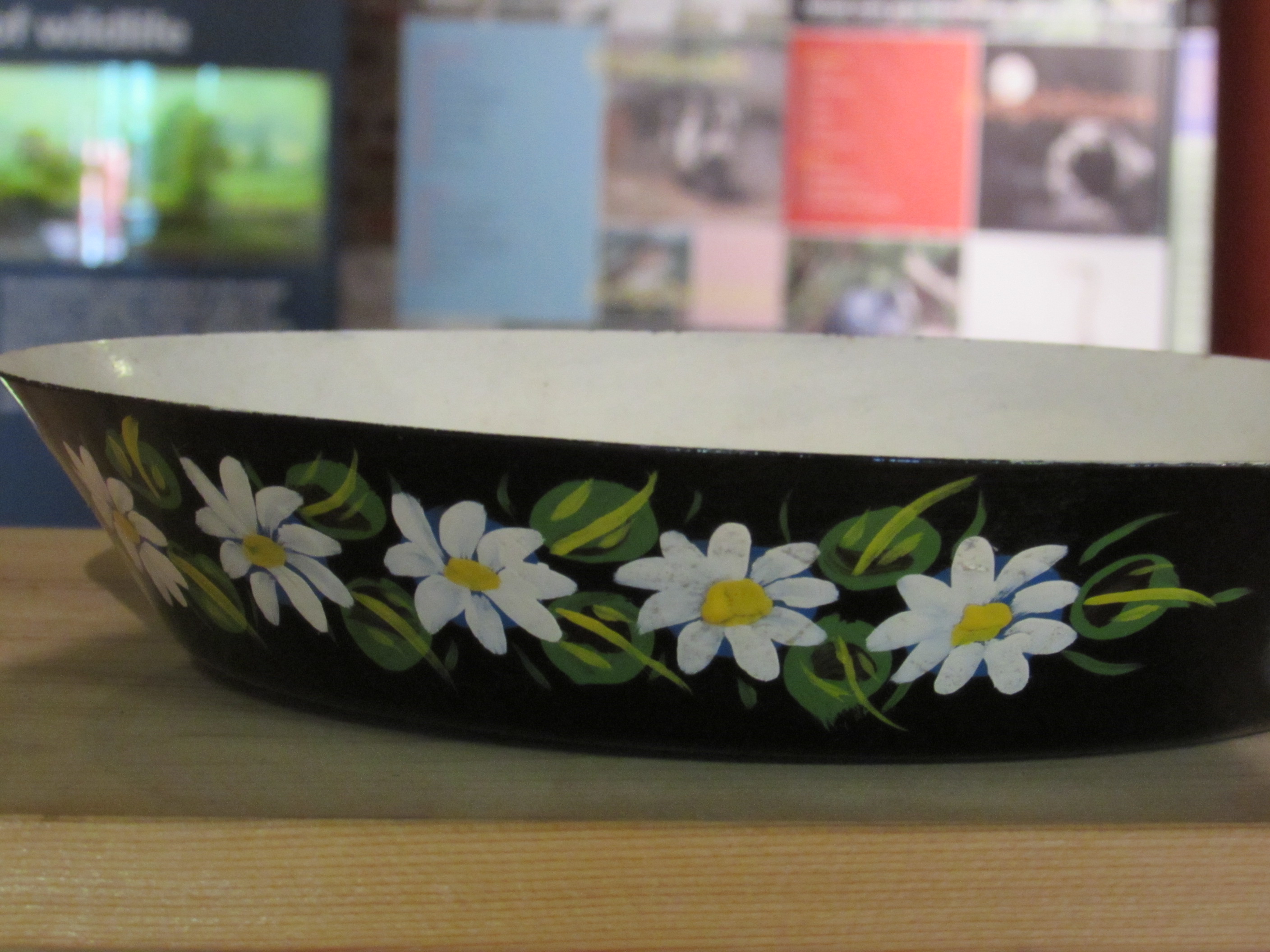 Alpaca Tea Cosy Design
Posted 10/04/2016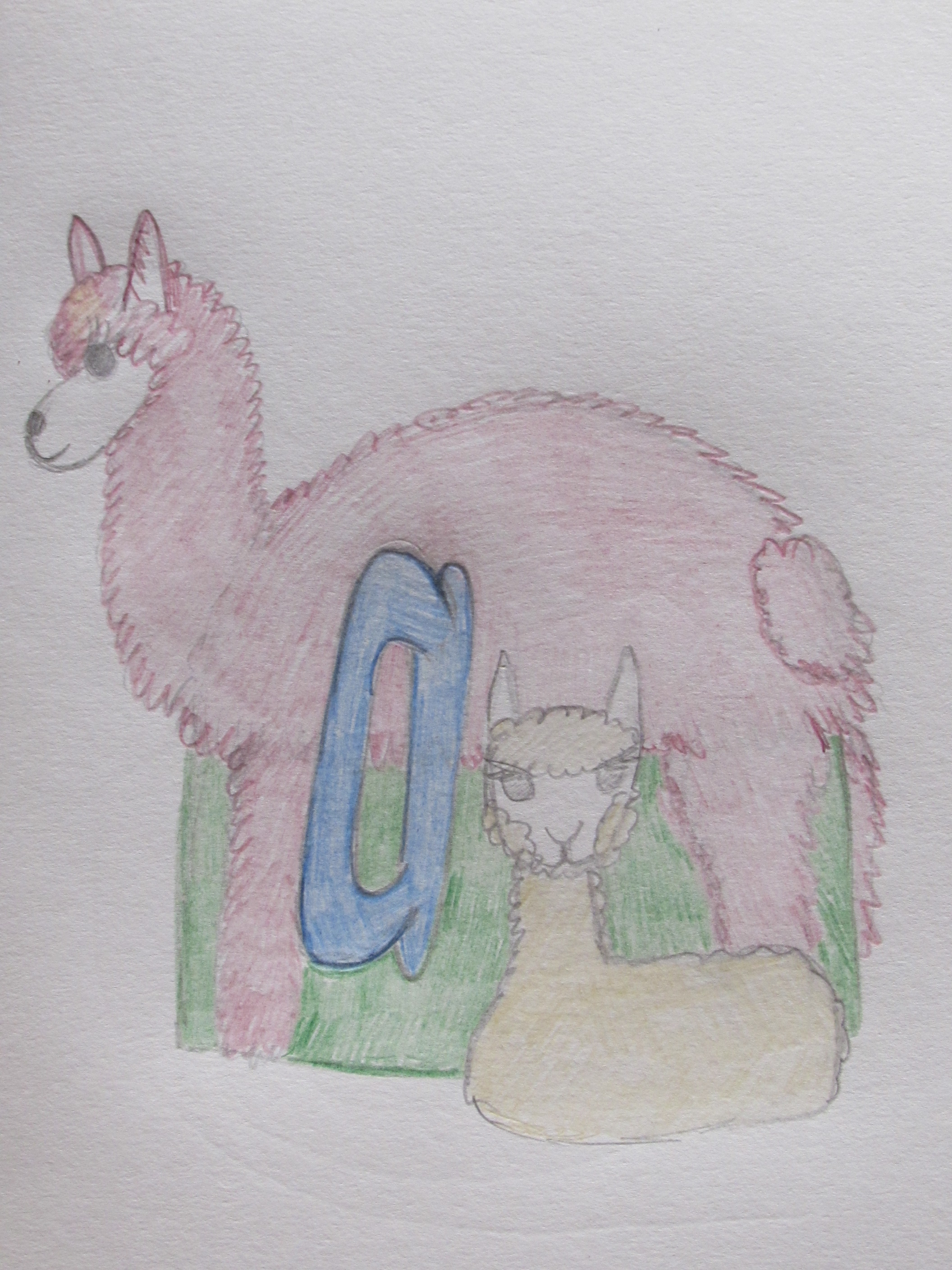 Alpaca's are such characterful animals that I thought they would make a great tea cosy. I love their funny expressions, their long eyelashes and mop of hair. What is nice is that they can be any colour and their coat textures seem to vary too. Maybe this is partly due to the time of year and when they were last sheered? Maybe the look more bedraggled as the months wear on.
The legs of the alpaca were going to be a problem; to I have designed the cosy so that the animal is stood on grass with its four legs coming down at the 'corners' of the tea cosy.
The spout and handle openings shall have to cut through on a diagonal so that they don't stick out at the head and so that they leave room for me to add a baby alpaca laying at the feet of the adult.
They are very cute and I want to make sure that I capture the character and charm of these lovely animals.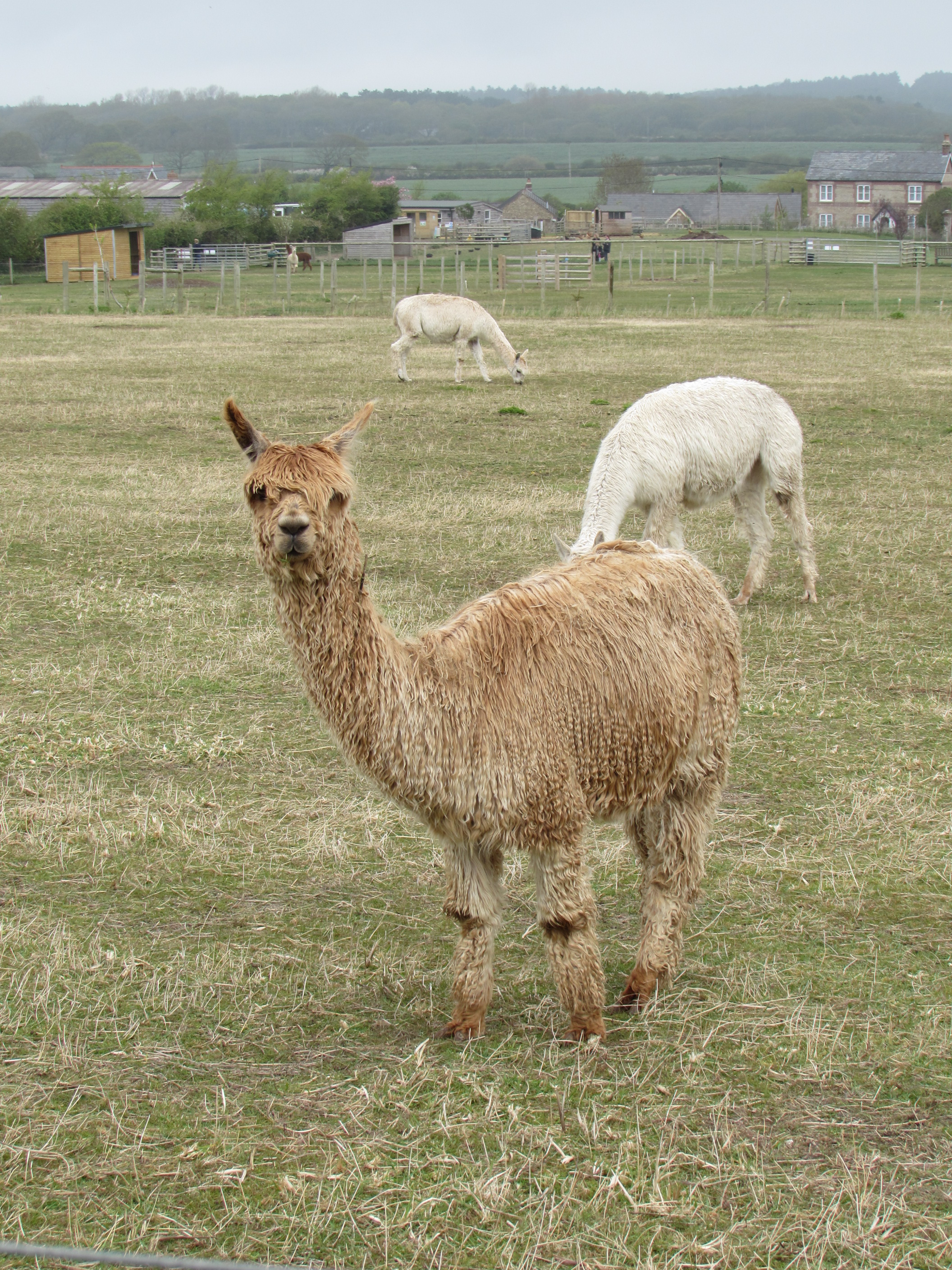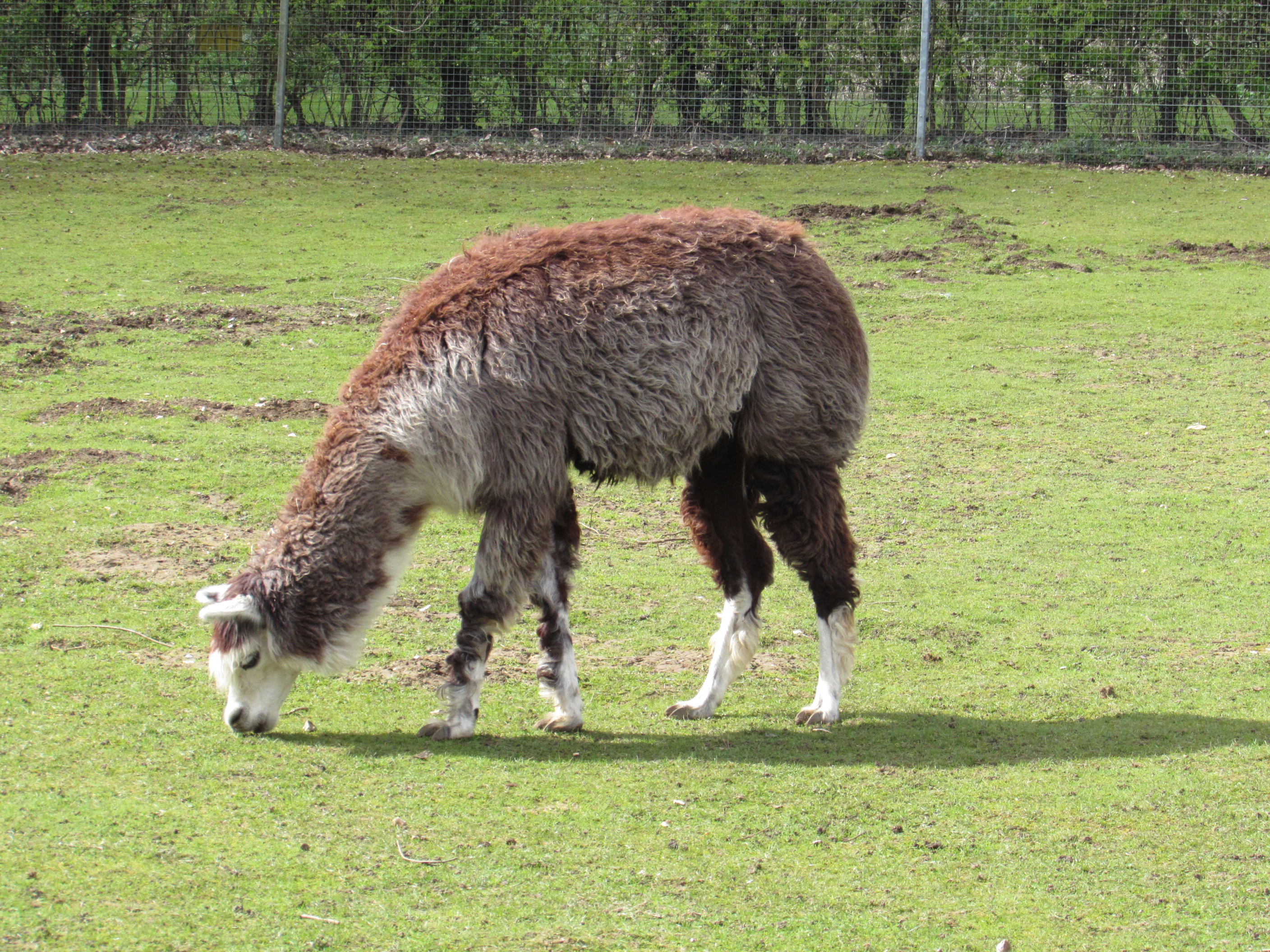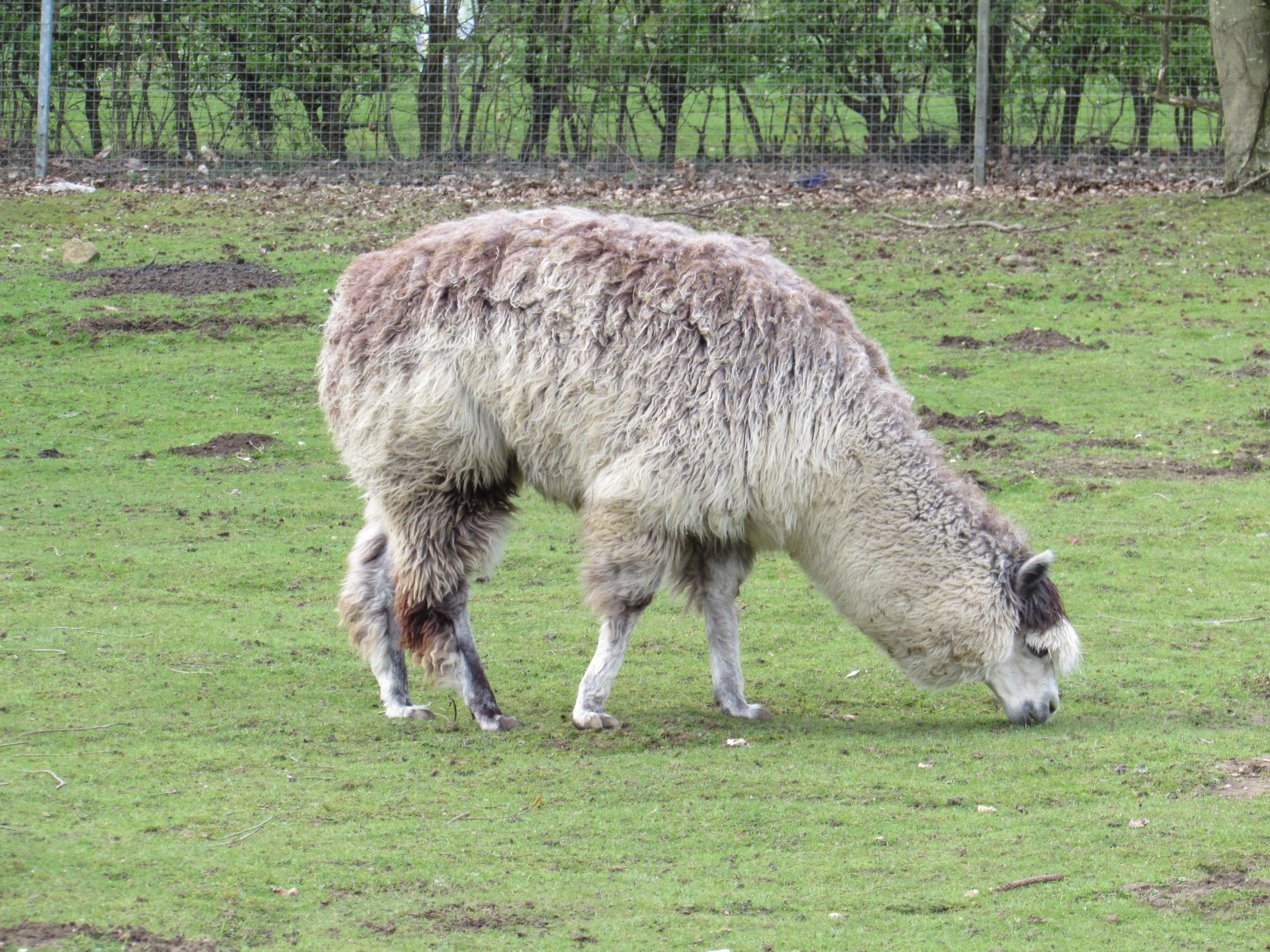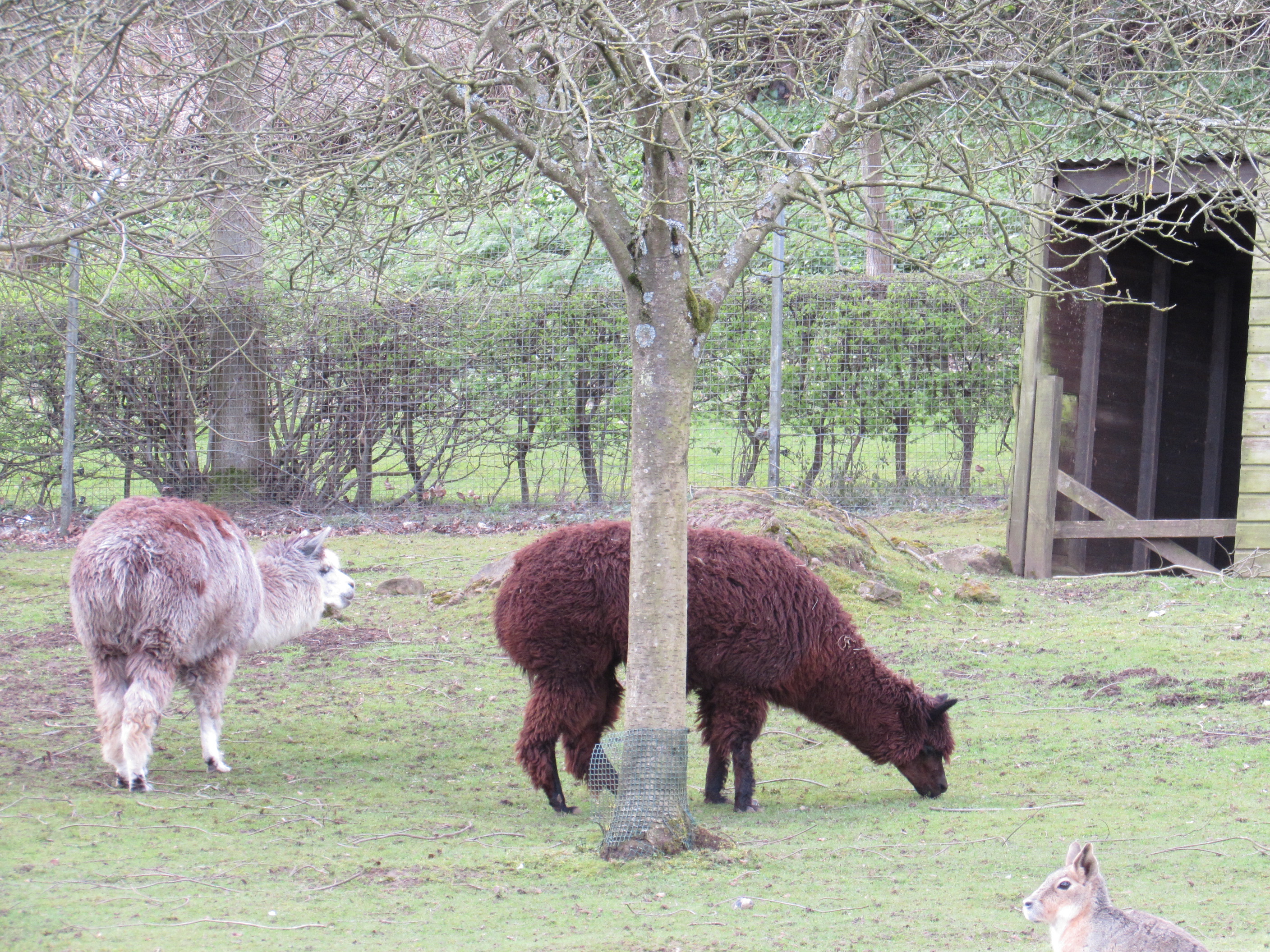 Lawn Bowls Tea Cosy
Posted 31/03/2016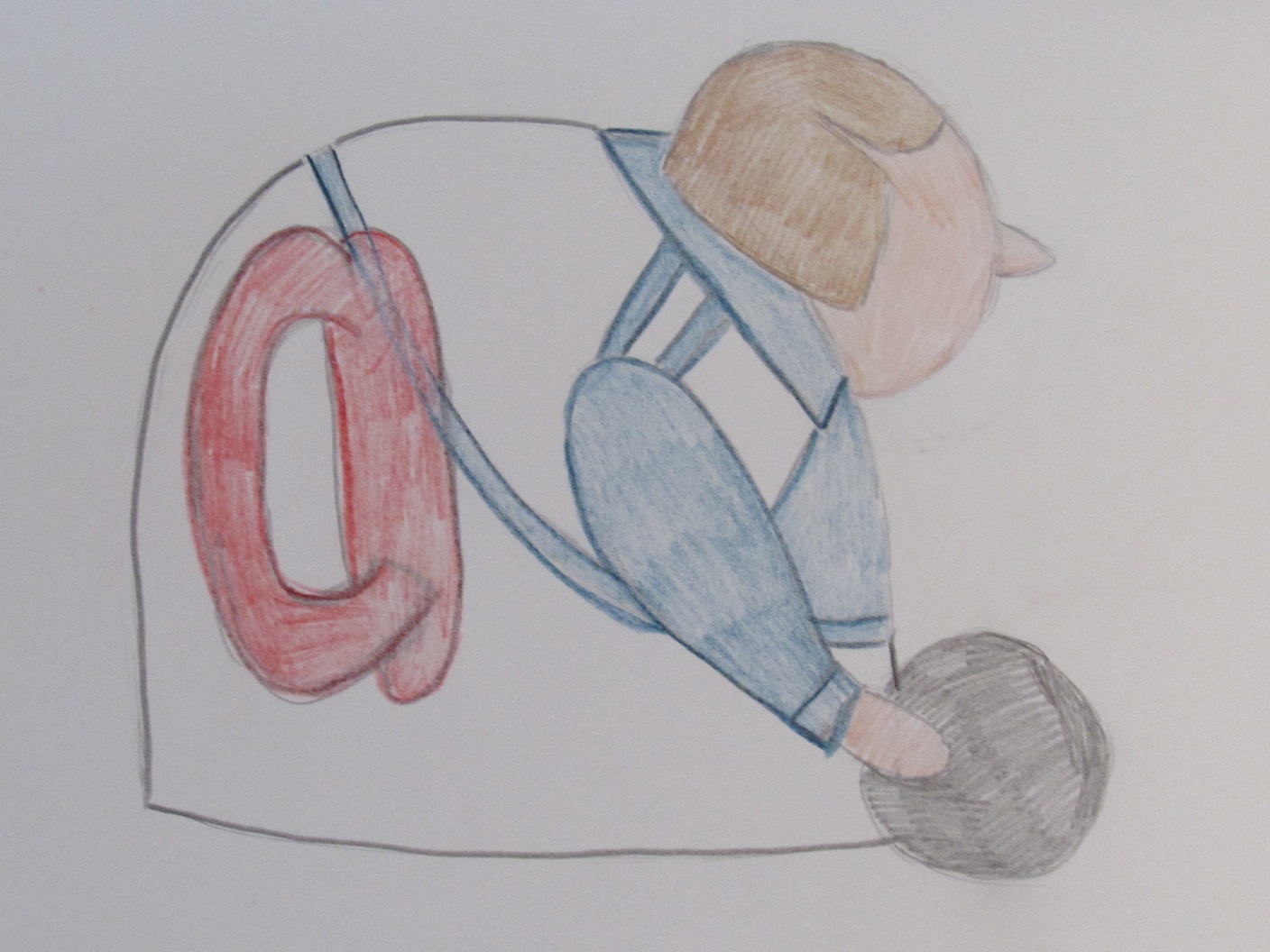 I was sent an email asking me to design a lawn bowls lady tea cosy.
I was asked to design her wearing their team jacket, and I was sent a photo of the lady it was to be for and based on.
I thought an action tea cosy would be fun, so my design depicts her taking a shot and about to bowl the ball, in a bent over position.
This will be another Sporty Tea Cosy for the collection.
Queen's 90th Birthday Tea Cosy
Posted 23/03/2016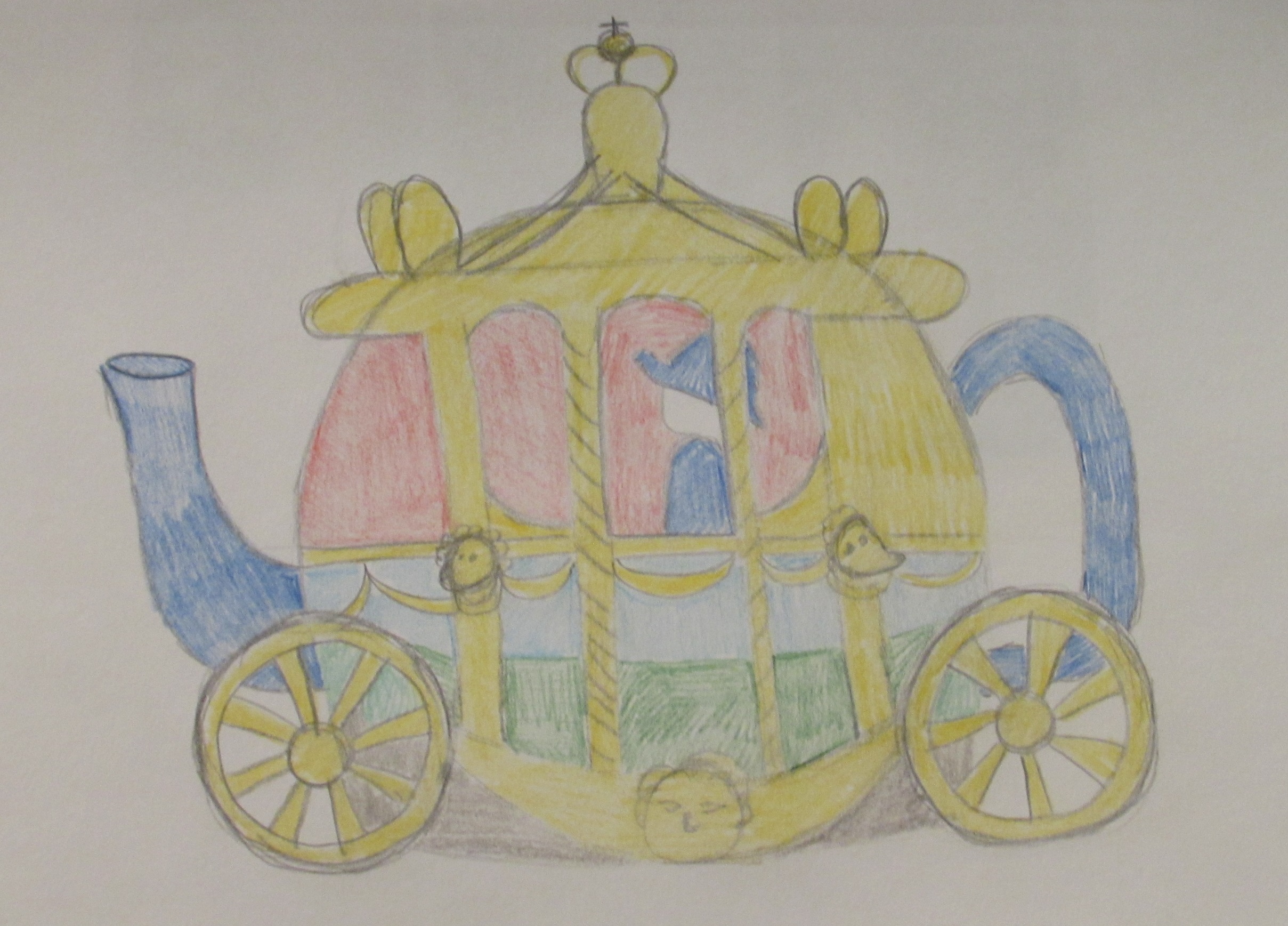 I wanted to design a tea cosy to celebrate and commemorate the Queen's 90th Birthday. Having already designed a Queen tea cosy before in 1950's style, I knew I had to think of something different for this cosy. I wanted to make something special and iconic to the English Monarchy, and I thought the Queen's Golden State Coach would be perfect. And she might even have a ride in it on her Birthday too which would be amazing.

The actual carriage was made back in 1762 at a cost of £7,562.

I have had to simplify the design, because the actual state coach is so complex and detailed with paintings on the lower sections and three cherubs on the roof and and four tritons at the wheels. My golden state coach design is a nod towards the real thing, but inevitable will end up more rounded like Cinderella's coach due to the shape of the teapot.

I also aim to have an image of the queen sitting inside the carriage.
Gardner Tea Cosy Design
Posted 11/03/2016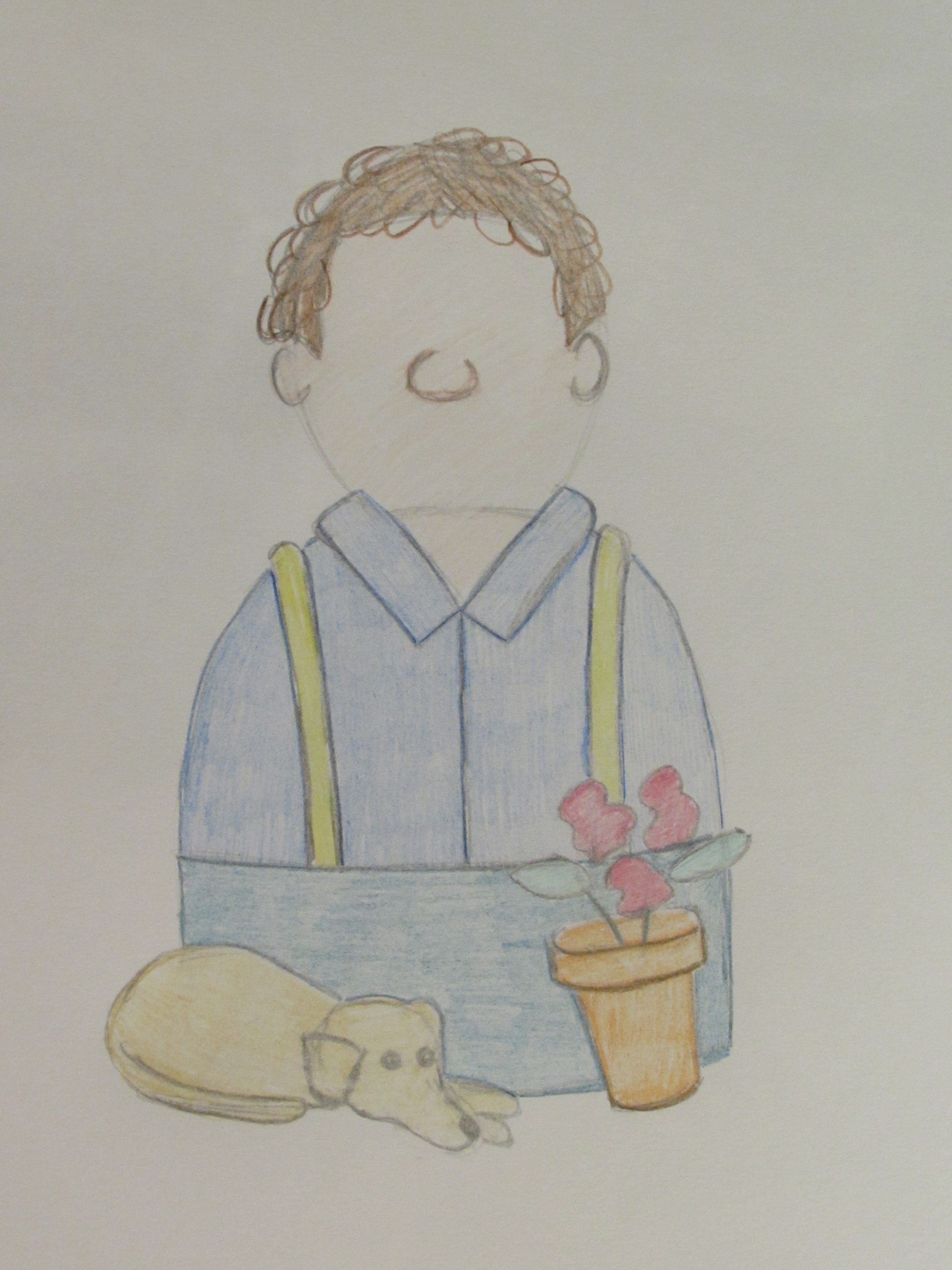 It's so lovely to see Gardners World back on the telly after a long winter. It always feels like spring has arrived when Gardners World with Monty Don has returned.
I love spending time in the garden knitting and gardening and can't wait to get back out there. Feeling all inspired I designed a Gardner tea cosy - Look like anyone oyu know?
I have given him a potted plant and around the back I thought I'd include something that incorperated vegitable growing, and maybe give him another friend.
I have started work on the Gardner Tea Cosy and I'm hopeing that the knitting pattern will be ready in a couple of weeks.
More TeaCosyFolk Designs In The Simply Knitting Magazine
Posted 12/02/2016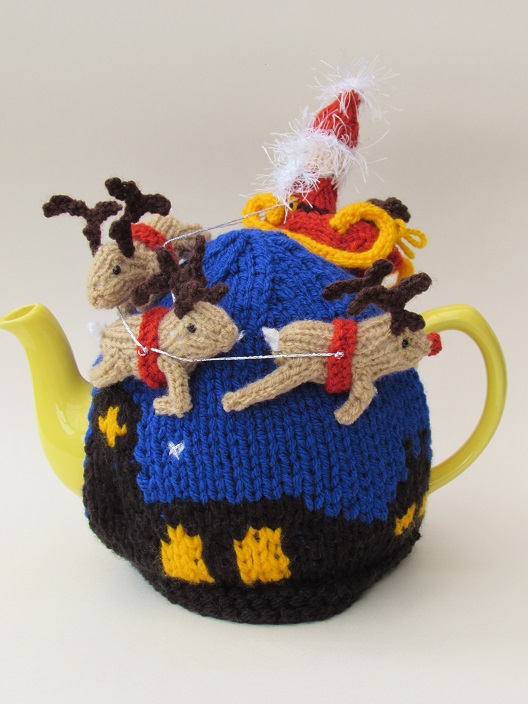 You may already know that TeaCosyFolk have designed tea cosy knitting patterns for the Simply Knitting Magazine.
The Simply Knitting is a popular monthly magazine with exciting projects in every issue, from clothing to kids knits, from toys to accessories and of course tea cosies. With every issue you also receive a knitting paraphernalia free gift.
The Santa's Sleigh Ride tea cosy was featured in the magazine in November 2015 and the Lion tea cosy appeared in the January 2016 issue of Simply Knitting. Two further tea cosy knitting patterns are ready and waiting to appear in future copies, so look out for those.
Yesterday we had an email asking if we would design a further three more cosies for the same magazine; which is very exciting. We are sworn to secrecy and can't give any clues away to what the tea cosies might be, but we do know that you won't have to wait long to find out.
In the meanwhile; check out this amazing offer for Simply Knitting magazine - subscribe today for just £1 per issue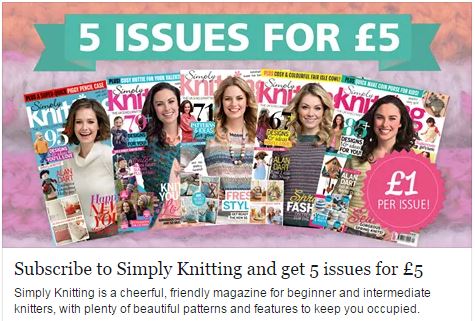 A Sea Lion Is The Perfect Shape For A Tea Cosy
Posted 16/01/2016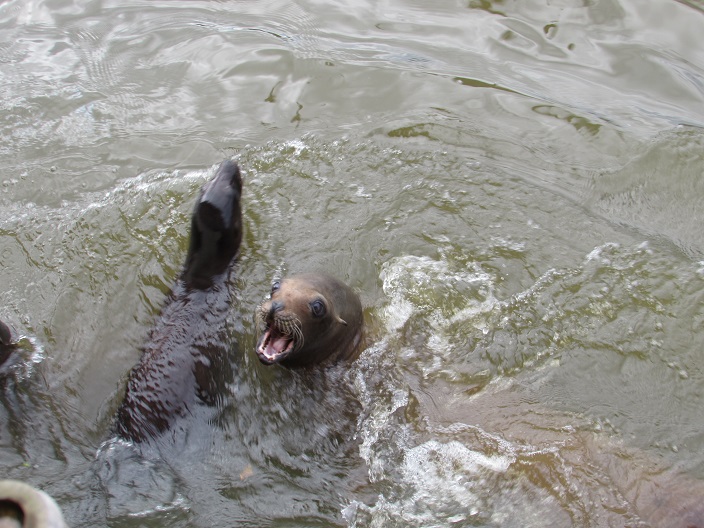 Back in September we had a lovely day at Longleat Safari and Adventure Park visiting all the animals, but the most memorable for me was the sea lions. If you haven't been, the sea lions live in a large lake with the hippos; funny combo I know. Visitors are given a boat ride around the lake visiting the old silver back gorilla on the little island, and a drive by the hippo's, and a cruise past the new gorilla enclosure. And of course all the time the sea lions are following the boat and swimming all around. During part of the ride visitors are invited to feed the sea lions fish, and that's why the sea lions follow the boat.
It's amazing watching the sea lions splashing about and calling. One looked like it was waving (probably a trick it had learnt to get more fish) they were just such great fun, amusing and adorable, and it got me to thinking… Sea lions are a similar shape to a teapot, when they are out of the water, and stood on their front flippers.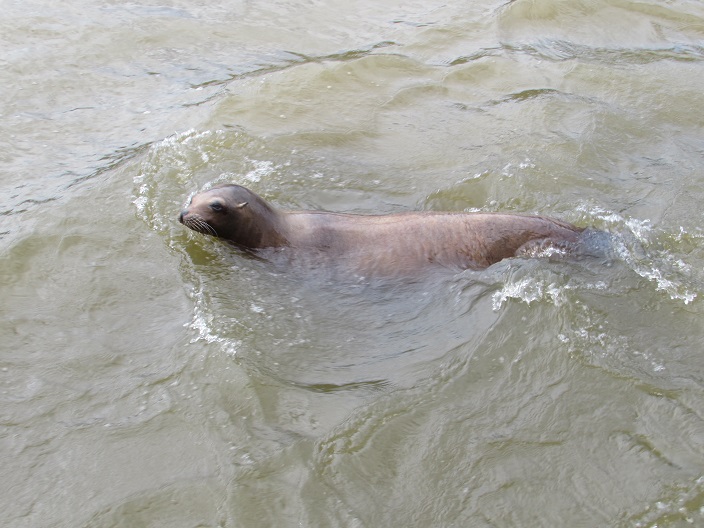 Check out my sketches of how I think a sea lion tea cosy could look…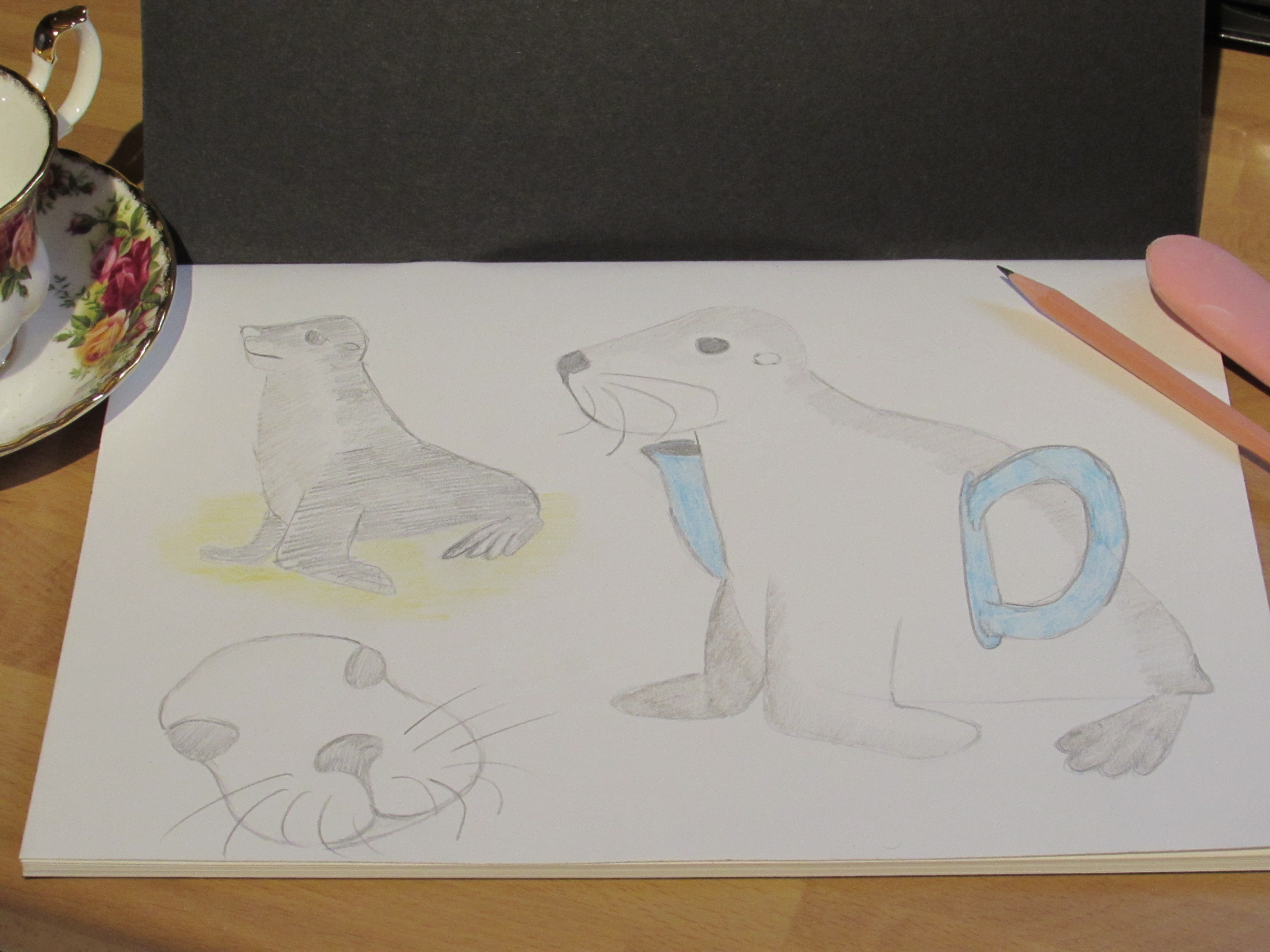 So this is my next project, based on the beautiful sea lions of Longleat in Warminster, Wiltshire.
Mini Breast Cancer Tea Cosy and Mug Cosy
Posted 15/01/2016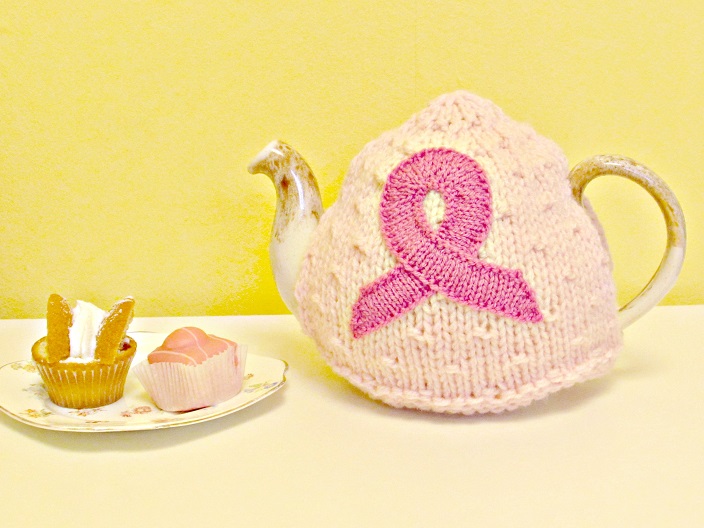 I am working with a group of ladies to knit and sell hand made crafts to raise money for Against Breast Cancer. Consequently most of what we are making is pink and bears the pink ribbon loop that we now associate with cancer charities.
I had already designed a spotty tea cosy that would cover a 2 pint teapot. The knitting pattern for this tea cosy is freely available on the website for anyone wishing to knit them and sell them for charity.
The ladies suggested that maybe we also have a mini sized tea cosy for a 1 pint teapot that serves one, and also maybe mug cosies for non-teapot users.
I have been working on the mini sized tea cosy and have included a wavy ribbon around the tea cosy, inspired by the ribbons that the charities use.
The mug cosy is still in the development stages, but I am hoping to design a plain cosy that can be decorated with ribbon loops, as well as a more fun to knit cosy. I'll keep you posted!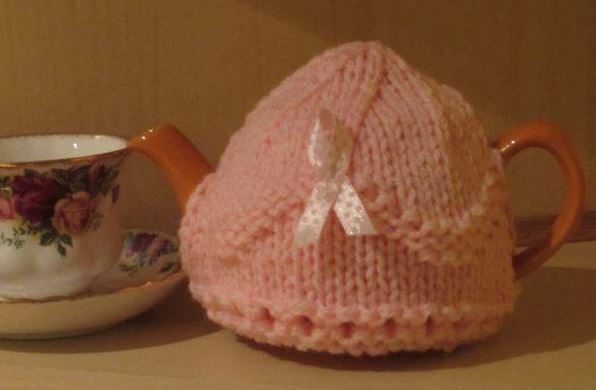 Red Deer in the Heather Tea Cosy
Posted 14/01/2016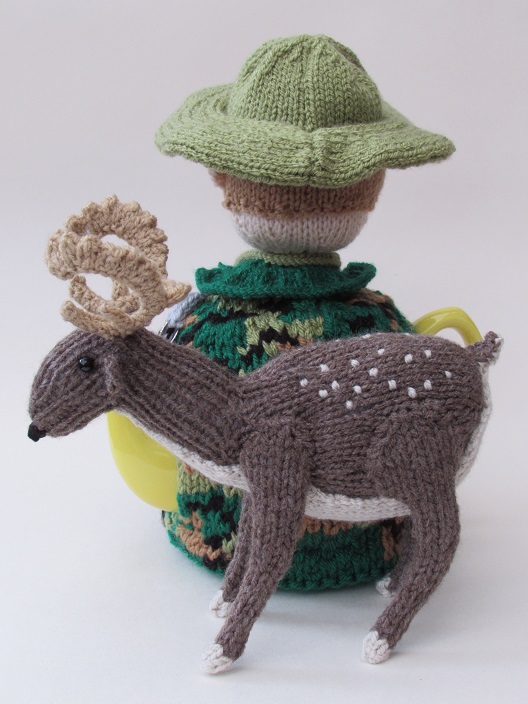 We have had so many holidays in the Highlands of Scotland. The scenery is stunning and there's always wildlife to see and it's always a treat to see the red deers in the heather.
Last December I was asked to design and knit a bespoke tea cosy of a deer hunter and asked to include a fallow deer. I really enjoyed knitting the deer and it looked amazing. I noticed that with pipe cleaner legs that I could make the deer either stand or lay down, the customer wanted a standing deer.
The Scottish Highland deer are usually red deer and their antlers are different from the fallow deer, and are more branch like.
I thought it would be amazing to create a tea cosy that depicts two deer in a Highland type setting with the green and purple of the heather. I thought I'd have one deer standing and another laying down as if sheltering in the heather as we have so often seen them in the Highlands.
I will be starting work on this tea cosy next week. I have enjoyed digging through my holiday photos for inspiration for the deer and to get a better look at those antlers.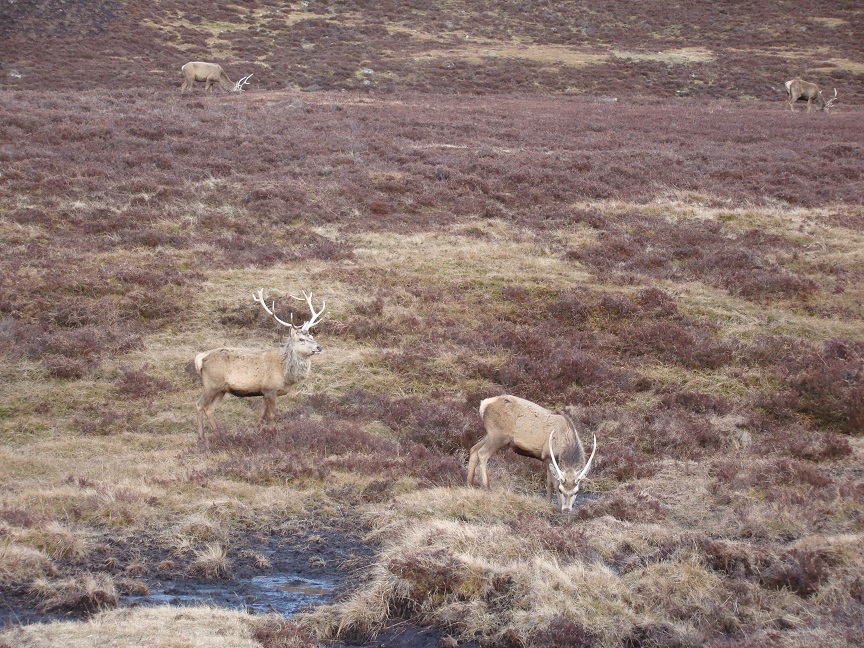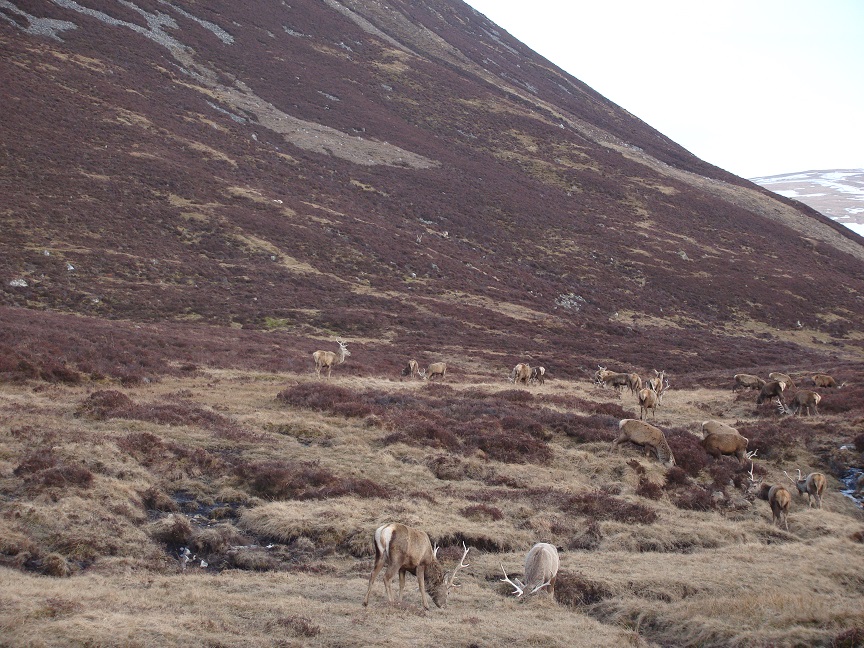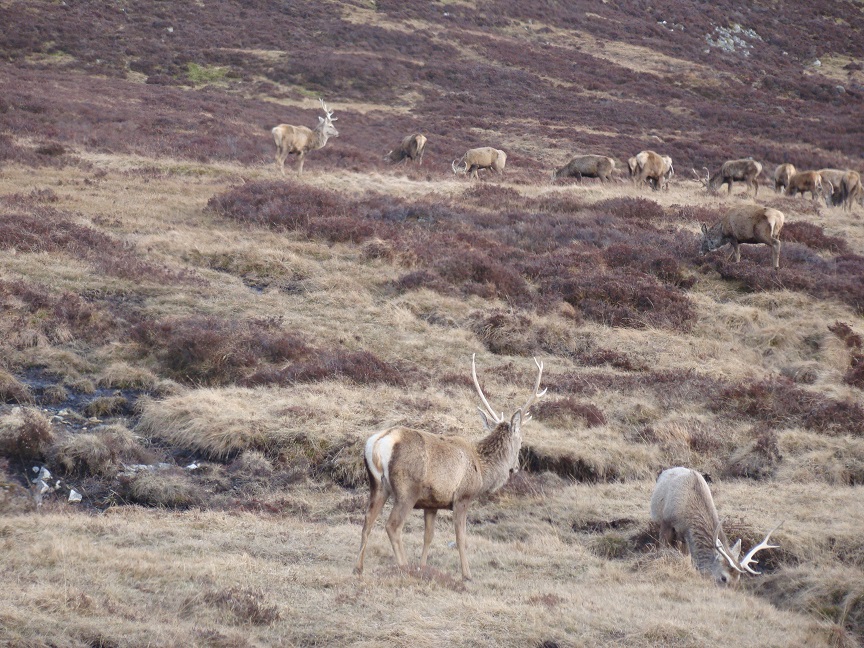 Yorkshire Rose Tea Cosy
Posted 07/01/2011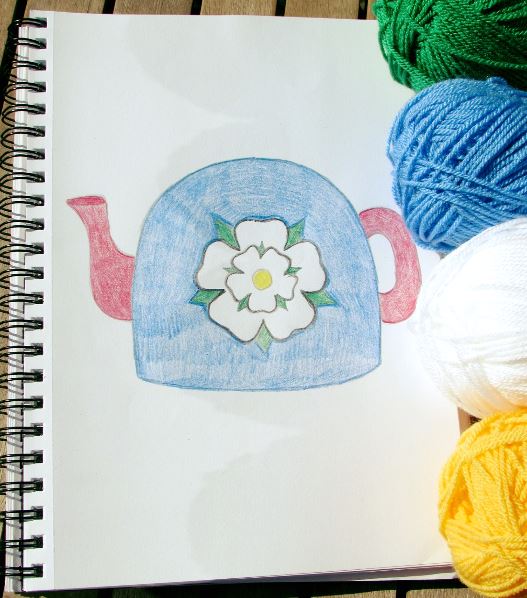 I wanted to design a tea cosy for Yorkshire Day. My Grandparent on my Mother's side were from Rotherham in Yorkshire, so I have a bit of Yorkshire blood running through me. I remember grandma always made tea in a teapot, with real loose tea leaves. And she always drank her tea from a bone china cup and saucer; which really is the best way to drink tea I think.
Yorkshire day is celebrated on the 1st of August, so I put my thinking cap on to come up with ideas. There's the beautiful Yorkshire country side, Yorkshire puddings and even Yorkshire terriers, but I drew my inspiration from a childhood memory. When we used to visit Grandma she used to take us on trips via the busses, back then a child cost 2p to travel anywhere on the busses; amazing hey? Am I showing my age? That is 2p in metric and not pounds, shillings and pence!
Anyway, I remember painted on the busses the Yorkshire Rose, this must be the ultimate emblem of Yorkshire. So that is what I plan to design, a Yorkshire rose on a blue background tea cosy – perfect!
Happy Yorkshire Day everyone!